Dieters, look away! Just staring at these pictures will make you put on a few pounds. Cheese, cream and nuts; it's every fat-phobic person's nightmare. And for the non-dieters out there? Heaven! This dish takes just half an hour to prepare, ideal for week nights. After devouring your bowlful and licking out the saucepan you will feel all warm and fuzzy inside with a spring in your step oozing of happiness. This is what good food is all about.
P.S. This dish joins Presto Pasta Nights.
Gorgonzola & Pine Nut Pasta
Serves 4
Preparation: 15 mins – Cooking: 15 mins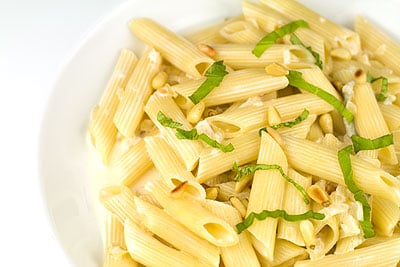 Ingredients
15ml (1 tbsp) olive oil
3 shallots, finely chopped
300ml (½ pint) dry white wine
450g (1 lb) penne pasta or any type you prefer
284ml (½ pint) double (heavy) cream
175g (6 oz) Gorgonzola cheese, cut into small pieces
90ml (6 tbsp) pine nuts
shredded basil, to garnish
Method
To toast the pine nuts, add them to a hot, dry frying-pan and stir continuously until golden brown. Set aside.
Heat the oil in a large pan. Add the shallots and cook for 4-5 minutes until softened but not browned. Add the wine and boil rapidly for 5-6 minutes until reduced by half.
Meanwhile, cook pasta in boiling salted water according to the packet instructions. Stir the cream into the wine and shallots and simmer for 2 minutes. Lower the heat, stir in the Gorgonzola and heat gently until the cheese has just melted but there are still a few small lumps. Season to taste.
Drain the pasta and return to the pan and pour over the Gorgonzola sauce and have the pine nuts. Toss together gently and divide between 4 serving bowls. Scatter over the remaining pine nuts and basil.
Note
Gorgonzola has quite a strong flavour, so if you prefer a gentler taste, reduce the amount of cheese used. Of course, if you're a Gorgonzola fiend, add more to your heart's desire.
Other Tasty Recipes For You To Enjoy