A few months ago I raved about my little discovery and shared my favourite prawn recipe. Now, here's another one with an Eastern twist to it. Yes yes, I know. I used soy sauce and honey AGAIN. Seriously though, it's a classic combination that will make a dessert taste even better. Just kidding, but you know what I mean.
Some readers have noticed that older posts had some funny characters mixed into the text of posts. This was caused when we updated WordPress to a newer version and special characters turned into gobbledygook. As far as I know everything has been fixed now, but if you guys do pick up anything, please let me know. Thanks!
Pan-fried Soy & Honey Prawns
Serves 1
Preparation: 20 mins – Cooking: 5 minutes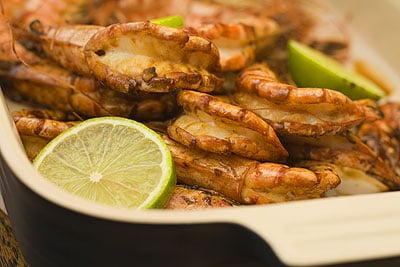 Ingredients
10 whole shell-on prawns, weighing about 400g (1 lb)
15ml (1 tbsp) sesame oil
15ml (1 tbsp) vegetable oil
30ml (2 tbsp) dark soy sauce
30ml (2 tbsp) honey
15ml (1 tbsp) lime juice, freshly squeezed (optional)
Method
With a sharp knife, score down the back of the shrimp. Remove the thin, digestive tract with the tip of the knife. Repeat with the rest of the prawns. Rinse the prawns under running water and pat dry with paper towels.
Heat the two oils in a large frying pan. When the pan is really hot, place the prawns in a single layer in the pan.
Add the soy sauce to the prawns immediately. Make sure the prawns get coated with the soy sauce. Fry for about 1 minute.
Turn each prawn on its other side, then add the honey to the prawns and make sure it gets evenly spread. After about 1 minute the prawns should be pink and cooked through. If not, fry for just a little bit longer.
Remove the prawns, drizzle with lime juice and serve immediately.
Serving Suggestion
Note
To serve more people, simply multiply the ingredients accordingly.
Other Tasty Recipes For You To Enjoy