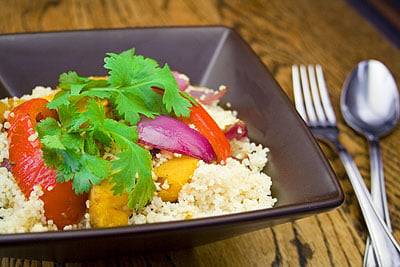 Phew, now that was a mouthful to type. The title looks as if it was an item borrowed from a fancy schmancy restaurant menu, but let me reassure you this is a dead easy recipe to prepare, ultra healthy and to top it all it tastes divine! Sod any decadent dessert and serve me this dish instead.
A few months ago I wrote about going on the Weight Watchers diet and remained mum until now. No, I didn't fall off the wagon after four days. Okay, admittedly I fell off a few times but managed to complete almost three months. Did I see results? Oh yes, I've lost a stone (about 6.5kg). After the weeklong holiday I picked up a little bit of weight, but no worries, I'll lose it soon enough when I get back on track next Sunday. Is the diet difficult to follow? Not really, but it is quite time consuming to sit on your bum for a few hours to work out the week's menu, i.e. 21 meals and write down a shopping list. All you have to do then is stick to your plan.
This veritable vegetable dish made my lunches so much more appealing and satisfying. What's more, the portions are huge and afterwards I felt quite guilty feeling so full. Come on, it's a diet after all, isn't it? Aren't you supposed to starve? Well, I lost weight and enjoyed most of the food along the way. Even this month of no dieting I couldn't resist picking up some vegetables to roast and enjoy.
Roasted Pumpkin, Red Peppers & Onions with a Sweet Balsamic and Mustard Dressing on a bed of Couscous
Serves 4
Preparation: 20 mins – Cooking: 45 minutes
Ingredients
600g (1lb 5oz) pumpkin, peeled and cut in 2.5cm (1 inch) thick chunks
2 red onions, peeled and cut in wedges
2 red peppers, seeded and sliced
30ml (2 tbsp) olive oil
30ml (2 tbsp) balsamic vinegar
15ml (1 tbsp) honey
15ml (1 tbsp) wholegrain mustard
200g (7 oz) dried couscous
300ml (½ pint) vegetable stock
45ml (3 tbsp) fresh coriander/cilantro
Method
Preheat the oven to 200°C/fan 180°C/400°F/gas mark 6.
Place the pumpkin, onions and peppers in a large roasting tin. Drizzle the olive oil and toss to coat.
In a cup, add the vinegar, honey and mustard and stir well.
Roast for about 30 minutes, turning occasionally, then add the balsamic mixture to the vegetables and toss again.
After another 10 minutes test the vegetables for doneness and if they are ready remove from the oven.
Meanwhile, place the couscous in a large serving bowl, pour over the stock, cover with cling film and leave to soak for 5 minutes. Remove the cling film and fluff using a fork. Serve the vegetables garnished with coriander on top of the couscous.
Notes
This dish can be enjoyed hot or cold.
Use as many vegetables as you like, just remember to increase the dressing as well.
Feel free to use more vinegar, honey and mustard in different ratios to your liking.
If you are feeling adventurous, instead of vinegar, honey and mustard, play with Indian spices like chili, cumin and dried coriander.
Other vegetarian recipes around the blogosphere:
Other Tasty Recipes For You To Enjoy