Unlock the secret of Moroccan and Middle Eastern cuisine with this preserved lemons recipe and discover how to transform your cooking into indescribably exquisite meals!
No Ingredients to Cook With!
We all know the feeling when we find a Middle Eastern or Moroccan recipe that we must absolutely cook right now, it can't wait! Then we scroll through the ingredients and realise we don't have preserved lemons and there is no nearby store that stocks it.
Well, if you are like me and want to cook the dish anyway, you would have noticed by now that lacking the one essential ingredient essentially breaks the dish - in this case, the preserved lemons.
Or perhaps you are wondering what on earth a preserved lemon is? Either way here is the perfect preserved lemon recipe, which you can stock for a very long time and use it whenever the call of Africa inspires you!
Quick and easy to prepare and, as I said earlier, you can stock this for months to come. This is the ingredient you have been missing in your cooking. Take a few minutes make it and you will never regret it.
Preserved Lemons, Various Names
In Morocco, they are known as "Hamad m'rakhad", "L'hamd Mraad" and L'hamb Mssayr". The Moroccans have a more poetic expression "lim mraqqed" translated means "lemons that have been put to sleep." In Iran, they're known as "limu omani." It is also known as "country lemon" and "leems".
North Africa, the Middle East and South Asia.
This is a condiment used in the Middle East, South Asian and North African cuisine, pretty much like we use tomato sauce.
In Morroco, preserved lemon is the key ingredient in many Moroccan dishes especially tagines.
Cambodians use it in dishes such as "Ngam nguv", a chicken soup with whole preserved lemons. These are often combined in various ways with olives, artichokes, seafood, veal, chicken, and rice.
The Indian practice and medical science of personalising food for each person's healing process, "Ayurvedic cuisine", uses lemon pickle as a home remedy for stomach disorders. It is believed the value of the medicinal properties increases as the lemon pickle matures.
In East African folk medicine, lemon pickle is used for the excessive growth of the spleen.
What are Preserved Lemons?
They are diced, quartered, halved, or whole lemons that have been preserved in salt. Stored for at least one month before use, this is the fermentation process. They are kept in the dark for at least 40 days and in that time their flavour changes from acidic to mellow and sweet.
Add Spices
Certain cultures add spices, like turmeric, to the mixture after washing the salt off the lemons. The skin is used for marinades, as a garnish and flavouring to everything you can think of.
You may think why not just fresh lemons instead of faffing about and waiting ages for these. You don't realise the impact of the full spectrum of taste sensations that preserved lemons add to your cooking and baking. In fact, it should be made a rule that preserved lemons should replace fresh lemons in the culinary arts.
They will transform your culinary skills from average to simply amazing. Preserved lemons are lemons on steroids; adding an intense, concentrated, lemon flavour to meals without all the sour tartness. The preserving process tempers the tartness while accentuating the lemon flavour. This gives it a mild tart taste but makes the flavour intensely lemon.
How Do I Use Preserved Lemons?
They add a punch of flavour - very heavy citrus with floral notes from the oils in the peel. It's what makes you curious about the taste of your meal.
Once the fermentation time period is up, pieces of pickled lemon are washed to remove any surface salt. Alternatively, they are blanched to remove more of the salt and bring out the natural mild sweetness. Then they are ready for use and can be sliced, chopped, or minced as needed for the texture of the dish. The rind may be used with or without the pulp.
Pulp Non-fiction
The pulp of the preserved lemon is used in stews and sauces. The peel, which is the zest and pith mixed together, is the most valued part of preserved lemons.
Your imagination is the limit as to how they can be utilised and enjoyed. Here are a few more ideas:
Algerian couscous dishes are fragrantly delicious with preserved lemons, olives and raisins.
Indian curries, Tunisian chickpea stews and Moroccan chicken tagines are common dished that use these citrus delights.
Toss pasta with some extra virgin olive oil, some garlic, and chopped preserved lemon peel.
Cocktails and Salad Dressings
Use the preserving liquid to make cocktails, Bloody Mary's and Martini's will never be the same again! Any beverages that require lemon and salt are ideal for this mixture. I'm feeling the need for a margarita right now!
It works wonders in homemade salad dressings. Use the liquid to replace any vinegar used in recipes or sprinkle it on fish, chicken or vegetables before roasting or baking. It brings out all the surrounding flavours. It works wonders in homemade salad dressings.
Chop the peel into plain yoghurt with a little honey. Zest up your potato and grain salads. It enhances salad dressings especially hummus, baba ganoush and salsas. Imagine what it would do to your guacamole?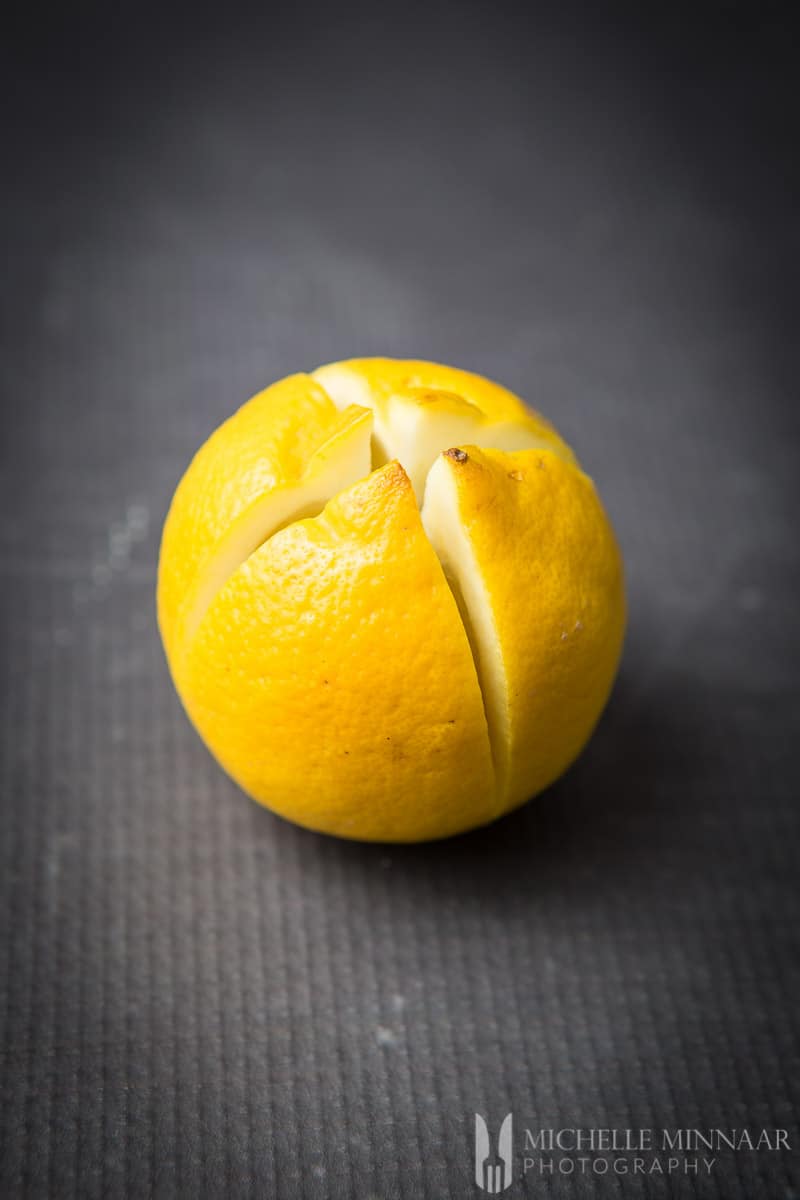 Grate them and Freeze Them
I like to freeze them and then grate them; you can keep the gratings in a sealed container in the freezer and add them to any recipe calling for lemon zest.
The North African tradition is to simply put a bowlful out on the dinner table for everyone to eat as they please.
Preserved lemons work wonders with horseradish as a cocktail sauce. How about roasted barley or quinoa tossed with vegetables and tiny bits of preserved lemon? Preserved lemon risottos or pilaf?
Desserts and Household Cleaners
Ice creams, sorbets and tarts, bruschetta toppings and smoothies, to bitters and homemade cheese.
You will never guess but many use it as a household cleaner.
History of Preserved Lemons
Historically, pickling was the most affordable and practical way to preserve lemons after their season. This was one way to ensure having lemons all year round without refrigeration and far away from where they are grown.
Early 19th-century English, American, and Indian cookbooks give recipes for lemon pickle and mention its use in sauces for salmon and veal dishes, whereas today fresh lemon zest and/or juice would be used.
A similar recipe appears in the 18th-century cookbook by English housekeeper Elizabeth Raffald and Mary Randolph's 1824 cookbook.
The Healing Properties
Fermented foods are an excellent aid for a leaky gut.The health benefits of preserved or fermented lemons, as they are called in some parts of the world, are phenomenal.
Lemons are a great addition to any healthy routine, the fermented version adds a rich complexity which can be included in smoothies, salads, or meat dishes, anything really. Loaded with probiotics!
Which Lemons to Use?
In Morocco convention uses the Hamd Beld or Hamd Marrakshi but Eureka or Meyer are fine.
Meyer lemons are especially ideal for preserving because they're sweeter and less tart than regular lemons, to begin with, and have such a wonderful flavour and aroma. If you can't find Meyer lemons you can use regular lemons such as Eureka or Lisbon.
Organic Rind
Since you are eating the lemon rind, organic is the ideal choice if you can find them. If you can't find organic, let the lemons soak in a vinegar-water solution for a few minutes to clean the outer peels, then rinse them thoroughly.
Preserved Lemons Recipe
Now it's time to make your Preserved Lemons. It's generally recommended that you keep them refrigerated. Of course, traditionally there would have been no refrigeration.
We have become the extreme germ-conscious Westerners. In the fridge, the preserved lemons will keep up to 6 months – at least. Meaning they'll last much longer, but again, that's the general recommendation for us Western folk.
Print
Preserved Lemons
---
6

lemons, organic preferable

125

ml

(1/2 cup) salt

125

ml

(1/2 cup) olive oil

1

l (2 pt) canning jar, sterilised
---
Instructions
Soak the lemons in water and scrub thoroughly to remove dirt and pesticides.
Trim the nubs off both ends of each lemon. Quarter each lemon, slicing them down just over ¾ of the way to leave the slices attached at the end.
Cover the exposed flesh with salt, then reshape the fruit.
Place the fruit in the jar, squeezing in as many as possible. I managed to get 6 into a 1 litre (2 pint) container.
Screw the lid on and leave overnight.
The following day, add the olive oil and seal, leaving for one month.
After one month the lemons will be ready to use but the longer they're left the better because they become more fragrant with time.
Nutrition
Serving Size:

1 serving

Calories:

161

Sugar:

1.5 g

Sodium:

1939 mg

Fat:

17 g

Saturated Fat:

2.4 g

Carbohydrates:

5.4 g

Fiber:

1.6 g
save the recipe to your pinterest board