Subtly sweet, gloriously rich and incredibly tasty, this fig chutney recipe is a flat out classic! If fresh fig chutney sounds like your kind of heaven, this is the recipe for you.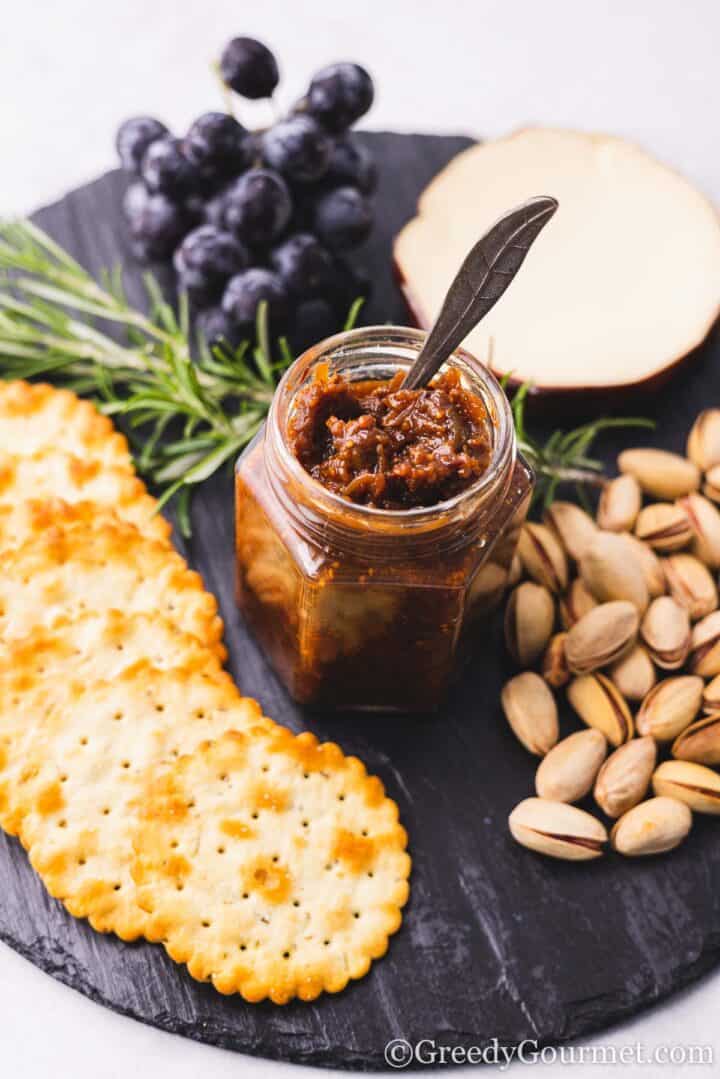 Why You'll Love This Recipe
It's all cooked in one pot
It's very easy to make – simply follow the recipe
The flavour of fig lends so well to chutney
People often make fig jam, but once you've tried fig chutney, you'll be blown away!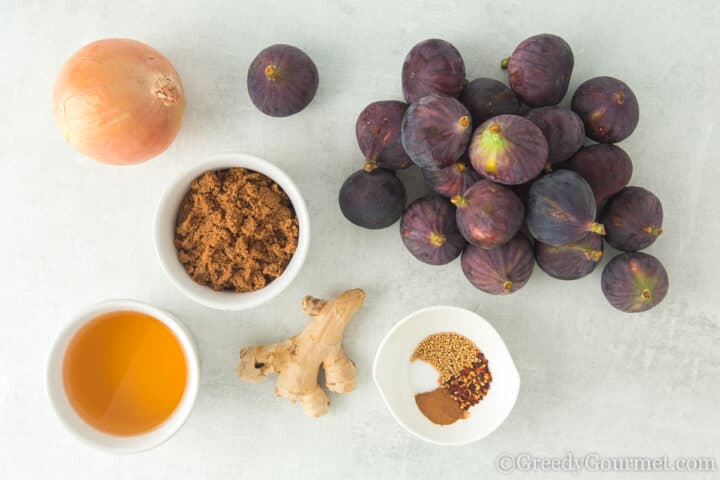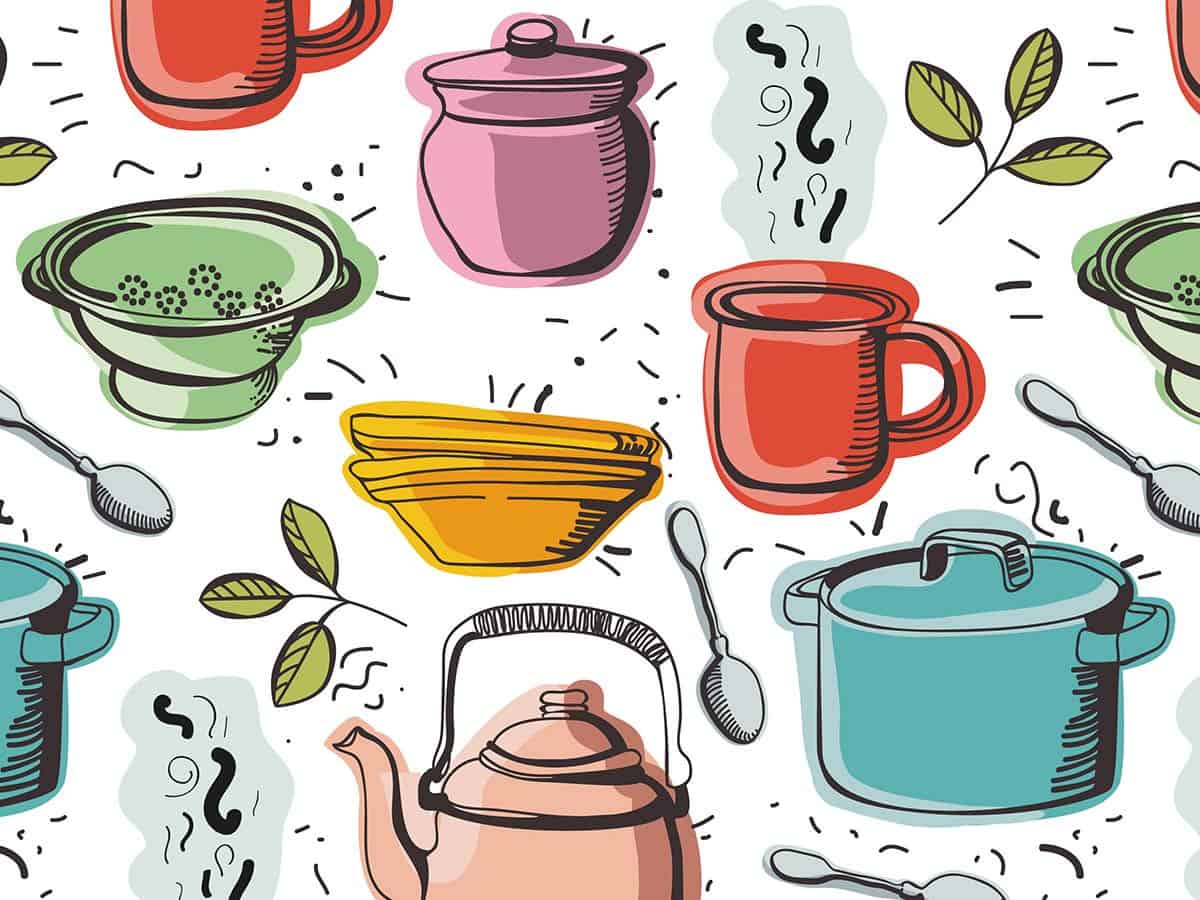 CHUTNEY EQUIPMENT YOU NEED
Check out the ultimate list to chutney making equipment. You actually don't need that much and most of the items are quite affordable!

Making your own preserves is a great and satisfying hobby. Giving the gift the lovely food to your friends and family are especially rewarding!
Top Tip
Cut fruit and vegetables into small, even-sized pieces. This might seem like a chore, but it means you'll end up with a wonderful texture.
What to Serve with Fig Chutney
Accompaniments
Probably the simplest and most enjoyable way to enjoy chutney is part of a cheeseboard.
Serve with blue cheese, a chocolate dessert, liver, just about any hard cheese or soft cheese, goat's cheese, prosciutto, caramel, candied citrus peel, creme anglaise, creme fraiche, all kinds of nuts except peanuts, Parma ham or praline.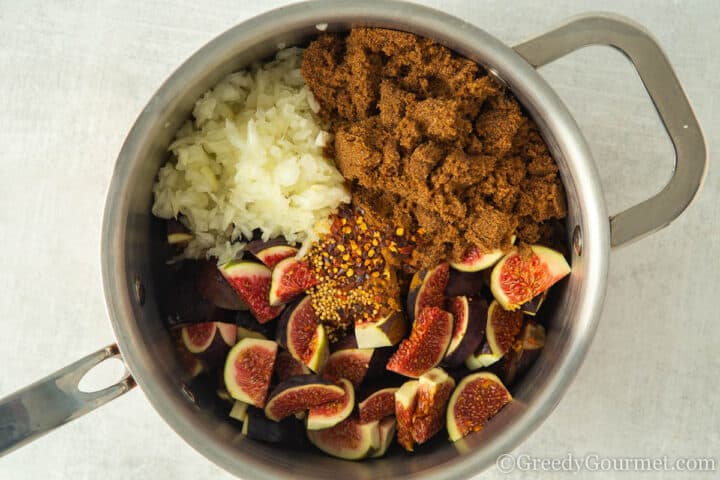 Drink pairing suggestion
If you pair your fig chutney with a cheeseboard, you might want to take a dream double to a triple with a nice little tipple!
While enjoying this fig chutney as part of a cheese platter, you can enjoy the following drinks with it.
Alternatively, you can actually make your chutney boozy! Simply pour in 125ml (½ cup) of your preferred alcohol at the end of cooking time and bottle up your pear chutney as soon as possible.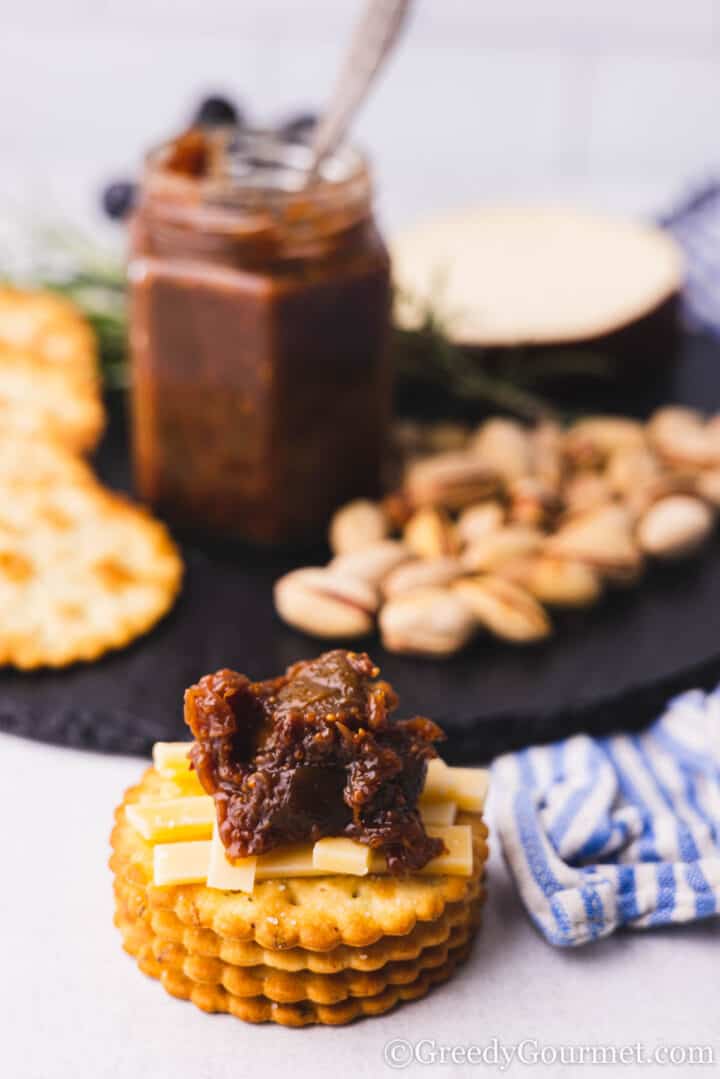 Variations To This Recipe
Other fresh fruit
Make up your own divine combinations! Swap 50% of the fig in the recipe below with one of the following fruits:
Apples
Raspberries
Peach
Pear
Quince
Strawberry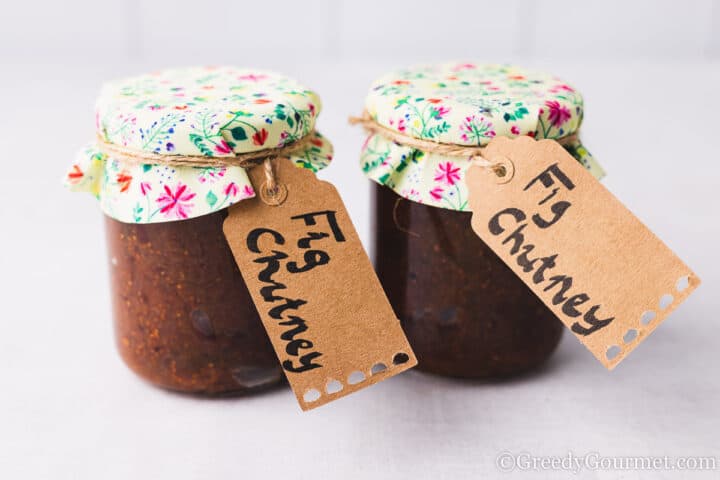 Herbs, spices and dried fruits
Add an extra dimension of flavour to your fig chutney with any of the following:
1 cinnamon stick
½ tsp ground cinnamon
¼ tsp ground allspice
¼ tsp ground cloves
1 vanilla pod
5cm (2in) fresh ginger root, grated
50g (½ cup) almonds, chopped or slivered
handful of fresh mint
handful of golden raisins
3 star anise
50g (½ cup) walnuts, chopped
50g (½ cup) hazelnuts, chopped
1 orange, juice and rind
1 lemon, juice and rind
0.5g (½ tsp) dried lavender flowers [or less!]
0.5g (½ tsp) fresh rosemary [or less!]
0.5g (½ tsp) fresh thyme [or less!]
Popular substitutions
If you're out of fig season and brown or green figs aren't available, you can swap them for dried figs. Use 225g (½ lb) of dried figs in place of the fresh.
If you decide to substitute fresh figs for dry figs, you'll need to soak the dried figs in water overnight. When you start cooking, you can drain them, chop them and proceed with the recipe.
You can swap apple vinegar for balsamic vinegar
Top Tip
Keep stirring throughout the whole cooking process, especially towards the end. It's the key to getting the perfect velvety texture to your chutney. Plus, it will prevent it from catching and burning on the base of the pan.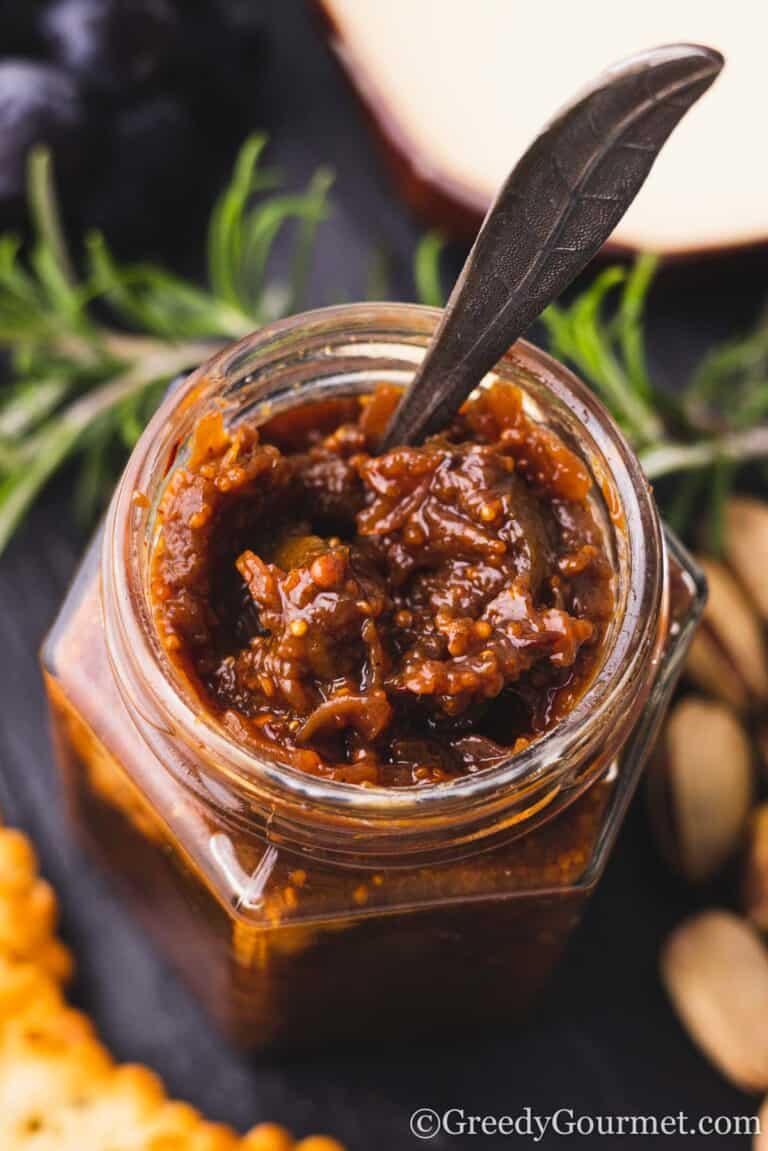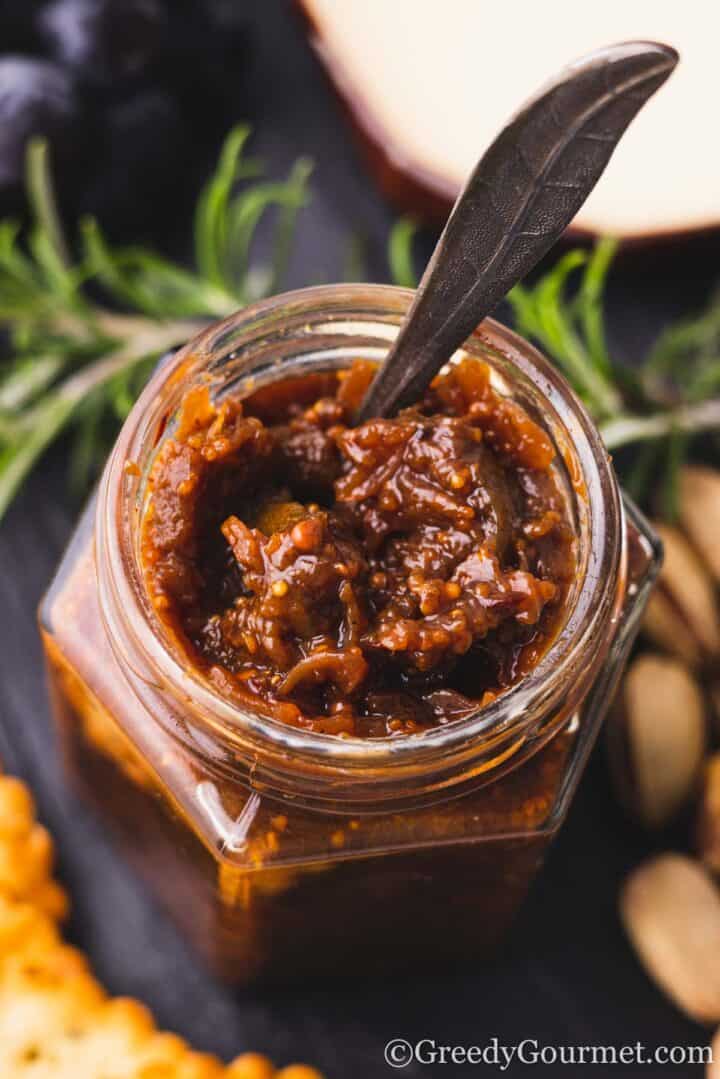 How do I store chutney?
Homemade chutney should be stored in a properly sterilised jar in a cool dark place. Make sure you store it away from any sunlight.
When transferring your chutney into the Kilner jar, use a jam funnel. This will prevent any spillages around the outside of the jar. If you're using Kilner jars with a rubber seal, I recommend using wax paper discs to help form an airtight seal. 
Finally, ensure the chutney and the jar are at a similar temperature. Hot chutney and a cool jar could lead to the jar being damaged.
How long does chutney last?
A long time. The key is to store your chutney properly. If you follow the guidelines above, chutney will last at least a year. Once opened, if it's tightly covered and stored in the fridge, chutney should last at least a month.
Can this recipe be scaled?
Absolutely! Chutney recipes are easily scalable. Making a big batch is a good idea, as it keeps for such a long time. Simply double or triple the amounts in the recipe below. Remember, be precise, otherwise the taste and consistency will be altered.
What month are figs in season?
The UK fresh fig season is from August to October, whereas in the US it's from mid-May through to November. Some varieties of fig trees produce fruit all year round and many figs are imported from the Mediterranean.
So, you should be able to get hold of fresh figs without much of a problem.
Plus, if you're lucky enough to own a fig tree or know someone who does, they taste even better when freshly picked!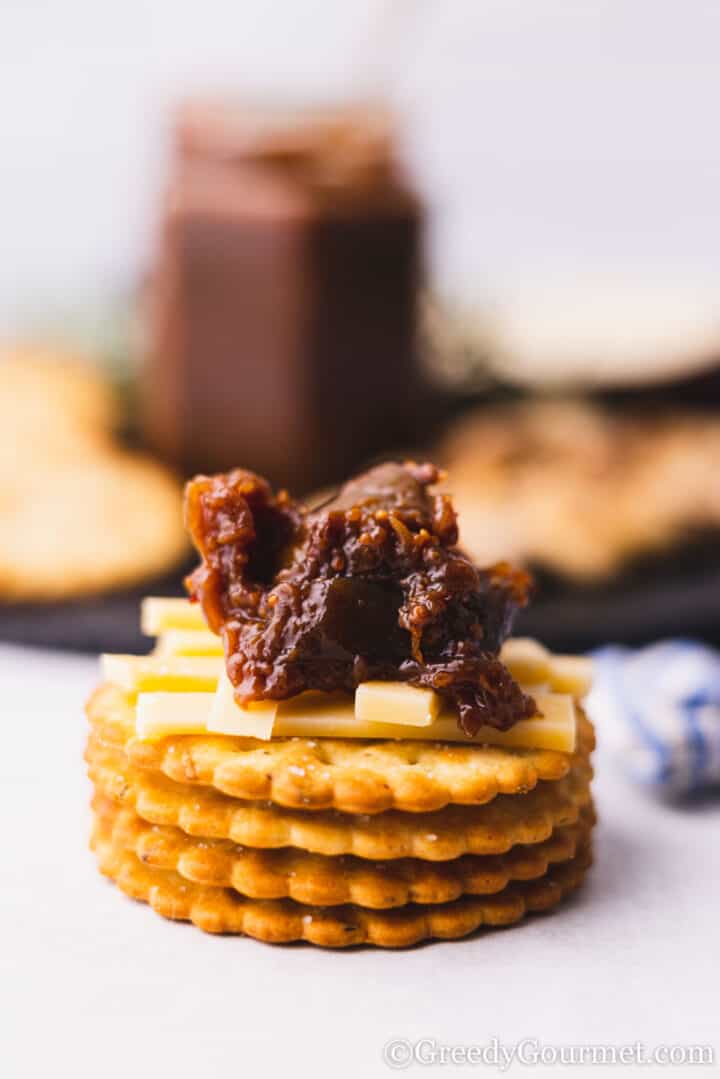 Other Chutney Recipes You'll Love
Once you've mastered this recipe, you'll want to make another! Here are just a selection of some of my favourite chutney recipes:
Don't forget to come back and let me know how your recipe turned out!
Print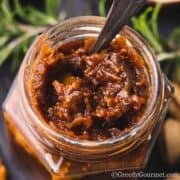 Fig Chutney Recipe
---
Description
This sweet and tangy fig chutney recipe is a perfect condiment to serve with cheese and crackers or alongside roasted meats.
---
450

g

(1lb) fresh figs, washed and chopped roughly

1

onion, peeled and chopped

250

ml

(1 cup) apple cider vinegar

100

g

(1/2 cup) brown sugar

2.5

cm (1in) fresh root ginger, peeled and grated

2

g

(1 tsp) yellow mustard seeds

2.5

g

(1 tsp) ground cinnamon

2

g

(1 tsp) dried chilli flakes

3

g

(1/2 tsp) salt
---
Instructions
Place all the ingredients in a large saucepan.
Stir over a medium heat until all the sugar has dissolved.
Turn up the heat until a boiling point is reached, then lower it to reach a steady simmer. Cook for 1 hour or until the mixture is thick.
Pour the chutney into hot sterilized jars and seal immediately.
Store in a cool, dark place for a month to let the chutney mature.
Serve as part of a cheeseboard. Enjoy!
Notes
If fresh figs are out of season, you can use 225g (½ lb) of dried figs instead. The day before you cook the chutney, you'll need to soak the dried figs in water overnight. When you start cooking, you can drain them, chop them and proceed with the recipe.
Prep Time:

15 minutes

Cook Time:

1 hour 10 minutes

Category:

Chutney

Method:

Boil

Cuisine:

British
Keywords: fresh fig chutney, dried fig chutney, spicy fig chutney recipe, fig chutney indian recipe, christmas fig chutney recipe, savoury fig chutney, green fig chutney, fig chutney for cheese, fig and ginger chutney, fig and date chutney, pear and fig chutney, slow cooker fig chutney