A rich, wonderfully succulent chutney with a pleasant tartness and subtle spicy warmth, gooseberry chutney makes ordinary snacks sensational with just one spoonful.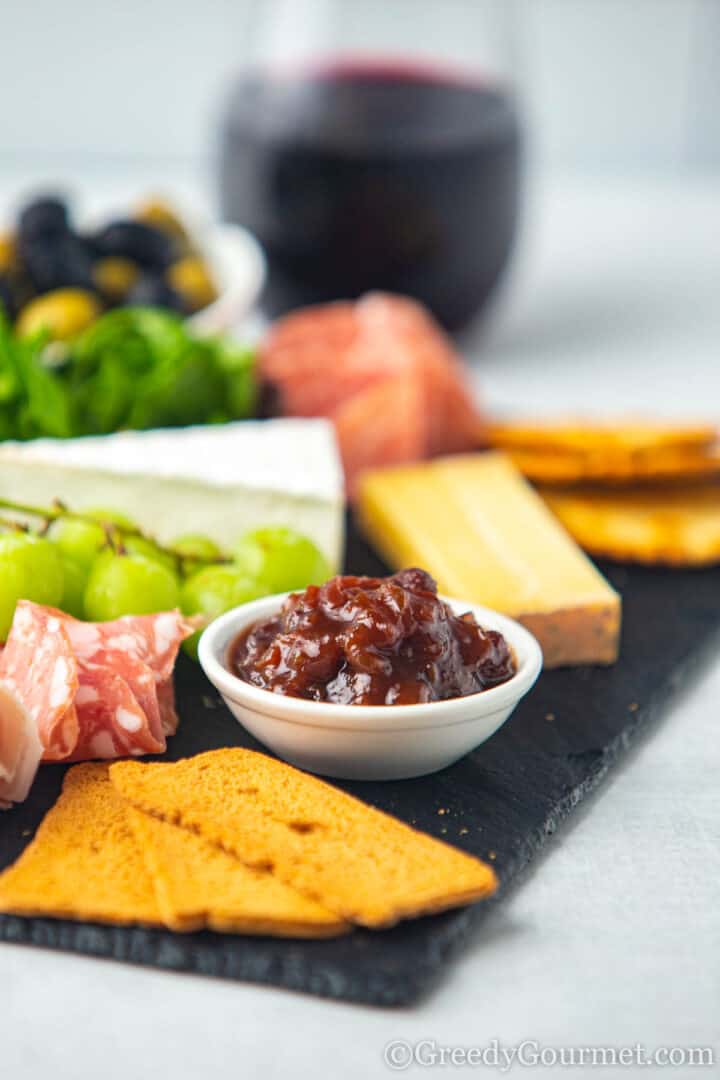 Best of all, it takes only a few easy steps!
Why you'll love this gooseberry chutney recipe
A simple recipe that lasts a long time
Makes an excellent accompaniment for cheese, cold meats and fish
Gooseberries are easy to forage for, making this recipe very inexpensive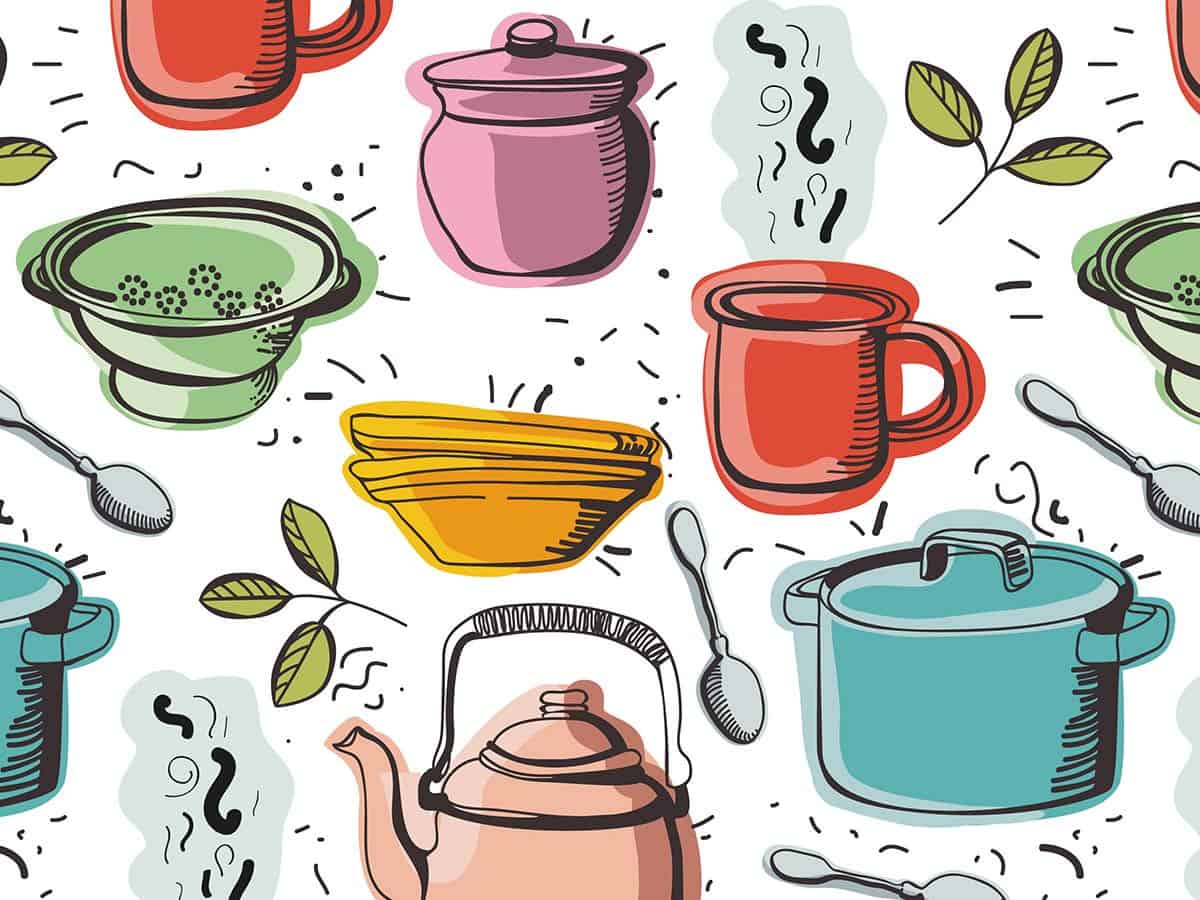 CHUTNEY EQUIPMENT YOU NEED
Check out the ultimate list to chutney making equipment. You actually don't need that much and most of the items are quite affordable!

Making your own preserves is a great and satisfying hobby. Giving the gift the lovely food to your friends and family are especially rewarding!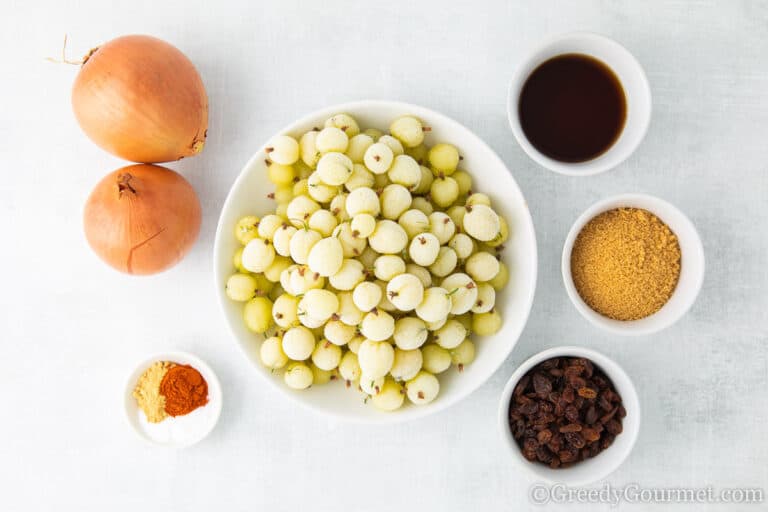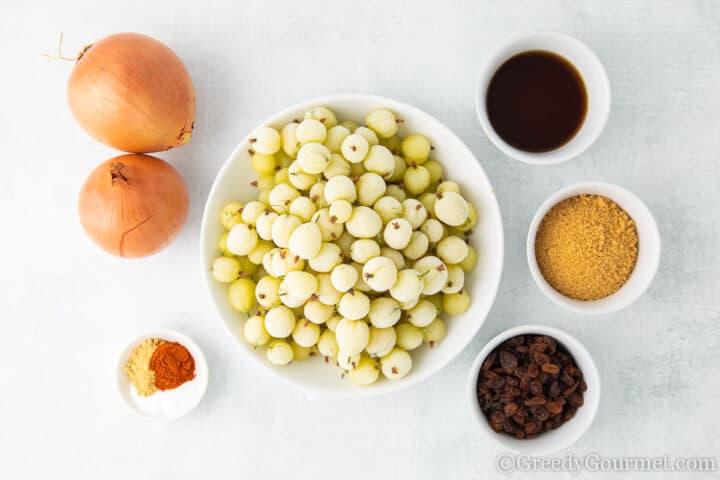 How to make gooseberry chutney
Step1 : Get all your ingredients together
Place everything in your large saucepan and bring to the boil.
Step 2: Dissolve the sugar
Stir the mixture until all the sugar has dissolved.
Step 3: Simmer away
Reduce the heat to a simmer point and cook for 1½ to 2 hours, or until the mixture has thickened.
Step 4: Get potting and store!
Ladle into warm, sterilised jars and seal.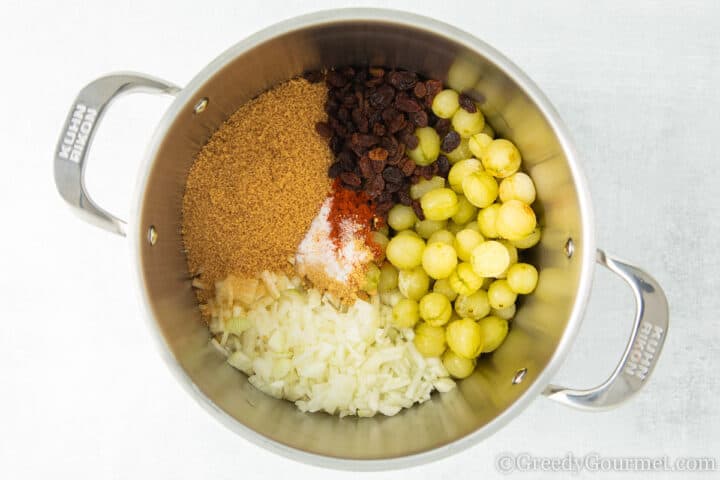 What to serve with gooseberry chutney
Cheese
Serve this chutney with your favourite cheeses as part of a cheeseboard.
Fish
Gooseberry chutney tastes sensational when paired with smoked mackerel or other types of fresh or smoked fish.
Meat
Chutney works wonders with cold meat. Serve it alongside your leftover roast pork, beef, turkey or chicken.
Wine
A crisp white wine pairs well with gooseberry chutney and cheese. Go for a New Zealand Sauvignon Blanc or a Burgundy Chardonnay. If you prefer red, try an Argentinian Malbec, as the sweet richness makes an excellent contrast to the tartness of the gooseberries.
If wine isn't your thing, why not whip up an elderberry gin? Perfect for a summer evening!
Popular substitutions for this recipe
Swap the malt vinegar for apple cider vinegar if you can't find any
Variations to this recipe
If you're looking to add a little extra flavour, try one of the following:
1 lemon, juice and zest
2 red chillies
2g (1 tsp) coriander seeds or mustard seeds (crush with rolling pin)
You can also reduce to 1 tsp salt for a slightly less salty chutney
Other spices you can play with:
1g (½ tsp) ground turmeric
3g (1 tsp) ground black pepper
3g (1 tsp) ground mixed spice
3g (1 tsp) ground cinnamon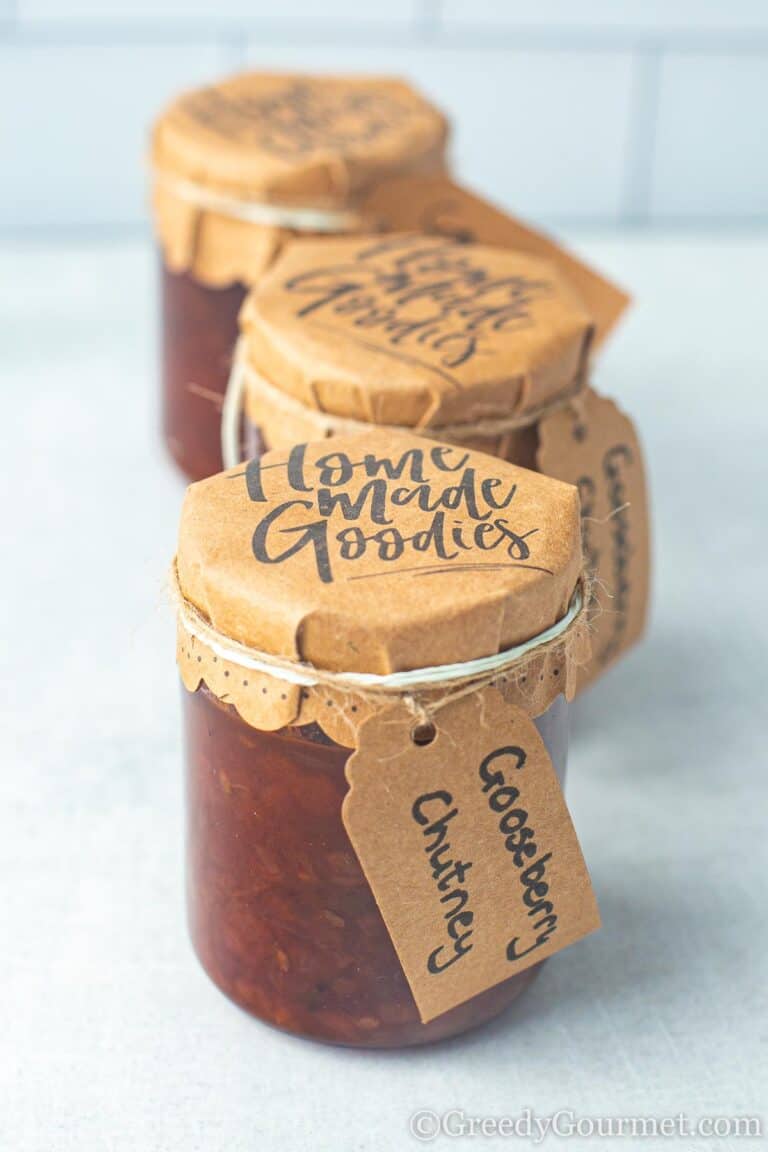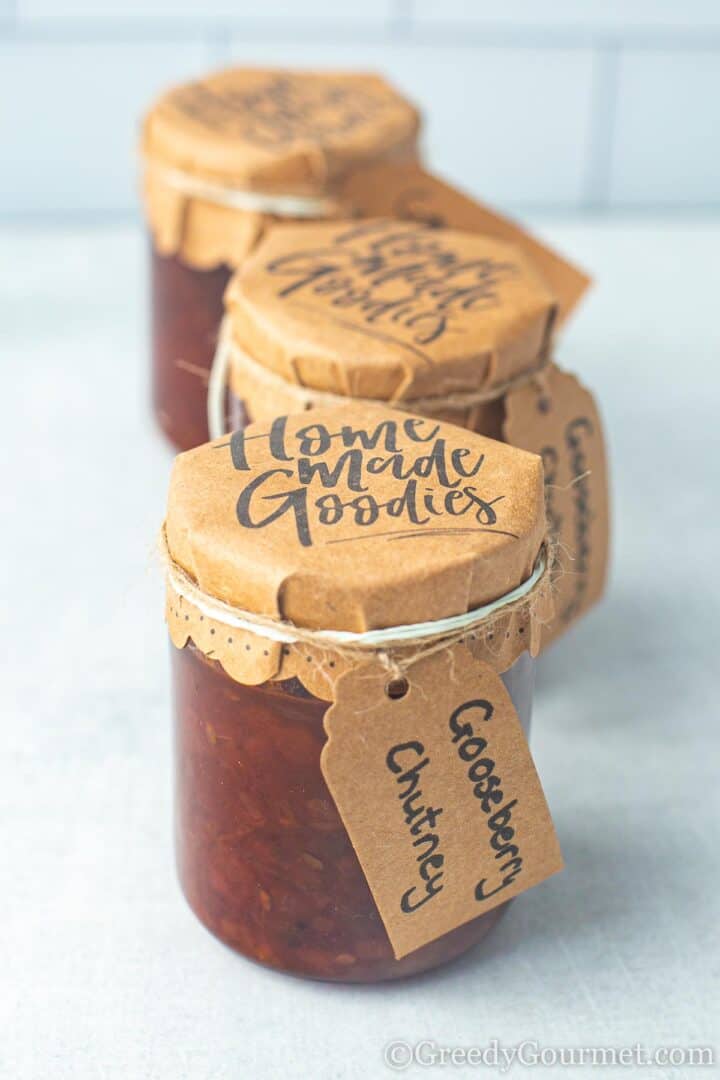 What exactly are gooseberries?
Gooseberries are small green berries with a fuzzy skin that sometimes has stripes on it. They tend to be very tart, but sweeten when cooked, which is why using them to make chutneys, jams and pies is better than eating them raw.
What time of year do gooseberries grow?
Between May and September. The best time is in the middle of summer.
Should I forage for gooseberries?
Yes! Foraging for gooseberries is a great way to get a delicious ingredient for free.
Gooseberries grow in cooler climates, which is why the UK is the perfect place. You'll find them growing in hedgerows and woodland areas.
How do you store gooseberry chutney?
Gooseberry chutney needs to be stored in an airtight sterilised jar. Keep it in a cool dry place.
How long will it last in the fridge?
Once opened, gooseberry chutney will keep fresh for around 2 months when refrigerated.
More great chutney recipes
Why not try one of these fantastic recipes:
Print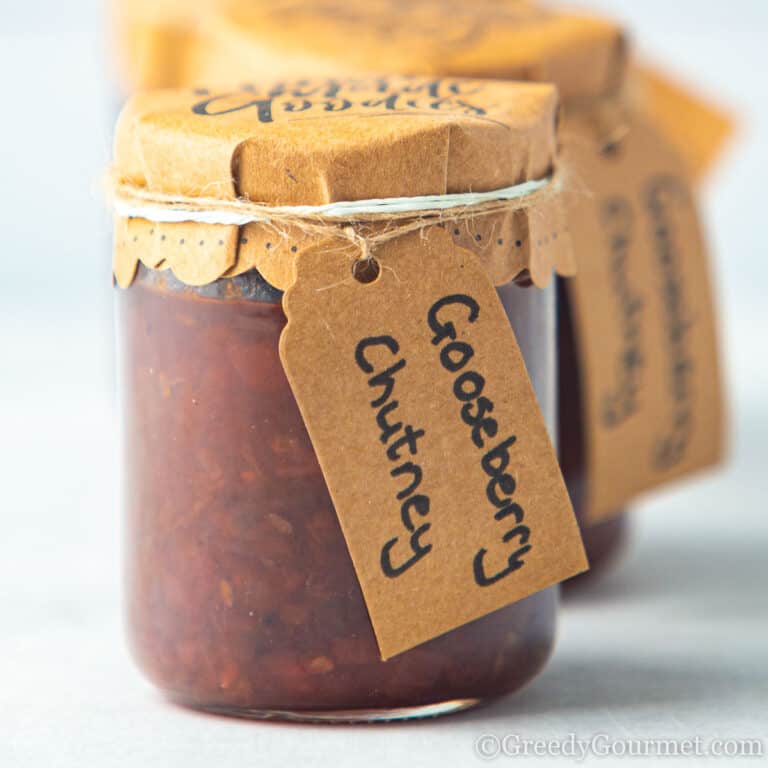 Gooseberry Chutney Recipe
---
Author:

Michelle Minnaar

Total Time:

2 hour 15 minutes

Yield:

fills

5

x 250 ml jars

1

x

Diet:

Vegan
Description
This easy and delicious homemade Gooseberry Chutney is best served as part of a cheeseboard or with meat.
---
450

g

(1lb) onions, chopped

1

kg

(1 1/2lbs) gooseberries, wash, topped and tailed

300

ml

(1 1/4 cup) malt vinegar

450

g

(1lb) brown sugar

100

g

(3 1/2 oz) sultanas

17

g

(1 tbsp) salt

12

g

(1 tbsp) ground ginger

2

g

(1 tsp) cayenne pepper
---
Instructions
Place all the ingredients in a large stainless steel saucepan over a medium heat. 
Keep on stirring until all the sugar has dissolved. 
Bring the concoction to a simmer point and cook for 1½ to 2  hours, or until thickened. 
Pour into warm, sterilised jars and seal. 
Leave to mature for 2-3 months.
Best served with fresh mackerel, smoked fish and roast chicken or turkey. Of course, it goes well with a cheese board too. Enjoy!
Notes
Buy gooseberries when they're cheap! The greener (unripe) the better.
Gooseberries freeze well. The good news is you can use frozen gooseberries for this recipe!
When using frozen gooseberries, place the berries in the pot first and gently heat until everything is thawed, which should take about 15 minutes. Add the rest of the ingredients to the pot and proceed with the recipe. 
Prep Time:

15 minutes

Cook Time:

2 hours

Category:

Chutney

Method:

Boil

Cuisine:

British
Keywords: gooseberry chutney, gooseberry recipe, chutney recipe, gooseberry chutney recipe