Tomatillo chutney has quickly become one of my favorite things to eat. I guarantee you will love this recipe too.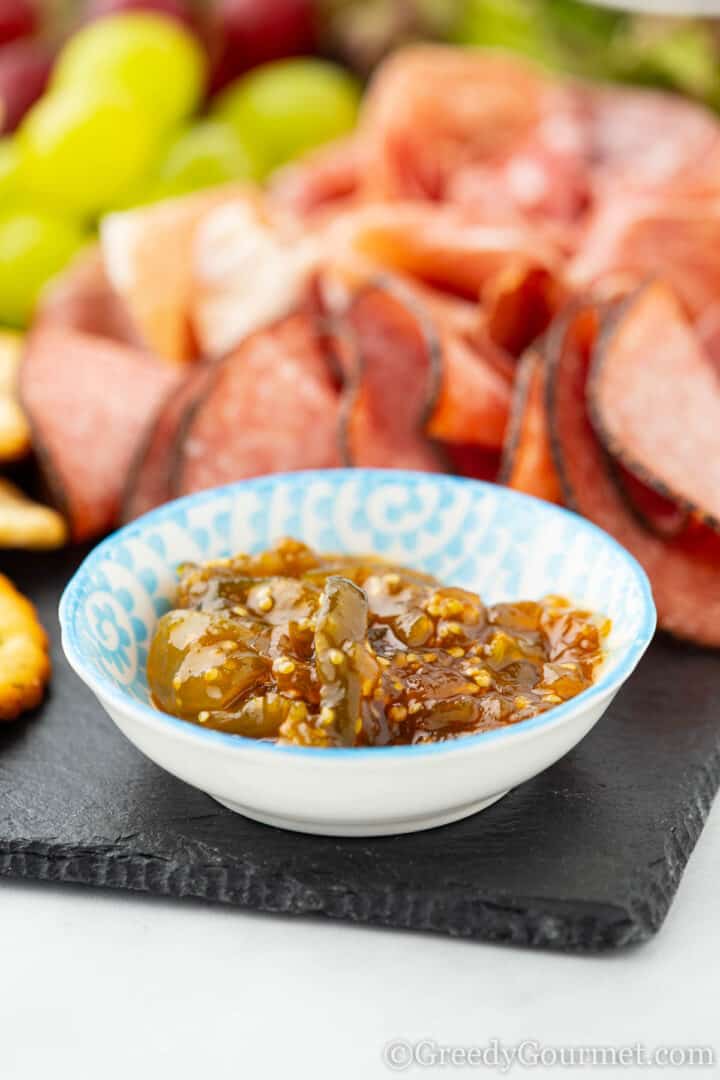 Why You'll Love It
There are so many reasons to love this recipe. It goes well with about any meal, and it's quite simple to make. With fresh ingredients straight out of the garden, plenty of fruits and vegetables, it's the perfect healthy treat.
Tomatillos vs. Green Tomatoes
Tomatillos are similar to green tomatoes in the fact that they are both tomatoes. However, green tomato just refers to any tomato that is unripe, whereas a tomatillo is a completely different type of tomato.
Ingredient Notes
Here are some quick ingredient notes:
Tomatillos – Make sure you find fresh tomatillos for this chutney.
Onions and jalapeños – This recipe is better than other recipes because it uses these two veggies, so do not omit them.
Ginger – Ginger adds the most delicious sweet and tangy bite.
Seasoning – I use cumin, chili powder, and salt to season this, but you can add whatever you'd like. Whether it's garlic, cinnamon, or mustard seeds, you'll love the flavor. If you do add garlic and mustard seeds, I also suggest adding raisins. Raisins add a delicious texture.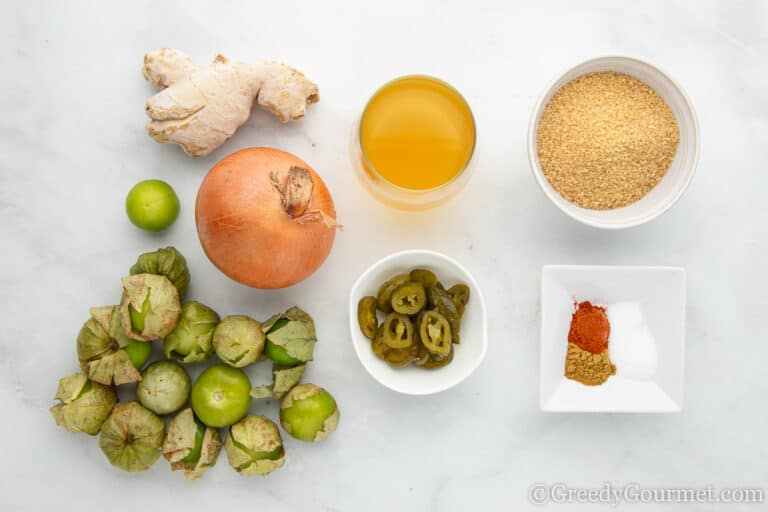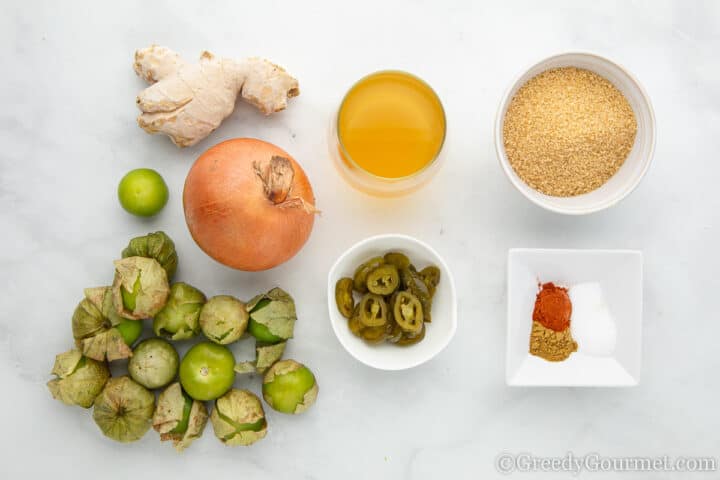 What Are Tomatillos?
Tomatillos are a Mexican husk tomato. They are small fruits that originate in Mexico and come inside little husks. They are green in color and have a soft, tender texture that makes them perfect for chutney.
What is Chutney?
Chutney is quite similar to relish and salsa. It is a spread that can be eaten in a variety of ways.
I love chutney because I can eat it with chicken, pork, vegetables, crackers, on top of crusty bread, or even on its own. I have tried many chutney recipes, but this tomatillo chutney recipe is my favorite.
Can I Add Green Chillies?
You can definitely add green chillies if you would like. It will make the tomatillo chutney a bit spicier, but it'll still taste great.
Is this Recipe Healthy?
Yes, this tomatillo chutney is very healthy. It is full of veggies, making it perfectly fine to consume and not feel guilty. 
Is this Recipe Vegan?
Yes, this tomatillo chutney is vegan. There are no animal by-products used to make it.
What Does this Pair Well With?
You'll find that this tomatillo chutney pear is incredibly well with a protein like pork or chicken. It is perfect to put on top of your favorite foods.
How Big a Batch Does this Make?
This will make a couple cans worth of chutney. Because the tomatillo chutney prep time is not that long, I suggest making a large batch to get the most out of your time.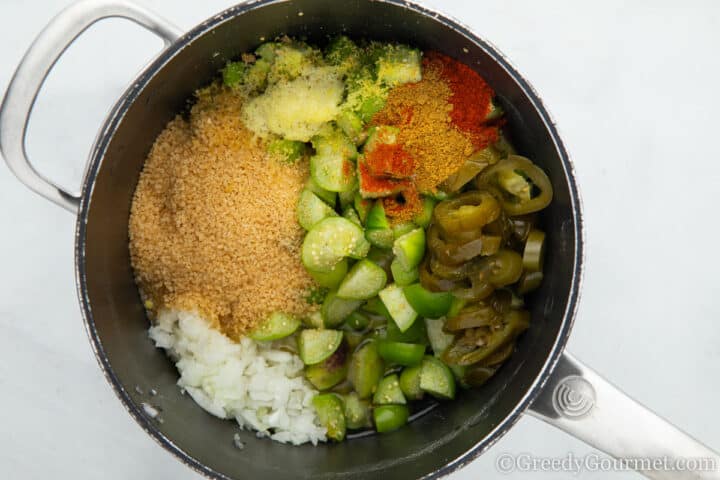 Canning Notes
There isn't much canning involved in this recipe, but here are a few things to keep in mind when using cans:
Make sure the cans are sterilized so as not to contaminate anything.
Use fresh ingredients, as this always tastes better in home-canned foods.
Best Jars to Use
I suggest using glass pint jars. A mason jar is a wonderful option for canning tomatillo chutney.
How to Store
Tomatillo chutney will store very well in the refrigerator afterward, but can also be put in the freezer. Don't forget to label and date the chutney so you are sure when you made it.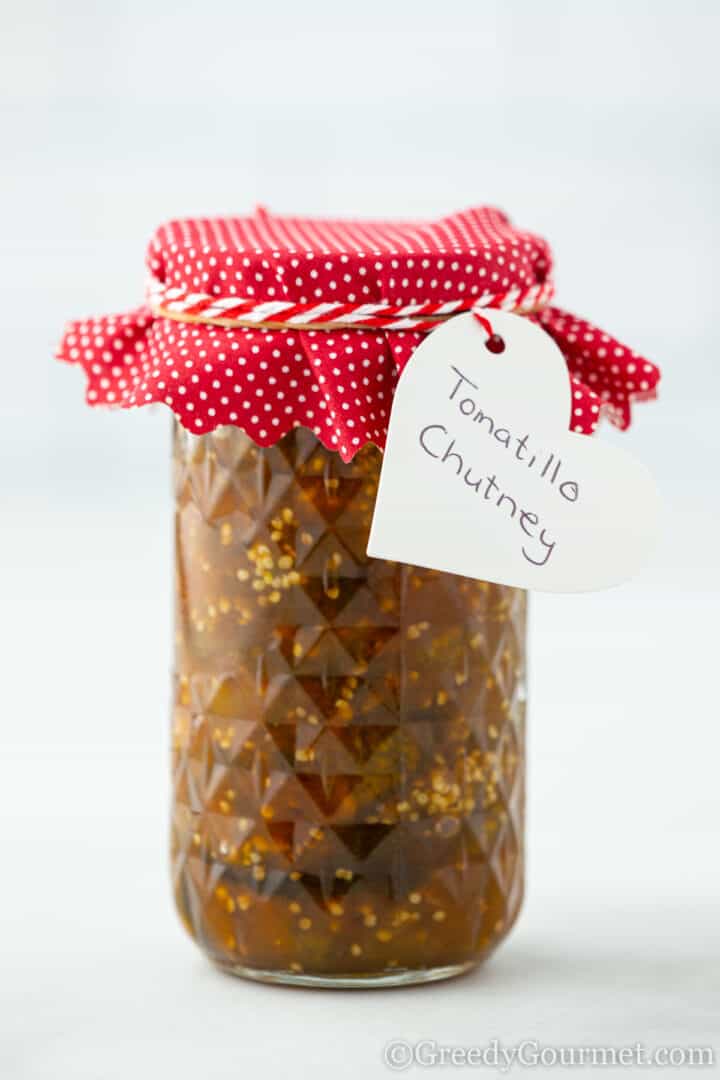 Serving Tips
When it's time to have your tomatillo chutney (my favorite time), serve it in a little bowl or right on top of your food.
Alternatives to Apple Cider Vinegar
I use apple cider as my preferred liquid in this tomatillo chutney, but you can use another one, like white or red wine, if you prefer.
Chutney Recipe Tips
The devil is in the details for this chutney recipe. Here are a couple notes:
Use a sharp knife. This recipe requires a lot of chopping. You need chopped tomatillos, chopped onions, and chopped jalapeño peppers. To make all of the chopping easier, use a sharp knife.
Don't forget to reduce the heat. When you are dissolving your sugar, don't forget to reduce the heat so it is just simmering. You do not want to over cook it.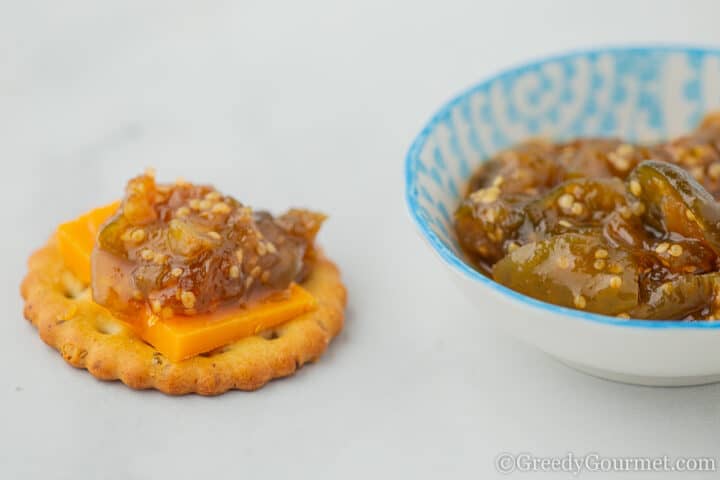 Print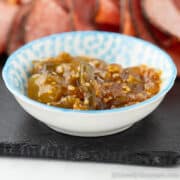 Tomatillo Chutney Recipe
---
Author:

Michelle Minnaar

Total Time:

1 hour 35 minutes

Yield:

3 cups

1

x

Diet:

Vegan
Description
Learn to make this easy and tasty homemade Tomatillo Chutney. Best served as part of a cheeseboard, and even meat. 
---
900g

(2lbs) fresh tomatillos, peeled and chopped

1

onion, chopped

2

jalapeno peppers, peeled, seeded and chopped

5

cm (2in) fresh ginger root, grated

200g

(

1 cup

) brown sugar

250

ml (1 cup) apple cider vinegar

3g

(

1 tsp

) ground cumin

3g

(

1 tsp

) red chilli powder

12g

(

2 tsp

) salt
---
Instructions
Place all the ingredients in a large, heavy-bottomed pan.
Stir over a medium heat until all the sugar has dissolved then bring to the boil. 
Lower the heat to a simmer, then cook, uncovered, for 1 hour or until the chutney has thickened. 
Pour into hot sterilised jars and seal. 
Label, once cooled. Enjoy!
Notes
You can swap half of the tomatillos with green tomatoes.
Poblano peppers can be used instead of jalapeno peppers.
Prep Time:

20 minutes

Cook Time:

1 hour 15 minutes

Category:

Chutney

Method:

Boil

Cuisine:

American
Keywords: tomatillo chutney, tomatillo recipe, how to use tomatillos