In a big city like York, the choice for accommodation is plentiful. However, being a popular student town, accommodation rates can be steep in the city. That's why when you visit this charming city of York, you're always better off booking a hotel like Hotel Indigo, based in Walmgate. It has all a York visitor can hope for - beautiful and clean rooms, an amazing breakfast menu and a charming ambience. Most noteworthy, you get a lot for money's worth!
For a city break, location is everything and the Hotel Indigo is well located for exploring the historic city of York. No more than a five minutes' walk will take you from the hotel to The Shambles and the city centre. You might also catch glimpses of the York Minster on your short walk on the way. Within ten minutes on foot, you can also reach the train station, the Castle Museum and many more of York's famous sites and attractions. I just loved my stroll down Walmgate. I could already get the sense of old architecture and the cities' history as I approached the hotel from my walk from the train station.
When I entered the lobby, I was greeted by very pleasant staff who kindly walked me through all the usual steps of checking in. I knew I had made the right choice booking this hotel. The surprise came when I entered my room.
Hotel Indigo - the place to stay
Hotel Indigo has 101 rooms, however, it still remains a true boutique hotel. It has a modern urban design and the rooms are decorated in a very creative and far from standard fashion. Not something you would quite expect from a really old town! This is what makes Hotel Indigo truly stand out in York.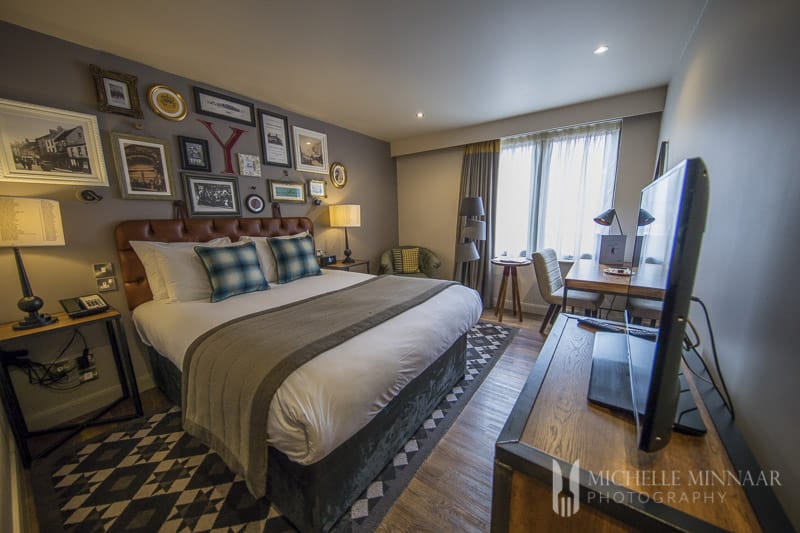 If you are in one of the gorgeous rooms at Hotel Indigo, it feels less like a conventional hotel and more like you are staying the night with some trendy friends in a London loft apartment. So much attention was given to every detail. The room is full of locally designed and manufactured furniture combined with bespoke touches such as antique Yorkshire tea tins. This is what brings an unbeatable cosy ambience to the table.
Just take a look at the picture of the wall. It really showcases the level of detail and thought given to designing this elegant hotel.
Needless to say the rooms have every modern facility that you would expect from a good hotel. These include a 40'' flat screen TV, individually controllable air conditioning, tea and coffee making facilities, as well as a working desk with complimentary wifi access. So, I had no trouble working in my room on my laptop as I normally do!
The bathroom is in a similar style, sporting beautiful tiles and iron work. Furthermore the more than spacious shower gives you a sense of spa holiday, not least when stepping out and putting on the bathrobe provided by the hotel.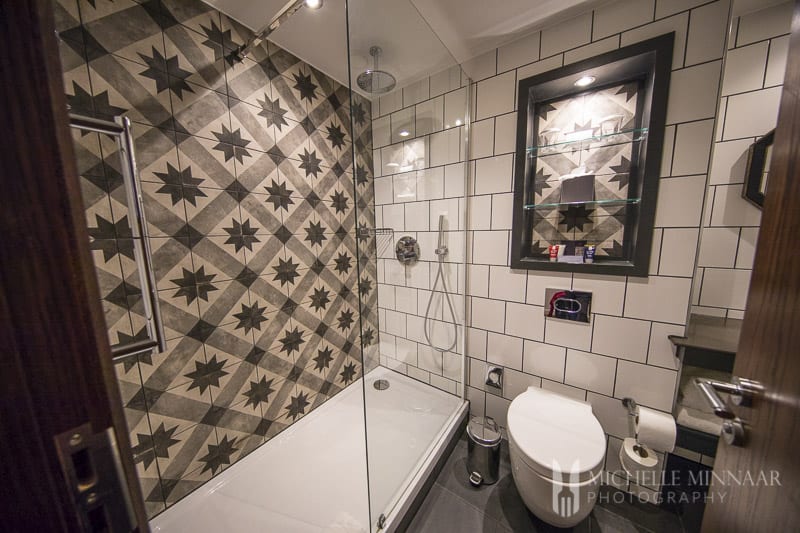 close to restaurants
The Hotel Indigo is set in a new build red brick building, designed to fit into its surroundings of the Walmgate Bar neighbourhood. You'll find it blends in perfectly with the classic red brick buildings typical of York. The lively neighbourhood itself offers many inviting restaurants, bars and pubs, only a few paces from the front door. Even the in-house bar and restaurant, No. 88, is a popular hang out in the neighbourhood.
The bar and the dining room are beautifully decorated in modern urban design, hinting at York's more recent history as the industrial hotspot of the North. The menu features many classic dishes, lifted into a new era with a modern twist, as well as some innovative creations. It specialises in grilled meat sourced from local Yorkshire farmers and have an impressive cocktail menu as well.
You might also want to explore a little bit around the neighbourhood, because there are so many culinary gems! These include some centuries old, and probably haunted, pubs as well as modern kitchens such as the Ambiente restaurant. Make sure you check out Ambiente if you do stay at Hotel Indigo because it is really just a few metres away. It won't disappoint!
best breakfast in York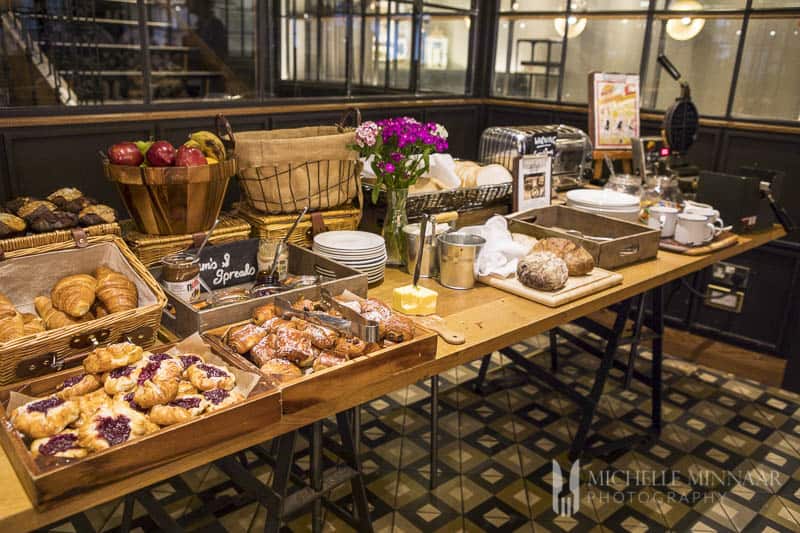 This was my favourite part of my entire stay, being a foodie! This is also where you will be enjoying the best breakfast in town, with everything you could wish for. Not only is there an abundant choice of breads, pastries, cereals, cold cuts and fruit. You can also have the choice of adding a hot dish to your breakfast, such as scrambled eggs with smoked salmon, freshly made pancakes, or even the full Yorkshire breakfast. The latter includes back bacon, black pudding, farm sausage, hash brown, plus grilled tomatoes and mushrooms. Sounds like a breakfast of champions doesn't it? This will certainly give you the energy that you need for a day out exploring the city of York on foot.
You know that a hotel has excellent service and food when they offer freshly squeezed orange juice. This is something that is very dear to me, as not a lot of hotels offer this for breakfast.
Honestly, it is the best hotel breakfast I've had in a while. All the more reason to book Hotel Indigo in the first place.
hotel indigo
Overall, my stay at Hotel Indigo did not fall short in terms of expectations. On the contrary, it was a very memorable and enjoyable experience. I would definitely book Hotel Indigo again if I ever come up to York once more. Moreover, without a doubt, I would definitely recommend this elegant place to all of my friends.
Hotel Indigo York
88-96 Walmgate, York
YO1 9TL, UK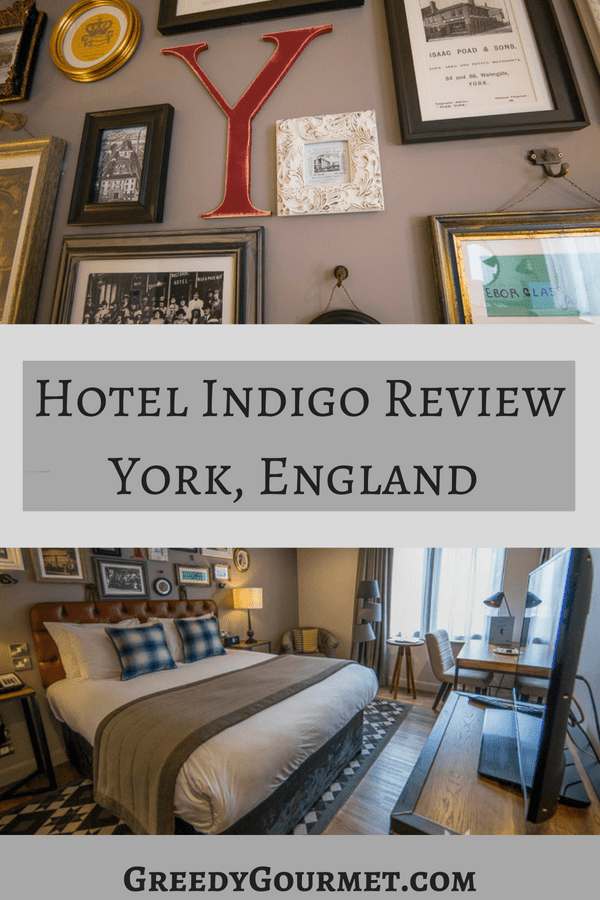 PS. I was a guest of Hotel Indigo. All opinions are my own!