After a tough few months of moving house, going on a course, setting up new businesses and starting the divorce process, I literally jumped at the opportunity when we got invited to Legoland for a day. Who best to share the experience with than my three year old daughter, Robyn? Even better, she was asked to play with the new Duplo range. Which toddler could possibly say "no" to such a request?!?

Vibrating with excitement, Robyn hopped from station to station, in her element by the vast variety of new Duplo toys to play with. During the play session I asked her which was her favourite, and she said the burgers, referring to the Creative Picnic. Afterwards, I asked her the same question again and this time it was the ice cream.
Here are some of her creations with Robyn looking really pleased with herself.
Afterwards, Robyn got transformed into Batgirl and then we were off to see Legoland.
Our first stop was Atlantis where we saw some exotic fish and sharks in small submarines.
After the little tour children can learn more about different sea creatures. In this case it was a pencil urchin.
What I especially liked about the resort is that they have incorporated nature with the rides. There are plenty of greenery with tiny lakes and overall it was just a pleasant experience walking around.
What's especially genius was the building stations the kids could amuse themselves at while waiting in long queues.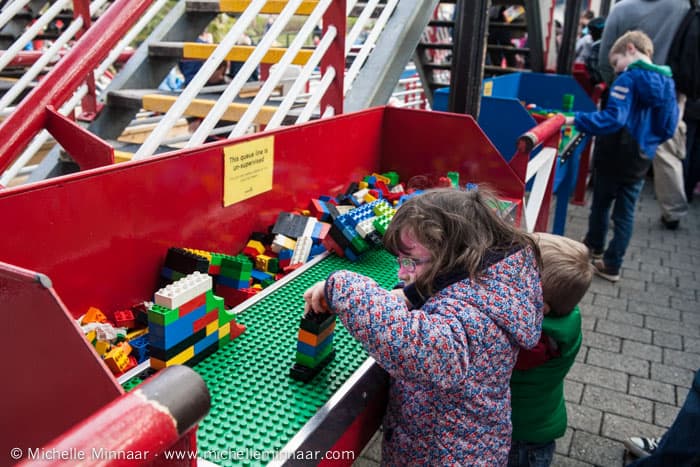 Along with the helicopter ride in Duplo Land, one of the highlights for Robyn was driving her own car. Thank goodness, she has 14 years left to practise. Shhhh, don't tell her that. Afterwards, she proudly announced to me that she drove a car and what "hard work" it was.
Hats off to the assistants whose backs must really hurt at the end of the day running after the little drunk drivers, who constantly hit and get stuck onto the kerbs.
In total we went on about six rides in 2.5 hours. Sadly, that was all we had time for and missed about 75% of the rest of the theme park. Although prices are steep, starting at £26.41 per ticket, if you spend a full day or two there it is worth it. All the rides are great fun, the scenery is lovely and the staff is a large cry from tattooed, gum chewing Essex crowd that runs a theme park on a slab of pavement near where I live.
Robyn was thrilled to receive the Farm Tractor and immediately opened the box and started playing at home. Her brother, Gabriel, was instantly intrigued as well by the new toys. As a non-verbal, 7 year old autistic boy, he has had hours of fun with Duplo as well and I don't think the age range limit is necessarily accurate. As long as toys are bright, colourful with room for imaginative play, they will appeal to most children.
Offering a world of play, LEGO DUPLO toys stimulate creativity, encourage role play and conversation, and help towards developing motor skills in pre-school boys and girls aged 18 months to 5 years. Colourful, safe and sturdy LEGO DUPLO is designed for small hands and big imaginations.
Disclosure: Compensation was provided by LEGO® via Glam Media. The opinions expressed herein are those of the author and are not indicative of the opinions or positions of LEGO®.