There have been plenty of times, when writing a restaurant review, that I felt tempted just to write: "It was great!" or "amazing" or "stunning" or whatever other synonym the thesaurus on my word processor spits out, and let the photos speak for themselves.
Heck, this time I even had the perfectly lame excuse that I forgot my notebook at Alyn Williams. Yet I felt no embarrassment that the staff could browse with leisure through my scribblings. There were no negative comments about the food, simply because there was nothing bad about the meal!
With my notes safely posted back to me I can only carry on raving about all the bits and pieces I consumed from the tasting menu (£60).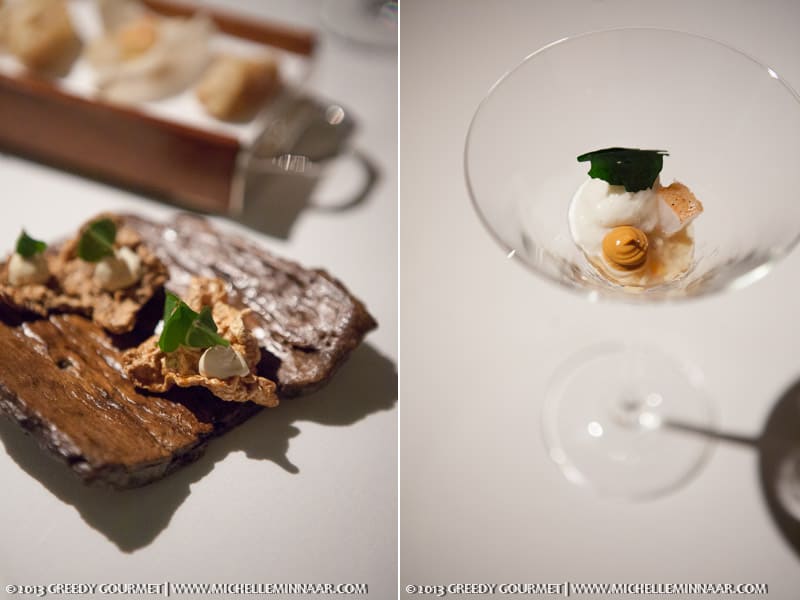 As each plate was carefully placed on the table, you could tell that extreme thought and skill went into each artwork. The intense aroma of truffle permeated the air at the first crack of the Parmesan Aracini. Strangely, cod skins that were in the sous-vide then dried out almost tasted like crackling. Another canapé was the delicately balanced profiteroles filled with blue cheese.
Alyn Williams' love of glass dishes quickly became apparent and I thanked my lucky stars that I wasn't the dishwasher who had to get everything looking spotless.
Perhaps the Scallop with Cuttlefish and Squid Ink isn't the best thing to order when you're on a first date unless you'd like to impress with a smile such as Beetlejuice's. Also spectacular was the melt-in-the-mouth cod with a pile of pillowy, finely grated truffle on top and creamy coco beans at the bottom.
The meat courses didn't disappoint either and these days plain old eggs pale in comparison to the smoked egg yolk that was served with the marinated quail. Unusual herbs were used in most of the dishes such as Scurvy Grass with the Devon Sirloin.
My favourite dessert was the creamy Cornish Cheesecake with the fun Yorkshire Rhubarb Granita and Ginger Crunch.
The menu itself is a bit cryptic, perhaps Alyn Williams's signature, in the sense that each item just lists the ingredients, separated by slashes. Mind you, if the writer had to create actual descriptions of how the food is prepared a one liner would probably turn into paragraph.
The atmosphere was the usual 5 star posh and hush hush. Unfortunately, I couldn't always hear the description of the food and it ended up turning into a guessing game. Unlike most restaurants, clientele aren't crammed sardine-style into every available nook and cranny and with tables spaced relatively far apart people can actually breathe.
With an Urbanspoon rating of 100% by over 40 past customers, I can understand why Alyn Williams at the Westbury has been my best Michelin starred meal to date.
P.S. I was a guest of Alyn Williams at The Westbury.
Alyn Williams at The Westbury
The Westbury Hotel
37 Conduit Street
London
W1S 2YF

Website