One mind-blowing bite of Prawn, Snapper and Watermelon Ceviche (£9.50) made me realise how lacklustre the Salmon Ceviche was at my Cabana review meal.
There are four types of Ceviches available at Asia de Cuba and the only thing they have in common is the citrus base but flavour-wise each one surprisingly had its own distinct personality. You can order three Ceviches for £21.50, which is s steal considering each dish hovers around the £9 mark. We ordered the Salmon & Avocado Helado (£8.50) and Grouper, Orange and Aji Amarillo (£9.50) too, both wonderful. The starters were served with plantain chips and prawn crackers.
The Crab Croquetas (£19.50) alone deserve a whole paragraph! The moment I cut through mine I was reminded of the one served in my JW Steakhouse review. Just pure white crab meat, well flavoured, rolled up in a ball and flung in the deep fat fryer, coming out with a golden brown, crunchy exterior. The accompaniments, jicama,mango and mirin slaw with roasted pepper remoulade, blew JW Steakhouse out of the water. It's expensive but it was pure perfection.
Vegetarians, rejoice. There's actually something more interesting on the menu than mushrooms or peppers for a change. The three large blocks of Soy, Lime and Chipotle Marinated Tofu (£23.50) were soft yet bouncy inside and outside decently crispy. They paired well with the Caribbean slaw on the side but could have done with some more sweet and sour mango sauce.
We didn't know what "yuca" was, which meant we simply had to order it from the side dish section. Turns out "yuca" is just another name for cassava. The chips (£8) were sharply flavoured but unfortunately were characteristically dry on the inside. Sweet potatoes definitely have more appeal.
Another showstopper was the Cuban BBQ Chicken (£24.50), which I'm sure had some sous-vide Santerían magic applied to it because it's very rare to come across such succulent white chicken meat. More of the satisfying avocado, fruit and cilantro salsa and less of the gorgeous Thai coconut sticky rice would have been preferred though. This was a huge plate of food and I couldn't get enough of the tamarind sauce.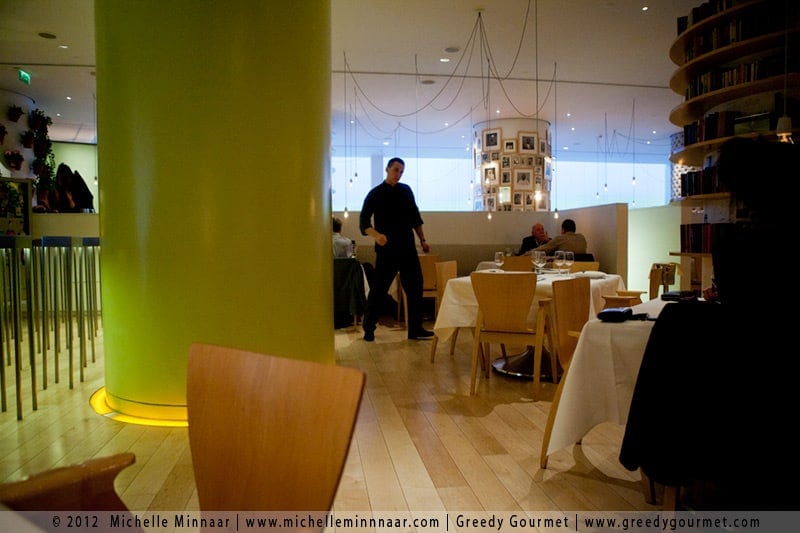 You'll have a hard time finding something on the light side on the dessert menu, which appear to be littered with stodgy sounding cake-like things. In the end we decided to share the Mexican Doughnuts (£12), ten delightful puffed brioche balls, which were filled with butterscotch sauce and served with fresh dulce de leche. If that's not going out with a bang I don't know what is.
Asia de Cuba lived up to its name – plenty of oriental and exotic fusion cooking is apparent in the menu. The food is fun and exciting and most importantly fantastic. I still dream of the crab croquettes. *sigh*
Quick Overview
Food
9/10: Any of the dishes we had I would gladly order again.
Value
6/10: It's pricey but good quality.
Service
7/10: Sometimes it was difficult to understand the heavily accented staff but their attitudes were positive through and though.
Toilets
8/10: Great.
Ambience
5/10: Too dark for my liking. The restaurant itself is a cavernous space with hazardously dangling lightbulbs at each table, reminding one of a construction site. Its saving grace is the circular pillars with shelves of books and framed photos respectively which lend some personality to the place. Clientele wise expect to see business suits and wives of rich husbands wobbling in impractical some-famous-brand stilettos.
Recommend
8/10: If you have the money, GO!
Asia de Cuba
45 St Martins Ln
London
WC2N 4HX
Website