Brigade Bar & Bistro, located not far from Borough Market, is all about serving good food and helping the homeless.
Most of us have good intentions. Most of us want to do good deeds. But alas, most of us have our own set of problems and get so wrapped up in them that we forget about the rest of the world. That's why charity campaigns are so successful, playing on our guilty conscience. Images of children in far away places looking downright unhappy magically make us want to open our wallets and empty them into the kitty.
It all makes me a bit uncomfortable though. Maybe I've read one too many news article about a charity scandal where the fat cats put the money in their pockets. There is no guarantee that my fiver will end up as a million mosquito nets saving a gazillion people from malaria. If I had my way, rather than just handing over the money I would buy a tonne of dog food and take it to the RSPCA myself, knowing that only the dogs will gain from my contribution. Have I done it yet? Nope, refer to third sentence of the second paragraph on this page.
Charity starts at home. Instead of sending money to Timbuktu I would rather want to see it making a difference locally. This is where Brigade comes in. Every time you eat at this restaurant you're helping homeless people create a new future for themselves. They receive shelter and can participate in cooking apprenticeships that will pave the way to a sustainable future for them. And what do you get? An ease of conscience and a good meal!
Admittedly, this time round I didn't get to try all the dishes so if you want to know my dining companions' opinions on the food they had, head to the bottom of the post and check out their blogs for their reviews. For starters they had:
New Forest Wild Mushrooms On Sourdough Toast with a Fried Duck Egg (£8.95)
Scotch Eggs with Beetroot Piccalilli, Fennel, Green Apple Slaw (£8.95)
Colston Basset Eccles Cakes with Cranberry and Rosehip Ketchup (£6.95)
Cornish Crackling Mackerel Salad with Pomegranate and Manuka Honey Dressing (£8.95)
The Baked British Seafood turned out to be seafood enclosed in a scallop shell sealed off with pastry which then baked in the oven, served on top of buttered samphire. Five stars for imagination and taste but it proved to be poor value for £11.95, which essentially turned out to be one scallop, three tiny mussels, two cockles and a bit of leek.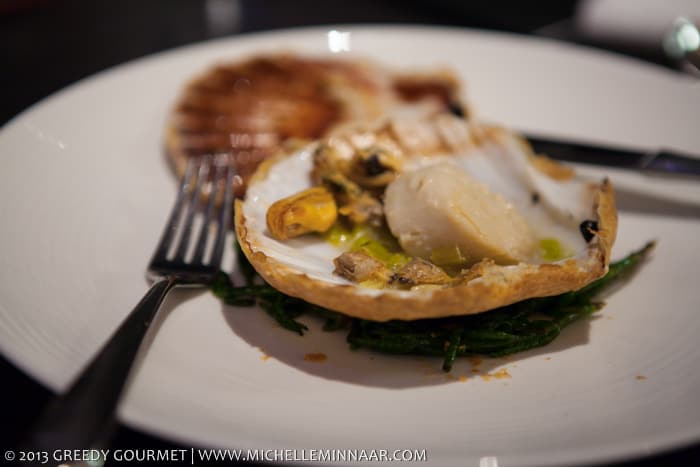 For a main course the others had:
Ravioli of Lobster and Salmon with Lemon and Sage Dressing (£19.95)
Pork Belly Toad in the Hole with Buttered Cabbage, Pear Cider Onion Gravy (£16.95)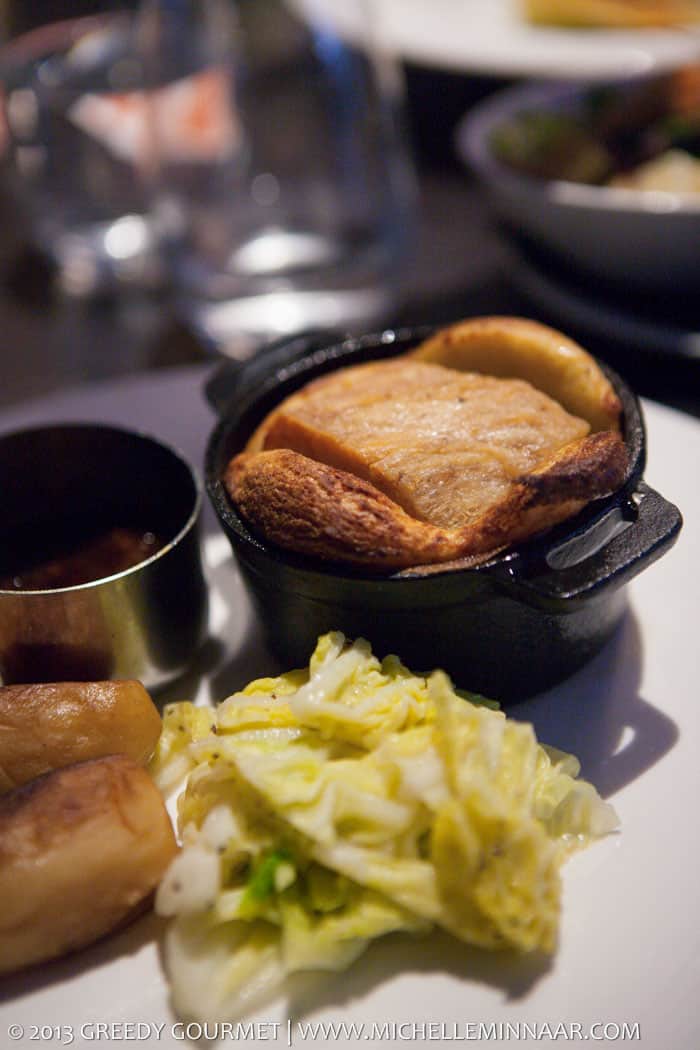 My Poached Fillet of Beef with Figs, Wild Mushrooms and Radish (£29.95) was spectacular. I particularly loved the roasted fig with hazelnuts on top of the meat.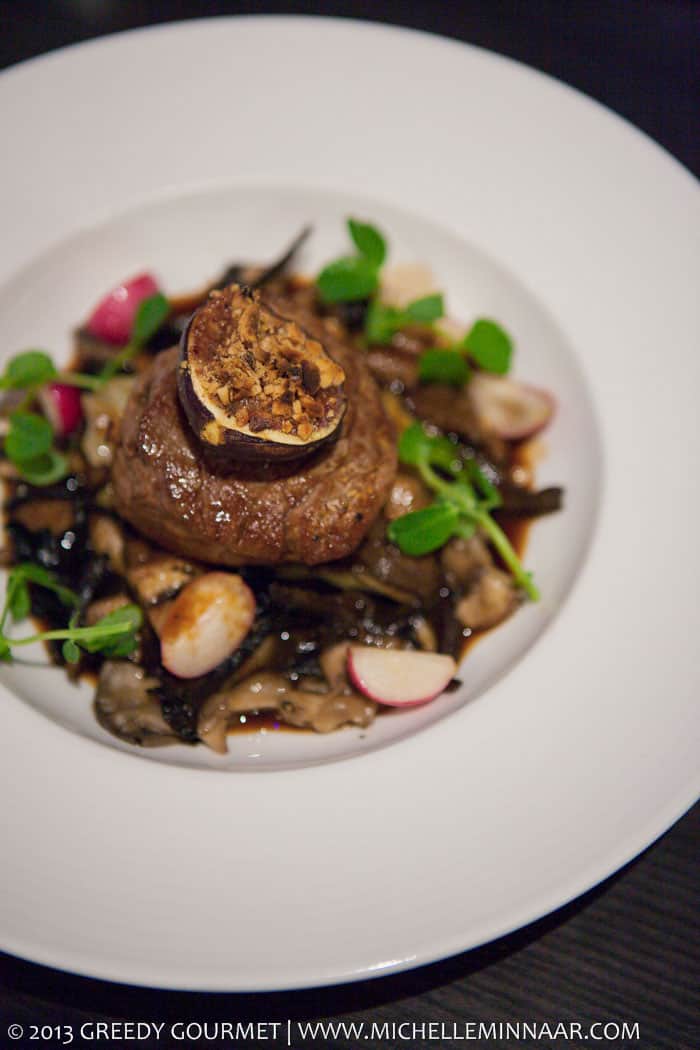 One of the highlights for all of us were the side dishes. Even some of London's top restaurants' side order menus would put a cow to sleep, offering potatoes a dozen ways and then for good measure add boiled up greens and a green salad. It's boring!
Not at Brigade though. We almost ended up ordering everything, which all turned out delicious:
Roasted Butternut Squash, Aubergine, Chilli Oil (£2.95)
Deep Fried Broccoli, Rustic Tomato and White Bean Stew (£2.95)
Roasted Beetroot with Cumin Seeds and Honey (£2.95)
Sautéed Chard with Hazelnut Butter (£3.25)
Tossed Autumn Salad, Chive and Mustard Dressing (£3.25)
Who knew cumin and beetroot worked so well together? Oh, and the deep fried broccoli? A revelation with the tangy tomato and bean sauce.
This is arguably the best Bakewell Pudding (£6.95) the world. I will show you how to make it at home shortly.
Chocolate and rose are a bit of an odd combination but people seemed to like the parfait.
My favourites of the cheeseboard (£10.95) were the Stinking Bishop and Colston Bassett Stilton.
All in all a great meal!
Quick Overview
Food
7/10: Considering that most of the chefs are still in training the food is remarkably good.
Value
7/10: Other than the Baked British Seafood glitch the rest of the food was good value for money.
Service
7/10: Wrong cooked steak was served to me and in turn another diner had mine.
Toilets
7/10: All good.
Ambience
9/10: Fun to watch the open plan kitchen at work.
Recommend
7/10: If you're in the area come and enjoy the food and contribute to a good cause.
Brigade
The Fire Station
139 Tooley Street
London
SE1 2HZ
P.S. I was a guest of Brigade.