Buddha-Bar is a glitzy restaurant based in Knightsbridge, London. The place itself is huge, with the capacity of seating about 450 people. A fortune must have been spent on the interior design including a floor to ceiling crystallised dragon. When you walk in it's like being transported to another world.
The menu is extensive and diners are spoilt for choice. Creative cocktails, as well as two different sharing menus, Buddha-Bar specialities, a wide variety of sushi and a full à la carte menu are on offer. Even the fussiest of eaters will find something to enjoy.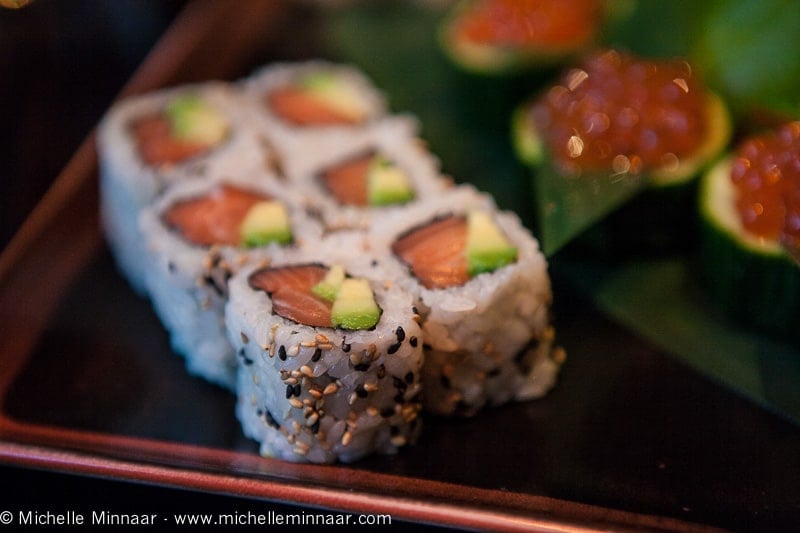 Our stunning sushi platter comprised Salmon & Avocado Maki Rolls (£12.50), plump Ikura/Salmon Eggs (£12.50) and Spider-Soft Shell Crab Maki Rolls (£15.50). The latter stole the show.
Our mains of Spicy Lamb Rack and Duck with Tamarind Sauce and Nashi Pear were excellent as well.
Now after such a big meal, the last thing I'd like to have for dessert is something heavy such as chocolate cake. My eyes tend to rove over the menu in search of something light and fruity and I've got into the habit of trying out restaurants' fruit offerings. Mamounia Lounge's Passion Fruit Platter had food bloggers in a state of wows but was eye-wateringly expensive. After Buddha-Bar I visited Nipa Thai and its fruit plate was positively pathetic. Buddha-Bar has set the standard for exotic fruit platters in London and here's why. The fruit came elegantly arranged in a large wooden sushi oke and there were more than enough for two people to share. There must have been about 10 different fruit varieties such as mangosteen, yellow and pink dragon fruit, an array of prickly pears, lychees, pineapple, red currants and grapes. The sorbets served with them were delicious but somewhat superfluous. The best was the coconut sorbet which I won't mind having right this minute. Most of the fruit were properly ripe which is a feat in itself considering that produce doesn't arrive in the UK in the best state. Just like I think Sofitel St James' breakfast will be hard to beat, Buddha-Bar's set the bar high. Who's up for the challenge?
Quick Overview
Food
8/10: The menu is a fusion between Chinese, Japanese, Thai and other Eastern cuisines. I would have been happy to try out every menu item.
Value
7/10: Considering its location, quality and quantity of the food the prices are reasonable.
Service
6/10: Sometimes it was hard to get a waiter's attention.
Toilets
8/10: All good.
Ambience
8/10: Dark and mystical, definitely different when it comes to interior design.
Recommend
8/10: If you're a fan of Far Eastern cuisines and always on the search for something to inspire you and get excited about, Buddha-Bar is it.
Buddha-Bar London
145 Knightsbridge,
London
SW1X 7PA

Website
P.S. I was a guest of Buddha-Bar.