We visited Bumpkin just before Christmas for lunch during the week and it was tremendously busy thanks to office parties being held. The atmosphere was lively and plate after plate were dished up on the kitchen counter in quick succession.
Unlike the other branches based in Notting Hill, Chelsea and South Kensington, the Westfield Stratford one only serves British street food. Since its based in a shopping centre, it's bang on target regarding its audience; after all shoppers tend to look for a quick, affordable and easy meal, not a gourmet one.
Bumpkin is very kid-friendly. Colouring-in pages along with a stash of crayons were immediately brought to the table when we sat down and three year old Robyn immediately got busy, somewhat eliminating the stress of dining with a toddler.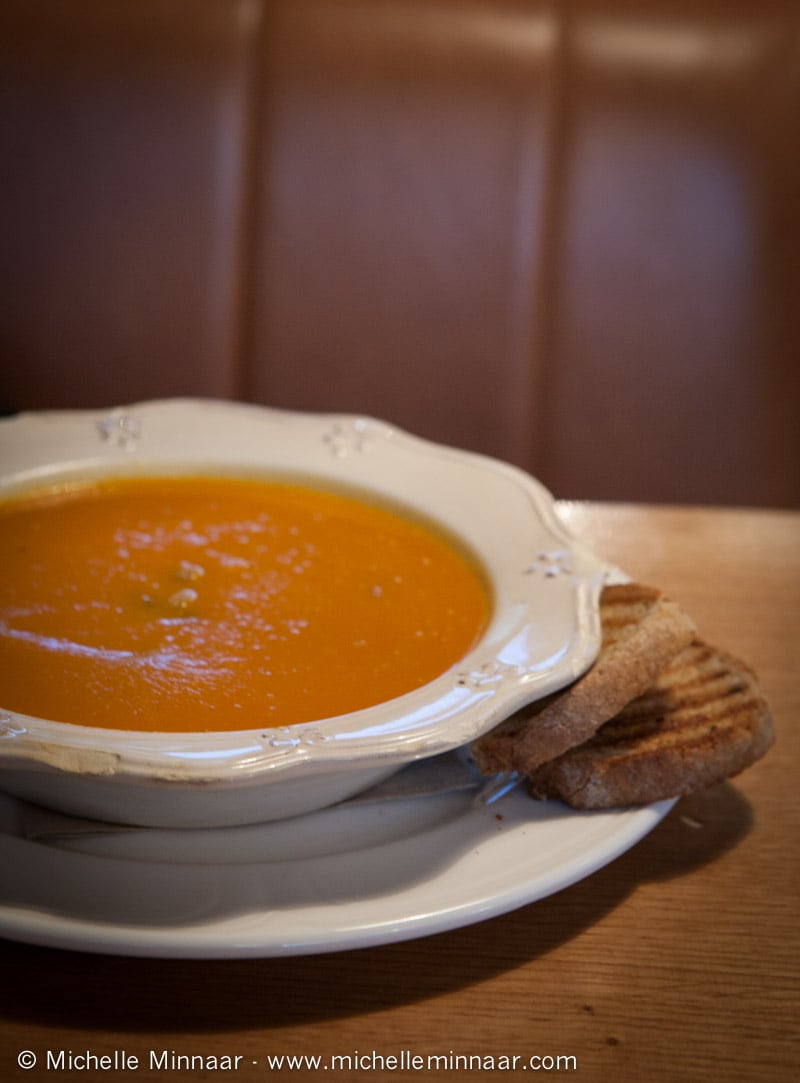 One of the daily specials was pumpkin soup, which went down a treat. The grilled portobello mushrooms (£6.95) came with melted Brie and sage. It was a lovely dish but I ended up wishing they were less stingy with the cheese.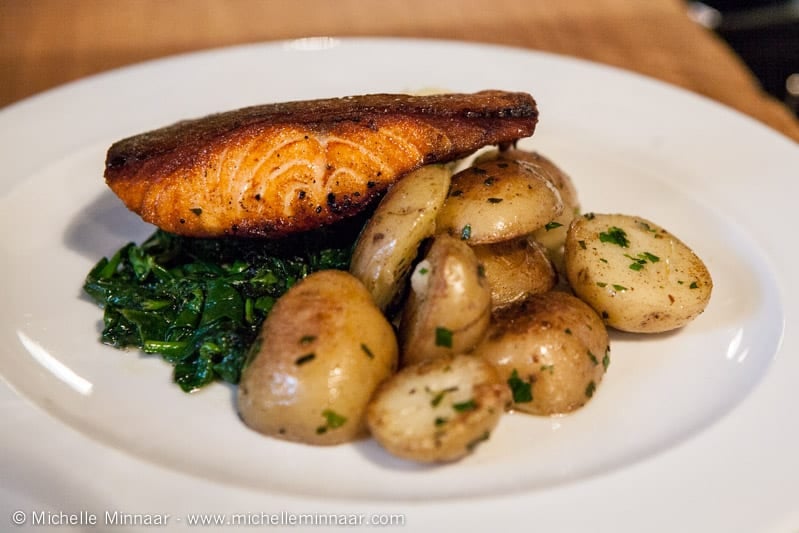 The honey glazed salmon's skin had a satisfying crunch (£15.95) to it and the meat literally fell off the sweet and spicy BBQ pork ribs (£13.50).
Having recently been to McDonald's I have to say that ordering a Bumpkin burger for my child sits much better with my conscience than giving her a Happy Meal. The latter's burger looks like a piece of plastic and I cringe to think of the chemicals used and the over processing of ingredients. In stark contrast Bumpkin's burger is made from scratch and looks voluptuously appealing. Best of all is that it's the restaurant's mission to source its ingredients ethically from local sources, only picking the best. Now how can you compete with that?
At £15.95, its West Coast Fish Pie is a bit steeply priced. However, what arrived was a massive bowl I couldn't finish on my own. Cheese was abundantly used in the topping and I found myself rolling stretchy strings of it on my fork pasta-style. This was a perfect mid-winter dish to warm you up from the inside out.
Adults skipped dessert but for Robyn dessert is the whole point of the meal. Guarding her bowl possessively, she savoured every spoonful of chocolate ice cream which formed part of the special kids meal.
Quick Overview
Food
7/10: Pies, fish cakes, burgers, prawn cocktail… A very British menu with some other Western influence.
Value
7/10: Quite pricy for street food but no one would get up hungry.
Service
8/10: Staff were attentive and friendly.
Toilets
8/10: All good.
Ambience
8/10: Relaxed, easy going atmosphere and kid friendly!
Recommend
8/10: Looking for a quick bite to eat? Try Bumpkin. You'll support your local British farmers too.
Bumpkin Kitchen Bar & Grill
105-106 The Street,
Westfield Stratford City,
London
E20 1EN

Website
P.S. I was a guest of Bumpkin.