Compared to the other Chestnut Plaza restaurants, who put a lot of effort into branding with the hope of getting noticed, at Westfield Stratford Busaba Eathai's front is rather non-descript and easy to miss. If in doubt, you can find it at the end of the street on the right, predominantly coloured black.
Upon entering a strong whiff of incense fill your nostrils and the decor is minimalist with straight lines and sharp-cornered tables. In a somewhat European fashion tables can potentially be shared with complete strangers.
During lunchtime a special menu is on offer, called Bangkok lunch Thali, at £9.95. From 4pm onwards another menu, Taste of Thailand, is available that offers a starter and main for just £12.95. There are plenty to choose from - small plates, noodle soups, noodle dishes, stir-fries, curries, rice dishes and seasonal specials.
Highlighted under the Small Plates section was the Thai calamari (£6.95), which are squares of calamari slices that have been marinated, then deep fried and afterwards stir fried with ginger and green peppercorn. It's different. It's sweet. It's divine.
We mistakenly ordered Tom Yam Goong (£10.95), thinking it was a starter but what arrived was a massive bowl of the infamous spicy and sour soup containing king prawns, glass noodles and tonnes of flavour. This is not for the faint hearted and you need a stomach of steel to handle the heat of the chillies.
On the day we enjoyed gloriously warm weather and couldn't face a curry so opted for stir-fries instead. In this instance, the Bangkok King Prawn (£10.95), actually came in a thick curry base that curdled which didn't make it one of the most photogenic dishes floating about. It came with garlic, chilli, spring onion, ginger and coriander and overall was a very mild but comforting dish that paired fabulously with the coconut rice (£3.50). The meat in the Ginger Beef (£9.95) was tender and was served with Thai pepper, chilli and spring onion which amounted to a very aromatic dish. That said, I thought the portions were on the small side compared to the calamari starter and soup.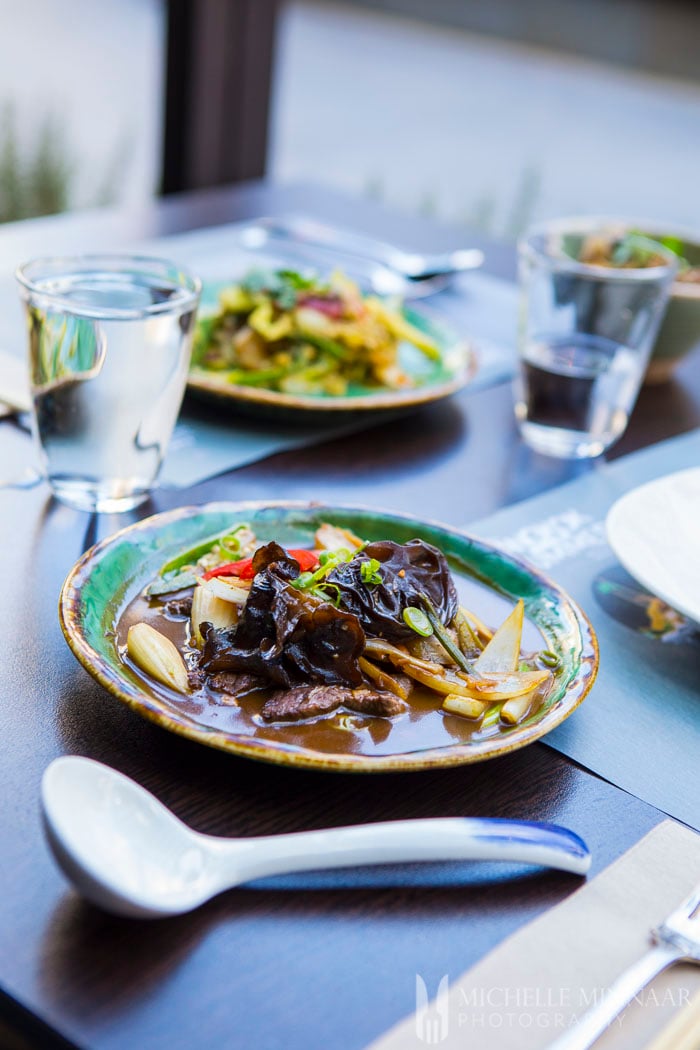 Rather disappointingly, no dessert menu is available at the Stratford branch because I would have loved to try the coconut ice cream. However, Busaba Eathai is definitely a place to consider for a bite to eat thanks to it's special value menus. Just make sure the venue you visit has dessert!
Busaba Westfield Stratford City
Chestnut Plaza
Stratford
London
E20 1GL
Website
P.S. I was a guest of Busaba.