One thing you'll notice when you enter Chiswell Street Dining Rooms is that, unlike its sister restaurants, it's not a pub but a full blown restaurant.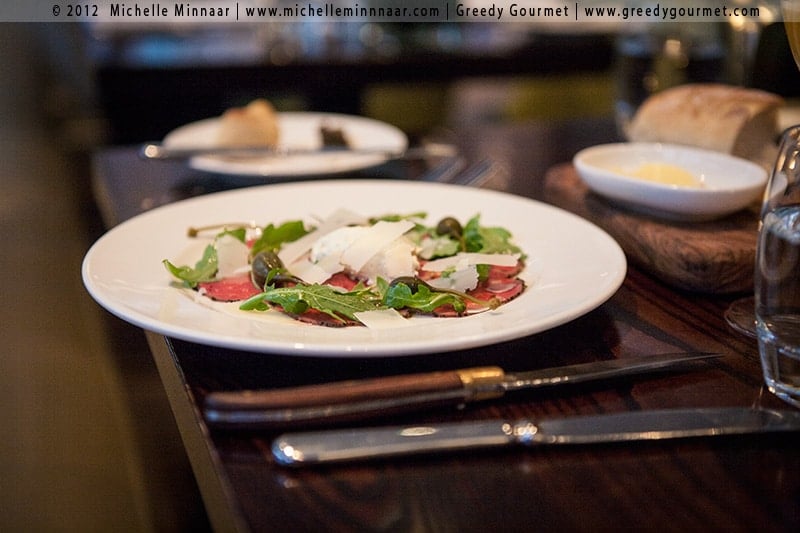 A stone's throw away from Liverpool Street Station, this is a posh place and most of the clientele can be found in business suits, ready to be interviewed for The Apprentice.
The cocktails are good. In fact, the Passion Royale is the best I've had in a while.
The Potted Trout (£8.50) did not live up to its name in the strictest sense. Instead the little jar was filled with trout pâté with a layer of butter on top – much better than its traditional counterpart. What makes this starter special is the thinly sliced, lightly pickled fennel and nectarine which lightened up the dish and cut through the fishiness.
The salty crust of the Carpaccio of Longhorn beef (£11) combined with the shavings of parmesan proved to be a bit overwhelming at times. Nevertheless, it was a pretty, albeit intense plate of food. If you had all the components, caper berries and fluffy horseradish cream, together it provided one punchy mouthful after another.
Well presented, the undercooked lamb rump (£21.50) was tough to slice with a useless steak knife. One couldn't help but wonder if it had been cooked more it would have been tenderer.
Gressingham duck (£26) lived up to its glorious name and summer squash puree and caramelised chicory left me yearning for more. Neither here nor there was the duck pastille which wasn't bad but felt oddly out of place on an already big plate of food. The side dishes, creamy mash and peas with chunky bacon bits, were not too small or too big, just right.
The description of the Lemon and Raspberry Meringue Pie (£6.50) was a bit deceptive in the sense that I thought the pie would come with the two-fruit filling. Instead it came in different components on a plate, each one tasting great. This dessert's presentation had much more finesse than the ones offered at The Cadogan Arms and The Gun.
Out of the three restaurants I've visited, Chiswell Street Dining Rooms is the best. Will its other sister restaurants be able to keep up the high standards that the latter had set?
Quick Overview
Food
8/10: Interesting menu and quality mostly consistent.
Value
6/10: Decent portion sizes with robust price tags.
Service
9/10: Charming and attentive.
Toilets
9/10: It's a bit of a faff to get there and you find yourself dawdling down corridors of the Montcalm Hotel. Toilets are slightly cramped but high ceilings and stunning decor make up for it.
Ambience
8/10: Upmarket feel and not too noisy.
Recommend
8/10: There are very few restaurants I would bother to visit again but Chiswell Street Dining Rooms is an exception.
Chiswell Street Dining Rooms
London
EC1 4SA

Website
P.S. I was a guest of Chiswell Street Dining Rooms.