About six months ago Vivek Singh opened his 6th restaurant, which is based at Battersea Power Station. This Cinnamon Kitchen branch specialises in Indian street food, but if anything it puts a modern twist on Indian food influenced by British cuisine.
It has to be mentioned, unless you are a local, getting to the restaurant is a feat in itself, especially if you have to travel from out of London to get to Cinnamon Kitchen. However, once the tube station opens in 2020 and transport links improve it will be an entirely different matter.
Once there, you come to realise that it's actually a lovely area and once all developmental plans have come to fruition, Battersea Power Station would be a fabulous hotspot to hang out. Little shops and eateries are already open and frequented by local residents.
Cinnamon Kitchen is housed under the railway's arches, its frames preserved, showing off rustic brickwork. The menu might read as if it comes from an upmarket restaurant, but the interior's decor, hard floors and minimalist table settings give it a relaxed vibe. A contrast to its posh sister restaurant, The Cinnamon Club. Trains still pass overhead but it's not disruptive in any manner.
Since we visited the restaurant during the day on a Saturday, only the Weekend Power Brunch menu was available. Typical British breakfast items can be found but they come with in Indian twist. Those who crave a curry any time of day, have their needs met as well.
We had the following:
Railway style lamb curry with pilau rice – £16.00
Lucknow style chicken biryani, burhani raita – £15.00
24 hour cooked black lentils – £5.00
Masala mash – £3.00
Malpua – Indian pancake, spiced honey and garam masala ice cream – £7.00
Lassi panna cotta mango mint salad – £6.50
Turmeric, carrot, ginger and clementine juice – £5.50
The drinks came. The lemonade was underwhelming with a fresh kick of lemon juice nowhere to be had. The carrot juices, with the addition of spices, was pleasant but unremarkable.
If there was any raita in or with the Chicken Biryani, we certainly didn't spot it. Other than that the marinated chicken pieces were super tender and the rice aromatic. The dish paired particularly well with the 24 hour lentils. The lamb curry, of no particular origin, contained fork-tender lamb pieces in a mildly spiced sauce. Or, so you thought until you land a whole chilli piece in your mouth. The curry arrived with rice and cabbage. The Masala Mash was a great dish on its own but worked even better with the curry.
Most Indian curry houses cop out when it comes to dessert, opting to sell Western-friendly ice cream based desserts instead. Cinnamon Kitchen has a great item as an introduction to Indian sweets – Malpua. The latter is a deep fried pancake, which is drowned in syrup and served with ice cream spiced with garam masala. Cinnamon and other spices run through the dessert.
For those who prefer to err on the side of caution would love the prettily presented, yet very jiggly mango lassi panna cotta – visually appealing and even better in taste!
Cinnamon Kitchen definitely has something unique and interesting to offer when it comes to Indian food, which makes it worth a visit. Colour me green when I think of locals who can drop in any time they like. As for me, I'll probably wait until all building works have been completed and the tube station is in working order.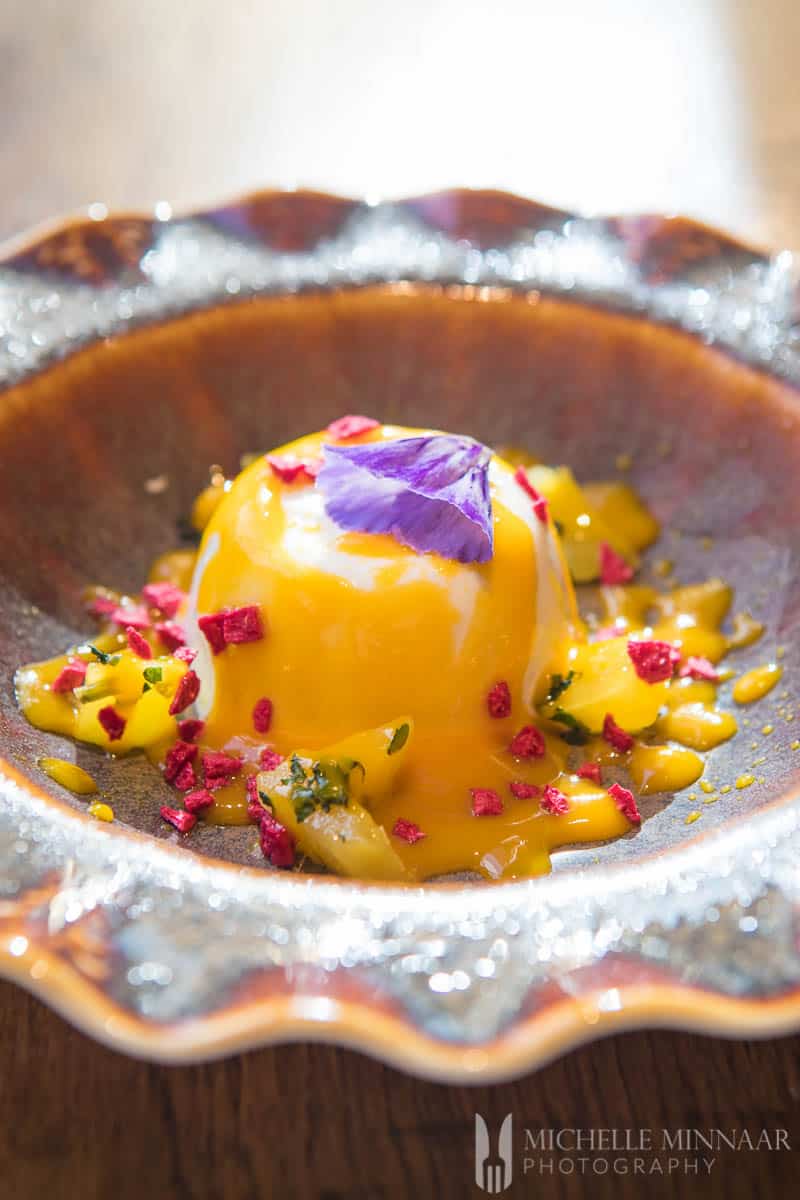 Cinnamon Kitchen Battersea
4 Arches Lane
Battersea Power Station
SW11 8AB
P.S. I was a guest of Cinnamon Kitchen.