Worryingly, I experience moronic moments far too often. Jeanne from Cooksister and I were going to meet for a second time and decided on a bar before dinner. Unfortunately, the place was closed and I phoned her to arrange another venue; we'll meet in front of St. Paul's Cathedral.
The City was deserted. Frankly, I loved it; it was great to leave the bumbling crowds in Oxford Street and have the whole pavement to myself. As I made my way up Cheapside I prayed no one was going to approach me because there was no way I was going to charge just £5. (Bad joke, I know. I just couldn't resist. The UK is known for its strange names for cities and streets and in London it is no different.) A big, beautiful white building caught my eye. Ah, there's St. Pauls!
Hmmm. What's the big deal anyway? I thought it would be bigger….oh well.
After pacing the courtyard for about ten minutes I began to feel uneasy. Shouldn't there be some kind of sign with big letters spelling out the famous landmark's name? There were just too few people around here. And why do the sign post point in the opposite direction for the big church? After doing some research I've realised now I was at the Guildhall, London. Oops!
Finally, I found St. Paul's. The photo you see is just a fraction of the building, because I don't have a wide angle lens yet to capture the whole building in all its glory. Donations anyone? For anyone who hasn't been inside yet, it really is magnificent; you must go!
For starters we both had Pork Cheek with Carrots, Parsnips and Celeriac Mash. Having never tried pork cheek before I must tell you it was divine. Utterly tender, so moist and very scrumptious. I know what I'll be ordering from the butcher next time I go to the farm. The carrots were sweet, the mash okay and the parsnips I felt should have been omitted altogether.
Jeanne didn't fancy any meat and opted for the vegetarian main course, which was a Jerusalem Artichoke, Camembert and Spinach Tart. The bit that I tried tasted really good and the salad was very pretty indeed. They could have made the tart a bit bigger, don't you think?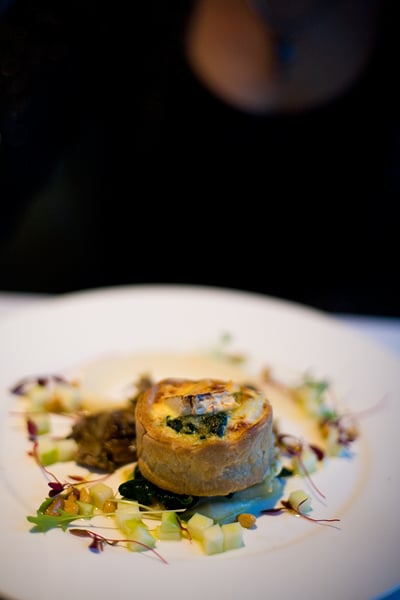 I found the set menu to be a bit restrictive. After experimenting countless times with Coq au Vin it was the last thing I wanted on my night out and instead ordered Grilled Yellow Fin Tuna wild Mild Spices and Sweet and Sour Aubergine Compote. The fish was "cooked" perfectly and the aubergine was pleasant.
To accompany the tart (Jeanne's tart that is) was a Rocket, Parmesan with Balsamic Vinegar Salad.
After having walked in London with a heavy bag full of photographic equipment I was ravenous and polished off this bowl of Minty Buttered New Potatoes.
Rhubarb Tart with Berry Sorbet: So far I've tried rhubarb twice and I'm still left feeling ambivalent about it. Photos of recipes I've seen show it soft and mushy but in this tart it was slightly crisp and quite tangy. All in all though it was a pleasing way to end the meal.
Chocolate Pudding with Marshmallow and Coffee Sorbet: The pudding was flawlessly baked and had a gooey, runny centre. Jeanne made every mouthful count.
Food
8/10: If I had to close my eyes and randomly point my finger on an item on the menu, I know I would enjoy eating it.
Value
6/10: Top Table had a special offer of £25 for a 3 course meal which makes it worthwhile. However, we had to pay extra for our side orders, which annoyed me.
Service
10/10: I can't fault it. The waiters were attentive but non-invasive. One guy even made sure I got no ice with my cocktail. What more can a girl ask for?
Toilets
9/10: Clean, functional and sparkly.
Ambience
10/10: It was very quiet when we first arrived. By the time we left the restaurant was 75% full which is quite surprising since the restaurant is based in the city centre and it was the weekend. Thankfully, as far as I can recall no music played. I loved the look and feel of the spacious restaurant. One of the selling points of the restaurant is its location. It is on top of a tall building with an amazing roof garden which overlooks London. A real sight to see.
Recommend
7/10: If you live in London and have the dough to splash around, go for it!
CONCLUSION
Simply put, it is expensive and if it wasn't for the Top Table offer I wouldn't have considered the restaurant. That said everything placed in front of me exuded quality and the service was impeccable.
A big thank you goes to Jeanne from Cooksister for accompanying me for dinner. We had a lovely chat in our underused mother language, Afrikaans, and I hope for many dinners more like this one in the future.
Coq d'Argent
No1. Poultry
London
EC2R 8EJ