In a blink on an eye a year had whooshed past and I couldn't resist paying Crussh another visit.
Last time Sarah (from Maison Cupcake) and I felt a bit lonely and decided to drag a few other bloggers along on this occasion. Jeanne from Cooksister thought we were only going to have soup and a sandwich. Solange from Pebble Soup didn't like being told to come hungry and Margot from Coffee & Vanilla had low expectations. Our work was cut out for us but luckily Crussh's MD Chris Fung was there to help convert the sceptics.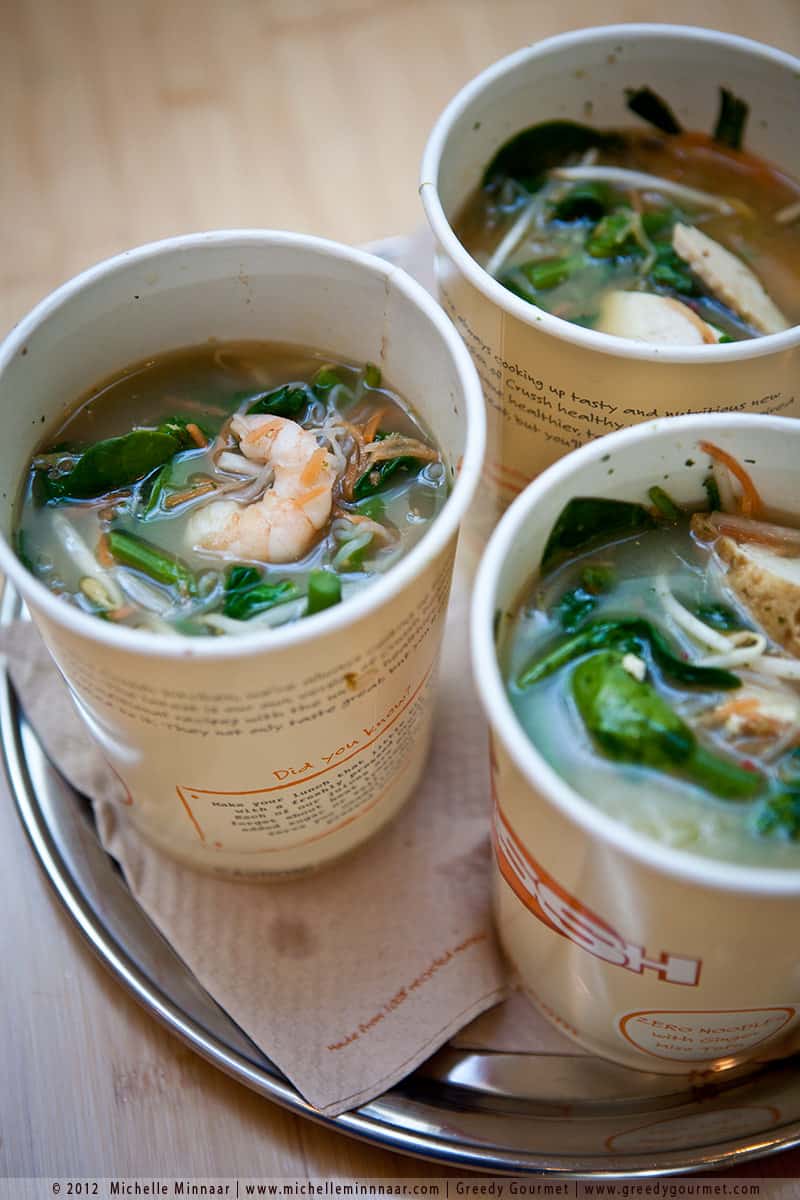 Since I published such a thorough review last year I'll simply point out the highlights of this meal.
New on Crussh's menu is the Zero Noodles available in three flavours: Ginger Miso Tofu, Ginger Teriyaki Chicken and the best one Lemongrass Tom Yum Prawns. The noodles aren't made of wheat or rice but of yams which in turn are very low in calories. One of the key ingredients of the broth is ginger that will give a refreshing blast to anyone's palate. Did I mention the Zero Noodles soup come in a massive tub filled abundantly with veggies such as spinach and carrot too? Priced at just £4.95 it is a bargain.
Stews are also served in these large containers. Vegetarians would simply love the Butternut Squash and Chickpea Curry and my favourite was the sweet and spicy Green Thai Chicken Curry. Both are priced at £5.65.
In the picture above you'll see Tarragon Chicken & Red Pepper Wrap (£3.60).
Crussh's wraps might not be as impressive looking in size as Tossed's but they definitely have more proper filling, i.e. chicken or cheese etc., than Tossed's over usage of lettuce and tomato. My favourite by far? Sweet Potato & Falafel Salad Wrap (£3.35) – I simply couldn't get enough of the sweet and starchy sweet potato falafel with a punchy coriander and watercress humous.
Looking very colourful and pretty indeed the NY:LON Cobb Salad (£4.20) comprises lettuce, chicken breast, avocado, bacon, hard boiled egg and baby corn served with a creamy Caesar dressing. For those on a health kick be sure to try the Super Greens Salad (£4.05) where you'll definitely get your 5-a-day in the form of broccoli, edamame, lettuce, French beans, cherry tomatoes, radish and toasted almond flakes. The best salad for me though was the Quinoa & Black Barley Superfoods Salad (£4.05) with feta and lemon dressing. All the elements just worked together in harmony – simplicity rules!
For the unadventurous eater there is the Tuna Lean Bean Healthpot (£2.25) and if you're on the complete opposite end of the scale there is Beetroot & Apple Hijiki Healthpot (£2.50) which the other four bloggers raved about. Hijiki is a seaweed with a rubber band-like texture when you chew it which ultimately left me a bit nonplussed. I missed my Harrissa, Chickpea & Quinoa Tzatziki this time.
No visit to Crussh would be complete without trying out some smoothies. At its Shoreditch outlet customers will be able to try Crussh's first alcoholic smoothies, called Tequila Smoothie and Vodka Berry Blast – each one unique in its own way and both very capable to put you in a drunken stupor. Unbeknownst to me there is actually a competition called the British Smoothie Championship and quite rightly Crussh won with their Pomegranate & Passion Fruit smoothie.
Quick Overview
Food
8/10: An ever-evolving interesting menu.
Value
8/10: A healthy lunch in The City needn't be expensive.
Service
8/10: All good.
Toilets
N/A
Ambience
3/10: Not ideal for eating in. Best to get a takeaway.
Recommend
8/10: Out in the wilderness of Essex I wish there was a Crussh nearby.
Crussh
Unit 21 Jubilee Place
Canary Wharf
London
E14 5AB
http://www.crussh.com
P.S. I was a guest of Crussh.