Are you in London? If you need some cheering up with the potential to have a fit of giggles, take the lift at the Royal Festival Hall where voices will sing scales up and down according to the direction you travel. The absurdity of it makes it effectively hilarious – it was a refreshing change from the piss soaked elevators in Southend-on-Sea for me anyway.
And if you have the money The Cube, sponsored by Electrolux, on the roof is well worth a visit but do hurry up because the pop-up restaurant will close its doors in London the last day of this year before it moves to another big city.
The structure is situated on top of the Royal Festival Hall. The view is stunning and down below the people look tiny and far away you can hear a saxophone playing Itsy Bitsy Teenie Weenie Yellow Polka Dot Bikini. If only the weather conditions were better as fellow diners stood outside in miserable, cold wet winds, eager to go inside.
What did help matters was receiving a glass of Joseph Perrier champagne on arrival that got topped up nonstop and waiters came by with very moreish canapés of Bay Crab on Crispy Bread with Sea Purslane. I scraped every ounce of decency I have not to ask the waiter to just give the platter to me so that I could scoff all the morsels in one go.
The food you're about to see is a far cry from what I now consider to be peasant food like Bolognese and Shepherds Pie. See Simon Rogan, the chef on the day, as an artist and admire what interesting creations he came up with.
Believe me, that thing you see is not a real egg yolk…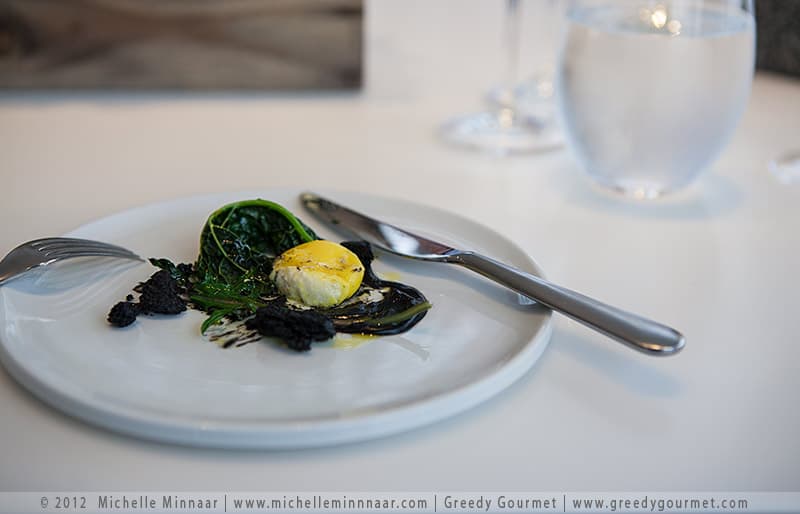 It was Salt Cod Yolk with different Kales, Sorrel and Squid Ink. The plate tasted of the sea – interesting, but not something I would order again. Thankfully this was the only plate that had a skid mark; an affliction commonly suffered by gastro pub chefs trying to be fancy.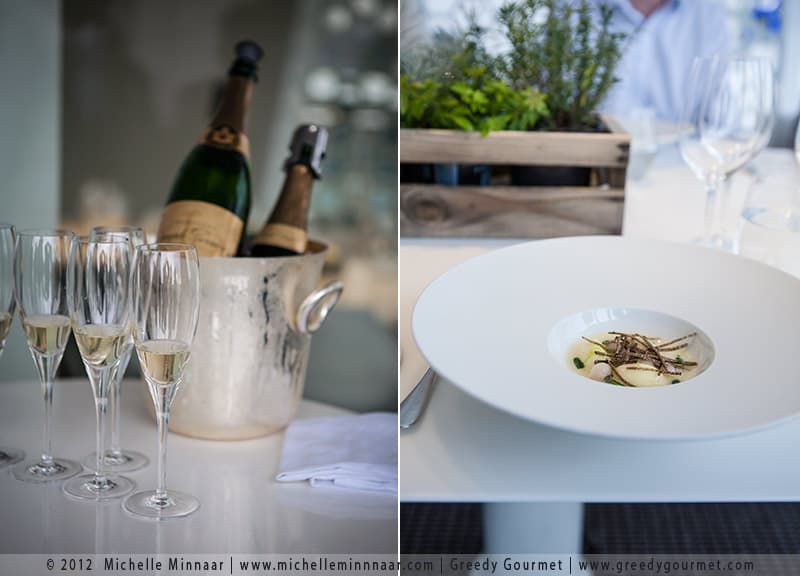 The third course was a Broth of Turnip, silky flourless Westcombe Cheese Dumplings, English Truffle and Apple Marigold. Apparently it was a good year for turnips and the mini root vegetables were super crunchy and flavoursome. Again, this was a rather odd plate of food.
Can you believe there are 22 ingredients on this one plate?
The best item on this vibrantly pretty and dainty salad was the tiny peeled tomato that had a burst of flavour and a mysterious kick to it. In second place was the puffed pork skin.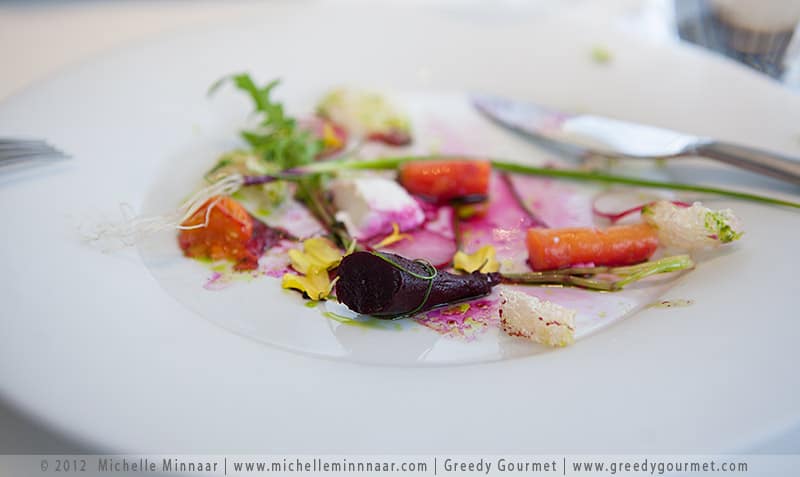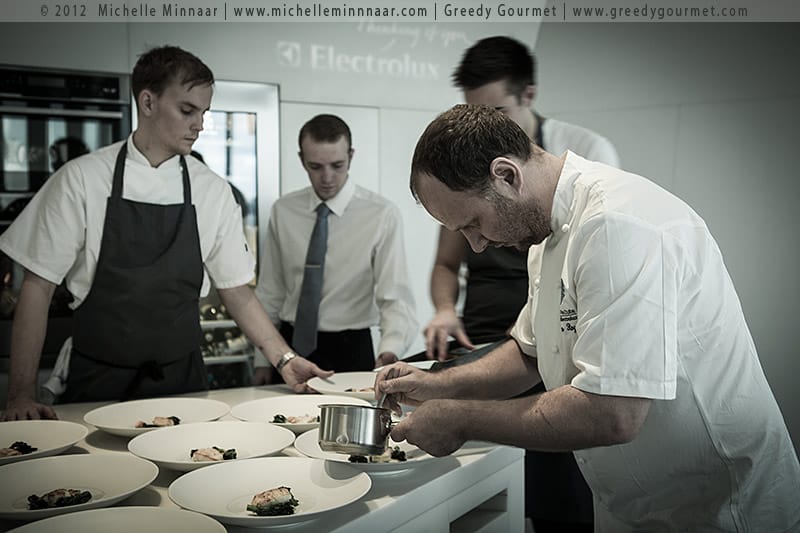 At any time diners can get up and have a look what's going on in the open kitchen. They can even participate if they wanted to and have a chat with Simon Rogan, owner of one Michelin starred L'Enclume in the Lake District. Most of us were a bit lazy and opted to sit down and chat instead.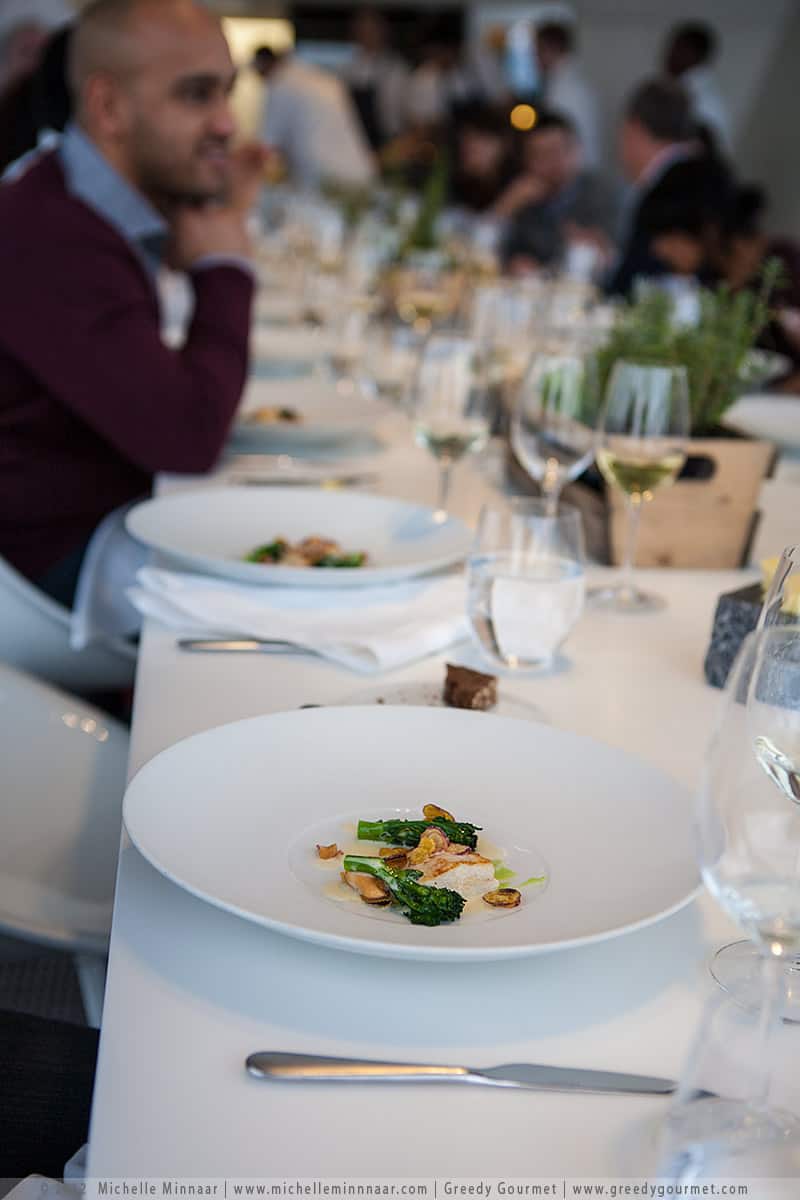 The 5th course was my favourite dishes of the meal – Plaice poached in brown butter served with Red Russian Mussels, Oxalis Root and Tenderstem Broccoli. Pure perfection on a plate.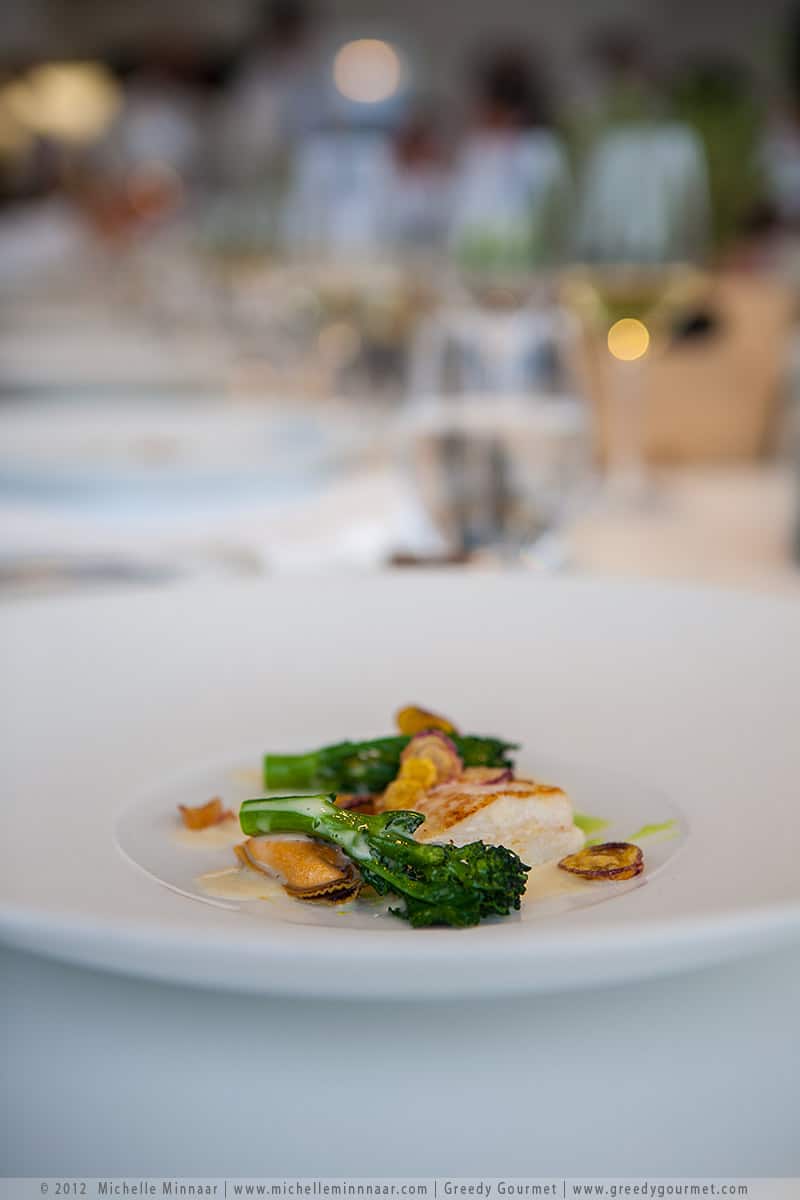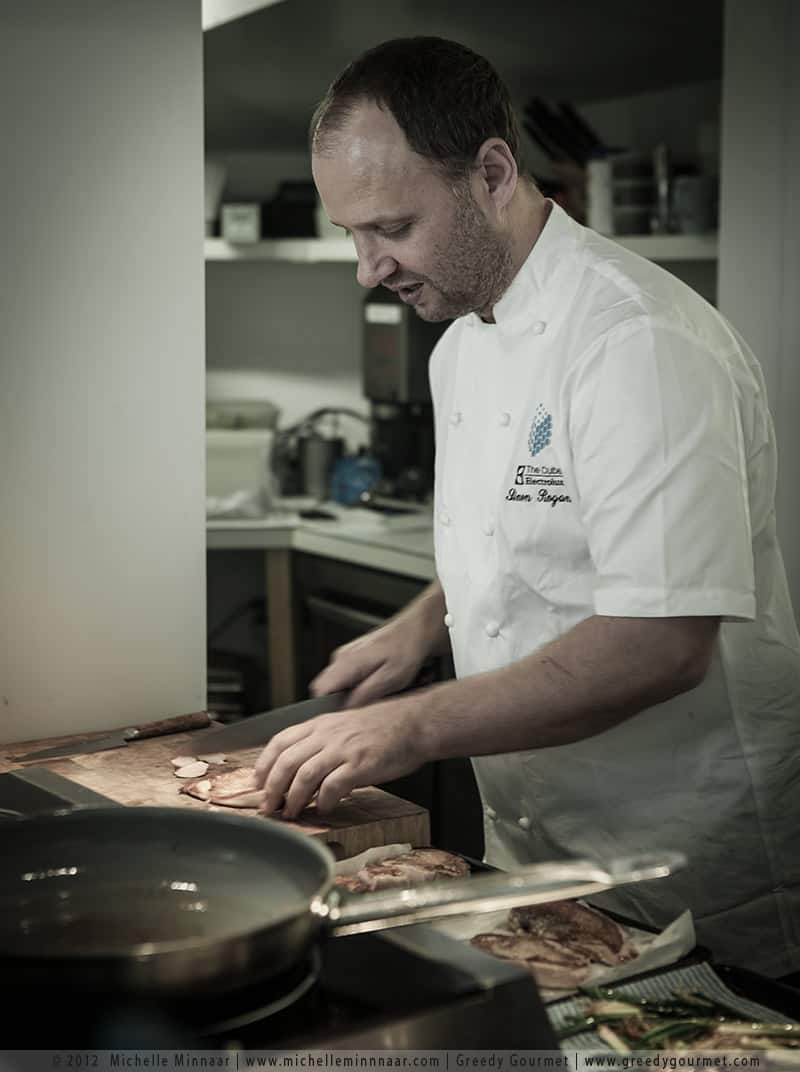 By now I was positively drunk. As someone who has no more than one drink a week on average a different glass of wine with each course was a bit much. Luckily I could review the photos on my camera immediately – some came out very skew! At the beginning of the meal the handwriting in my notes were neat and tight but as lunch progressed it got bigger, heavily slanted and wilder…
Succulent Guinea Hen was prepared in the sous-vide yet the kitchen still managed to obtain a crispy skin afterwards. The pig's liver sauce was a curious addition to the plate but the baby leeks and cider sauce worked spectacularly well.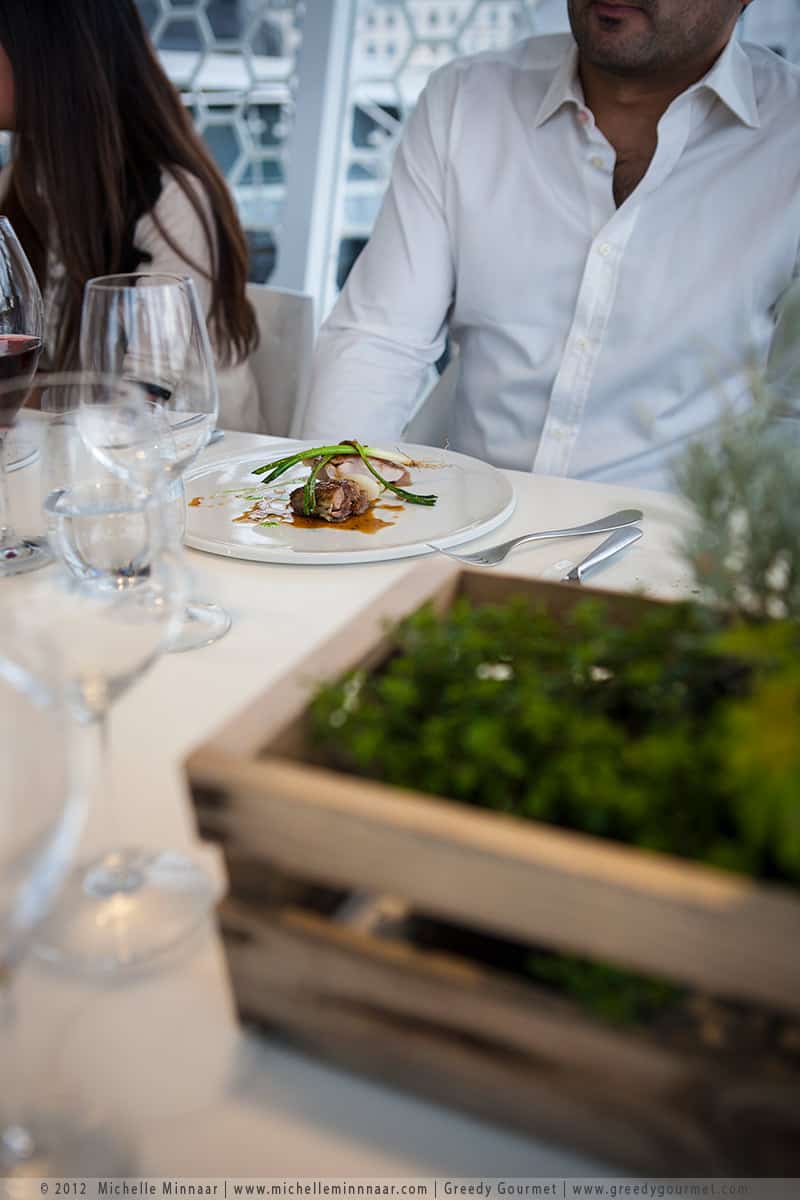 One thing is certain, with only 18 seats available per session, only the most affluent, food obsessed characters will be at the scene. Most are well versed in travel and restaurants.
I'm afraid the Whole Meal Stout in Blackberry, Sea Buckthorn and Liquorice for dessert left me unimpressed and the Cumbrian Slate, Pear, Lemon Verbena and Hazelnut was just damn fugly. What made me swoon was the dessert wines that accompanied them – Elysium Black Muscat and Cluver Noble Late Harvest Riesling, respectively.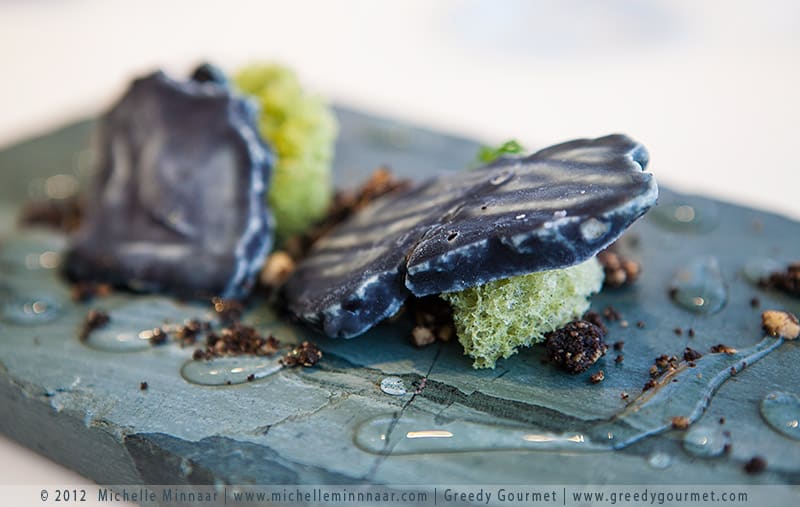 There is no question that all ingredients and products used in the making of this meal were of top quality and if you're a regular Joe you need to make a bit of a cognitive shift before sitting down to a meal like this. Even though this is only my second Michelin-starred meal (first was Texture), it would no doubt take me a few meals to get used to this novel if not peculiar concept.
Nonetheless I enjoyed the experience and the icing on the cake was the gorgeous sunset that followed after the meal.
To find out what my dining companion, Jeanne from Cook Sister, thought.
Quick Overview
Food
6/10: A lot of rare, uncommon ingredients used which is a plus if you're forever interested in discovering new flavours. Whether all the components on every plate worked together is questionable.
Value
3/10: This venture is aimed at the top 1% of earners. At £175 for lunch and £215 for dinner the price is quite steep. A big man will probably get up hungry and go to his favourite fast food joint afterwards. What you pay for is to rub shoulders and interact with famous chefs, a once-in-a-lifetime opportunity and the stunning view.
Service
9/10: Impeccable.
Toilets
7/10: Good for a temporary setting but it did run out of dry handcloths in the end.
Ambience
9/10: Light and airy. You literally feel on top of the world.
Recommend
6/10: If you have plenty of dough to spend, go for it!
For more information go here.
P.S. I was a guest of The Cube.