For three years the name Iberica had been etched into my brain after Marina O'Loughlin from the Metro wrote a positive review about it. Finally I got to eat there.
Cocktails, such as the Mojito, were rather good and the selection of four different leg of ham was positively drool-worthy. You can take it home or have some in the restaurant as you wish.
Let's start with the dishes I wasn't particularly fond of. The Caramelized Onions, Egg and Cabrales Cheese topping that came with a cornmeal Torto (£4.80) resembled and had the texture of one of the side-effects of having a tremendously bad cold.
The Mushrooms with Bone Marrow, Anise and Eucalyptus Oil (£6.90) sounded good on paper but was in fact a very bland dish. Mysteriously there was one lonely pea placed in each mushroom and when it was sliced open bone marrow glooped out. The only uplifting element was the anise flavour.
Although not particularly Spanish, the Spring Onion Tempura with Lemon Alioli & Soy Sauce (£4.90) was executed beautifully. Served in a cute fashion the Iberica Burger with Secreto Pork Loin & Piparras Peppers (£7.90) was top notch and the Crispy Confit Segovian Suckling Pig with Apple Puree (£14.40) literally fell apart.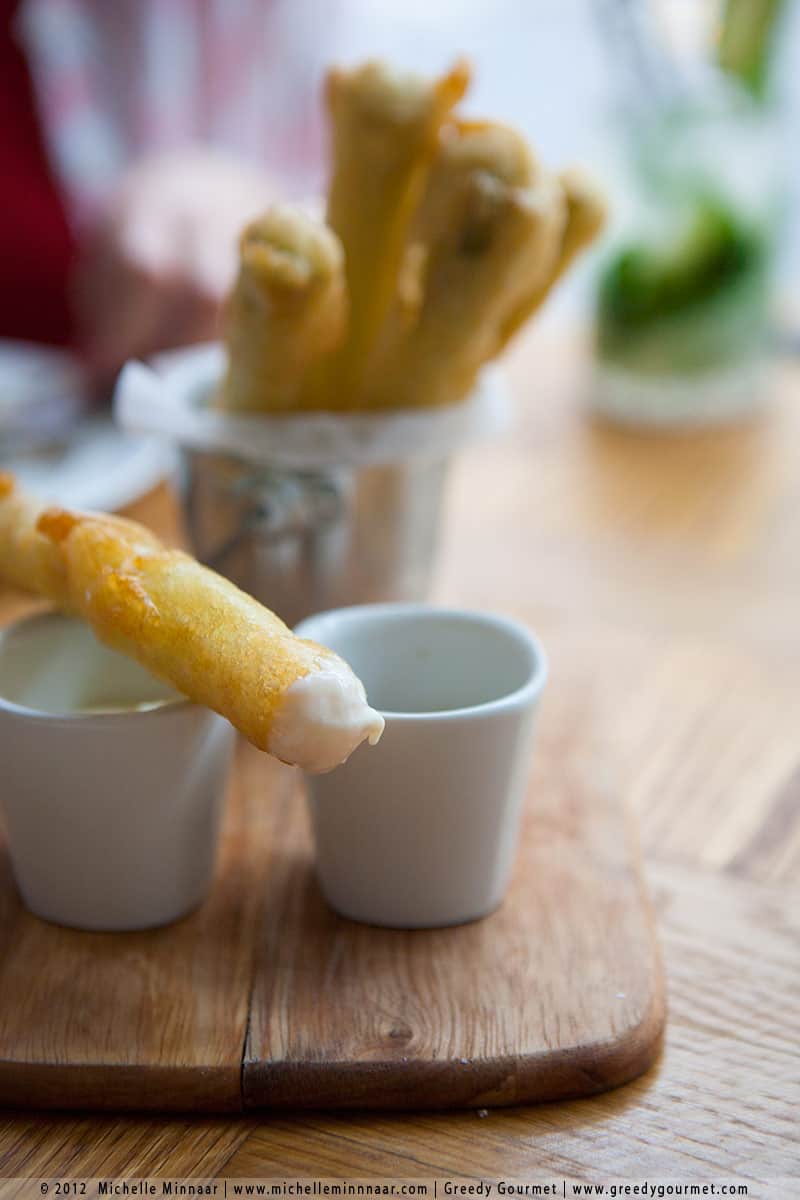 Iberica Ham Croquettes (£6.20) and Iberica Cheese Croquettes (£5.75) were exceptionally good with their super crispy coating and oozing cheese sauce. What stank to high heavens was the Tosta De Asparagus, Manchego and Onion Confit drizzled with abundant Truffle Oil (£4.90), pungent but delicious. The bowl of Grilled Prawns with Chilli, Garlic & Sherry Vinegar Dressing was a winner (£6.90) but didn't come close to the true awesomeness of the Tuna Belly with Oxtail Stew. The latter is Spain's version of surf 'n turf. The gently seared fish matched perfectly with the beefy sauce and best of all was that it wasn't overpoweringly rich.
And now…my favourite. The best of the rest. Let's forget the tasteless seaweed is was served with and concentrate on the Mackerel Tartare (£7.50) itself. The fat, velvety flesh rolls on the tongue and tastes of the sea. As a lover of salmon and tuna sashimi, this is one of the best pieces of raw fish I've ever had.
There you have it. For a few hours it truly felt as if we were transplanted to Spain, sipping on sherry and enjoying a lazy Saturday afternoon. Pssst….here's a tip, it was very quiet.
Quick Overview
Food
8/10: Loads of tempting dishes to choose from.
Value
7/10: Based on quality the food is of reasonable value.
Service
8/10: Big plus points for tall, dark and handsome waiters.
Toilets
8/10: All good
Ambience
8/10: Airy and laid back.
Recommend
8/10: One of London's best Spanish offerings.
Iberica Marylebone
195 Great Portland Street
London
W1W 5PS

Website