Fancy some steak? Consider one of London's hottest speciality steakhouses, JW Restaurant.
Every Tuesday until the 29th of March, JW Steakhouse is hosting steak tasting sessions. Unfortunately, week nights are almost impossible for me to go to London and instead I went over a weekend instead. Keith and Lolli, from Wennie's Affairs, accompanied me that evening; you can read their full review here.
Before ordering, a platter of meat was displayed and more information was given about each cut which was enlightening, especially since none of us were familiar with the American butcher cuts.
A – Tomahawk Rib Eye
B – New York Strip
C – Kansas City Strip
D – Rib Eye
E – Fillet
F – Porterhouse
Doesn't the meat's marbling look gorgeous?
After wooing us with fresh from the oven Parker House Rolls, the starters arrived. If you ever wondered how to spend £14 sensibly I would urge you to splurge on this JW Maryland Style Lump Crab Cake, served with Old Bay Tartar. Fifteen crabs died for this very good cause and in my humble opinion this is THE best crab cake I've ever had. No sly cons used here by mixing in a mountain of potatoes with this crab cake mix; just 100% sweet, creamy flesh.
One of the specials of the day was Smoked Haddock and Sweet Corn Chowder. The flavour of the fish came through clearly ending on a silky, sweet note, thanks to the cream and corn. Definitely a moreish dish.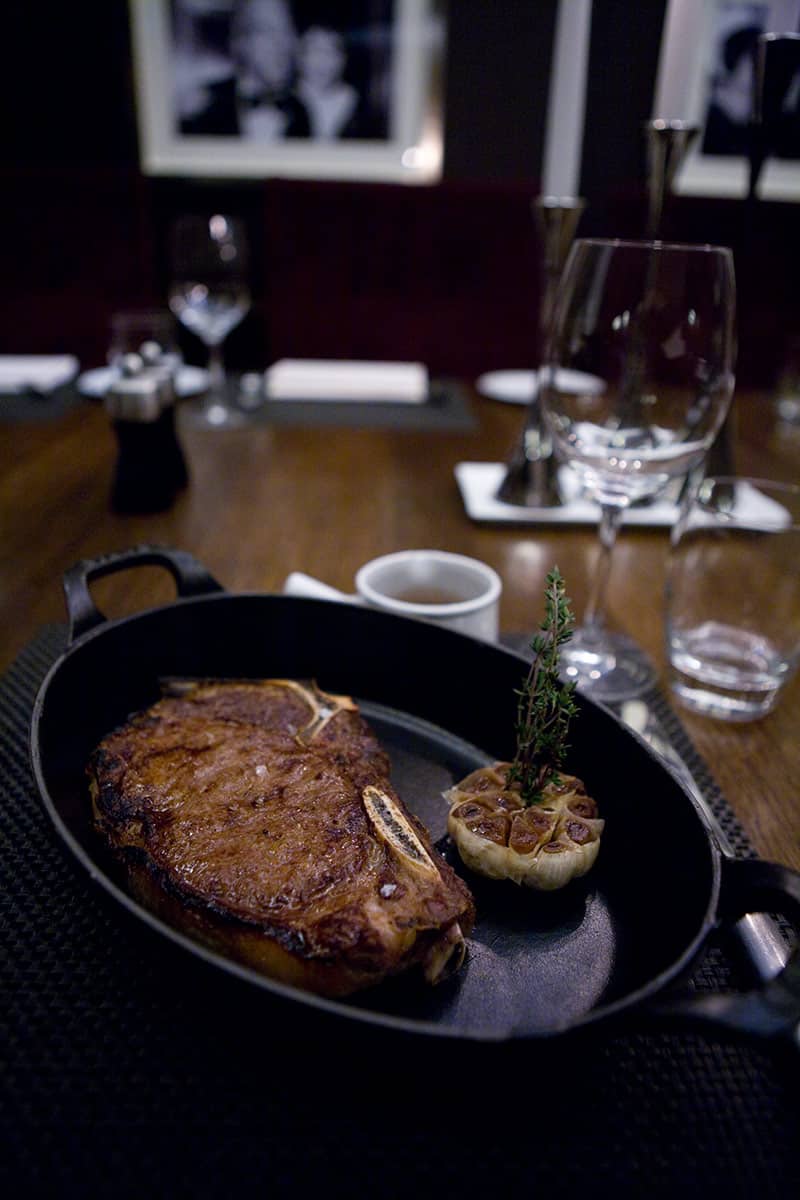 Believe me, I wanted to try the Tomahawk Steak. Have you ever seen such a mighty big bone on a piece of meat? Not only would I have looked like a greedy pig, I knew I would never have managed to finish it and might have risked poking someone's eye out on the Tube if I took the rest of it home.
Still keen to try out an American cut I opted for the Kansas City Strip (£36), this unfortunately was cooked medium and not rare as requested. The second time round it arrived in perfect condition and what astonished me was that it was just as tender as fillet but much more flavourful. Half of it ended up ice cold, thinly sliced for breakfast the next morning. Pure bliss.
Although I understand the black cast dish iron was used in the cooking process and looked impressive, eating out of it was quite annoying and my cutlery kept clanging against the sides as I attempted slicing and dicing.
The fillet lived up to its name but the oh-so-pretty-to-look-at vine-ripened tomatoes were a bit curious in the sense that they were completely out of season and thus tasted watery and acidic. All our sauces (Creamy Horseradish, Bourbon Peppercorn and Port & Stilton) were out of this world with their remarkably distinctive flavours. The portion of slightly gritty Sautéed Wild Mushrooms (£6) was very generous indeed.
Every November all over the internet recipes pop up for Thanksgiving and each time I want to lick the screen when someone takes a photo of his version of sweet potatoes with marshmallow topping (£4). Each time I tell myself: I have to make this! And somehow I never come around to preparing this delectable side dish until the following November. What a great opportunity it was to try it at this restaurant! Unfortunately, my expectations might have been too high because it was disappointing. The saccharine sweet potato puree for was almost too light and airy for the oozy, woozy marshmallows. A bigger contrast would have yielded better results, i.e. the sweet potato should rather tend to the savoury side (basically unsweetened) and be mashed to give it a heavier consistency and along comes the marshmallow to lighten up the dish. Well….that's how I would have liked it!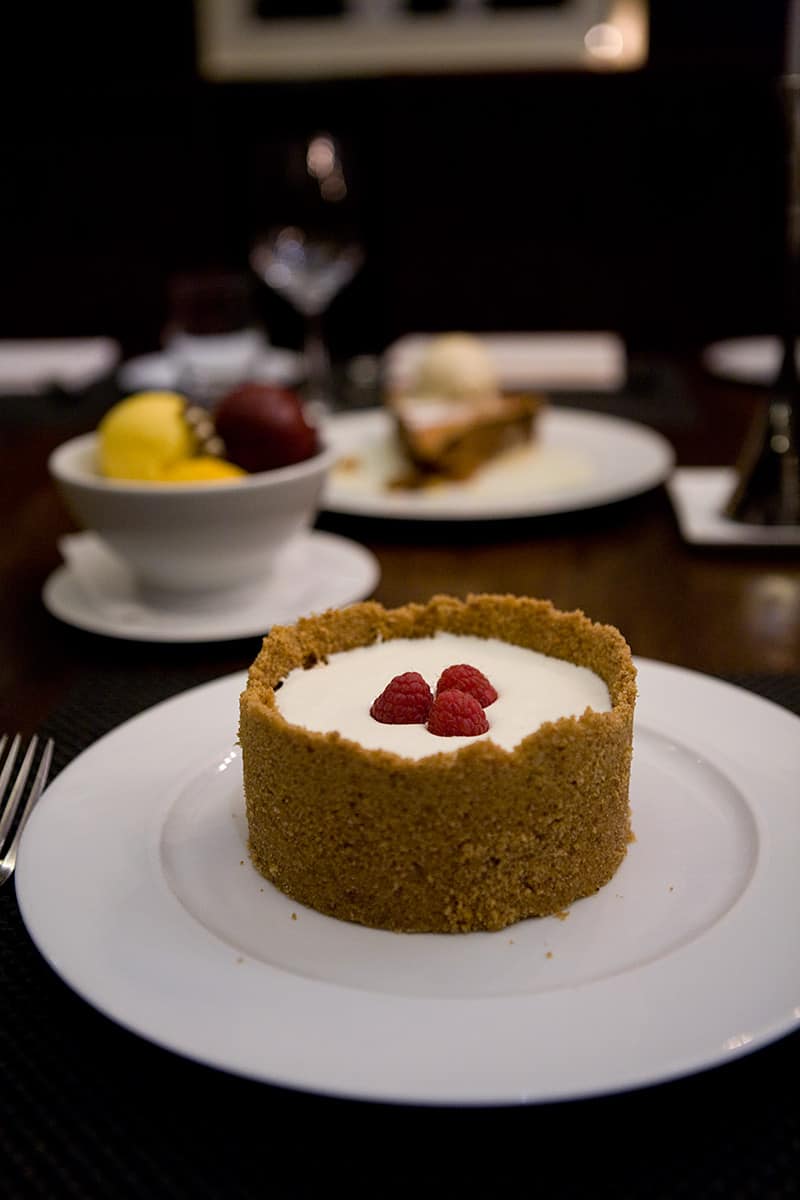 Every time I look at the photo of this magnificent cheesecake (£9) I think of a crown. A king of desserts. Impossible to be finished off by just one person it is usually shared among at least two or three people or the leftovers are taken home. When the wall was broken the cream topped cheese filling begrudgingly flowed out, scared to come out, knowing it could kiss its short life good bye. Cheesecake lovers, I urge you to try it!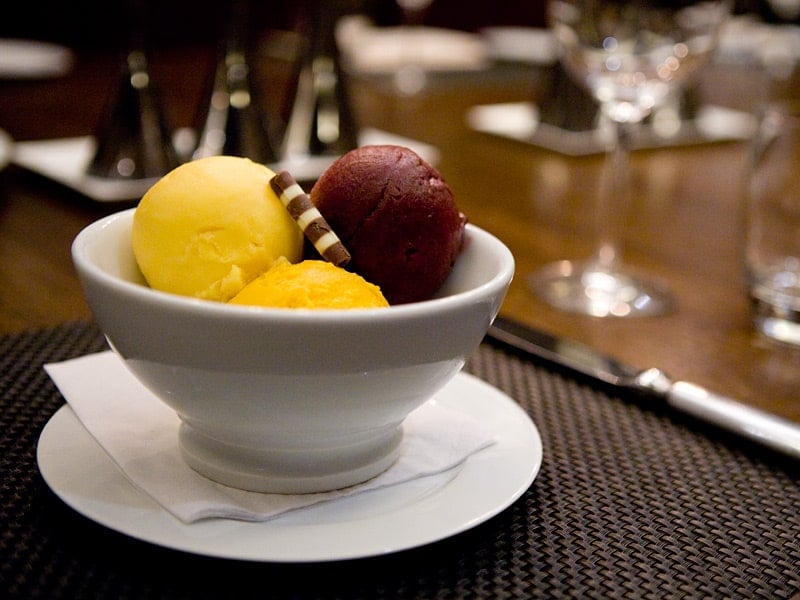 The well made and presented slice of apple pie (£8) could have been a meal on its own. Already full up, I opted for a trio of fruit sorbets; lemon, blackberry and mango (£7). A perfect, light ending to a huge meal.
P.S. A special thanks to JW Steakhouse for inviting me as a guest that lovely evening.
Quick Overview
Food
9/10: JW Steakhouse may not have the most remarkable name or interesting menu but except for the dodgy sweet potato side dish the food is stunning.
Value
8/10: Prices are steep but quality and American-style quantity make up for it.
Service
8/10: A few niggles like a forgotten sauce and incorrectly naming a sorbet but overall courteous and genuine.
Toilets
8/10: All good.
Ambience
7/10: Spacious, not too noisy but a bit dark for my taste.
Recommend
9/10: It is not very often that I'll be tempted back to a restaurant but just for the crab cake alone I'll jump at a next opportunity in a heart beat!
JW Steakhouse
86 Park Lane
London
W1K 7TN
020 7399 8460
www.jwsteakhouse.co.uk