It feels like yesterday when Lima opened its doors and set the internet alight with raving reviews. That was back in 2012 and in the following year Lima was the first Peruvian restaurant to earn a Michelin-star. Six years down the line I visited to see what all the fuss is about.
If it weren't for my dining companion who grabbed my arm, I would have walked straight past Lima. Its signage is small and exterior unassuming, which gives no clue to the casual pedestrian just what its kitchen is capable of.
The menu is something to behold. Although I consider myself well-versed in food my knowledge of South American cuisine is close to zilch. Currently, in the dating world every Tom, Dick and Harry wants to visit Machu Picchu, trying hard to come across as sophisticated and well traveled while I just smile and nod. The closest I ever got to Peru was a male specimen, but that is a tale for another time.
As with most British establishments, the venue is on the small side, or perhaps it's more a case of seeing how many tables can be squeezed in sardine style. Sitting too close for comfort next to our table neighbours, one can't help but notice the huge mirrors mounted side-by-side on all the walls. A clever trick to make the room look bigger than it actually is. Sensing movement out of the corner of my eye, it was quite disconcerting to discover it's me in the mirror. An absolute paradise for diners with kinks fantasising of impersonating Christian Bale in American Psycho.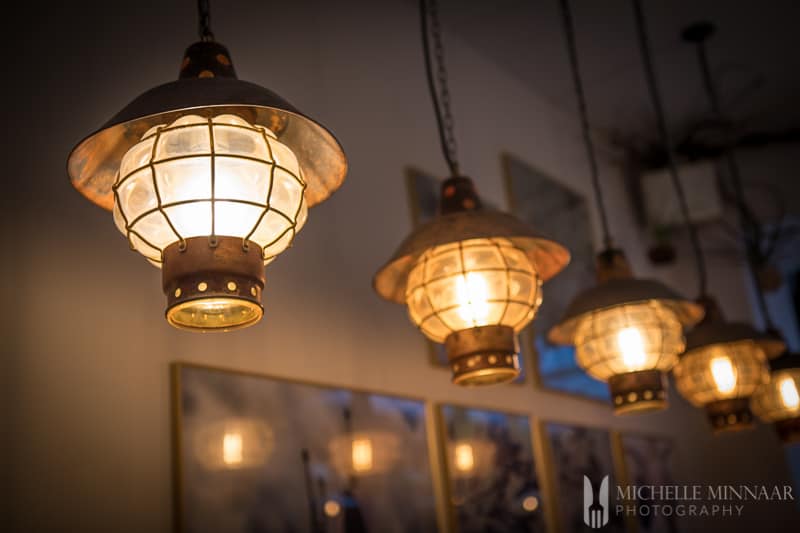 Back to the menu. Be prepared to not have an inkling what most of the items mean but thankfully, this is where the waiter comes in who fluently describes the dishes and answer any questions you might have. Everything looks good. Everything is good.
We had the following:
Duck Escabeche - Algarrobina, Rocoto Pepper, Orange Bitters (£10)
Corn Hot Ceviche - Giant & Baby Corn, Tiger's Milk (£9)
Sea Food Chupe - Fava Beans, Tiger's Milk (£20)
Beef Pachamanca - Rocket, Olive Oil, Sea Salt (£26)
Alfajores. Dulce de Leche Ice Cream. Bee. Pollen. (£9)
Guava Ice Cream. Yellow Corn Crisps. Beetroot Crumbs. (£9)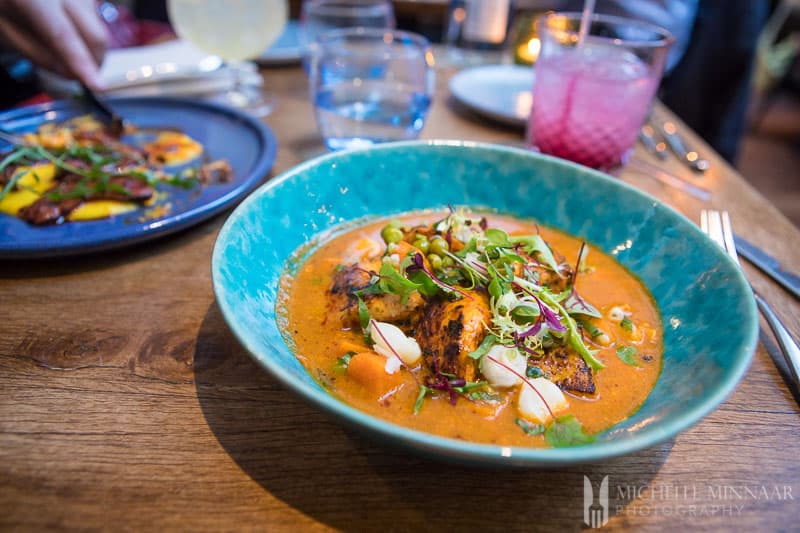 Admittedly, this is the first time I dined at a Michelin-starred restaurant without trying the tasting menu. This, I found much more enjoyable than having a mouthful of mysterious whatnot before another dollop of some strange concoction appears in front of me. Much like the spirit of Tuyo, plates arrive as they are completed in the kitchen, in no particular order. The waiter then proceeds to describe each element of the dish, which is helpful.
In true Michelin-star style the prices are steep and the portions on the smaller side. That said, you won't find the imagination and calibre of the dishes easily anywhere else. It's the attention to detail. Who knew so many different types of corn existed somewhere else on this planet? Each dish had a bite to it, but in a different and pleasant way. The plates that arrived were vibrant in colour and as pretty as a picture.
Guava. A fruit I dearly miss since I left South Africa. Decorated with dried starfruit which makes the dessert resemble a porcupine, the ice cream form is simply sublime. It is clear that careful thought went into the design of each dish and the execution done marvellously.
For the record Lima is one of my most memorable dining experiences of 2018. What kind of food can I expect at Machu Picchu though? Only time will tell.
Lima London
31 Rathbone Place
Fitzrovia Place
Fitzrovia
W1T 1JH
P.S. I was a guest of Lima.