If you're unfamiliar with a cuisine you tend to peruse the menu for a very long time not knowing what to order. Completely stumped I asked the waitress for recommendations. What followed was the most unprofessional, flimsiest and indifferent response I've received to date. Not ONE dish was sold to us and instead of feeling rescued, I felt lost at sea when she left the table.
We didn't fare too badly in the choices we made though. The cold mezze platter (£12.50) consisted of hommus (chickpea puree), moutabel (smoked aubergine puree topped with pomegranate arils, which was overpowered by tahini), moussaka (aubergine baked with tomato), labneh (a fresh Lebanese yoghurt), tabbouleh (chopped parsley, tomato and crushed wheat salad), loubbieh (French beans with tomato and cinnamon), and foul mukala (beautifully tender broad beans cooked with coriander, garlic and olive oil). It proved to be a very generous portion for two people to share and everything on the plate was rather good.
The sambousek lamb (£6 – pastries filled with minced lamb, onion and pine nuts) were pleasantly unoily and substantial but the sambousek cheese (£6 –with halloumi cheese instead of lamb) could have done with more filling. Mohammara (£7 -roasted crushed nuts mixed with sweet chillies, red pepper and olive oil), the dish I looked forward to the most, was the biggest let down of the meal. The first time I had it was at Levant and the smooth, smoky red pepper and nutty dip has lingered in my memory ever since. Mamounia Lounge's variation was rather rustic and tasted like ready-made sweet chili sauce with some chopped nuts.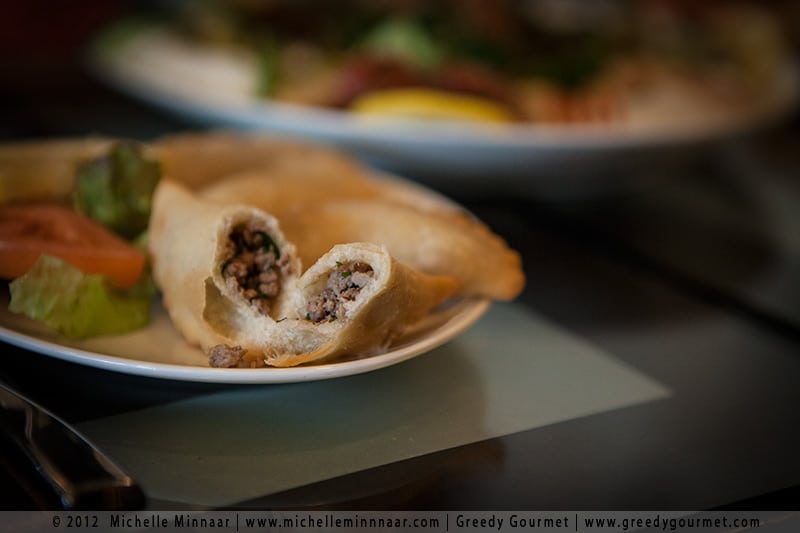 For the main course we had four different tagines (£19.50) and my Lamb & Prune Tagine, spoon tender lamb shoulder with oh-so-sweet prunes and shelled whole almonds, was a true winner. In close second came Jeanne's Lamb Shank & Chickpea Tagine in a tomato base. All the portions were humungous and one tagine could easily be shared between two people. The least appealing one was Sarah's Kafta Tagine which looked and tasted like a bunch of store bought meatballs with a can of tomatoes dumped over it. Margot's Vegetable Tagine (£16) featured mostly dense, sweet butternut squash but the presence of parsnip and turnip was questionable.
All desserts were beautifully presented. Is that why they were so absurdly expensive?
We had the Fig Tart with Cinnamon Ice-cream (£7.50), Chocolate Fondant with Vanilla Ice Cream (£9.50), Passion Fruit Platter (£16), Baklava (£7.50) for dessert and finished off the meal with some Moroccan Tea (£3 per person). Crispy on the outside and melting on the inside almost made the chocolate fondant a perfect dessert until you taste the cheap chocolate that was used. Our breaths were taken away when my Passion Fruit Platter arrived. Was the plate of eight passion fruit spectacularly decorated with blackberries, raspberries, icing sugar and mint leaves worth £16? I think not. If I had to order dessert again it would be the exceptional vanilla and cinnamon ice creams that came with the other desserts.
Want to know what my dining companions thought? Check out their posts!
Quick Overview
Food
6/10: Ups and downs.
Value
6/10: Starters and main courses proved value but desserts came in at rip-off prices.
Service
5/10: Service lacked a personal touch.
Toilets
7/10: All good
Ambience
6/10: Strange choice of music. One minute playing traditional Middle Eastern music and the next Frank Sinatra. In the evening there is some belly dancing actions but unfortunately, we couldn't attend.
Recommend
6/10: Definitely worth visiting for the Lamb & Prune Tagine but not for much else.
Mamounia Lounge
136 Brompton Road
London
SW3 1HY