By now I've become a fan of Ed and Tom Martin's series of restaurants, dotted throughout London. Their menus might follow the same recipe but imagination and quality are always assured.
You would have thought that a city restaurant would be dead over the weekend, as the numerous sushi and sandwich takeaway joints can attest to as you walk down the street. But not One Canada Square. For a second I thought I was at the wrong venue since the restaurant was almost bursting at its seams.
While waiting, at the bar for a table to free up, we were presented with a cocktail menu that simply thrilled. This isn't just a shot-of-some-strong-liquor-topped-with-lemonade kind of beverages – the drinks were well thought out and presented with flair. Featured: English Cosmopolitan – Chase rhubarb vodka, cranberry juice, lime juice, Cointreau (£10.50). We also had Secret Garden – Absolut vodka, Cointreau, St. Germain, lemon, pomegranate (£9.50).
Everything on the menu looked good and in the end we decided to have River Test trout ceviche (with pickled fennel, blood orange and coriander dressing, £9) and Yellow fin tuna tartare (with spiced avocado, black pepper dressing, £11.50). The former was as pretty as a picture but the latter is where the flavour was at.
A pot bigger than my head arrived at the table overflowing with a Kilo of Shetland Isles mussels (with shallots, garlic and cream sauce and French fries, £16.50). I was filled with a mixture of pride and shame when I managed to finish it. The slow roast Gressingham duck breast (with heritage beetroots, fennel, caramelised clementine and sweet wine sauce, £23) was perfectly cooked but for me the sweet potato side dish (£4) was the show stopper. It comprised a thick slice of sweet potato, topped with little cubes of sweet potato mixed with curd and sesame. It truly was memorable and such an easy thing to replicate at home.
Wine is big business at One Canada Square, where you're given the option to try a glass of exceptional wine instead of having to buy the whole bottle. While I'll never be a fan of tattoos, I couldn't help but be impressed by the sommelier who had in-depth knowledge of the restaurant's wine collection and proactively made suggestions as to what would pair well with the food. He struck just the right balance between attentiveness without trying too hard. It just goes to show that first impressions aren't always accurate.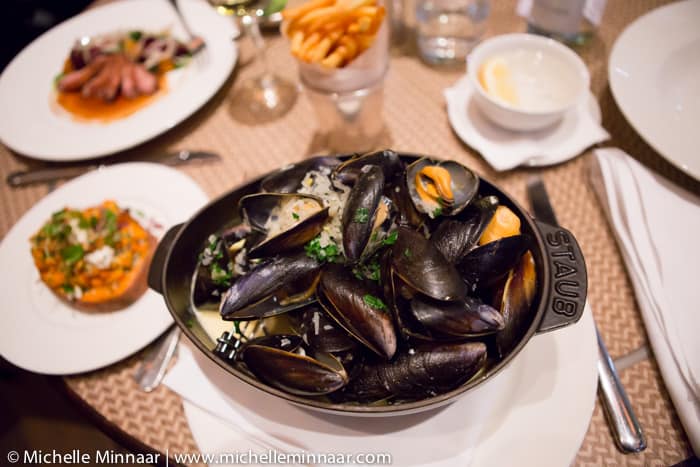 For dessert (£6.50) we had the Chocolate Brownie which came with a seriously death by chocolate sauce. I wish I knew how the pastry chef obtained such a delicate, crispy crust on top of the apple pie I had. It was magical.
Quick Overview
Food
9/10: From start to finish everything was top quality.
Value
7/10: Average prices for a London restaurant and the portions were decent sized.
Service
10/10: Thanks to the great sommelier.
Ambience
7/10: Bustling. Later on a Saturday there's live piano.
Recommend
9/10: I wouldn't mind returning. Again and again and again.
One Canada Square
Canada Square
Canary Wharf
London
E14 5AB
Website
P.S. I was a guest of One Canada Square.