After perusing recipe after recipe at Books for Cooks, Robyn and I were salivating, hungry for fine food. Good job really, since I booked on Top Table at Quaglino's for dinner.
The restaurant has a beautiful entrance and as we walked down the stairs we were surprised at how big the restaurant actually was. A triangular blue-lit ceiling hung across the middle of the huge hall gave the establishment a different but special feel. White tablecloths and napkins, sexy wine glasses and dapper waiters to serve us; the scene was set. But was the food any good?
Goat's Cheese & Caramelised Onion Tart with Herb Leaf Salad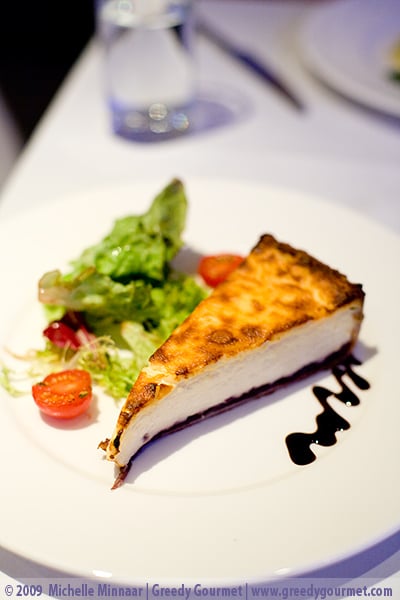 To be honest, this tart turned out not quite what I expected, which had something to do with puff pastry with a chunk of goat's that smothered with caramelised onions on top. Nonetheless, I was intrigued by this new form of goat's cheese tart I haven't come across before. The cheese was blended into the silky, creamy egg mixture and there was a thin layer of onions below. A very strong cheese was used and although the onions were delicious, I felt there wasn't enough to balance the cheese which made the tart overall a bit overpowering. Imagine my disappointment when I found a large, browned, leaf in the salad. In such a posh established you would expect them not to overlook such a detail.
Smoked Salmon Wrapped Asparagus Spears
Perfectly cooked asparagus. Scrummy smoked salmon. Morish Hollandaise sauce. Result? Success.
Chicken in Red Wine Sauce
Although this is an easy dish to prepare in advance and/or at home, it was delicious. The white meat – wing and breast – was moist and tender and the sauce literally finger-licking good.
Buttered Green Beans
Unfortunately, at such upper-class restaurants you have to pay extra for side dishes. Luckily, the beans were good and were gobbled up with glee.
Steak & Chips
After these few years of kitchen experiments, embarrassingly I have to admit that I don't have the knack (YET!) to cook the perfect steak. After one bite from Robyn's plate I could only admire it, wishing I had my own. The Béarnaise sauce was a good complement for the chunky chips.
Lemon Tart with Summer Berries
What a lovely tart it was indeed. A thin crust with a creamy, lemony and sweet filling. Just the right dessert to complete the evening.
Panna Cotta with Poached Rhubarb, Yoghurt Ice Cream and Ginger Tuile
Robyn urged me to lose my panna cotta virginity and when I did what a delight it was! It was sweet and creamy, which melted in my mouth but contradictorily came across as very light. The yoghurt ice cream was interesting, the rhubarb tangy but paired well with it.
Food
8/10: Except for the old, scruffy salad leaf the food was overall good. A solid performance by the kitchen staff.
Value
6/10: Top Table had a special offer of £25 for a 3 course meal and a glass of champagne which makes it worthwhile. However, we had to pay extra for our side orders, which annoyed me. In times of a recession, people are looking for value for money. Based on its regular prices, under normal circumstances I wouldn't have considered Quaglino's.
Service
10/10: I can't fault it. The waiters were polite and attentive without being a pain in the bum.
Toilets
7/10: I loved the black, tiled walls but the toilets were a bit old and in need of replacement some time or another.
Ambience
6/10: It was very quiet when we first arrived. By the time we left the restaurant was starting to fill up slowly. A live band performed on the upper deck but at times was a bit loud at times which made conversation difficult.
Recommend
7/10: If you live in London and have the dough to splash around, go for it!
Quaglino's
16 Bury Street
St. James's
London
SW1Y 6AJ