Suddenly it's that time of year again. Christmas. Time has flown past in a blink and even the Olympics have become a distant memory. For the last time this year I organised a food blogger get together and met up with blogging buddies Jeanne, Sarah and Solange.
Our welcome was warm and hearty and we were seated at the best table in the restaurant; a long rustic table with little drawers and all with plenty of space. I should have had a hunch then what was coming.
Each culture has its own idiosyncratic beliefs for example if you use more than one set of chopsticks in a Japanese restaurant, you're considered a slut. An empty dining table in the Greek world is a sin and our bums barely touched the seats when small plates of food appeared in front of us along with some Greek Mulled Wine to warm us up after being outside in the winterish December day.
As an almost complete non-bread eater the Greek Flatbread with Olive Oil & Dukkah (£2.50) whispered my name and I couldn't help but dip into it. Fluffy on the top, and chewy at the bottom this warm bread will linger in my memory for a long time. Hummus (£4.25) is made by a special Greek variety of chickpea and The Real Greek's version is different by being grainier and heavier than the varieties we are used to. We found out that less tahini is used to appeal to the average British customer's taste buds.
For those who follow a gluten-free lifestyle there are crunchy, fresh crudités (£2.25) available that worked just as well with the Taramasalata (£4.25) and Tzatziki (recipe here) (£4.25). Did you notice that the Taramasalata doesn't not have that awful, gaudy pink colouring to it that supermarkets add artificially to their in-house brands?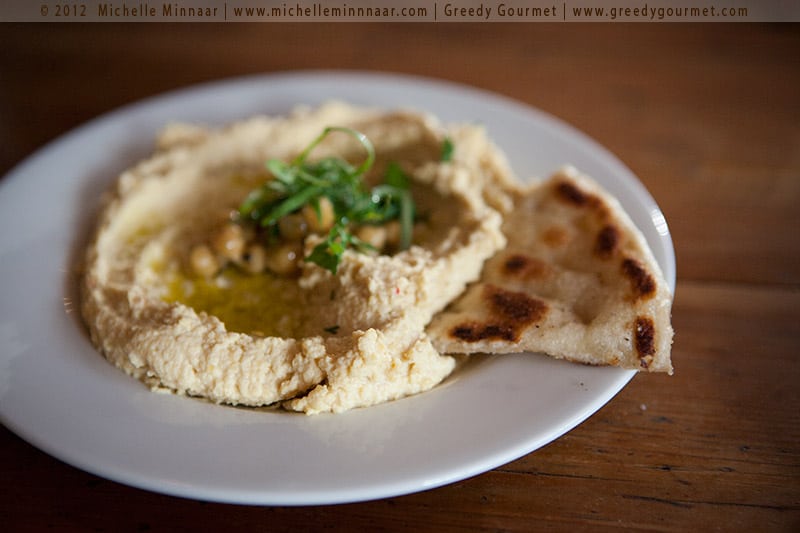 An interesting new discovery was Htipiti (£4.50), which is Greek feta cheese coarsely chopped with roasted red peppers and red onions. This dip is widely served all over Greece and each region has its own spin on it. The northern Greeks are really up to something by adding some spice to this dish.
Finally I got to try Dolmades (£4.25), which are hand-wrapped vine leaves with rice, herbs, pine nuts and Corinthian sultana filling, for the first time. This was the only dish that left me highly ambivalent particularly for its strangeness.
I adored how tender the Gigandes Plaki (Giant beans slow cooked in a rich and herby tomato sauce, £4.25) was. Beetroot, Feta and Lentil salad (£4.50) I've come across in cookery books, I just didn't know it was Greek!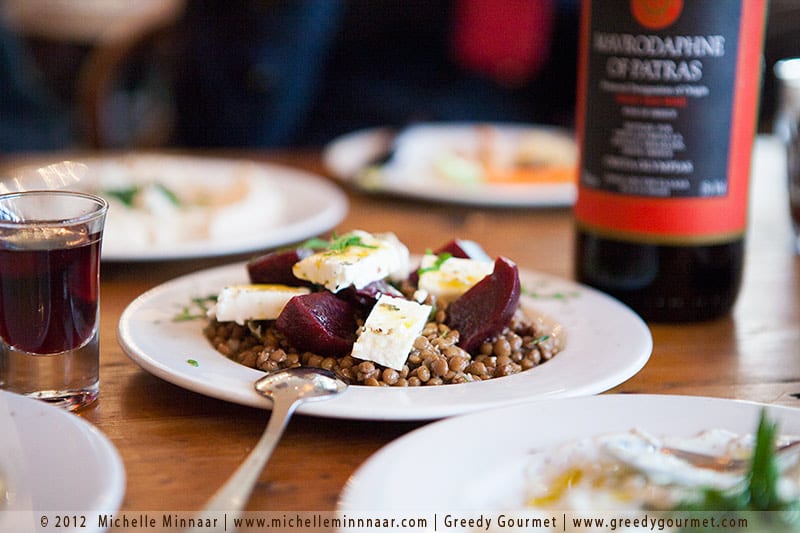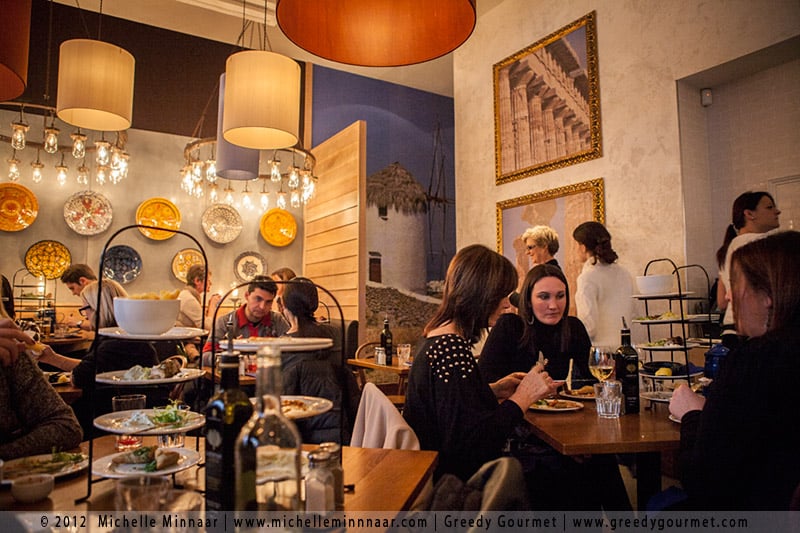 One thing Britons don't know how to prepare is calamari. Their cheap, copout method is to drench the poor thing in batter and fry the hell out of it until it has no choice but to surrender and become tender. The grilled fat legs of the octopus (£7.25) were spectacularly meaty but tender at the same time. Unfortunately, the Grilled Kalamari (£6.50) was less successful and on the chewy side. The Tiger Prawns in Garlic & Chili (£6.50) did not disappoint but the show stopper of the fishy dishes was the Salt Cod (£6.25) which is soaked in water for three days before being battered and served fish and chip style with a lemon mayonnaise – light, puffy balls of heaven.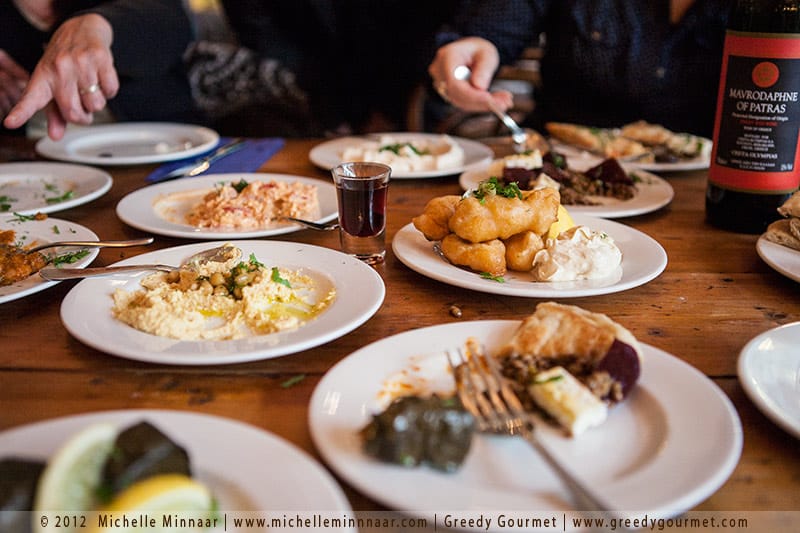 By now we were utterly full but still the food kept on coming. We couldn't help but just pick at the meat. No one could really fault the fairly standard Chicken Skewers (£5.25), Lamb Kefte (£5.50) and Greek Meatballs (£6.00) but what got everyone raving was the Slow Roasted Pork Belly (£6.25) (here you can find the recipe). I liked the fact that it was served without the skin and that most of the fat has been cooked away and all that remained was the most flavourful and moistest meat of the animal remained.
Interestingly there was no Moussaka on the menu. Maybe it's become a cliché by now? Although we didn't try it vegetarians have aubergine and halloumi dishes to choose from the menu.
As a nation obsessed with yogurt, of course the dairy product featured heavily in dessert too. The best one was Greek Yoghurt & Preserved Walnuts (£4.25). In close second was the Fresh Orange with Pistachios (£4.00) with… you guessed it… yogurt.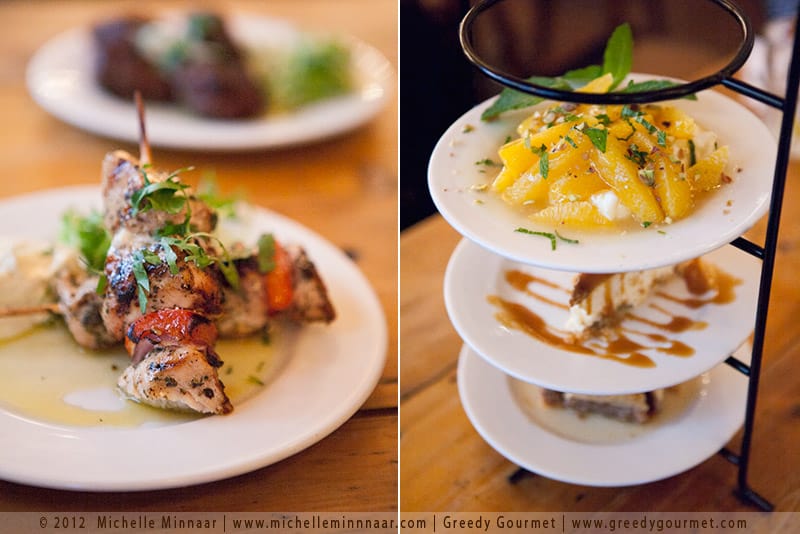 There has been a huge debate about whether calories should be displayed on a menu. Whereas some people would like to remain oblivious of how much they are eating there are others that don't or simply can't afford to. So I think it's great that The Real Greek has gone to the trouble to help their customers.
In this marathon, instead of running 24 miles we ate 24 plates of food. No wonder I had to put on my fat pants when I got home.
Check out what my companions had to say:
Update: The restaurant now boasts a new menu devised by Tonia Buxton.
Quick Overview
Food
8/10: There actually was no disasters!
Value
7/10: Most plates proved to be good value.
Service
8/10: Friendly and on their toes.
Toilets
5/10: Could have done with regular checkups and cleaning.
Ambience
9/10: Buzzy and very popular among diners.
Recommend
9/10: There are dishes definitely worth going back for such as the Greek Flatbread, Tzatziki, Tiropitakia, Salt Cod, Grilled Octopus and Pork Belly. Okay, I think I'll stop now.
P.S. I was a guest of The Real Greek.
The Real Greek
Westfield Stratford City
London

Website