Rivington Grill, based in Greenwich, offers seasonal British cuisine and caters for kids too.
School holidays. It's some parents' favourite time of the year and worst nightmare for some. One thing everyone can agree on though is that it can prove to be very expensive. Going on holiday, taking the kids to attractions and buying them things to keep them amused all adds up. That's why Rivington Grill's special offer, Kids Eat Free, appealed immediately.
For the first time in years we've enjoyed a proper summer and on the day we went to London the skies were blue with not a cloud in sight and the sun was shining brightly. There was much to be excited about. It was Gabriel (6) and Robyn's (3) first time on the train and spending the day in London. Their awe and enthusiasm were infectious and they had a great time sitting in the front of a DLR train and running around and playing in Greenwich Park.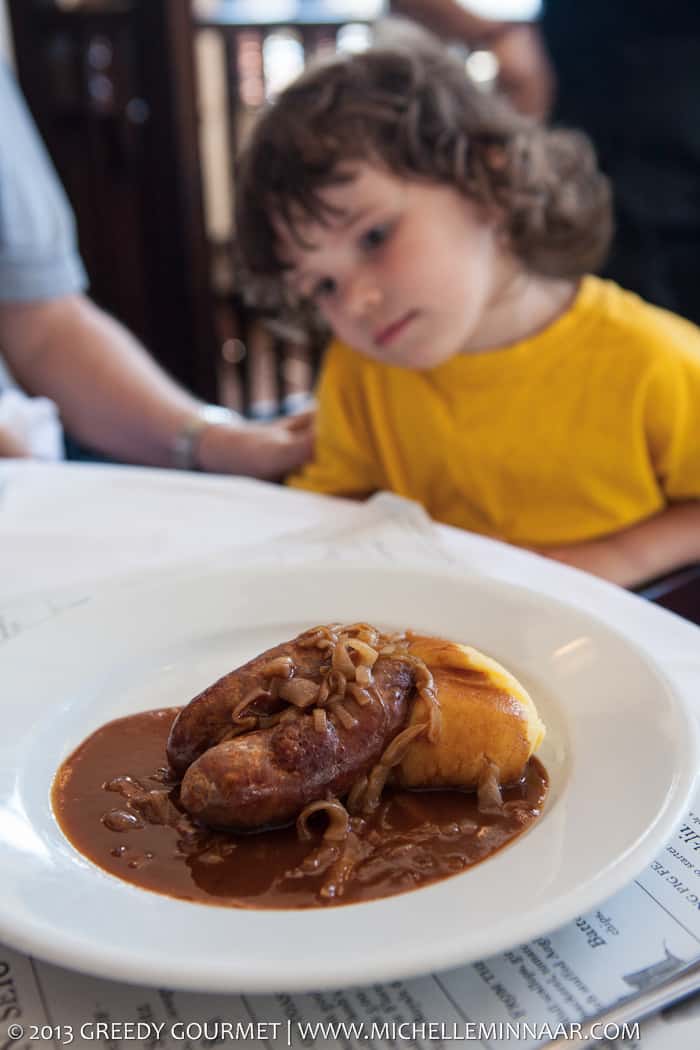 We were the first to arrive at Rivington Grill and knowing that kids aren't born with any patience we orchestrated the adults' starters to arrive with the kids' mains and the adults' mains to come with the kids' desserts. In theory this was a sound plan but what we didn't count on was that we would wait, what felt like an eternity, for the first course of the meal. Most diners' food were served before us and even though the staff were apologetic for the long wait it proved to be a stressful experience.
However, once the food arrived all tensions eased and we dug in ferociously. Mixed beets, pickled walnut and goat's cheese salad (£6.75) was pretty as a picture and a perfect starter on a hot day. Kidneys, which you rarely see on menus these days, were devilled and served on toast (£6.75) and received the thumbs up.
Even if we had needed to pay for the kids', at £6.75 a plate, it would have been amazing value for the sheer size of the portions. Robyn happily stuffed herself with Heap's bangers & mash until she couldn't anymore, while Gabriel demolished the Mini Rivi Burger. In fact, he loved the chips so much that after he cleared his plate and had his ice cream he carried on munching them from a side order that came with the adults meal until they were all gone.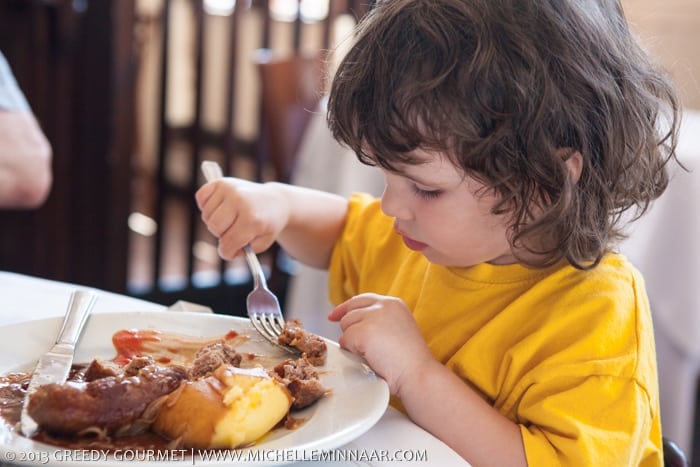 The only disappointment with regards to food for me was my Hereford Ribeye steak (£26.50) – I requested it rare and it was cooked medium to well done. Other than that the Anglesea Sea Bass (£15.50) and Barnsley Lamb Chop (£16.75) went down a treat and everyone made positive noises.
The kids ended their meal with Raspberry Ripple Ice Cream (£1.50) which they fervently ate out of somewhat impractical bowls.
Quick Overview
Food
7/10: Overall a good meal.
Value
8/10: All the portions were of decent size.
Service
5/10: The kitchen staff is to be blamed for the long wait.
Toilets
8/10: All good.
Ambience
6/10: With its hardwood floors and reverberant ambience the Rivington Grill is better suited for older children.
Recommend
7/10: If you're in the Greenwich area Rivington Grill is worth a visit.
Rivington Grill
178 Greenwich High Road
London
SE10 8NN

Website
P.S. I was a guest of Rivington Grill.