Smackdab in the middle of Borough Market, situated near London Bridge, you'll find Roast.
Funnily enough it's easy to miss this restaurant as it's located on the first floor of a building and if you're not paying attention you'll walk right past its entrance and elevator.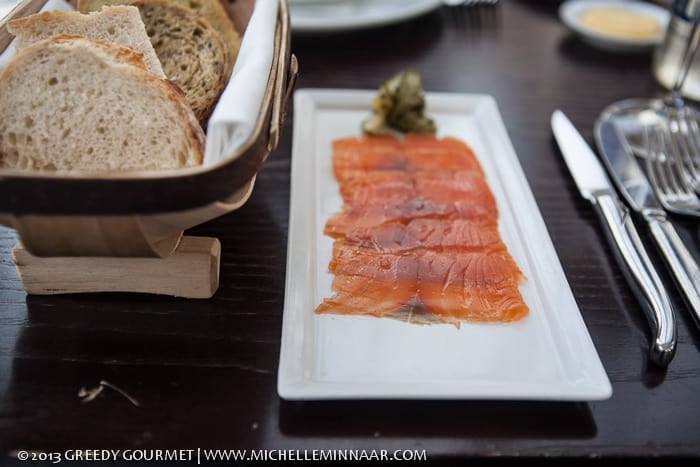 Borough Market itself is heaven for foodies to browse around and there are plenty of street food stalls with great food, anything from Spanish paella to bangers and mash, to offer but if you've got the money and are looking for something smarter, there is Roast.
While enjoying the restaurant's smart surroundings and air conditioning on an unbearably hot summer's day, you can peer through its glass walls down at the market's visitors and truly appreciate how popular this famous London destination is on a Saturday.
Truth be told, it would have been scandalous if Roast served horrible grub since it has top quality food from the four corners of the world literally on its doorstep. But of course, the food was fantastic!
The Gin-cured Loch Duart Salmon with Pickled Cucumber (£12.75) was unique and a refreshing change from the standard smoked variety. The classic Prawn Cocktail made the perfect starter for a summer's day and the thin julienned cucumber gave the dish a lot of finesse.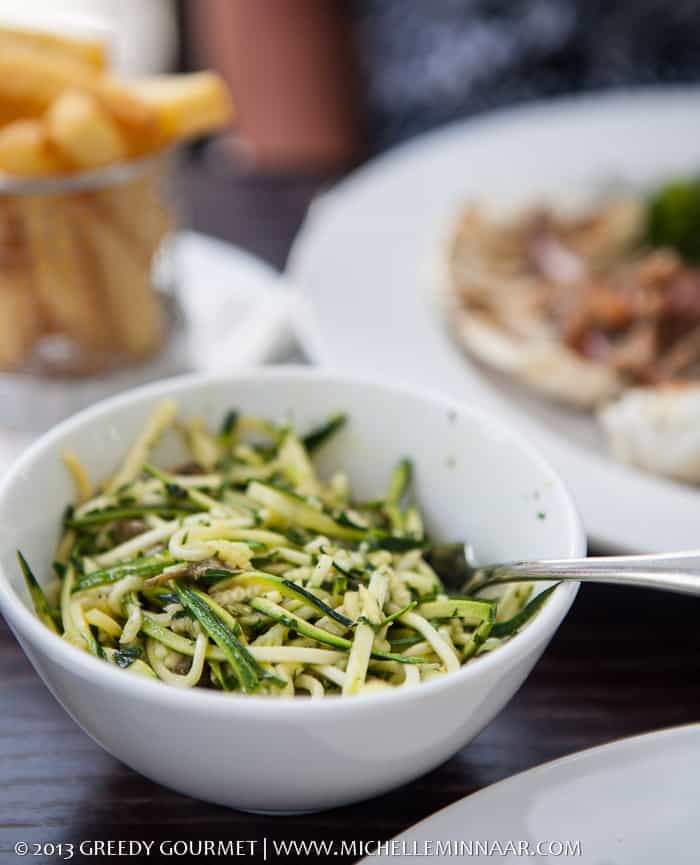 Beef Wellington (£32.50) is a rarity, even on British restaurant menus, and when I saw that it's available on a Saturday on the daily special menu, I pounced. The beef was cooked medium rare, covered in a layer of minced mushrooms and another layer of spinach. Although the red wine jus was divine, I actually would have preferred the sauce to be served separately because it made the puff pastry a bit soggy. Other than that the plate of food was simply divine.
For a long time I've thought that Brits can't cook calamari but in Roast's case the chef actually knows what he's doing. The knife cut through the calamari steaks like butter and it's the best I've had on UK soil thus far.
For side dishes we had chips (£3.60) which were decent and Courgette Spaghetti with Anchovies and Capers (£4.75). Just like the cucumber in the Prawn Cocktail starter, the courgettes were cut into thin strips, making them resemble spaghetti, gently tossed in a warm pan with flavourings and served immediately which left them with a warm crunch. This is a brilliant way to serve courgettes when you're stuck with a glut during summer.
Pimm's is the quintessential British summer drink and Roast created a jelly of it and served it with mint ice cream. At first you might think this is vanilla ice cream in the photo but the kitchen simply didn't use colourant, a big thumbs up for that. I opted for fresh fruit, which wasn't on the menu, and received an adequate fruit salad.
Quick Overview
Food
8/10: High quality British fare.
Value
7/10: Prices are on the high end of the spectrum but the portions were substantial.
Service
9/10: Well trained staff.
Toilets
9/10: Clean and sparkly.
Ambience
7/10: The restaurant is buzzing on a Saturday afternoon and has an upmarket feel.
Recommend
8/10: If you're in the London Bridge area Roast is definitely worth a visit.
Roast
The Floral Hall
Stoney Street
London
SE1 1TL

Website
P.S. I was a guest of Roast.