A few months ago, just before school holidays, I took my son to London to spend some quality time together on the day. In the morning we dawdled around the South Bank and then went on a London Duck Tour. To end our outing on a high note we visited Shake Shack to have his favourite kind of meal - burgers, fries and ice cream!
Although the Stratford branch is only the 2nd one to open in London, the fast food chain has been operating across the pond for more than a decade. In 2001 Shake Shack started up as a hot dog stand in Madison Square Park in New York. For three years its popularity grew from strength to strength and opened its first kiosk onsite in 2004. The rest is history.
Inline with its green colour, Shake Shack stands for everything that is good, healthy and helps the local community. The company is quick to point out the latter by the use of notice boards, TV screens broadcasting messages and notes on the menu.
When placing an order you are given an order number. Now this isn't just a slip of paper but a little gadget that looks like a remote control. So instead of bumbling about the counter waiting for your food like an idiot, you get to scout out the best spots in the spacious seating area. Much to my son's delight, when your food is ready, the remote control starts flashing lights and vibrating, which means you've got to pick up your food from the counter.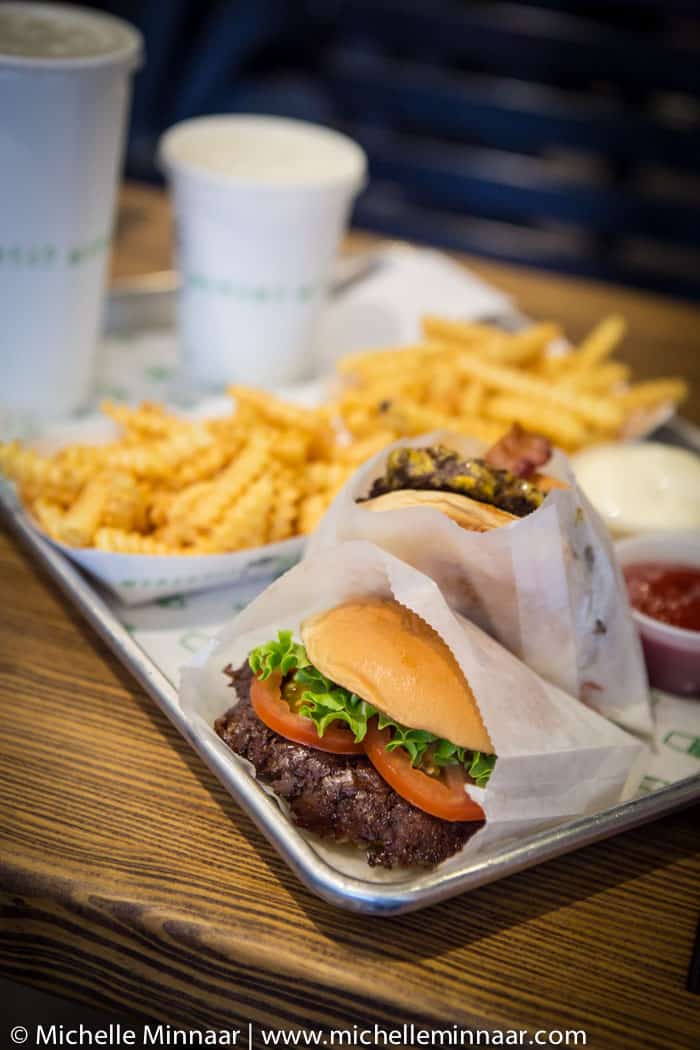 While I'm not the biggest burger afficionado, my double SmokeShack burger (£10.25, two beef patties, Wiltshire smoked bacon, sweet cherry peppers and ShackSauce), was enjoyable albeit on the pricey side. My son loved his burger and dived into my portion of moreish Fries (£2.95) after finishing his.
In the dessert department, Shake Shack's claim to fame is called "concrete" (prices start at £5). Its name doesn't do it any favours, nor does its appearance. But believe me, if you dare to taste one spoonful of the stuff, you'll be caught swooning shortly thereafter. Each branch offers its own unique sets of concrete flavours but if all else fails, you can make up your own combinations. Whatever you choose, it's hard to go wrong.
Shake Shack
Westfield Stratford City
The Street
London
E20 1EN
Website
P.S. I was a guest of Shake Shack.