A stone's throw away from Leicester Square and located in W London, you'll find Spice Market.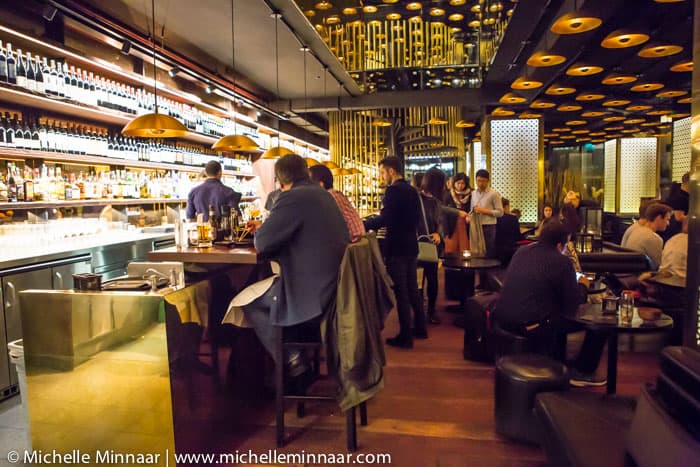 Dark, with a nightclub feel paired with thumpy music, this place is too hip for words. Guys sat at the beautiful bar, drinking. Couples chatted. Apparently, it's a great venue for girly nights out where the clientele are more obsessed about how they look and being seen than the actual food and drink on offer.
Service could definitely be improved. We stood at the reception and waited for what felt like ages before the two front of house staff bothered to acknowledge us. Throughout the night the not-so-proactive service was slack and slow to clear out table to make way for more dishes.
The restaurant's saving grace is its food. The menu is vibrant with pan-asian items, which made it very hard to choose from. In the end we opted for the Assorted Sushi & Sashimi (£25), Charred Chili Rubbed Beef Skewer with Thai Basil Dipping Sauce (£11) and Baby Back Ribs with Yuzu Plum Glaze and Spiced Peanut Brittle (£8).
The beef skewers were meltingly tender, a pure novelty because there have been times where I thought my teeth would come out before the meat would tear off the skewer at other restaurants. Slathered in a fruity sauce, the ribs were the winner in the starter department with its peanut butter brittle being the icing on the cake.
At the time there were many green vegetables or interesting side dishes to choose from so we opted for the Mango Salad with Candied Tamarind, Charred Long Beans and Cashews (£9) instead. Tangy, sweet, crunchy - it had all the elements of the perfect salad. Celeriac is not seen often enough on the restaurant scene and it worked beautifully with the Pan Seared Sea Bass Green and Thai Eggplant in a Green Curry Broth (£16). One of my fears when it came to the Red Curried Duck with Pineapple Sambal (£18) was that flabby pieces of fatty duck skin would float around in the dish. My fear was unfounded and instead thoroughly stewed duck was placed in front of me that had the consistency of pulled pork, served with a fragrant curry sauce.
After all of the above, we could only muster the courage to share a light dessert. The Thai Jewels and Fruits with Crushed Coconut Ice (£7) arrived in an unremarkable glass bowl but proved to my light and refreshing after such a big meal.
Also worth a mention is that Spice Market has a special Barley & Buns popup menu available until the end of December 2015. Click here for more details.
Spice Market London
10 Wardour St.
London
W1D 6QF
Website
P.S. I was a guest of Spice Market.