I am completely biased. There, I said it.
I friggin' love Westfield Stratford City! Living deep in the heart of Essex, completely out in the sticks, for me to get to London is a drag. Not only does it take almost an hour to just get to Liverpool Street Station then I have to take yet another mind-numbing journey on the tube to get to the city centre. To those of you who commute every day to London, I take my hat off to you because to do it five days a week I will find utterly soul destroying.
Sure, shopping centres aren't a mecca of top Michelin-starred restaurants but there is a wide array of pretty decent eateries available at affordable prices. Did I mention that it used to take me 1.5 to 2 hours to reach a restaurant? Now I hop on the train and 40 minutes later I'm there and the train fare is cheaper too!
So not surprisingly, a month after reviewing Westfield Stratford City's Cabana, our group of food blogger buddies were back to review All Star Lanes. Here goes…
While waiting for everyone to arrive we snacked on Giant Fried Corn & Chili Beans (£2), which is an offbeat bar snack – not too oily and not too hot. The cocktail menu is simply staggering and my Pin Up Girl (Finlandia Vodka, Basil, Strawberry, Fresh Lemon and Blueberry topped with Prosseco, £7) sent me right to my "happy place".
Sprawling out of a cute Chinese takeway box my Popcorn Salt & Pepper Squid with Chilli Jam (£5.50) was better than expected and definitely won the prize for best presentation. The Veg & Cilantro Chimichangas (£5) and Duck & Cilantro Chimichangas (£6) turned out to be nothing more than spring rolls and were average. Falling-off-the-bone-tender Short Rack of Ribs (£7) were thickly slathered with delicious sticky sweet and spicy BBQ marinade. In an unusual twist the Refried Bean and Avocado were pureed respectively and placed on three little Tostados (£5) – a lot of flair for such a simple dish.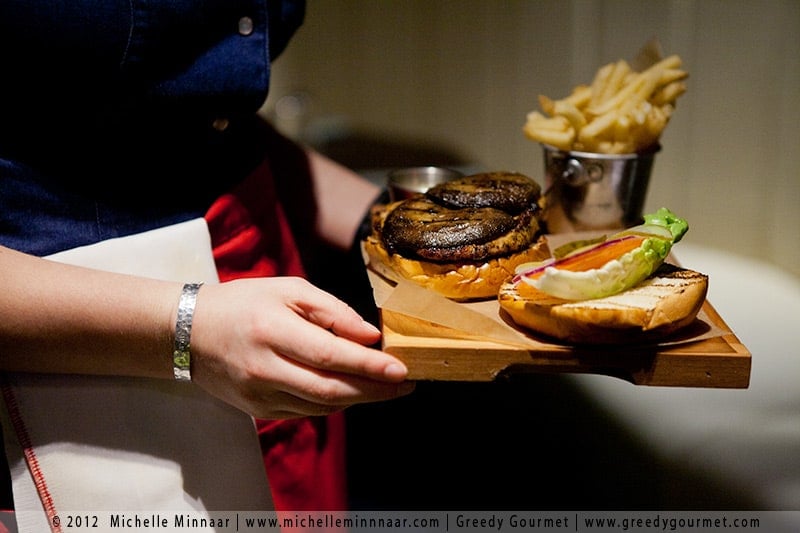 The portion of BBQ Pulled Pork & Rainbow Slaw (£12) was massive and the intensely flavoured, tender meat was duly appreciated. The Classic Slaw (£3) went much better with the pork than the overly sour rainbow slaw that was served with it. Basically the same as the starter ribs but double in size, the BBQ Whole Rack of Baby Back Ribs (£16) weren't as saucy but pleased everyone around the table nonetheless.
What disappointed was the Broccoli with Pecan Butter (£3), with the former just plainly steamed and the latter comprised a few chopped pecans sprinkled on top with no kind of butter in sight. Strangely, what should have been the restaurant's strong point proved to be its worst – All Star 8oz Prime Beef Burger & Fries (£9.50). The patty's fat content seemed on the low side and after it had been cooked to oblivion it tasted of sawdust.
An unexpected surprise was the Grilled Salmon (£12) which was cooked to perfection and the candied beets along with the teeny weeny onions were downright moreish. The chicken fillet in the Blackened Chicken Fillet Burger (£9) was sumptuous and two grilled Portobello mushrooms complemented it perfectly. Let's not forget the Sweet Potato Fries (£3) – simply addictive!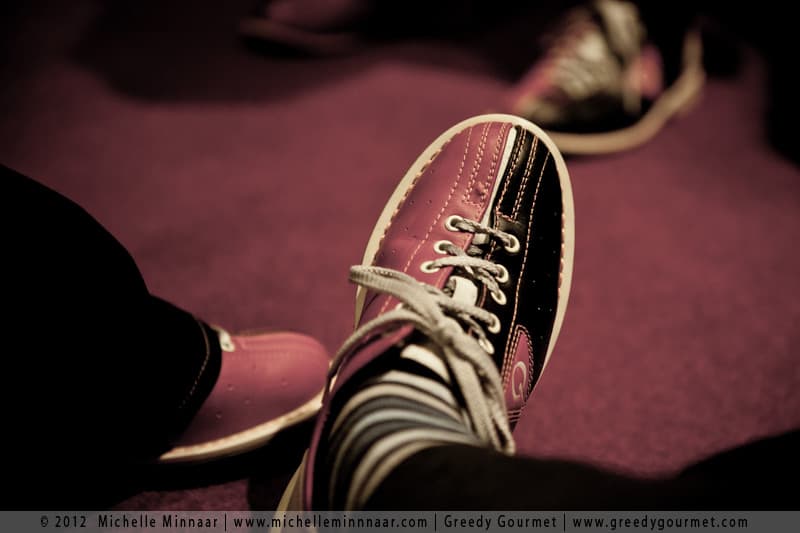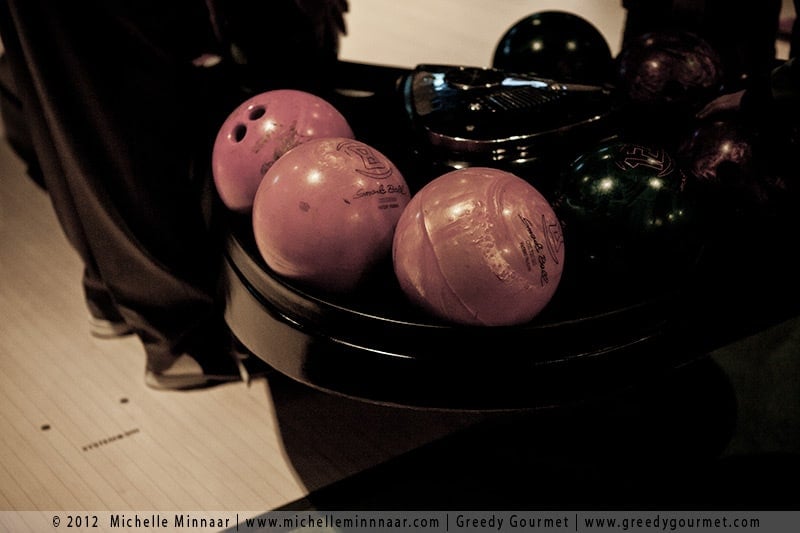 After our starters and mains we were stuffed and decided to bowl before having our desserts. We received groovy bowling shoes to wear and off we went. With the 50's music blaring it was difficult not to start boogieing to the beat and at times I forgot that it was my turn to bowl. Secretly I wanted to try out the contraption for kids to help make a ball roll straight but didn't want to look like a wally. A fatal mistake we all made was resting on our laurels when we heard Jeanne had a knee injury, thinking she won't play well. That "excuse" won't wash again after she kicked our butts one strike after the other!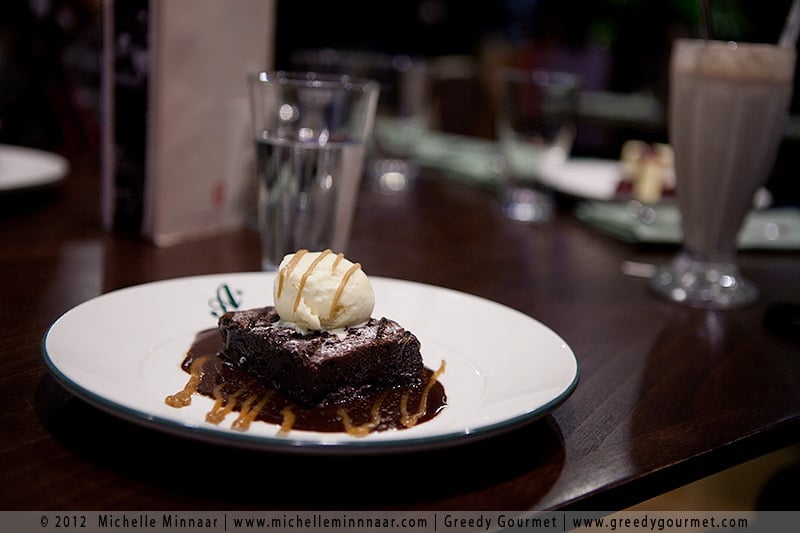 Quite honestly, we were still full after our meals but decided to try out the desserts for "research purposes" anyway. The portions of cheesecake (£5) and Whoopie Pie (£3) were gigantic but the latter didn't look like a classic version at all but tasted just fine. The warm, squidgy chocolaty brownie (£6) was another crowd pleaser. Throughout the meal I really appreciated the large pitchers of water that were brought to the table.
Quick Overview
Food
7/10: Most of the food is good, homely and satisfying.
Value
9/10: All portions were generous.
Service
6/10: Friendly and attentive but we were forgotten after dessert and after 10 minutes of waving, attempting to get the staff's attention we succeeded.
Toilets
5/10: A lot of money was spent on giving the venue a classic American retro feel but by the time they got to the restrooms they must have run out of dough. Humourously the doors are marked with David Hasselhoff and Pamela Anderson respectively but once you walk inside the room is quite impersonal and utilitarian. The flimsy toilet paper and dispensers didn't help matters either. Everything was clean and in working order though.
Ambience
6/10: A family restaurant with its share of screaming babies and pimply teenagers. A huge plus point was the 50's music which gave the place a fun vibe.
Recommend
7/10: A great place to hang out with friends on a lazy Saturday afternoon. Whatever you do don't forget to order the ribs and sweet potato fries!
You can read the other food bloggers' reviews here:
P.S. I was a guest of All Star Lanes.
All Star Lanes
Second Floor
Westfield Stratford City
London
E20 1ET
Website