You've bought a dozen fresh bagels from your favorite bakery because they just smelled so good. If you don't have an army to feed at home, you may wonder how you can keep those bagels fresh so you can enjoy them before they are stale.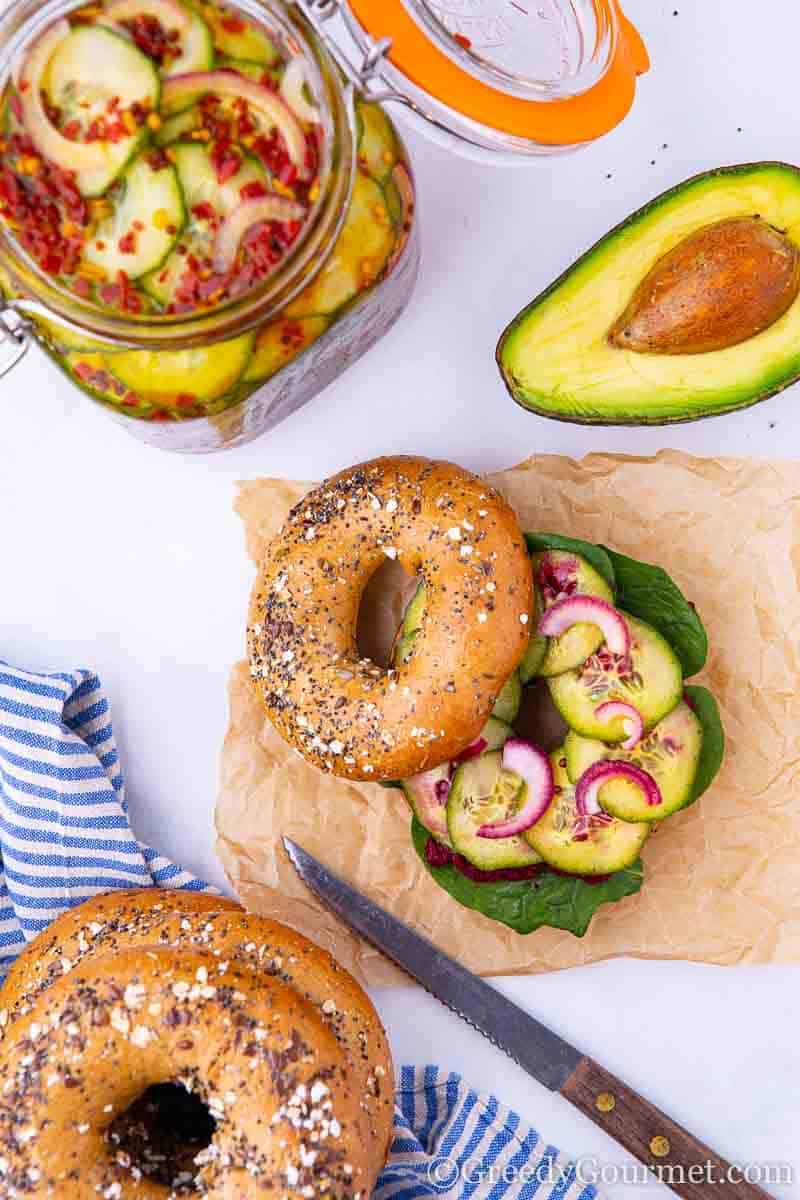 Should they go in the refrigerator or can they be frozen? Let's find out!
CAN YOU FREEZE BAGELS?
Just your luck, the answer is yes! In fact, freezing bagels is a great shortcut to a quick breakfast that you can enjoy anytime you are in a rush. 
Freshly baked bagels freeze very well, and will keep that out of the oven taste if they are properly stored in the freezer. You can even slice bagels before they go into the freezer to cut down on prep time when you are in a rush. 
Simply follow a few steps to freeze bagels and make sure they stay nice and fresh.
PRODUCTS YOU'LL NEED TO FREEZE BAGELS
Plastic wrap – wrapping your bagels prevents air from causing freezer burn
Freezer bags – placing the well wrapped bagels in a freezer bag gives an extra layer of protection
Marker – it's important to label your bagels so you know when they were frozen and when they need to be eaten before.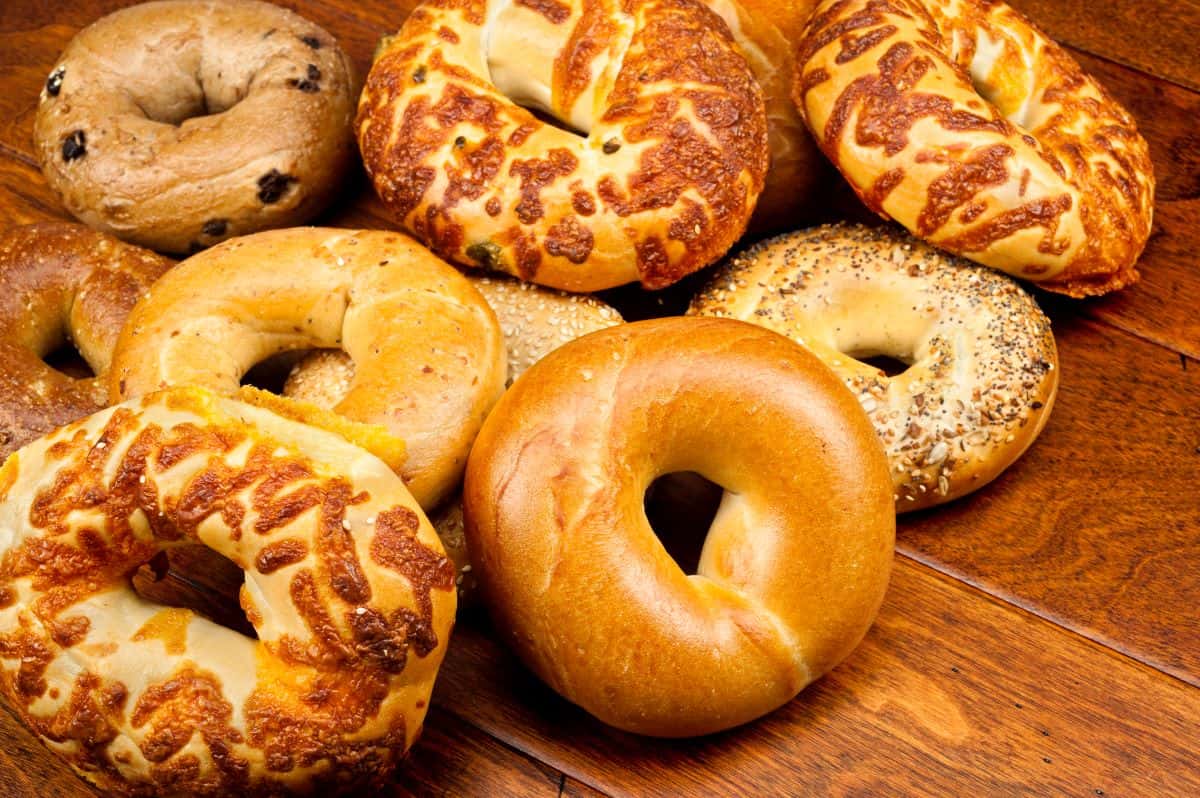 HOW LONG DO BAGELS LAST IN THE FREEZER?
When properly wrapped bagels are put in the freezer, they are best consumed within 3 months. That's not to say that they can not be consumed after that point, however you are going to have less tasty bagels once you defrost and toast them up.
HOW LONG DO BAGELS LAST IN THE FRIDGE?
If you choose to refrigerate bagels instead of freezing them, make sure to consume them as soon as possible. When bagels are frozen at their freshest, they keep that freshness. So if you decide to store fresh bagels in the fridge instead, you are looking at a short life span of about 5 days at the most. 
Bagels that have been stored in the refrigerator tend to dry out and become stale quickly. However, if you decide to put them in the fridge, make sure they are cooled and stored in a sealed plastic bag.
CAN FROZEN BAGELS GO BAD?
Yes, frozen bagels can begin to "go bad" after a long period of time in the freezer. Just like anything you freeze, over time food loses some of its flavor and texture when frozen. 
Another thing that can cause your bagels to go bad is freezer burn, which occurs when you do not properly wrap the freshly baked bagels in plastic wrap. If air reaches the bagels, it will likely become freezer burned and unfortunately no longer edible. 
You may also notice that the bagel does not toast nicely in the oven and instead seems dry and the flavor is off. To avoid this misfortune, there are some tips you can follow.
HOW DO YOU FREEZE BAGELS WITHOUT FREEZER BURN?
When you are freezing any food, it is possible that you may get freezer burn on it. This happens when food is not cooled down enough before being put in the freezer and an excess of moisture causes crystals to form on the surface. 
In order to prevent this from happening when you are freezing bagels, first make sure that they are cooled down completely, especially if you just purchased them hot and fresh from the bakery. 
Next, slice the bagels if you wish. This is just a step that helps you during defrosting so that you do not have to wait for the frozen bagel to defrost for it to be soft enough to slice in half. Plus storing bagel halves means that you can enjoy half of a bagel if you do not feel like eating a whole one. Wrap the sliced bagels well with plastic wrap to prevent as much air as possible from reaching them. 
Finally, store the wrapped bagels in an airtight freezer bag, or even a cryovac bag if you have one at home.
IS IT BETTER TO FREEZE BAGELS WHOLE OR SLICED?
As I mentioned, you can slice your bagels ahead of time to make it easier when you are defrosting your bagels. Keep in mind that by slicing them, you are exposing more of the bagel to the possibility of freezer burn. 
If you follow the steps and properly cool down and wrap your bagels, you will have less of a chance of this happening to your sliced surface. Also, the shorter time the bagel is left in the freezer, the less chance that you will see any burn occur. 
So, it is really up to you if you would rather slice your bagel or not!
HOW DO YOU DEFROST A BAGEL?
When you are ready to eat, defrosting bagels is a simple thing to do. Just unwrap the bagel halves and preheat the toaster oven or oven. If you have a bagel setting on your oven, use it to warm up or toast your bagel. 
It is not necessary to use a baking sheet if you defrost your bagel in the oven. Placing it directly on the oven rack will allow the most hot air to reach it and give you a nice crispy bagel to enjoy.
If you are using the bagel for another recipe and they do not need to be toasted, you can defrost bagels by simply leave them out on the counter at room temperature for a couple of hours. 
You can also use the microwave oven for a quick method, but keep in mind that this will make the bagels tough and is not an ideal way to defrost them.
CAN YOU FREEZE BAGELS IN THEIR ORIGINAL PACKAGING?
Since it is so important to remove as much air from the packaging of your bagels before freezing, I do not suggest freezing them in their original packaging. Using an airtight bag, saran wrap, an airtight container, or even aluminum foil are all better options. 
If you do not have any of these, try to remove as much air as you can from the original packaging before freezing. Avoid freezing for longer than a few weeks if you must use the original packaging.
CAN YOU REFREEZE BAGELS?
In short, yes, you can refreeze bagels. It is not unsafe to refreeze a bagel as it is with some foods. However, the quality of the bagel will diminish if you refreeze it. When the bagels are thawed, frozen, and thawed again, the cell walls break down within, causing a change in texture and flavor. 
A bagel that has been refrozen may be better suited for an addition to a recipe where other flavors stand out, like bread pudding.
CAN YOU FREEZE BAGEL DOUGH?
Bagels are a yeasted dough, meaning that the yeast helps them to rise and become the delightful bread product we all enjoy. By freezing the bagel dough, you will prolong the amount of time it takes to rise before baking.
If you are making homemade bagels ahead of time there are a couple things you need to do. To freeze uncooked bagel dough, allow the mixed dough to go through it's first proofing. 
Next, shape the bagel dough into rounds as if you were going to do the next step in the recipe. Instead, line the baking sheets with lightly greased parchment paper and place your bagels on it. Stick the baking sheet in the freezer until the frozen dough is hard enough to handle and wrap in plastic. 
Do not freeze for longer than 3 months before removing the dough and baking it.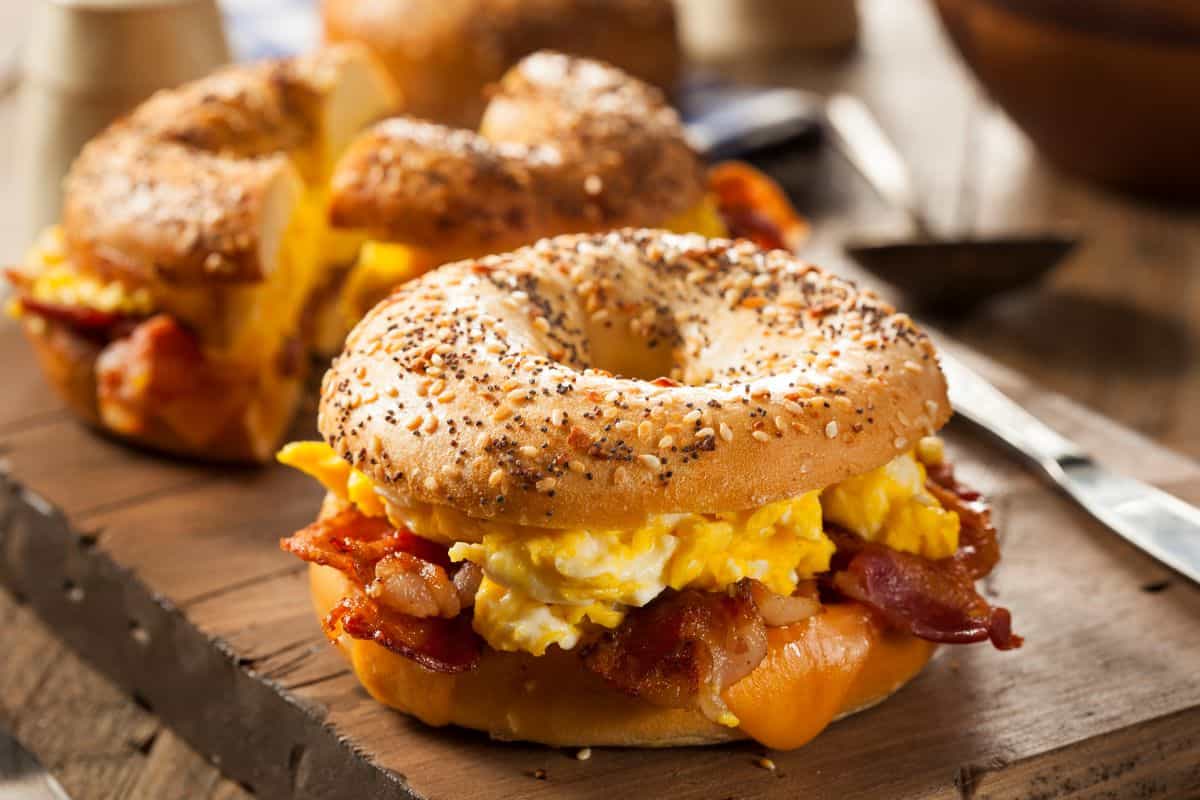 HOW TO KEEP BAGELS FRESH
Bagels can also be stored in a paper bag on the counter at room temperature for up to 2 days. This keeps them nice and fresh if they are being consumed quickly.
HOW TO FREEZE BAGELS
You need the following
Bagels
Plastic wrap
Freezer bags
Freezer
Marker
Instructions
Allow your bagels to cool completely if they are still warm from the bakery
Slice your bagels, or skip this step if you prefer to keep them whole
Tightly wrap you bagels in plastic wrap
Place your bagels in a freezer bag or cryovac bag and tightly seal. Place in your freezer for up to 3 months.