They're the perfect easy, comforting midweek meal, but can you freeze baked potatoes? Not only can you freeze them, but should you freeze baked potatoes?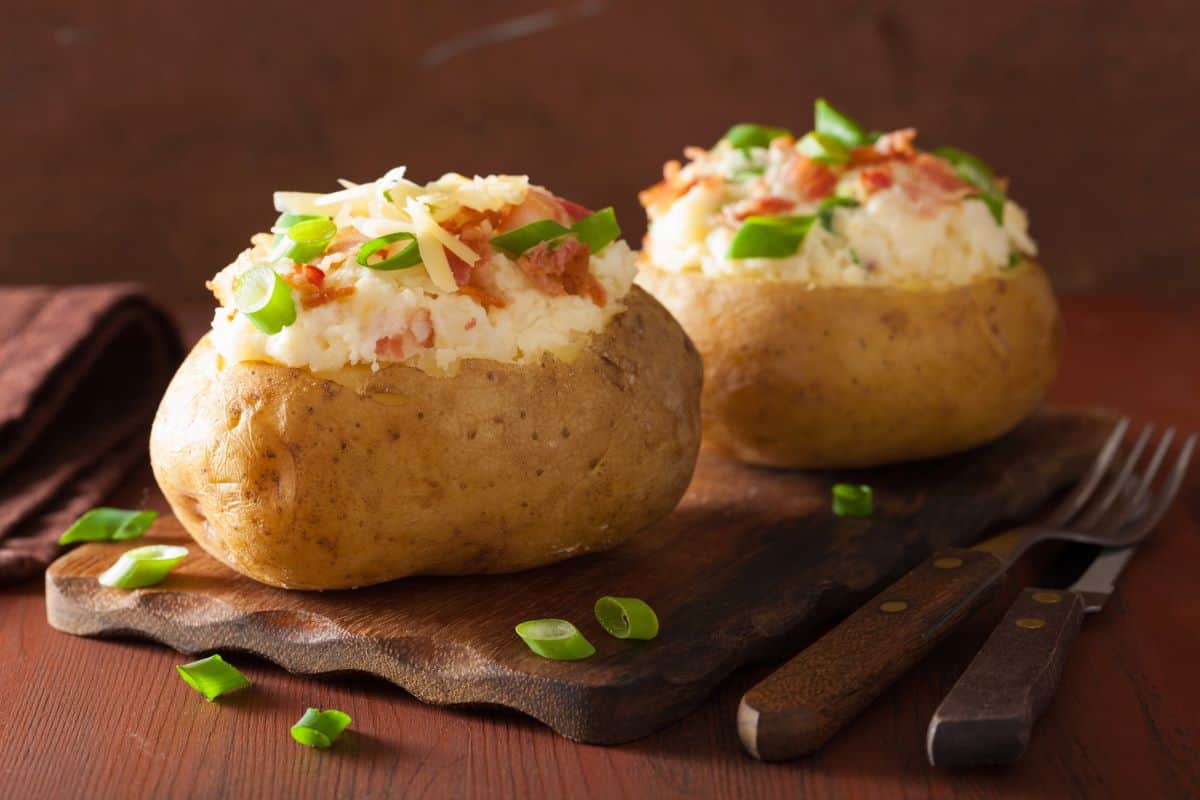 I love baked potatoes. However, the actual process of baking potatoes in the oven seems to take forever! That's why it makes certain sense to want to cook a big batch and freeze them, in order to be able to quickly reheat as and when you need them.
So, let's take a look at the dos and don'ts of freezing baked potatoes, as well as the very best way to defrost them.
Can you freeze baked potatoes?
In short, yes you can freeze baked potatoes!
Frozen baked potatoes stay fresh for a lot longer than normal baked potatoes that are stored in the fridge. So, freezing leftover baked potatoes is a good idea if you want to extend their shelf life.
Do baked potatoes freeze well?
Yes! As long as you freeze baked potatoes in the correct way, also ensuring you reheat frozen baked potatoes properly, the taste and texture won't be affected too much.
Just make sure you follow the steps at the bottom of this article to properly freezing baked potatoes.
Can you freeze raw potatoes?
Freezing potatoes that haven't been cooked is not a good idea. The texture of the potato will be completely ruined, and you'll end up with frozen spuds that are black and without flavor.
Can you freeze twice baked potatoes?
Yes, you can freeze twice baked potatoes, although the taste and texture will be affected more than normal baked potatoes. The same goes for stuffed potatoes, although you'll have to consider whether the filling is freezable. For example, the taste and texture of sour cream and other dairy products will be affected.
How long can you freeze baked potatoes?
For best results, you should freeze a baked potato for no longer than three months. Any longer than that and the taste and texture of the baked potato will be affected too much.
Frozen potatoes that have been left in the freezer too long will change. The structure won't be the same and they won't be very appetizing. So, it's definitely worth defrosting them before the three-month mark.
Can you freeze whole baked potatoes?
Absolutely. You can freeze baked potatoes whole or chopped up, however you want them.
How do you defrost baked potatoes?
To properly thaw baked potatoes, follow these steps:
Take the frozen potatoes out of the freezer and transfer them to the refrigerator, to thaw overnight. Only defrost the amount you need.
If you're in a hurry, you can also thaw the potatoes in the microwave. Simply place the frozen potatoes on a microwaveable plate and thaw on your microwaves 'defrost' setting.
When thawed completely, reheat your baked potatoes in at 180C/350F oven, or in the microwave, until completely heated through.
What toppings can I add to baked potatoes?
There are so many amazing toppings to add to baked potatoes. Here are a few ideas to get you inspired:
Keto coleslaw – a wonderfully light and tasty coleslaw, this one is perfect to add to baked potatoes, especially if you're after something a little lighter and healthier
Vegan coleslaw – a classic vegan coleslaw, you'll notice how much lighter and more refreshing this is to standard coleslaws. It still packs in a lot of flavor though, and will make a terrific accompaniment to your baked potatoes
4 bean salad – bean salads are fantastic on their own, but use them as a topping for a luscious baked potato dish and you have got something very special indeed
Tobacco onions – these smoky onions are one of kind delicious. They work wonders as a topping for potatoes as they bring so much flavor
BBQ pulled lamb – speaking of flavor, it doesn't get much better than this BBQ pulled lamb recipe. Smoky, smooth, rich and melt in your mouth fantastic, the lamb just falls apart and works with pretty much anything, although pairing it with baked potato is a favorite of mine
Osso buco – another big recipe with big flavor, this Italian stallion of a stew will send your taste buds into raptures. It's a very special recipe for a very special occasion, but if you need a quick side dish, those leftover baked potatoes will do nicely
Easy chicken curry – an absolute classic midweek meal, chicken curry is easy to make and great for pairing with baked potatoes. An especially good match if you're using leftover baked potatoes, as everything will come together very quickly, which is what quick midweek meals are all about!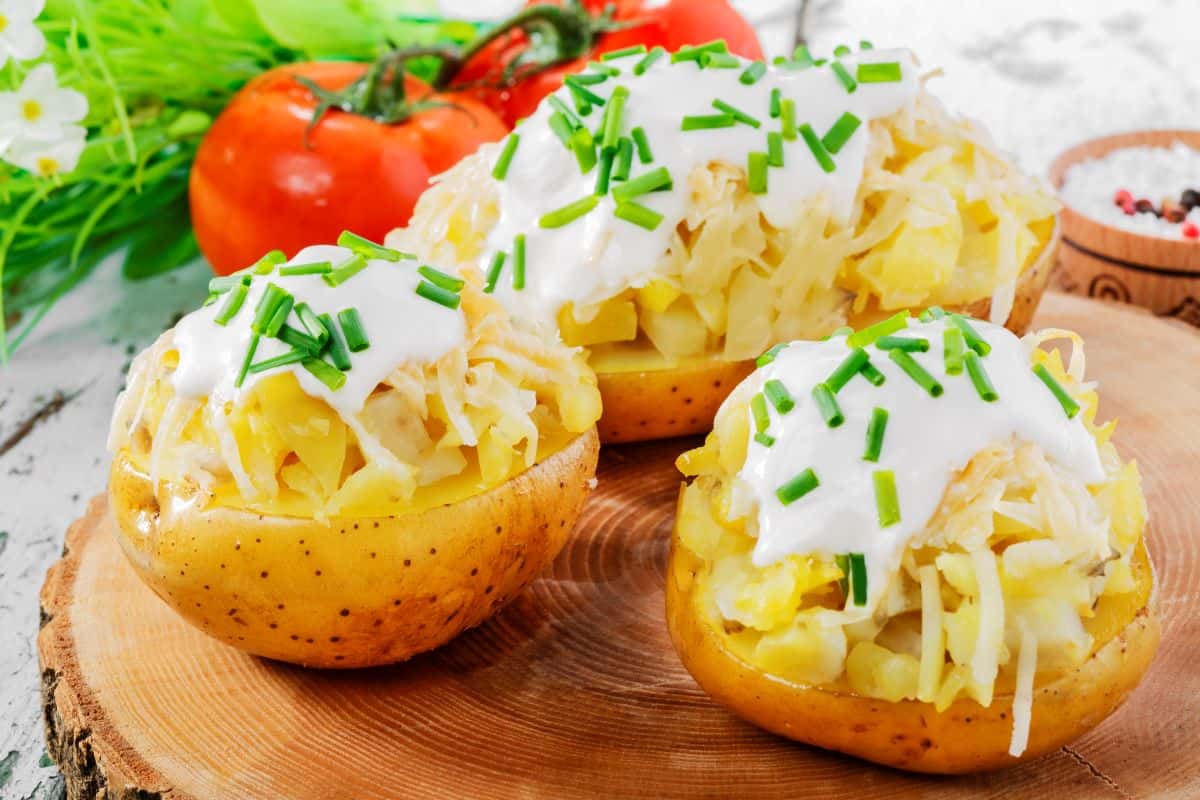 Top Tips
Here are the points to keep in mind for perfectly frozen and defrosted baked potatoes:
Always allow the potatoes to cool completely before preparing them to be frozen
Save toppings for later – potatoes always freeze better without them
For extra protection from freezer burn, go for the double wrap – first foil, then plastic wrap – and make sure you wrap each potato tightly
Don't forget to label the bag with the date so you know when to eat them by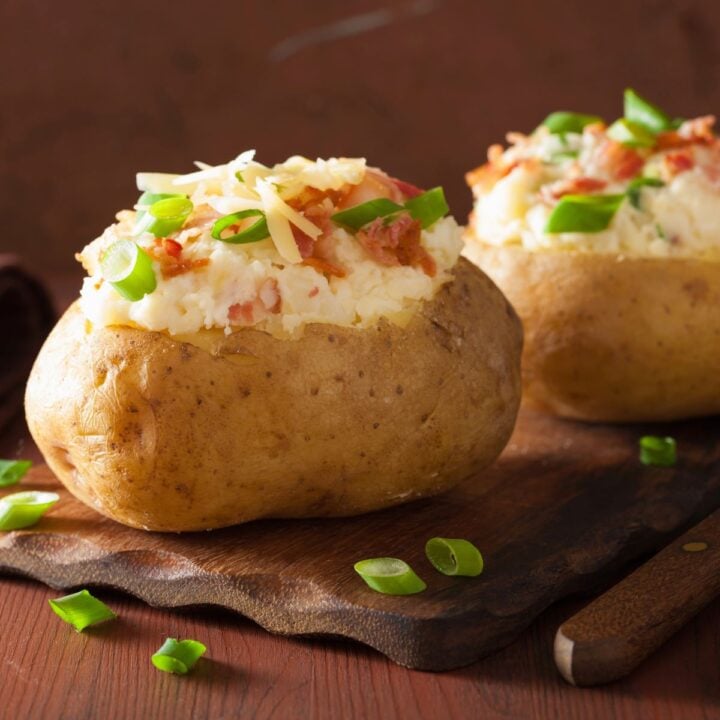 How to freeze baked potatoes
Yield:
frozen baked potatoes
Did you make too many baked potatoes and don't know what to do with them? Read on to learn how to freeze baked potatoes in a few easy steps!
Materials
Plastic wrap
Aluminum foil
Ziploc freezer bag
Marker pen
Tools
Kitchen knife and chopping board (if portioning up potatoes)
Instructions
Bake the potatoes as normal until soft and tender all the way through.
Refrain from adding butter or any other toppings if you know you are going to freeze the baked potatoes. You can always add these later, when reheating your potatoes.
After they are baked, allow the potatoes to cool completely.
Wrap each cooled potato in aluminum foil, then add an outer layer of plastic wrap. Make sure the potatoes are tightly wrapped. This will prevent freezer burn and ensure your potatoes are fresh for longer.
Place each of the baked potatoes in a large ziploc freezer bag. Squeeze out any excess air before sealing the bag.
Label and date the bag, before placing it in the freezer.