Can you freeze sauerkraut? That seems to be the question on everyone's mind since sauerkraut has made a comeback.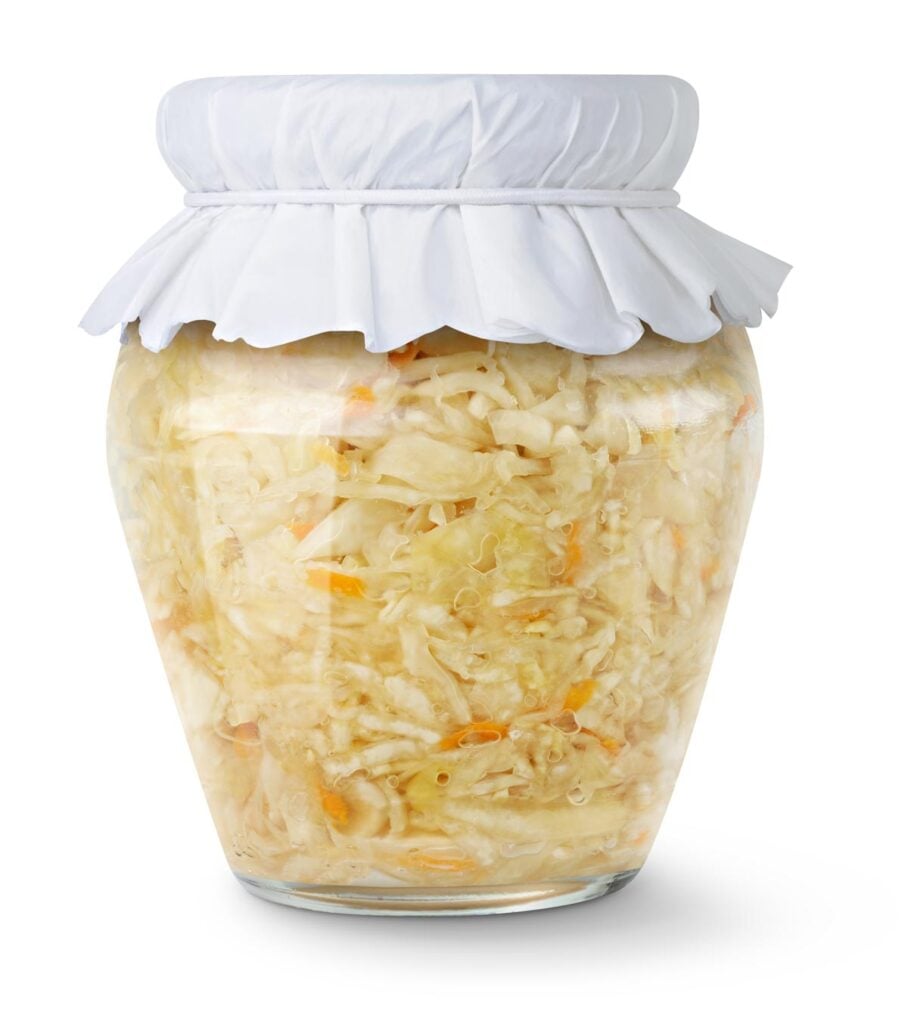 The answer to the question 'Can you freeze sauerkraut?' is yes you can! However, before we deep-dive into this topic, you might want to know what sauerkraut is and how it is made.
In light of the recent trend of eating raw foods, vegan diets and the sort, sauerkraut is one of the most probiotic rich foods one can consume. It's been the hit of the summer.
In fact, sauerkraut is usually given after gruelling fasting detoxes to stimulate a healthy metabolism via its probiotic properties.
That being said, some people go so far as to make their own homemade fresh sauerkraut. However, when they make a large batch of it, they generally don't know how to store it for freezing.
Freezing sauerkraut isn't too difficult. However, the question, Can you freeze sauerkraut? has multiple answers. Keep reading to find out more.
top things for freezing sauerkraut
Here is a list of the top products you might need for pickling, fermenting and freezing sauerkraut.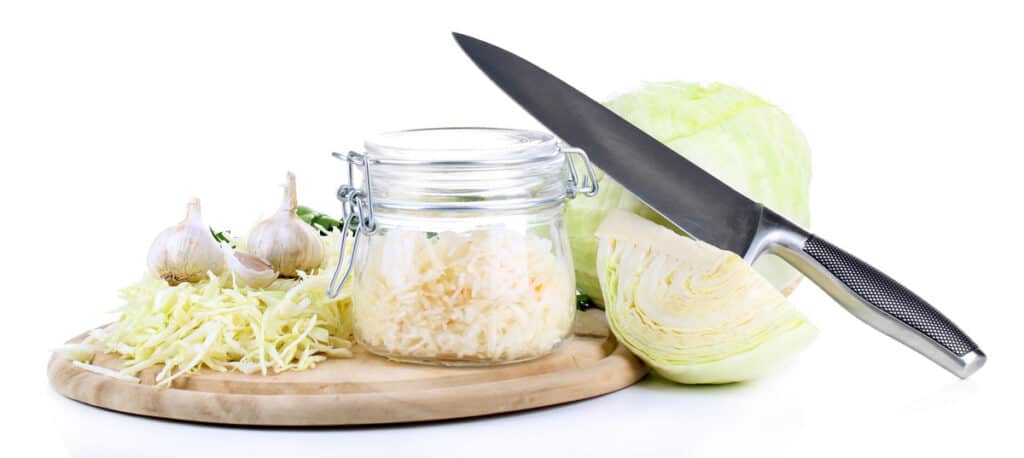 what is sauerkraut?
It is famous for its very distinct sour flavour, and it is one of the most popular fermented foods in Europe. Especially in Germany, Austria and remaining regions of central and eastern Europe.
Sauerkraut, translated from German, means sour cabbage. Although the name suggests that the origin of sauerkraut is German, it is not. On the contrary, sauerkraut was brought to Europe for Genghis Khan, a Mongol ruler.
Some historians argue that sauerkraut actually originated in China. Today, sauerkraut is found practically all over Europe. You might also know it under these names:
choucroute in French
zuurkool in Dutch
kysla kapusta in Slovak
kysele zeli in Czech
In order to make sauerkraut, you will have to purchase raw white cabbage. In case you have any leftovers, you can also make these fabulous cabbage recipes like cabbage poriyal or this pickled cabbage and red onion recipe.
what is sauerkraut made of?
First and foremost, the white raw cabbage is chopped into fine pieces. Next, you layer the raw cabbage with salt. This enables the cabbage to release any excess moisture. Sometimes, for extra flavour, you can add caraway seeds.
In short, sauerkraut is made via the pickling process which enables fermentation. This is done by the addition of lactic acid into the white cabbage.
Hence, it is made via a lactic acid fermentation. What happens is that the lactic acid breaks down the sugar from the white cabbage into lactic acid and CO2 as well as a little bit of alcohol.
Actually, sauerkraut is made in the same way as kimchi and other pickled recipes.
In terms of pH, sauerkraut has a pH of approximately 4.6 and lower. Meaning, it is acidic. When food reaches a pH in the vicinity of 4.0, it showcases the success of the fermentation process.
This is what helps preserve and store the food for later.
For other fantastic pickled recipes check out:
how do you store homemade sauerkraut?
Once you make your homemade sauerkraut, you can store it in an airtight jar. Place it in the fridge and store it there for a couple of months. Or, you can freeze it for up to a year.
What are the benefits of sauerkraut?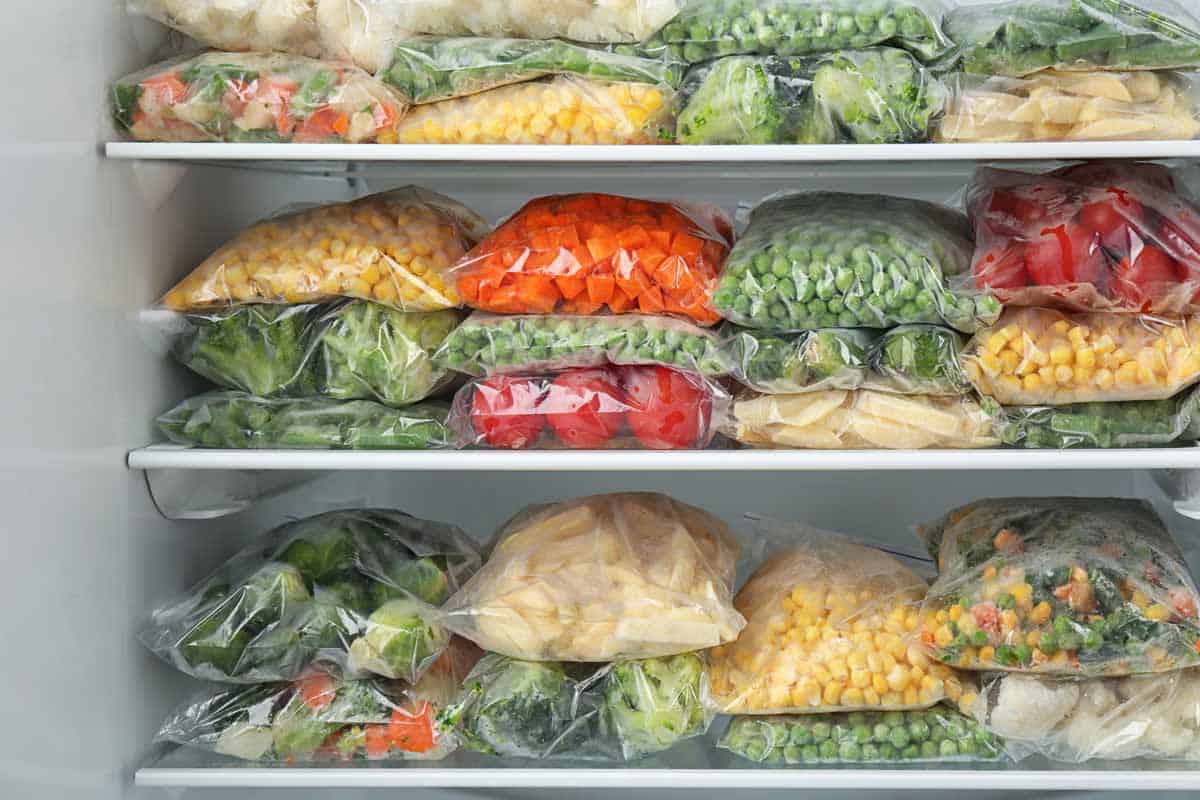 Like many other fermented foods, it contains tons of the 'good' kind of bacteria that you want in your body. They are also known as probiotics. Specifically, sauerkraut contains enzymes which help you break down food molecules.
The probiotics also help support your gut and your overall intestinal immune system. Generally speaking, sauerkraut contains far more lactobacillus than homemade yogurt.
Moreover, sauerkraut is rich in Vitamins C, K and B6. However when you freeze sauerkraut and then reheat it, it will lose a substantial amount of vitamins. Indeed, the freezing process also deteriorates the probiotic properties of sauerkraut.
how long can you keep sauerkraut in the refrigerator?
If you do not open the container, you can keep the sauerkraut up to 6 months in the fridge. However, it is best to consume it within three just in case.
It is essential that the container remains shut at all times. If it is opened, then you will have to consume the sauerkraut within 3-5 days.
can you freeze fresh sauerkraut?
When you freeze sauerkraut, it will lose all its probiotic properties.
Generally, you can freeze fresh sauerkraut anywhere from eight to twelve months.
can you freeze cooked sauerkraut?
Yes, you can freeze cooked sauerkraut. There is no reason at all that you should throw away perfectly good cooked sauerkraut. When you cook sauerkraut, it loses some of its acidity. Often, cooked sauerkraut contains the addition of vinegar just to enhance the acidic taste.
You can freeze cooked sauerkraut anywhere from three to six months.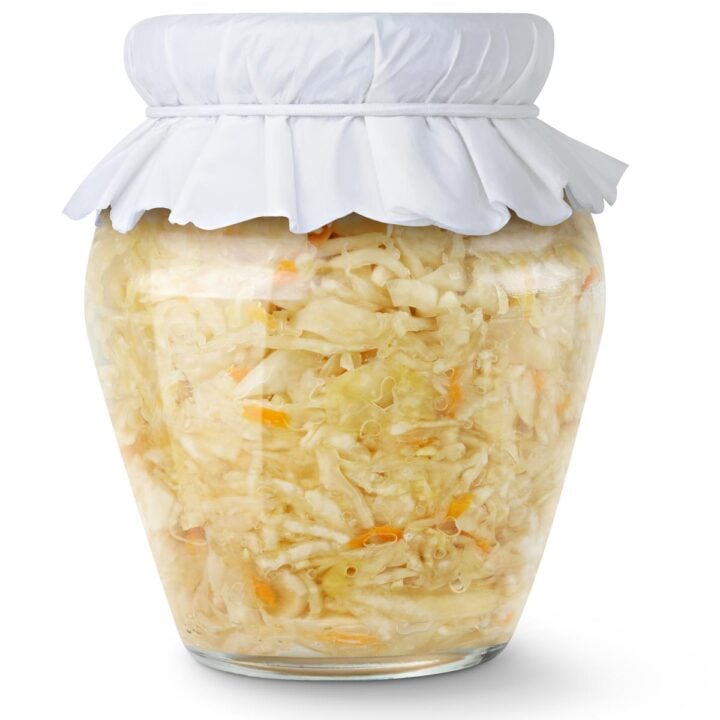 How to Freeze Sauerkraut
Can you freeze sauerkraut? Fresh or even if it is cooked? The answer is a resounding yes. Just read these few simple steps below to learn how to freeze sauerkraut.
Materials
Freezer bag
Freezer safe plastic container
Instructions
Tip the sauerkraut into a freezer bag or freezer safe plastic container, using a spoon if needed to scrape everything out.
Be sure to leave at least 5cm (2 inches) space from the top because the sauerkraut will expand when frozen.
Where possible, remove all possible air then seal and place in the freezer.
recipes that pair with sauerkraut
In fact, sauerkraut works with any kind of roast meats, but pork variations are the best options in terms of flavour pairing.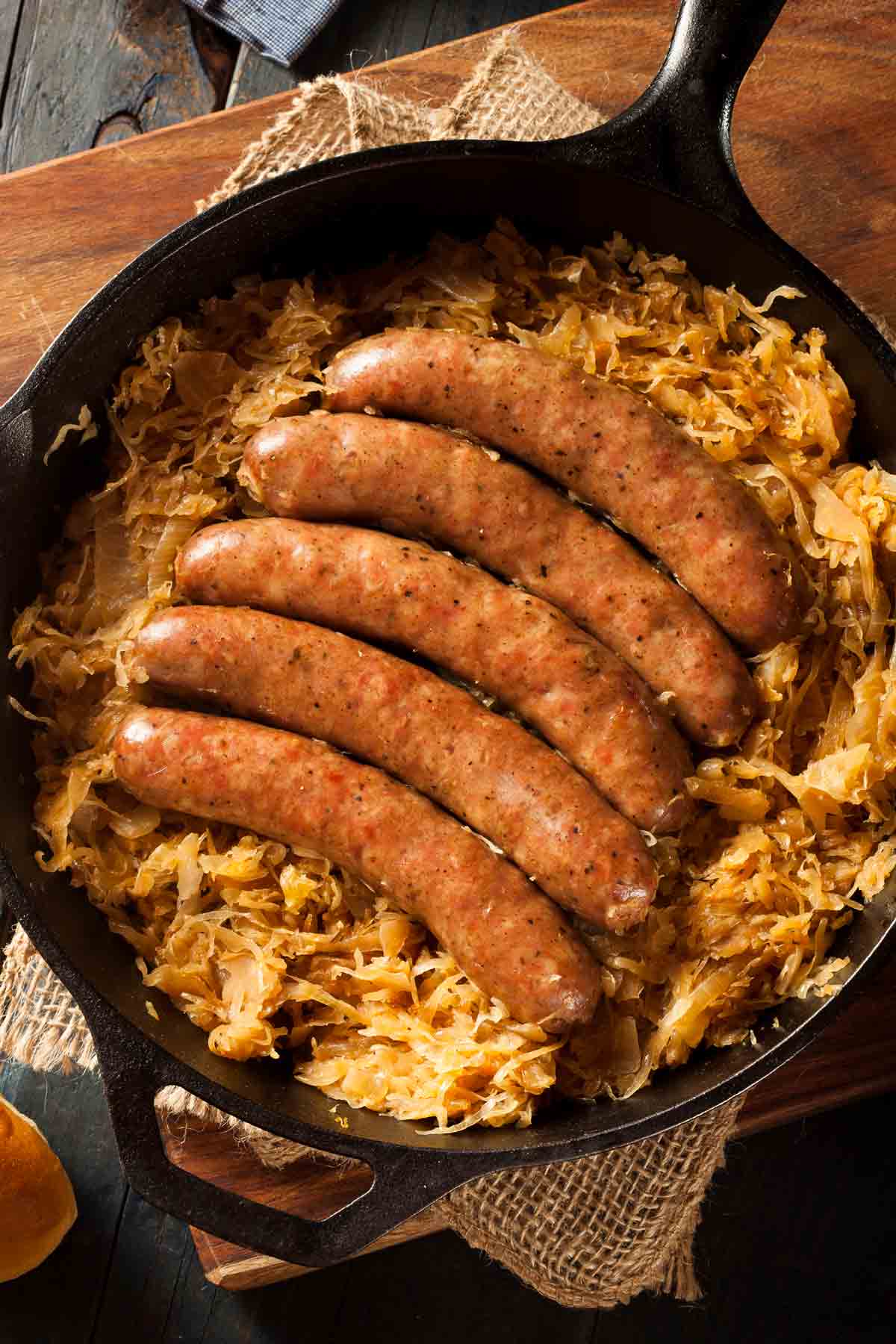 Here are a few recipe ideas that pair well with sauerkraut. In Germany, sauerkraut is mostly served with some variation of pork roast. For instance, it could be this slow roast pork belly or a pork fillet. Similarly, it is commonly served with sausages like these.
If you are looking to learn how to freeze other ingredients in addition to sauerkraut, then check these articles out:
So, you think you can freeze sauerkraut now? Feel free to drop a question in the comments section below. Otherwise, let me know how the freezing works out for you.