Need a substitute for coconut oil? Don't fret! There are plenty of great options out there.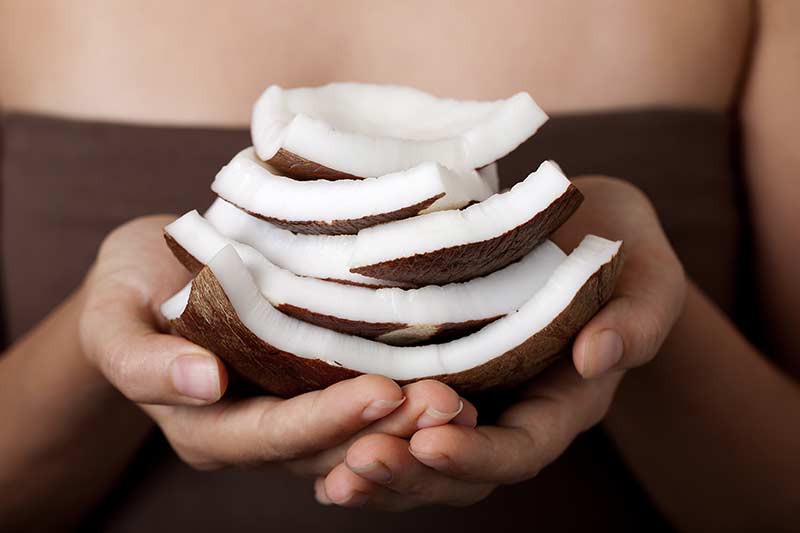 Whether it's down to taste, diet, allergies or a coconut oil-shaped hole in your pantry, it's important to swap in the right alternative, depending on the dish.
What is coconut oil?
It's a flavorful, smooth oil that's made from the flesh of mature coconuts. It's very popular in baked goods and also used in frying savory dishes in some Asian cuisines.
There are two different types:
This type is made by baking the coconuts before the oil is extracted. It's then bleached to kill off any microbes or other unpleasant things. This makes it clear in appearance and mild in taste.
Most refined coconut oil has a smoke point of around 177°C/350ºF, making it unsuitable for frying but good for baking or light sautéing.
Also known as 'virgin coconut oil,' this type is much more natural and less processed. The coconuts used are younger and fresher, while there's no bleaching used in the process.
This gives unrefined coconut oil a more intense coconut taste and a far higher nutritional value. It's also a lot more expensive and has a shorter shelf life. 
Unrefined coconut oil has a smoke point of 200°C/392ºF, making it great for frying, sautéing and baking.
Is cooking with coconut oil healthy?
Despite its high saturated fat content, it's rich in beneficial fatty acids. A study by the University of Cambridge found that it may reduce the risk of heart disease. Coconut oil is also rich in vitamin E and is said to protect the body against harmful bacteria.
Still, there's a lot of debate around whether regularly cooking with it is good or bad for your health.
Is coconut oil good for frying?
It depends which type you use. The refined kind has too low a smoking point. However, the unrefined type is ideal for frying.
Is coconut oil a high heat oil?
Again, only the unrefined type is suitable for high heat cooking.
Should coconut oil be liquid?
It becomes liquid whenever it is above 78ºF/25ºC. So, at normal room temperature, it will be a solid fat.
10 Coconut Oil Substitutes
Are you looking for a coconut oil substitute? In this comprehensive list you'll learn 10 ideas for an alternative.
Almond oil has a smooth nutty taste, which makes it one of the best coconut oil substitutes when it comes to baked goods. Think cookies, cakes and muffins.
It's also great for pan frying – particularly in Asian stir fries with complementary flavors. This is because it has a high smoking point (420ºF/216°C), which makes it ideal as a straight swap for refined coconut oil.
Health-wise, it's much lower in saturated fat than coconut oil and, like coconut oil, it's a great source of vitamin E.
Try with: Vegan oat cookies
If you're worried about the high saturated fat in coconut oil, canola oil is a great healthy alternative. High in omega 3 and monounsaturated fat, canola oil has been shown to improve cholesterol levels and lower the risk of heart disease.
In terms of taste, canola is a neutral oil, meaning it has a mild taste. This makes it very versatile – it's great in savory and baked recipes alike. With a smoking point of 400ºF/204°C, it's also ideal for high and fast cooking.
Try with: Sautéed peppers and onions
Another very versatile oil that's great for anything from baking and frying to drizzling on salads, grapeseed oil is a by-product from the wine-making process. It has a mild nutty taste that's very neutral and doesn't get in the way of other flavors.
It's also very healthy. Grapeseed oil contains hardly any saturated fat and is high in omega-6 and omega-9 fatty acids.
The high smoke point (216ºC/420ºF) makes it excellent for high and fast cooking, while its fat-soluble status means it won't solidify when chilled – perfect for salad dressings.
Try with: Honey & mustard salad dressing
With a sky-high smoking point of 271ºC/520ºF, avocado oil is great for high heat cooking. That means fried or sautéed dishes, as well as grilling or baking.
The taste is mild, with a slight nuttiness and a smooth buttery finish.
Like coconut oil, it's high in vitamin E. Unlike coconut oil, it's low in saturated fat. This makes it a great alternative for those looking for a healthier option.
Try with: Avocado oil mayo
A bit of a newcomer to the healthy oils scene, hemp seed is becoming a hit for health-conscious foodies.
It's extremely low in saturated fat and has a whole host of apparent health benefits. While the jury is still out on many of these, there's no doubt hemp seed oil does have a positive effect on overall health.
It's not a versatile oil, however, so use it with careful consideration. The taste of hemp seed oil is quite strong and earthy – not for everybody. Still, if you've 'hempted' 😋 to see what all the fuss is about, use it as a drizzling oil or in a dressing, as it has a very low smoking point (166°C /330°F).
Try with: Beet hummus (stir in at the end)
Like other nut oils, this brings wonderful flavor and fragrance. Very warm and toasty with a buttery finish. This makes it delicious in baked goods, like cakes and cookies.
High in magnesium, potassium and calcium, yet low in saturated fat, hazelnut oil is one of the best substitutes for coconut oil for those on a healthy diet.
Hazelnut oil is an unrefined oil, which explains why it has a stronger taste than many other oils. Unlike other unrefined oils, however, it has a high burn point (221°C/430ºF), which makes it great for frying, baking and grilling.
Try with: Roasted Jerusalem artichokes
Made from dried and cold pressed walnuts, this unrefined oil has a light nutty taste and a texture that's thicker than the average.
It has a very low smoke point of 160°C/320°F, which makes it unsuitable for heating – you'll end up with an unpleasant bitter taste if you use it in baking, for example.
However, it's a great alternative to coconut oil in salad dressings where a nutty flavor is needed.
Try with: Pumpkin and beetroot salad
Another healthy option with a high nutritional value, olive oil is a good like-for-like swap when sauteing or frying, as it has a high smoke point (210°C/410ºF).
When it comes to substitutes for coconut oil in baking, olive oil isn't the best. Its flavor is too strong and doesn't work with sweet ingredients. It's definitely great as a straightforward salad dressing.
Try with: Mediterranean salad
If you're vegan or looking for a plant-based option, skip this one. For everyone else, butter is an excellent substitute for coconut oil in baked recipes.
Cakes, cookies and biscuits are all best when baked with butter. Butter brings a richer, more savory flavor than coconut, as well as a better texture.
Try with: just about any baked dessert you can think of
A very versatile oil with a neutral taste and high smoking point, sunflower oil is a good all-round substitute for coconut oil.
Like coconut oil, it's plant-based, yet its flavor is milder. It's also low in cholesterol and rich in vitamin E. The smoke point of 230ºC/446ºF makes it perfectly suitable for high heat cooking, as well as baking.
Try with: Pan fried haddock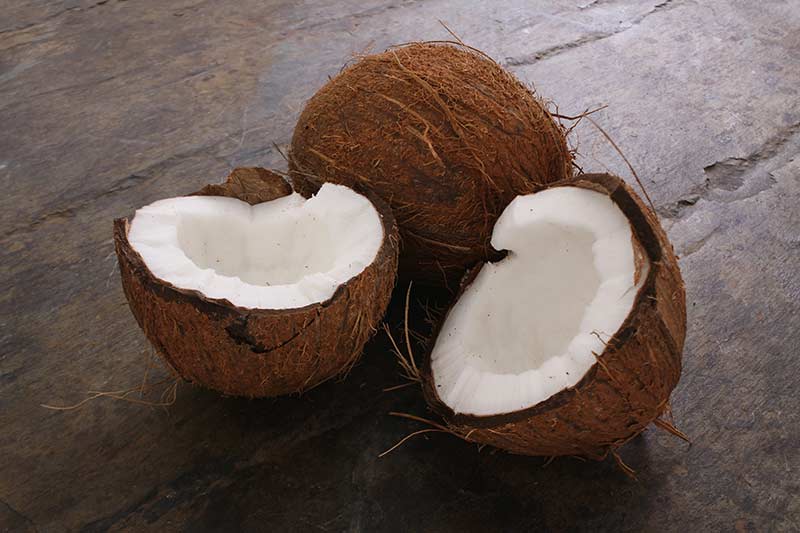 More substitute guides
Grapeseed oil substitute
Peanut oil substitute
Lemon extract substitute
Coconut sugar substitutes