With a beautifully well-rounded flavor and a reputation as one of the healthiest sugars, it's no wonder the popularity of coconut sugar has soared in recent years.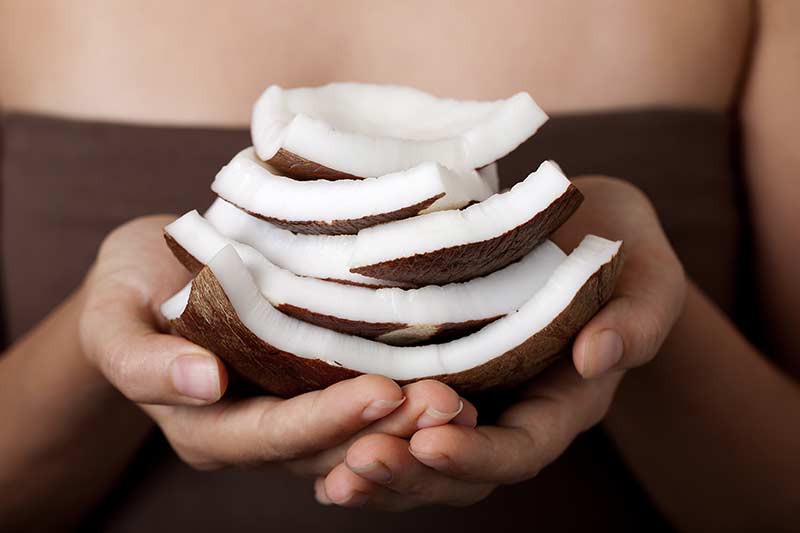 There are no end of delicious recipes on the web that call for this sweet sensation. However, it can be tricky to source. So, what's a good coconut sugar substitute?
What is coconut sugar?
Sometimes referred to as coconut palm sugar, coconut sugar is, unsurprisingly, an extract from the coconut palm tree. Coconut sugar is actually made from the sap of the coconut palm.
When it comes to sweetening desserts, cakes and puddings, it's a far healthier option than standard cane sugar. This is because it's unrefined and, therefore, contains elements of vitamins, minerals, antioxidants, amino acids, and other healthy plant-based materials.
It's also a lot lower on the glycemic index (35) than white sugar (60–65). This means it doesn't lead to a big increase in blood glucose and insulin, unlike when you consume normal sugar.
What does coconut sugar taste like?
It has a very similar flavor to that of brown sugar, only with a touch more flavor. In terms of texture, it's a little more fine than brown sugar and not quite as sticky when cooked.
11 Coconut Sugar Substitutes
Are you looking for a Coconut Sugar Substitute? In this comprehensive list you'll learn 11 ideas for an alternative.
When it comes to color, taste and texture, the closest match to coconut sugar is light brown sugar. Best of all, it's affordable and readily available.
Light brown sugar is a little sweeter than coconut sugar, so substitute ⅔ teaspoon of brown sugar for every teaspoon of coconut sugar.
Another sugar substitute that's huge with health-conscious foodies, yacon syrup is said to have powerful medicinal properties.
With only ⅓ the amount of calories as sugar, and a well-rounded caramel sweetness, yacon makes a great health food sweetener.
Use ⅔ of a teaspoon of yacon syrup to every teaspoon of coconut sugar called for in the recipe.
A natural substance found in many fruits and vegetables, xylitol makes a good substitute for any sugar, including coconut sugar.
It's a refined sweetener though, so it doesn't offer any vitamins or minerals, only empty calories. Substitute at a 1:1 ratio.
Another good sweetener that's popular among those trying to lose weight, erythritol makes a particularly good replacement for coconut sugar in baked goods.
It contains almost zero calories and doesn't raise insulin or blood sugar levels, while having about 70% of the sweetness of sugar. Unlike stevia and monk fruit, erythritol doesn't have a subtle bitter aftertaste.
Swap at a 1:1 ratio with coconut and other sugars.
A sweet dark syrup that's a byproduct of the sugar-making process, molasses contain several nutrients and antioxidants, which make them a favorite sweetener for health food enthusiasts.
Still, they do contain high levels of sugar and should be eaten in moderation. Use ½ teaspoon of molasses per teaspoon of sugar.
Another unrefined sweetener, vanilla sugar is an excellent baking ingredient that brings a wonderful flavor. Due to its high carb content, it's not the best option for those on a keto diet.
Still, like coconut sugar, vanilla sugar is far better for you than standard white sugar. While it doesn't quite bring the same toasted caramel flavor, it brings a depth of its own that makes it a worthy alternative. Swap at a 1:1 ratio.
Sucanat is basically a raw type of sugar that hasn't gone through the same process as white sugar. It's an organic, natural form of sugar, with a similar color and taste as coconut sugar.
It has a coarser texture though, so bear that in mind when using it as a replacement. If possible, grind it in a mortar and pestle or a food processor before using it in your recipe. 
Swap sucanat into your recipe at a 1:1 ratio.
A cheap and readily available alternative, maple syrup brings a similar flavor profile that would enhance the taste of pretty much any sweet recipe.
As maple syrup is a liquid, be sure to tweak the other ingredients in your recipe a little in order to get the right consistency. 
Use ½ a teaspoon of maple syrup to every teaspoon of sugar coconut.
Made from dried dates, date sugar is unrefined and much healthier than standard sugars. It brings a mellow sweetness and works especially well in baked recipes.
Keep in mind – as date sugar does not dissolve, it won't work in drinks. Swap in at a 1:1 ratio.
Not the best option for sweet-toothed vegans, but for anyone else looking for an all-natural organic sweetener, raw honey is a great choice.
As a substitute in this instance, just bear in mind that, like maple syrup, honey will change the final texture. Use about ¼ the amount of honey as called for and you should be golden.
Much better for you than standard white sugar, stevia is another on the long list of natural sweaters that has increased in popularity over the last few years. It can, however, leave a bitter aftertaste, so only use it if the other alternatives aren't available.
It's an all-natural plant based sweetener that has no calories and doesn't affect your blood sugar level. Use as a sugar alternative at a 1:1 ratio.
More substitute guides
Do you ever find yourself missing a key ingredient from an exciting new recipe? Here's more Greedy Gourmet guides on to replace important ingredients when you find you've run out.
Lemon extract substitutes
Cinnamon substitutes