Wondering what you can substitute for cumin? Don't worry… here are 10 ingredients that can make a great cumin substitute.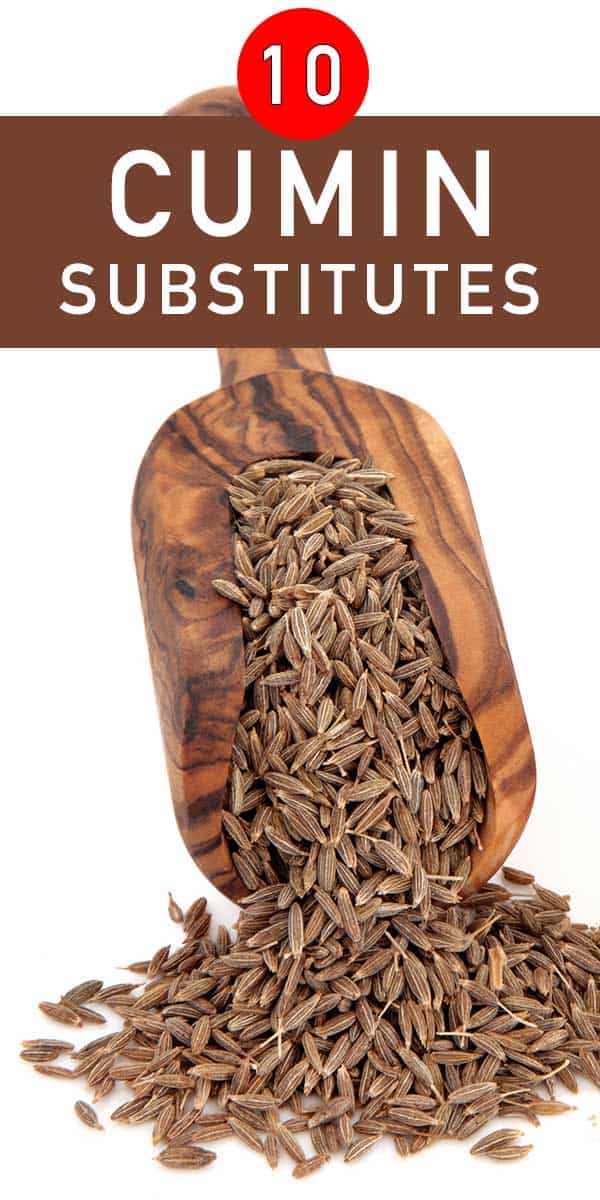 What is cumin?
A fragrant spice that comes from a plant known as Cuminum cyminum, cumin is a member of the parsley family. Known for its earthy flavor and distinctive aroma, it's a key ingredient in many cuisines around the world, most notably in Indian dishes. Try finding a curry without cumin!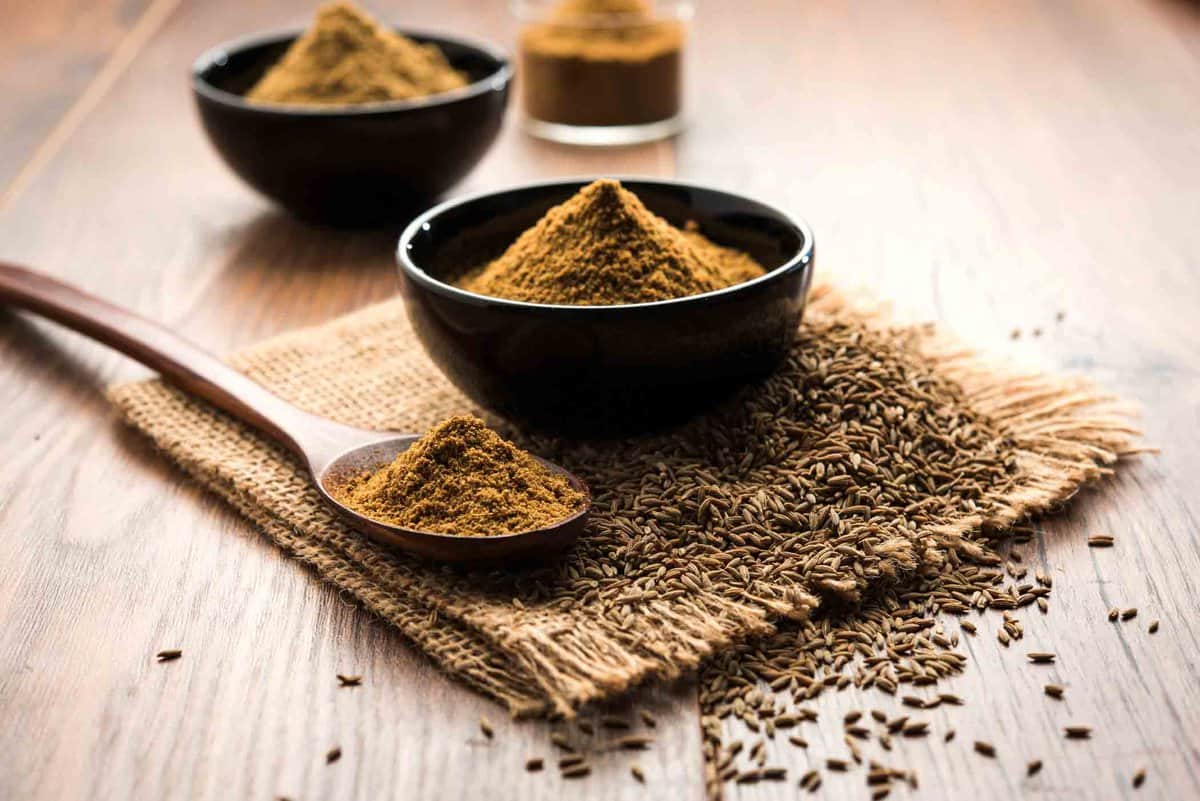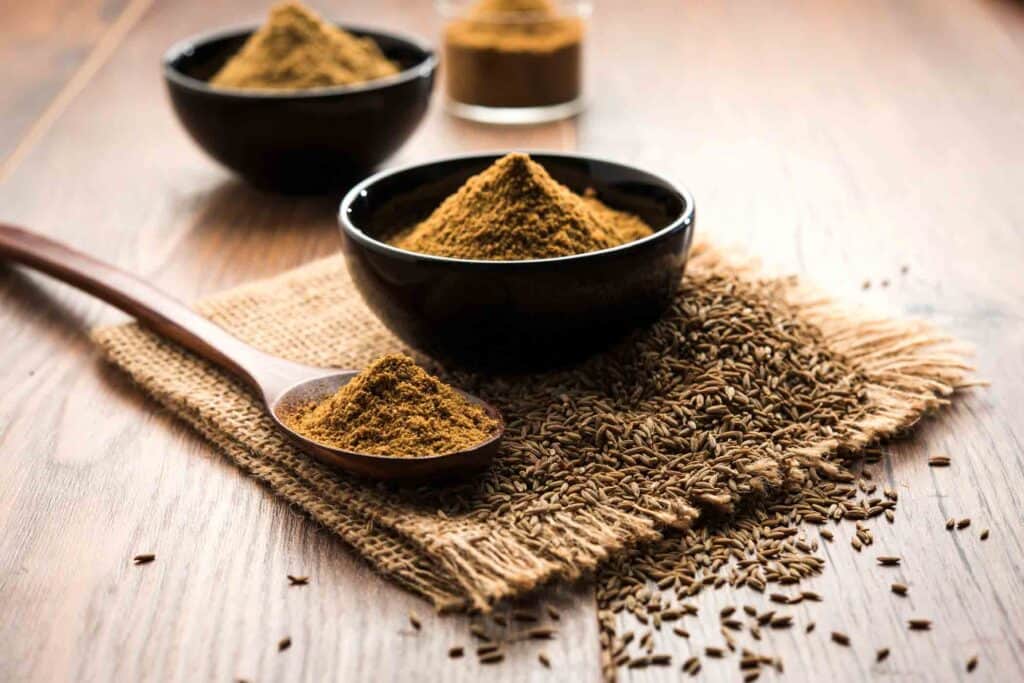 It's also hugely popular in Latin American cuisine… think tacos, chili and any other kind of Mexican street food. In the states, Tex-Mex and Southwestern dishes often make use of the warm, earthy flavor of cumin.
Aside from its earthy flavor, cumin is slightly smoky, sweet and a little bitter, with a pleasant nuttiness that makes it great when combined with other spices. It sits well alongside the likes of cinnamon, coriander, caraway seeds and chili powder, which makes it a great addition to spice blends like garam masala and curry powder.
As substitutes for cumin go, caraway seeds are one of the best. Caraway seeds have the same earthiness, if a little less heat. Like cumin, caraway seeds are a member of the parsley family and have a hint of lemony flavor.
Use caraway seeds as a substitute for cumin seeds and ground caraway as a substitute for cumin powder. As cumin is the stronger spice, use half as much caraway as the amount of cumin the recipe calls for.
A super spice mix containing some of the finest Indian spices, garam masala is an ideal cumin substitute as it actually contains cumin. As well as cumin, it also includes coriander, cardamom, black pepper, nutmeg, cinnamon and cloves, giving it a deep complex flavor that adds so much to curry dishes.
As cumin substitutes go, garam masala is one of the best, as it covers the complex earthiness of cumin, and has a slight zesty flavor and similar colouring.
Another member of the parsley family, fennel seeds make a good cumin substitute for certain dishes. Fennel has a heavy anise flavor that's lacking in cumin, whereas cumin has a more all round earthy flavor.
Still, fennel seeds make a good substitute when used in moderation (likewise, ground fennel makes a good ground cumin substitute). Start off with a small amount and adjust accordingly. Maybe even add a pinch of paprika or chilli powder to substitute the heat of cumin powder.
One of the most fragrant spices, fenugreek seeds bring a subtle earthy flavor and a nice spiciness, making them an excellent substitute for cumin, particularly when your recipe calls for using seeds.
Known for their amazing health benefits, fenugreek seeds have a distinctive, slightly sweet, nutty mustardy flavor. When using as a substitute, use a half measure of fenugreek seeds per cumin seeds (and a ground for ground equivalent), then add something with heat, such as curry powder or chili powder for a good cumin substitute.
Like cumin and caraway seeds, coriander (also known as cilantro) is a member of the parsley family, making coriander seeds and particularly ground coriander an excellent cumin substitute. Although it lacks the heat of cumin, it has a similar earthy flavor, an essential element in Indian cooking.
If you can't find ground coriander, get coriander seeds and grind them using a pestle and mortar. You could also use the seeds as a direct substitute for cumin seeds, when the recipe calls for them to be used.
Chili powder contains cumin, among many other spices and herbs, including garlic powder and oregano. If you want to use chili powder as a cumin substitute, use about half as much as you would cumin, then add more if needed.
Chili powder is particularly good as a cumin substitute in Mexican recipes, adding a fiery kick to chilis and working well as a taco seasoning in the absence of cumin and other spices.
Smoky and earthy like cumin, paprika is a good substitute if your recipe calls for ground cumin. A little goes a long way, so start with subtlety and add more if you need it.
As with chili powder and curry powder, paprika will colour your food in a different way to cumin. You'll get a red colouring instead of yellow, so bear that in mind when using paprika as a substitute for cumin.
Another spice mix that typically contains cumin, curry powder has a blend of traditional Indian flavors, with a deep earthiness and a hint of sweet chili powder.
Although it's an ideal substitute, you'll need to think about measurement – use about half as much curry powder as the amount of cumin the recipe calls for, as the heat and colour of curry powder can differ quite a bit to that of cumin.
Very similar to chili powder with its blend of ingredients, taco seasoning makes a good cumin substitute in Mexican cuisine. As well as cumin, taco seasoning contains chili powder, garlic powder, oregano, crushed red pepper flakes, salt and paprika.
Use a little less taco seasoning for the amount of cumin stated in the recipe, then adjust according to taste. Bear in mind that taco seasoning contains a lot of salt, so you might want to reduce the amount of salt in your dish if you use it as a substitute for cumin, to get the right balance of flavor.
Sometimes known as paanch phoran or panch phoron this Indian five spice mix contains ground cumin, fennel, fenugreek, nigella (also known as black cumin) and celery seeds. It's certainly harder to come by than cumin, but if you manage to find some panch phoran, it'll make a fantastic cumin substitute.
In fact, if you run out of garam masala, chili powder, caraway seeds, taco seasoning or curry powder, a sprinkle of panch phoran will add immense flavor and take your recipe to another dimension!
Where does cumin come from?
Cumin has been used in cooking for thousands of years. Excavations in Syria and ancient Egypt have found evidence that this sumptuous spice was used as a cooking ingredient.
Not only that, it was also a key element in the preservation of mummies – a spice that works wonders, even in the afterlife!
The seed itself is yellowy brown in colour and similar in appearance to caraway seeds. A huge part of ancient Greek and Roman cuisine, cumin has also been a fundamental ingredient in Indian cooking for thousands of years.
Cumin was introduced to the Americas by Spanish and Portuguese colonisers. It has gone on to become a fundamental element of Latin American cuisine, particularly Mexican.
Today, the cumin plant is grown in the Indian subcontinent, North Africa, Mexico, Chile and China.
What is the difference between cumin and cumin seeds?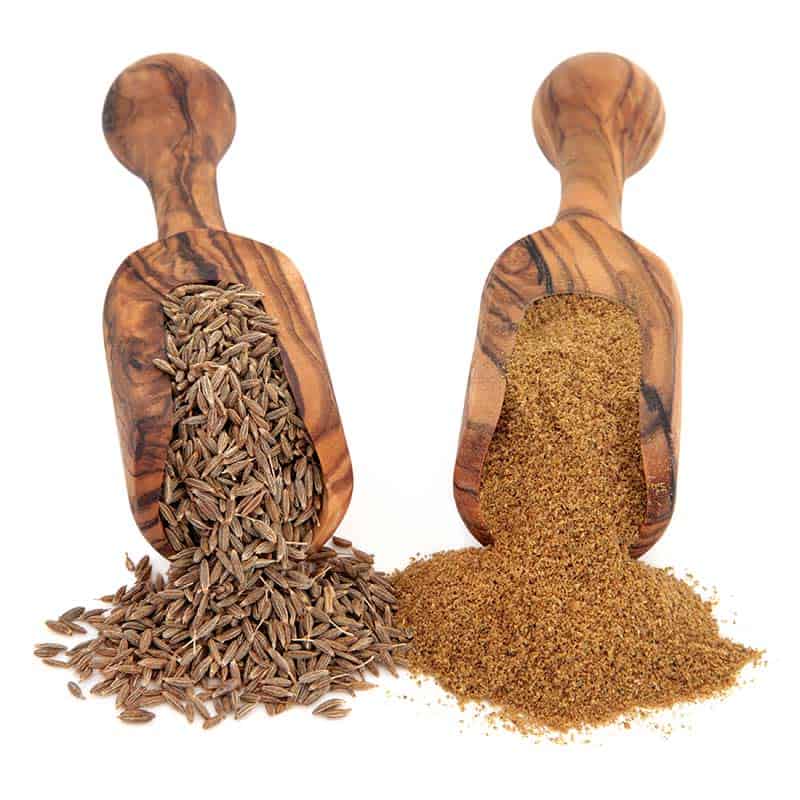 Like most spices, cumin comes in two different forms, each of which can add a different intensity of flavor to dishes.
In Indian cuisine, the seeds are often fried in oil at the beginning of the cooking process. This infuses the oil and flavors every ingredient that is then cooked afterwards. This way of using whole cumin ensures that the whole dish is flavored.
Cumin seeds can also be lightly roasted in a dry pan, which releases their flavors. When cooked in with other ingredients, the cumin stands out as a toasted, nutty spice. But the roasted cumin can also be ground, before being mixed in with other ingredients.
If you grind your own cumin freshly from the seed form, the flavor will be intense and deep. This is the standard in traditional Indian cooking and brings a whole new level of nuance and complexity.
You can also buy ready ground cumin powder. Whereas whole cumin needs time to be cooked into the dish for the flavors to be released, cumin powder is a little less intense and can be added to dishes at any time of the cooking process.
How do you grind cumin seeds?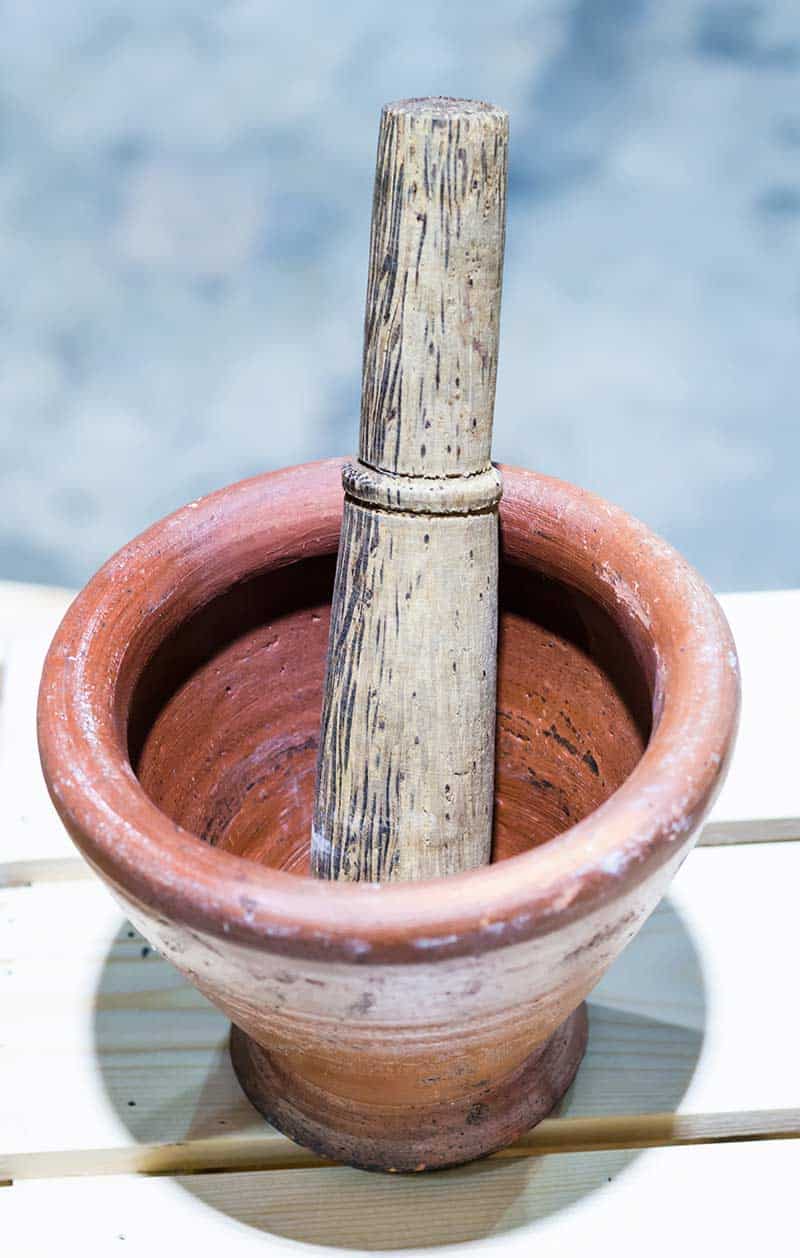 There are few cooking experiences as satisfying as cooking an authentic Indian or Mexican recipe and using your own freshly ground spices. Grinding cumin seeds is easy and adds a real rustic punch to your dish.
You'll need a good quality mortar and pestle to grind cumin seeds. First, lightly toast the cumin seeds in a dry frying pan. This should take a minute or two.
When they're lightly browned, tip them into the mortar. Then, roll the pestle around the mortar until the cumin is ground. Don't worry about getting every seed – a few whole pieces of cumin will just add to the rustic spiciness.
You could even let this ingenious gizmo do all the spice grinding work for you!
What are the health benefits of cumin?
Regarded as a superfood, cumin has been used as a health supplement since ancient times. It's know for its ability to improve blood sugar control, its iron content and is often used as a digestive aid, particularly in India, where seeds are chewed after a meal.
Cumin is also linked with improved cholesterol, weight loss and the prevention of diabetes, while it can also improve the body's ability to process antioxidants.
How do you store cumin?
Cumin seeds can be kept in a pantry or cupboard for up to a year. They can also be frozen and kept for longer – frozen cumin keeps its flavor for a long time.
Ground cumin should be stored in a cool dry place and used within 6 months.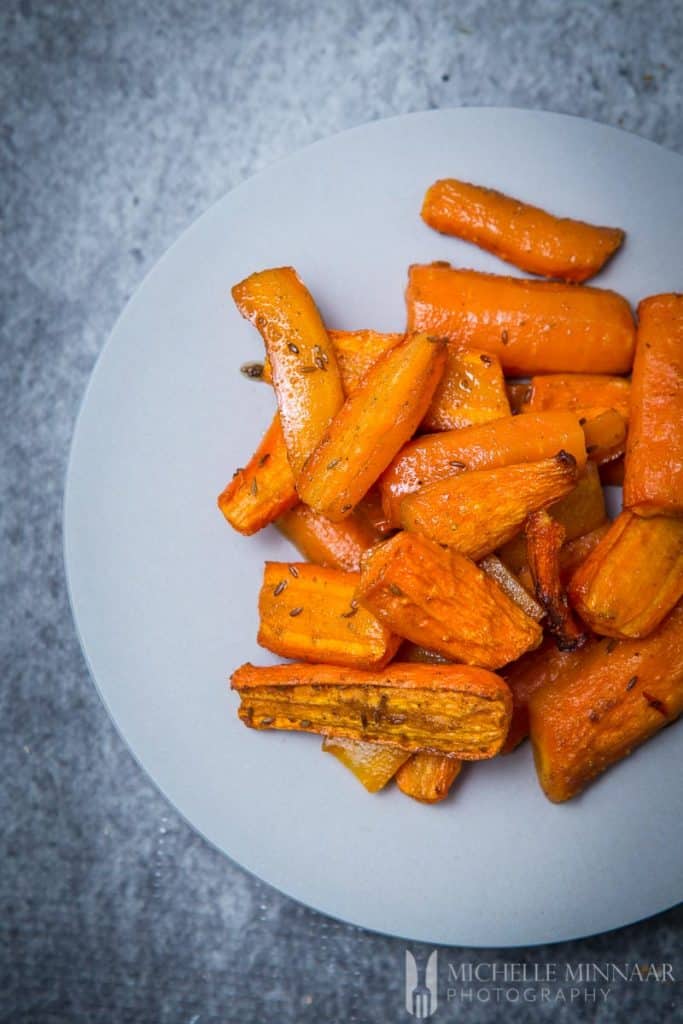 Excellent recipes for cumin
Here are just a few irresistible recipes that make use of this incredible spice: