Aubergine may be a humble ingredient, but when combined with other vegetables, it can result in really creative vegan aubergine recipes. Have you already tried your skills at recreating vegan aubergine recipes at home in your kitchen? In essence, the aubergine is a very easy ingredient to handle, so you can cook your most of your favourite vegan aubergine recipes in just a matter of minutes. The best part is, that the aubergine is very versatile too, having a significant presence in many cuisines. You'll find interesting vegan aubergine recipes in Italy, Greece, most of the Middle East and so much more.  Cook it whole in the oven or cut it up into pieces and put it in a French or Italian stew. The choice of which vegan aubergine recipe you recreate is entirely yours. Let this amazing vegetable inspire you!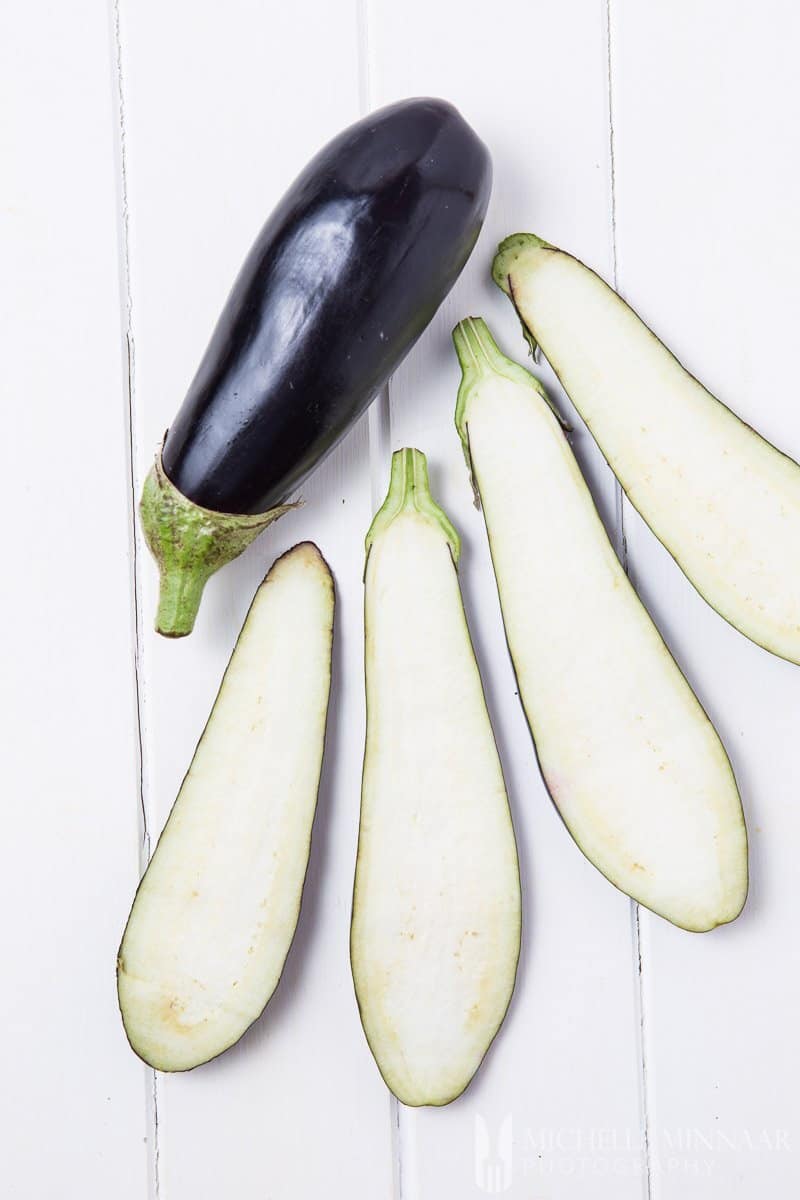 what you need to know when cooking vegan aubergine recipes
What I enjoy most about vegan aubergine recipes is that they don't take too much time, nor hassle in the kitchen. The aubergine is not a messy vegetable as compared to vegetables like potatoes, beetroot or even tomatoes. You don't need to peel the skin, in fact, I love to eat the aubergine skin when it crisps up. The inside of the aubergine has a solid spongy texture that turns buttery once you cook it. Actually, when you cut the aubergine into small pieces,  it will absorb food fats and juices very easily, so it makes the sauces of many vegan aubergine recipes richer and more delicious.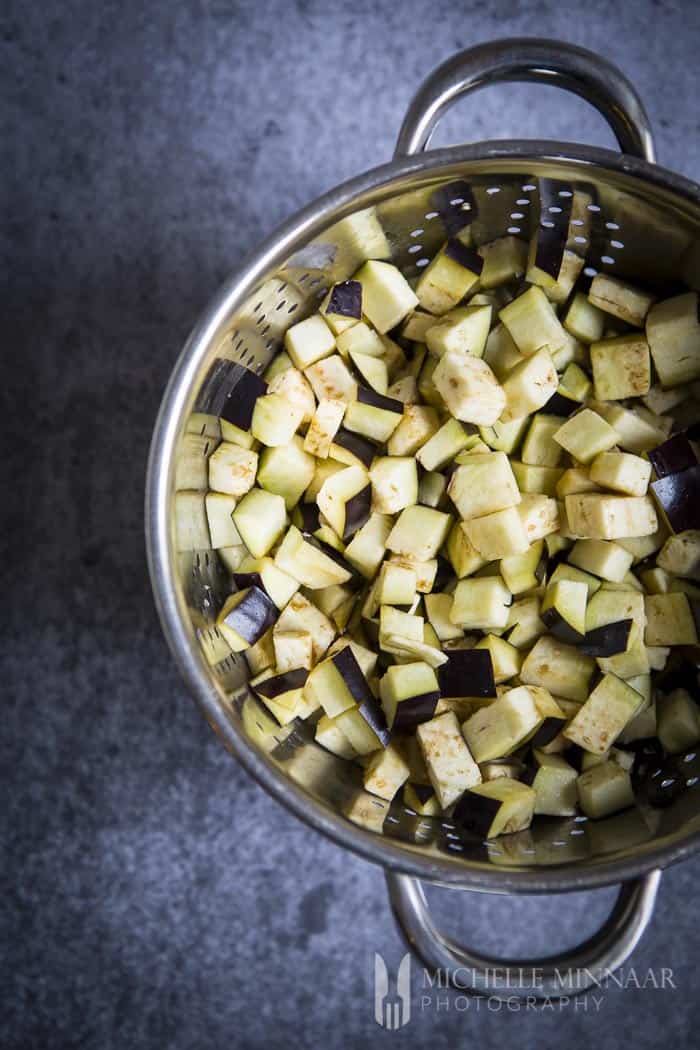 You might know aubergine as an eggplant or brinjal (as known in South Asia and South Africa). Surprisingly, the origin of aubergine cultivation started back in Ancient China in 544 AD. However, the first mention of the aubergine in the UK was in the 16th century in an English botany book. Did you know that there are many types of aubergines? There are three: the common dark purple bulbous aubergine, a longer thinner purple aubergine, and a white aubergine.
Notably, it is not recommended to eat the aubergine raw due to its high nicotine content. So, funnily enough, the aubergine is not only an excellent substitute for meat, but it might also help you quit smoking. Just cook more vegan aubergine recipes! To learn more about aubergine before you start cooking your favourite vegan aubergine recipes, click right here.
quick and easy healthy vegan aubergine recipes
As mentioned before, you can experiment with any type of cuisine when it comes to cooking with aubergine. Depending on your daily preference of cuisine, you can make one vegan aubergine recipe a week. Notwithstanding the fact that aubergine is a relatively cheap ingredient, so you can cook away with it as much as you like! The best part about vegan recipes is that you can flavour the dishes with other healthy ingredients like garlic, onion and of course use aromatic herbs.
easy Italian vegan aubergine recipes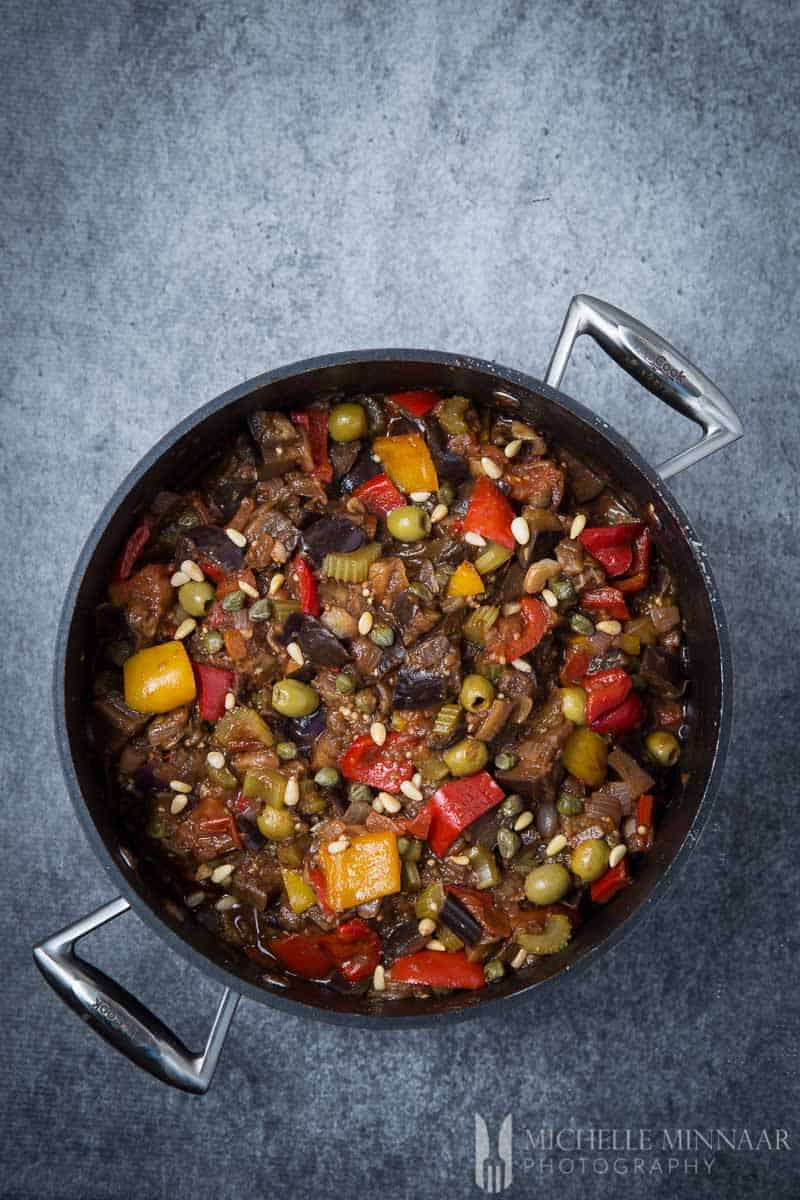 Caponatta alla siciliana is probably of the best Mediterranean vegan aubergine recipes out there. It is a traditional Sicilian vegan stew, that is commonly served as a side dish or most preferably, as a starter. It combines inexpensive ingredients with tomato sauce and lots of Mediterranean herbs, which of course give it its distinct flavour. Just take a look for yourself what ingredients make up the caponata alla siciliana.
It is best if you let the sauce simmer with the aubergine for a while until the aubergine has the chance to absorb all the juices released from the vegetables and bind all the flavours together.
authentic Greek vegan aubergine recipes
The most popular aubergine recipe in Greece is meze, which is a paste of aubergines. However, you might have also heard of melitzanosalata. It is made of roasted aubergine, you then mush up once soft and combine with fresh herbs. Take a look below. The only lengthy part about this vegan aubergine recipe is the fact that you have to wait until the aubergine is soft. After that, this recipe is only a push of a button away on the blender from being ready.
best Indian vegan aubergine recipes
I love to cook with Indian spices. You can use them to jazz up any humble ingredient, such as aubergine. If you feel like using the grill for your Indian aubergine recipe, then I recommend you try this quick and easy masala grilled aubergine. Simply apply the masala yoghurt mixture on the aubergine and serve immediately from the grill. To make this a vegan-friendly recipe, simply substitute with natural soy yoghurt instead.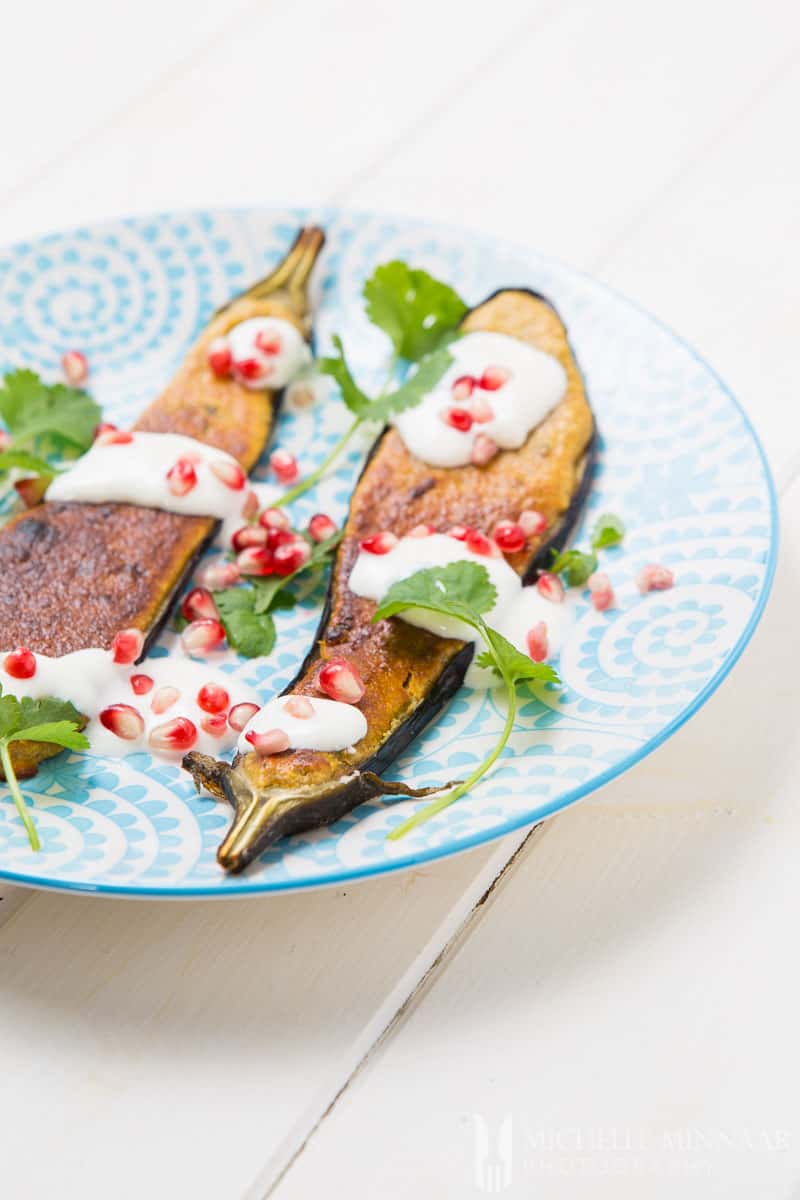 Just take a look on the picture below, just how easy it is to cook this Indian aubergine recipe. Completelyhassle-freee, right?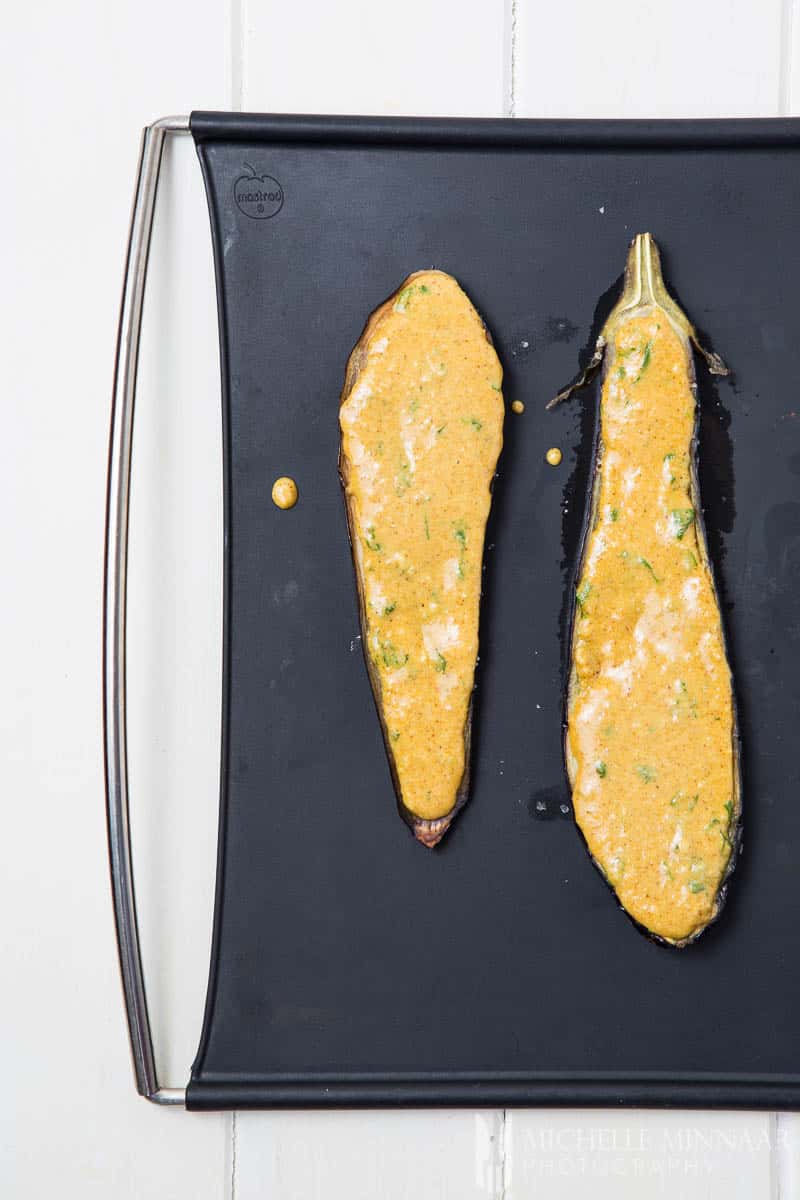 Another delicious Indian aubergine recipe is brinjal bhaji. Brinjal bhaji is a flavourful and spicy Indian starter or a side dish that you can easily serve with rotis or naans. It really highlights the buttery and tender texture of the aubergine. It just comes to show how versatile aubergine really is in multiple types of cuisines.
middle eastern vegan aubergine recipe
This is a no brainer. The Middle Eastern aubergine recipe you need to master is baba ghanoush. If you are ever on vacation in the Middle East, for example in Jordan, Lebanon or Israel, you'll definitely find this on any restaurant menu. It is definitely a vegan aubergine recipe worth mastering because it's not only tasty, but healthy too!
other aubergine recipes
I am sure you know even more vegan aubergine recipes. For example, you might have heard of the French ratatouille. It is a French Provençale style vegetable stew, which is very similar to the Sicilian stew mentioned above. It originates in Nice, France and it is one of those dishes that you'll commonly find in the countryside being served on Sunday. Just witnessing the aromas of the stew in the making will make you want to try this vegan aubergine recipe in an instant.
So, which aubergine recipe is your favourite? Do you prefer keeping it simple, or would you rather experiment with spices?