Learn how to make your very own samosas at home.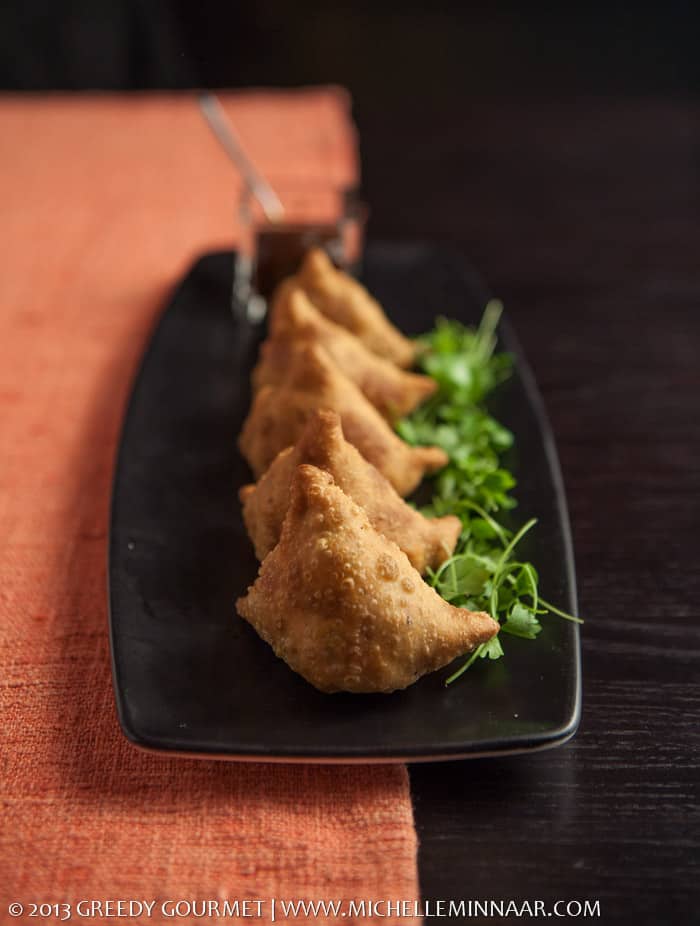 If you like to prepare dinner under 30 minutes, this isn't the recipe for you because it's a heck of a load of work. However, this is a great team building exercise a whole family can enjoy doing together on a Saturday afternoon. Little Sis can mix and roll the dough, Mum cooks the filling, Big Bro folds and Dad fries. That's just one example, you can even get a little production line going with a bunch of friends!
The samosa, pronounced "sa-mo-sa", originated in Central Asia before making its way to India via trade routes. As with most traditional recipes, there are variations of samosas and here we'll do the Punjabi version, which is differentiated by North Indian spices such as ginger and carom seeds.
If you can't be bothered to make your own dough or are on a low-fat diet, fret not, you can use filo pastry instead and bake the morsels in the oven.
Filling-wise samosas are much like pies – you can put almost anything in them; curried potato and peas are quite common as well as minced meat. You can even create dessert ones with chocolate or fruit filling. The sky's the limit. The only thing you have to be careful of is that the actual filling isn't too runny. It might cause leakage or mess with the consistency of the pastry.
Below you'll find the step-by-step guide to making the ultimate, traditional samosa. A special thanks to head chef Sameer Taneja and Benares restaurant for taking the time to demonstrate how to do everything properly. We also made Kerala Paratha and Coconut Fish Curry on the day, so check them out. If you're a fan of Indian food, you must visit Benares. Why? You can find the reasons in my review.
If you don't live in London, you should probably check out these cookbooks:
---
Cooking the Vegetable Filling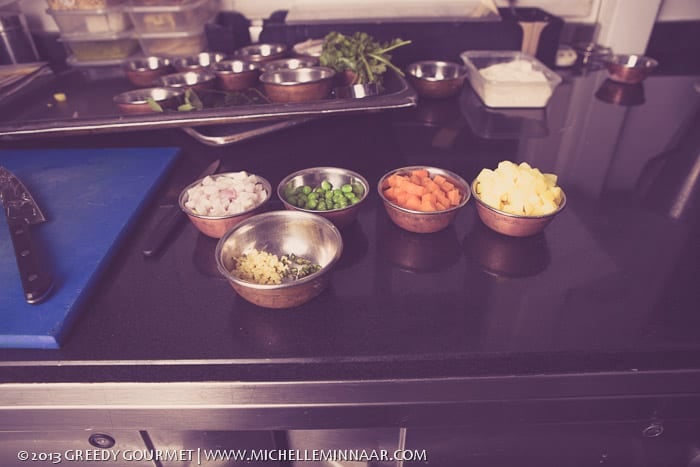 One thing you don't want is a crunchy filling so make sure all the ingredients are cooked thoroughly before filling the samosas. You either have to cook the vegetables for longer or you can blanch them before making the filling. We did the latter in this case. It's up to you.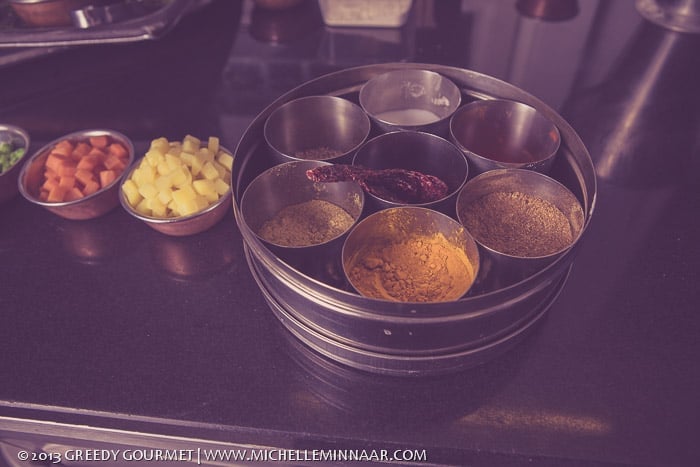 Here's a masala dabba
which contains essential spices. No Indian household is without one.
Heat oil in a heavy bottomed, stainless steel saucepan and fry whole cumin seeds for a minute.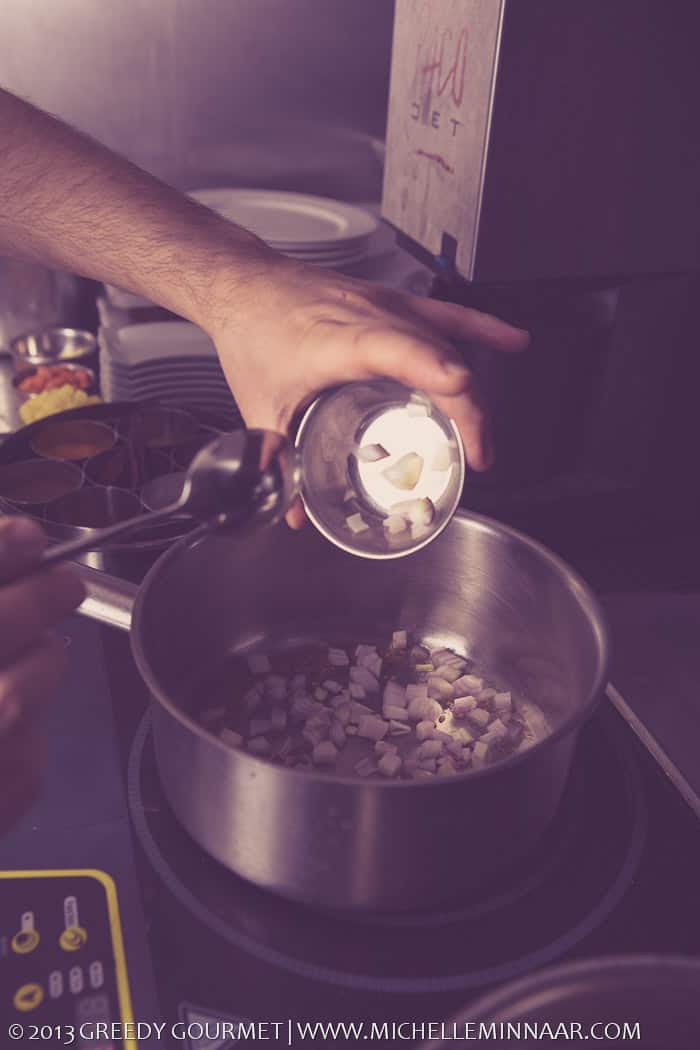 Add the onions to the pot.
Gently fry the onions until they have softened.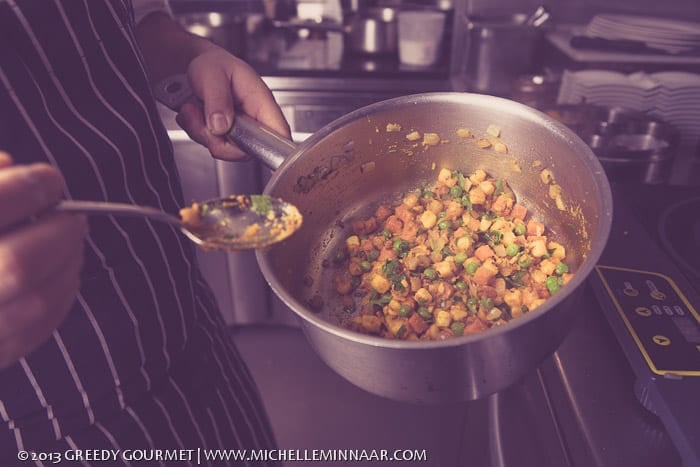 Now you can add the rest of the vegetables and spices. Stir thoroughly.
Place the vegetable mixture on a tray to cool down. Now it's time to make the dough.
---
Preparing the Samosa Pastry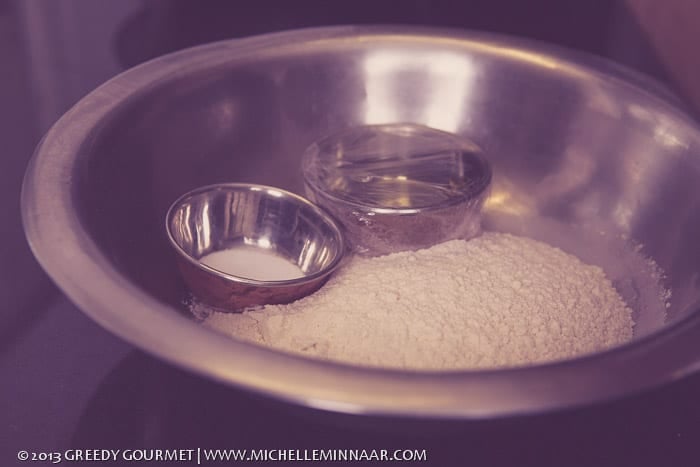 All you need to make the dough is flour, vegetable oil, salt and lukewarm water.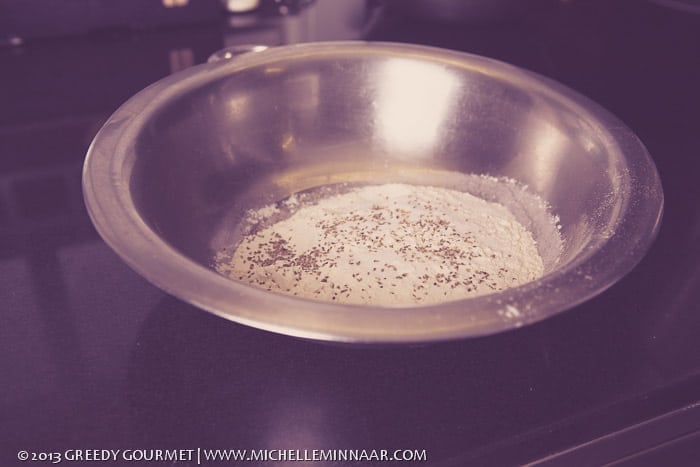 You can add a pinch of carom seeds if your like. They are medicinal in the sense that they aid digestion.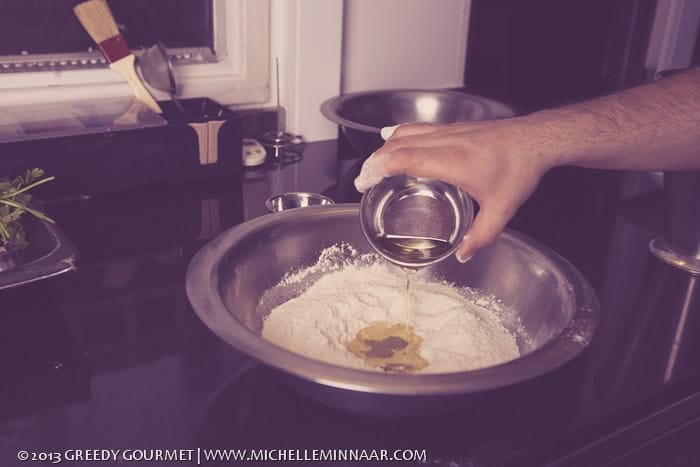 Make a well in the flour and add the oil….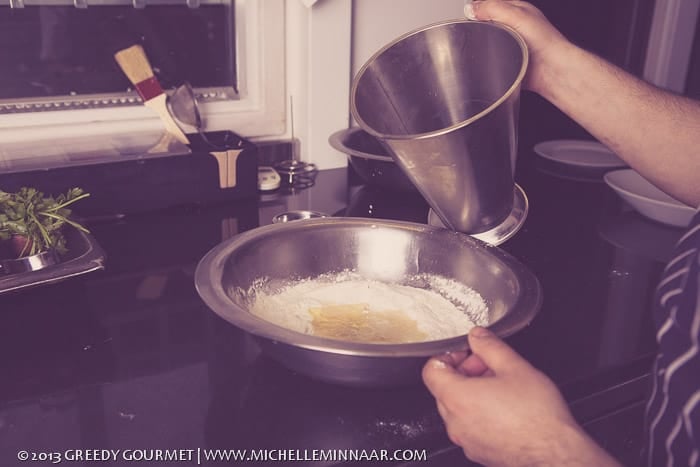 … and water.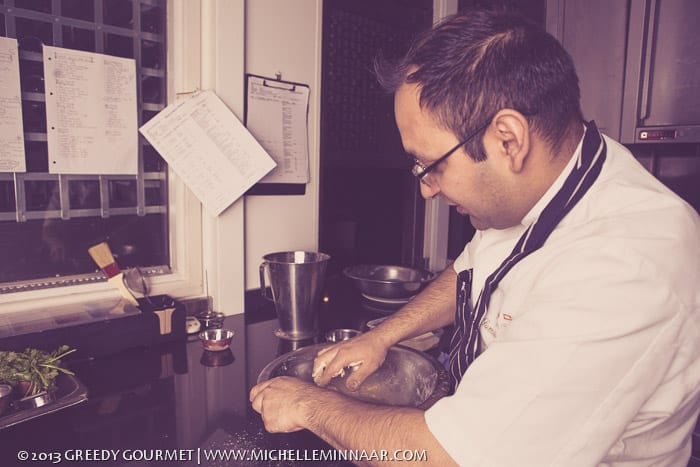 Look! Say hello Sameer! Now it's just a case of mixing everything together.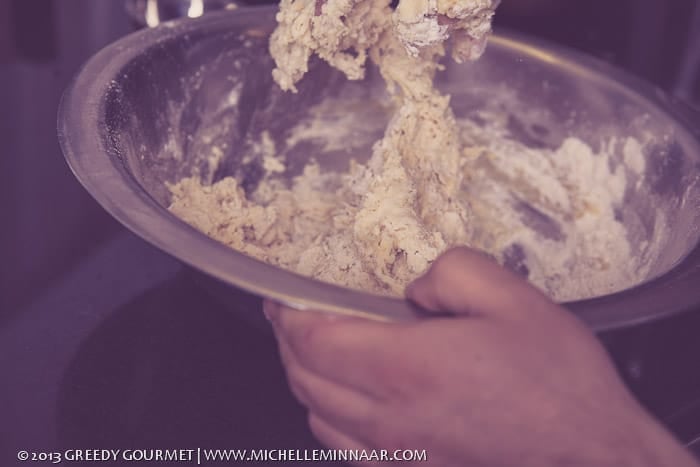 Carry on mixing until the dough comes together.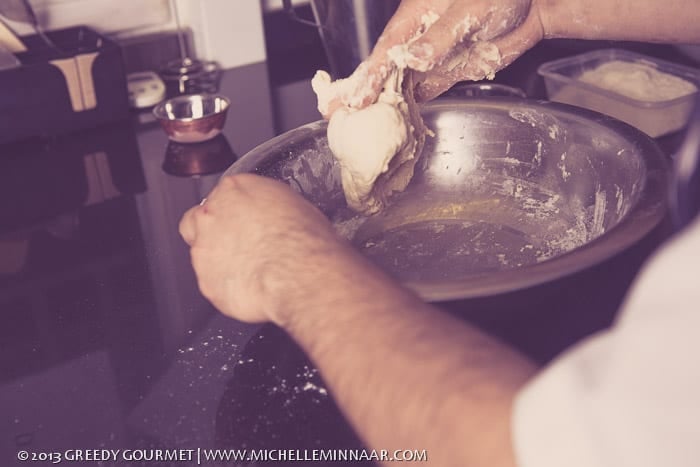 Add a bit of flour or water as you see fit.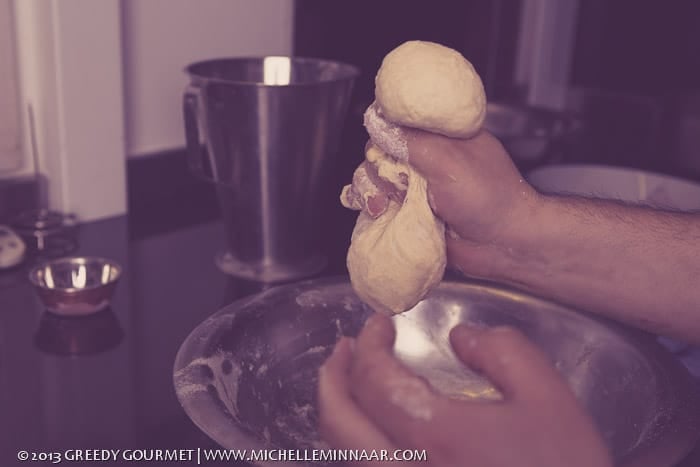 Knead the dough on a floured surface until smooth and roll into a ball. Cover in plastic wrap and set aside at room temperature for 30 minutes.
How to Fold Samosas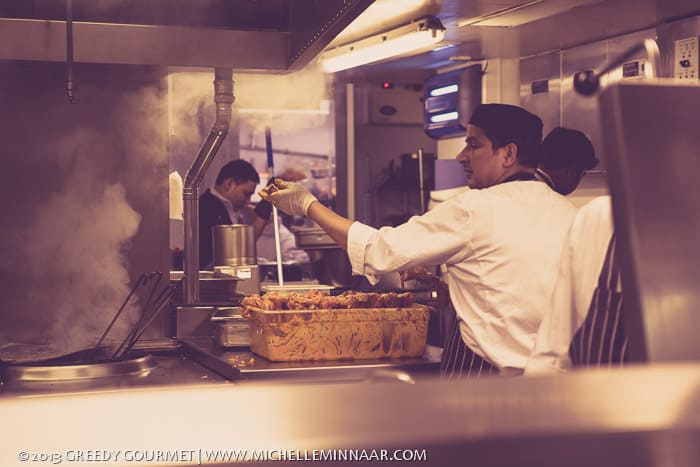 Anyone who has visited or worked in a commercial kitchen will tell you it gets very hot in there. The staff works on a huge scale? See that guy skewering pieces of chicken? At the bottom left is the tandoor. Whole chickens are getting cooked in there.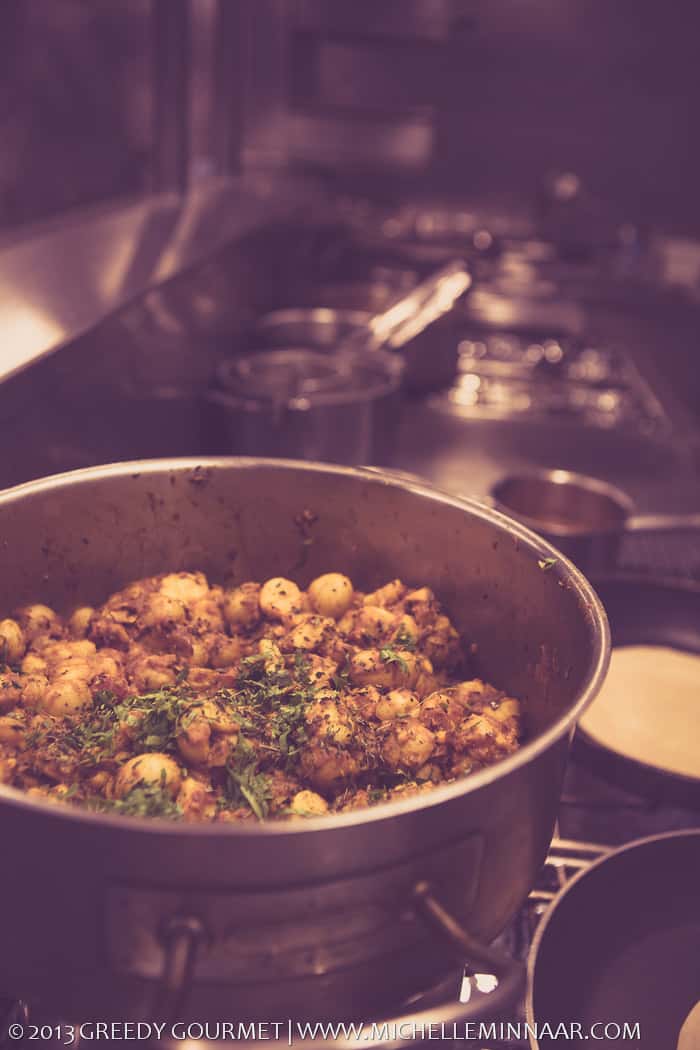 Pots are heavy and filled to the brim. This isn't just a 5 litre pot but a humungous one that I doubt I will be able to lift. A popular restaurant such as Benares needs huge quantities of, in this case, Masala Potato Mash on a daily basis. It's a pretty spectacular scene.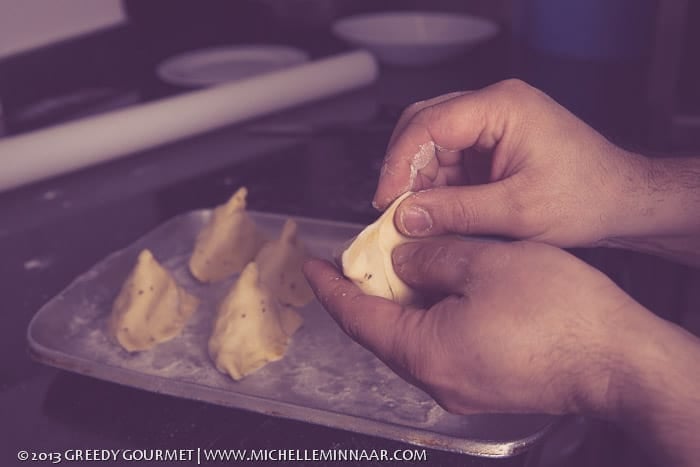 Oh yes, I'm getting side tracked. We were about to start folding samosas.
Roll the rested pastry into the shape of a baguette.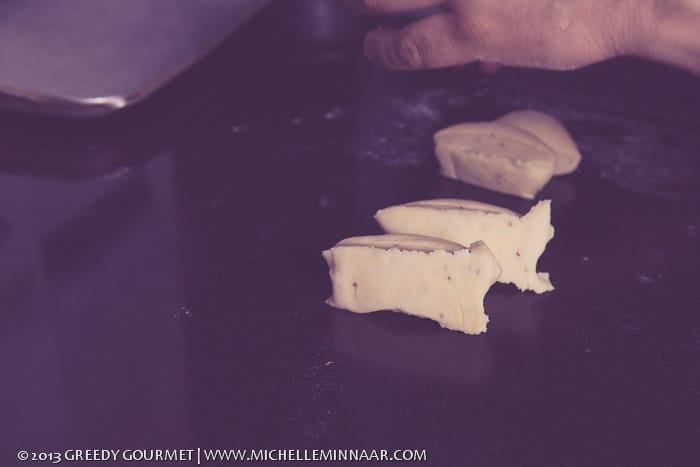 Use a knife and cut the pastry into 12 equal portions.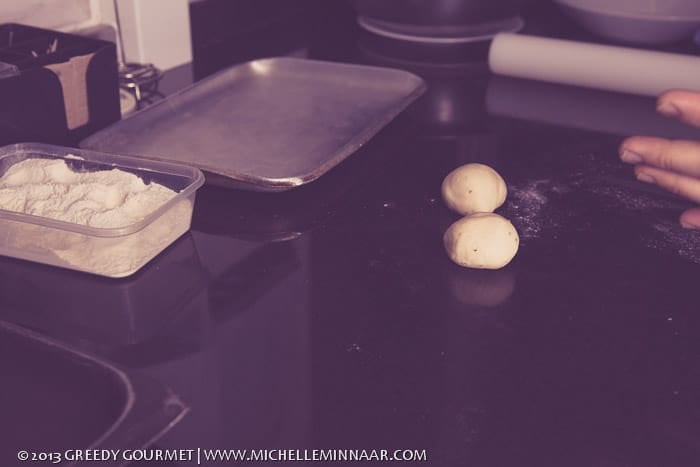 Roll each portion into a little ball.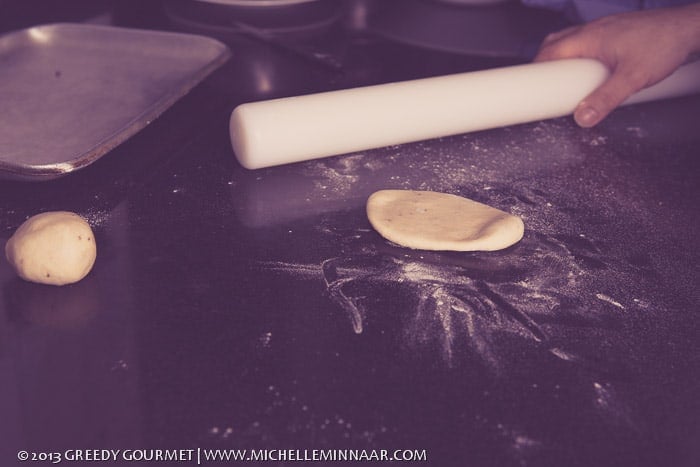 Start rolling the pastry.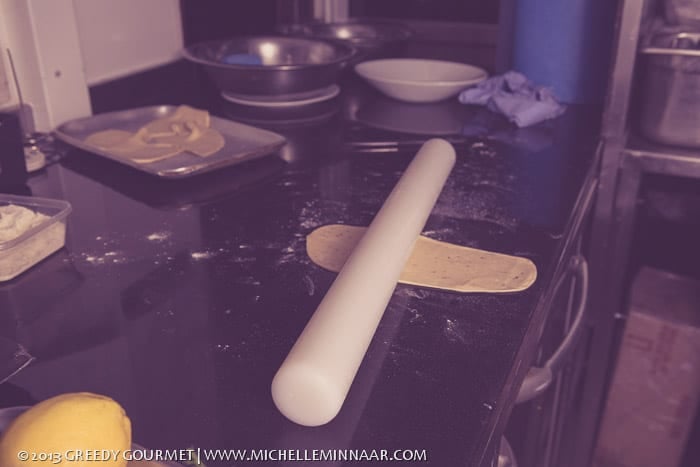 You should aim for a circle or an oval shape.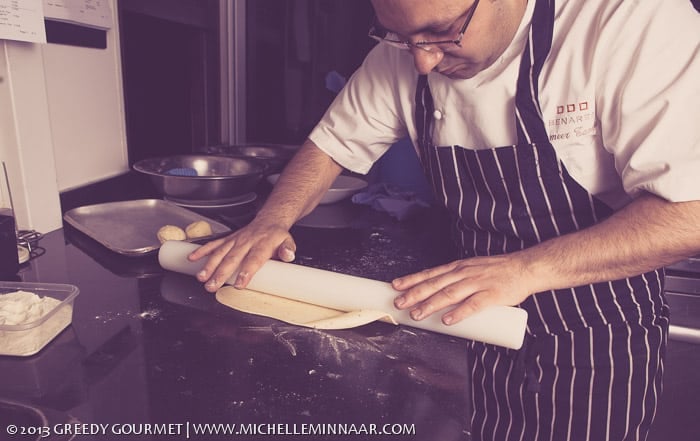 You get the idea.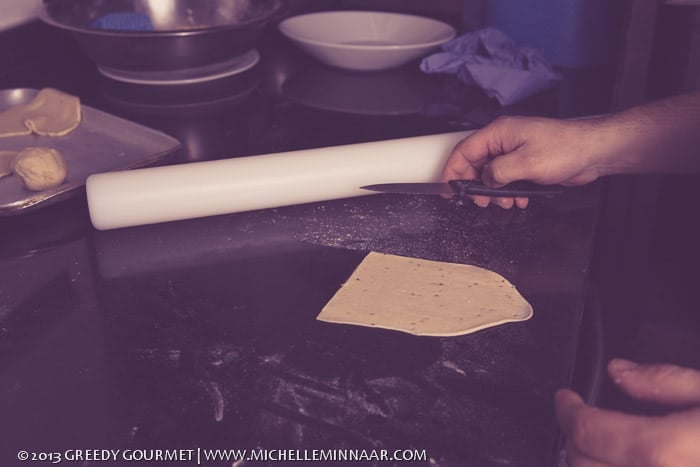 Cut the pastry in half. Each half forms a samosa.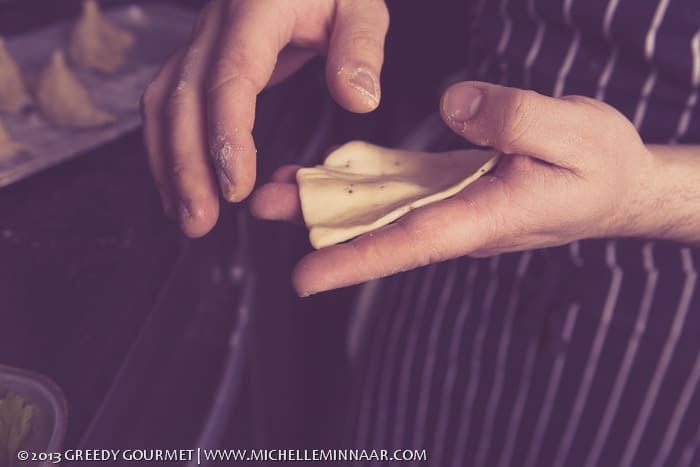 Dampen the straight edge of the dough with a bit of water.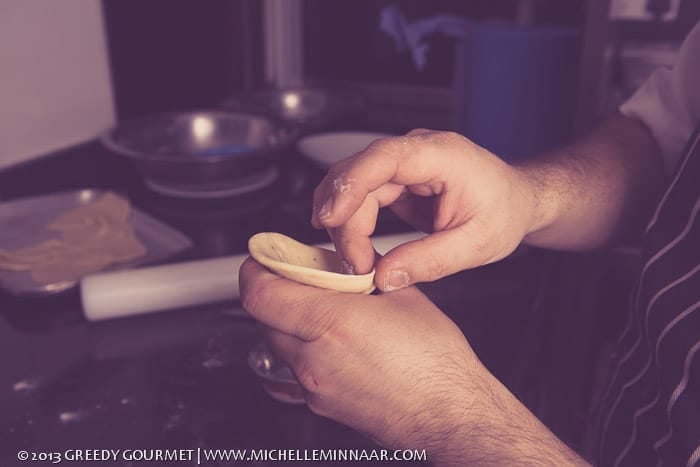 Form a cone.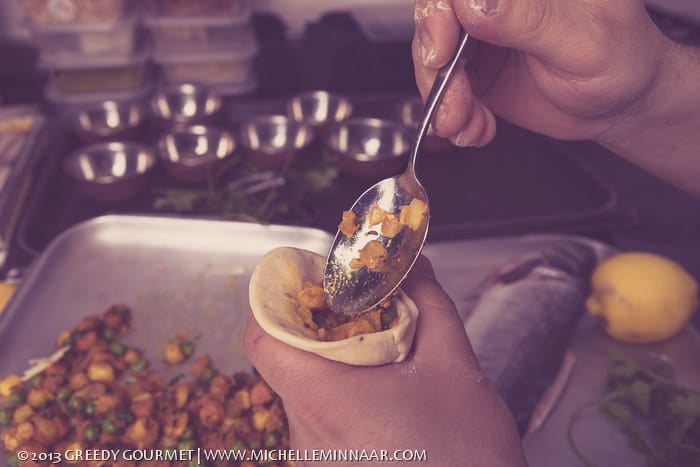 Now you can spoon in some filling. The latter should definitely have cooled down by now.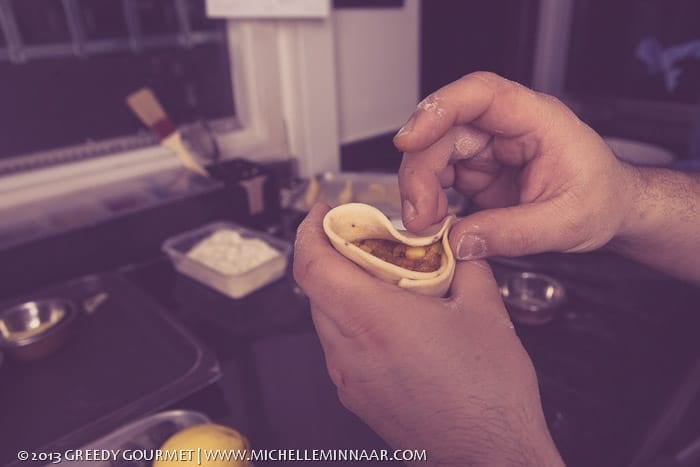 Slowly and carefully pinch the samosa closed..
… until it is completely sealed.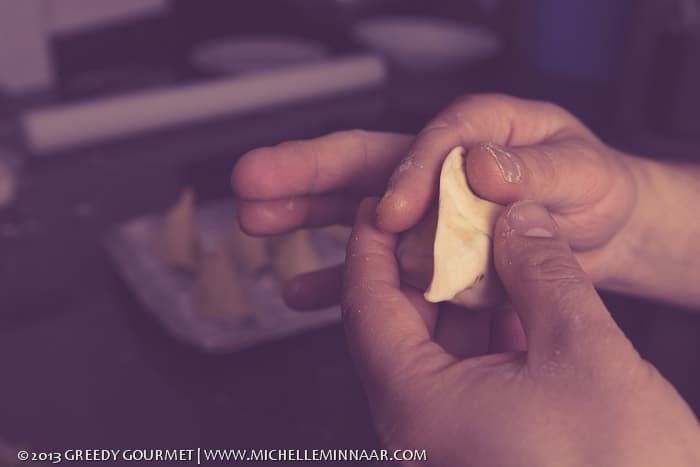 Voila!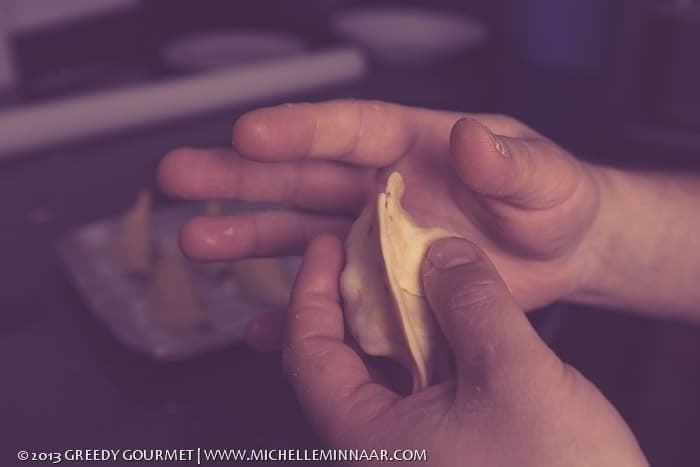 Now repeat with the rest of the dough.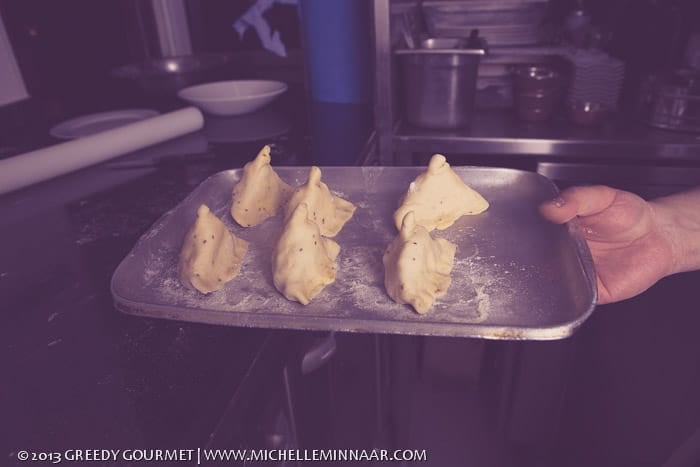 A trayful of samosas, ready for frying.
---
Deep Frying the Samosas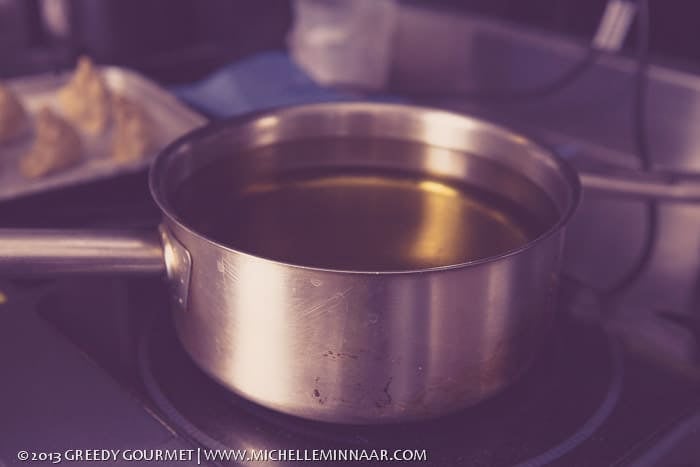 Heat a pot full of vegetable oil to (160°C/320°F).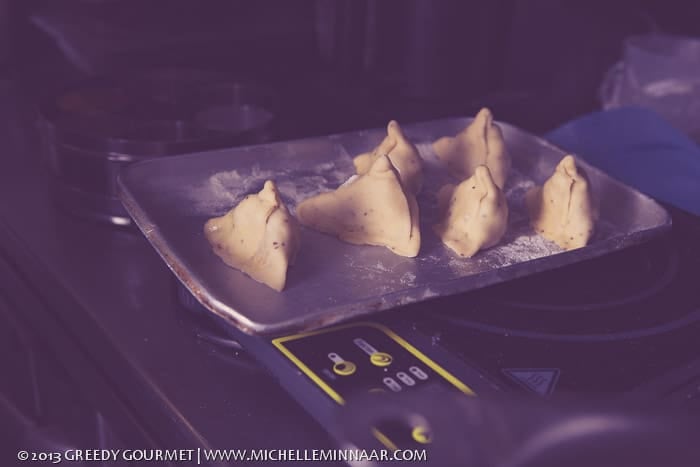 It helps it the samosas are chilled before frying.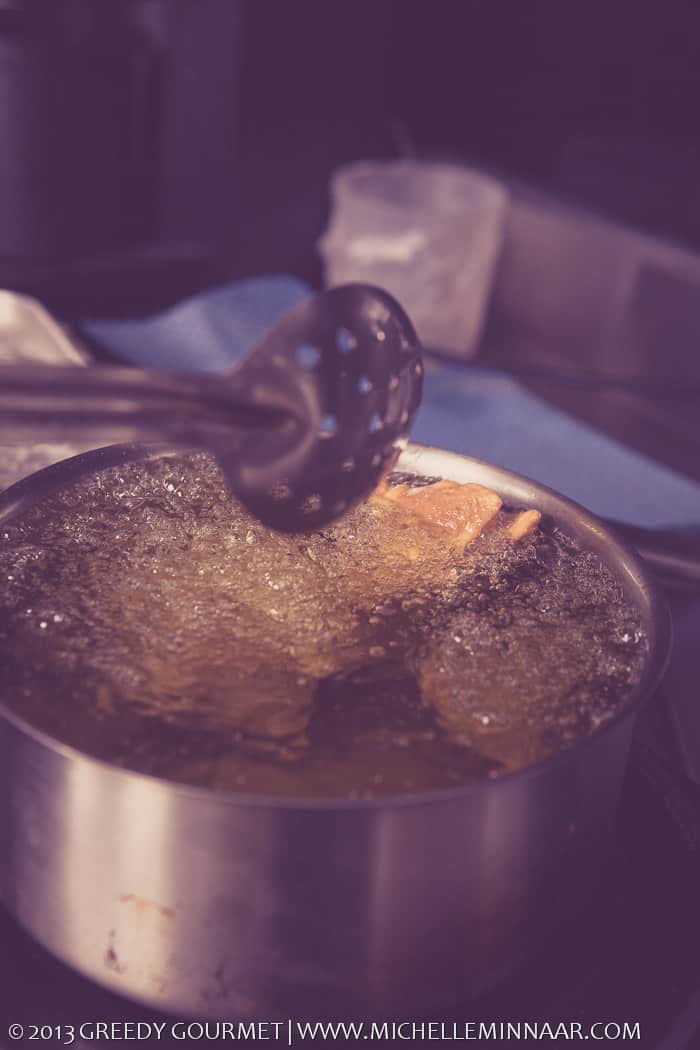 Place the pastries carefully into the oil and watch the mesmerising bubbles.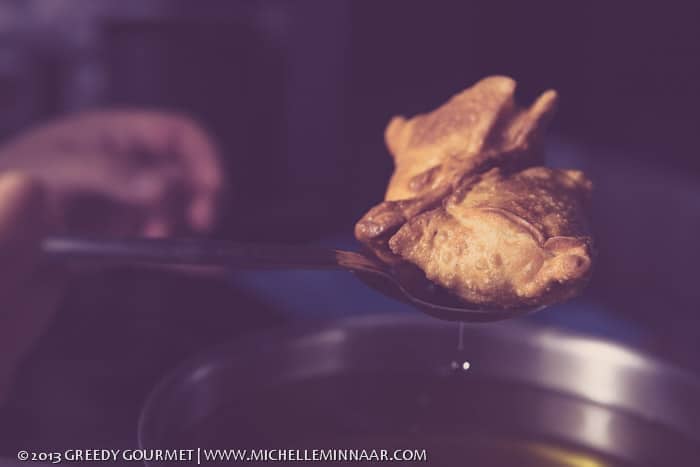 Carry on frying them until they're crisp and well browned. Remove them from the oil and let them drain on a paper towel.
There you go, the quintessential Indian starter.
Once they're cooked, you can freeze them. Serve with tamarind or mango chutney.
Print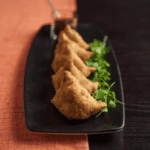 Vegetable Samosas
---
Author:

Michelle Minnaar

Prep Time:

45 minutes

Cook Time:

45 minutes

Total Time:

1 hour 30 minutes

Yield:

24

samosas

1

x
Description
This vegetable samosa recipe shows you how to make samosas step-by-step, from creating the filling to how to fold a samosa.
---
Scale
Ingredients
1

potato

1

carrot

15

ml (1 tbsp) vegetable oil

2

garlic cloves, crushed

1

onion, finely chopped

250

ml (1 cup) frozen peas

10

ml (2 tsp) curry powder
Salt and pepper, to taste

100

ml (3 fl oz) vegetable stock

225g

(

2 cups

) all-purpose flour

10

ml (2 tsp) salt

30

ml (2 tbsp) vegetable oil

80

ml (1/3 cup) lukewarm water
---
Instructions
Heat the oil in a frying pan.
Add the onion, garlic and curry powder and fry until the onion has softened.
Add the vegetables and seasoning and stir well until coated.
Add the stock, cover and simmer for 30 minutes until cooked.
Place the vegetable mixture on a tray and let it cool down.
Mix the flour and salt in a bowl.
Make a well into the centre and add the oil and enough water to make a firm dough.
Knead the dough on a floured surface until smooth and roll into a ball. Cover in plastic wrap and set aside at room temperature for 30 minutes.
Divide the pastry into 12 equal pieces. Roll each piece into a ball and roll out into a circle of about 15cm. Divide the circle into two equal pieces with a knife.
Brush each edge with a little water and form a cone shape around your fingers, sealing the dampened edge.
Fill the cases with a tablespoon of the vegetable mixture and press the two dampened edges together to seal the top of the cone.
Deep fry the samosas in hot oil (160°C/320°F) until crisp and brown. Take them out and drain on a paper towel.
---
Category:

Starter

Method:

Fry

Cuisine:

Indian
Nutrition
Calories:

62

Sugar:

Sugars

Sodium:

219 mg

Fat:

1.8 g

Carbohydrates:

10.2 g

Fiber:

Dietary Fiber

Protein:

1.6 g
Keywords: vegetable samosa recipe, step by step samosa tutorial, how to fold a samosa