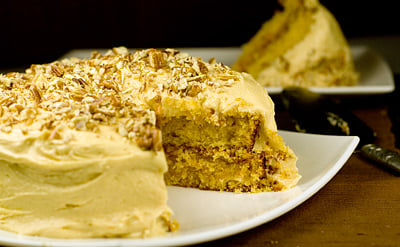 "Is it your birthday?"
All eyes were on me at the Scrabble club.
"Nope."
"What are you celebrating?"
"Nothing."
"Then what's the occasion?"
"There's no special occasion."
"Is there something you're not telling us?"
From the back of the room an old lady yells, "It can't be, she just lost all her baby weight!"
Why oh why are people so suspicious when you bring a cake along? Must there always be an excuse like a special occasion to enjoy a good slice of scrumptious cake?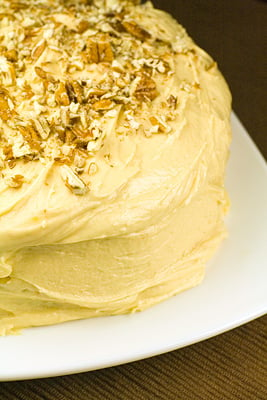 As for the making of this cake, it was one smooth ride. For a change it didn't take me days of preparation to finish this cake, but only a few hours. For the first time I'm truly satisfied with the outcome of a DB challenge. Only at the very end when I was assembling the cake did a bit of creative flair kick in. I never have the right cake tins for baking recipes and make do with the small round pans in my possession. For a filling I opened a can of caramel and slathered it on the sponge. Out came the desiccated coconut and a handful was sprinkled on top. The second sponge was placed on the filling and I quickly smeared the frosting on, but thought the the cake looked a tad boring. For now I'm steering clear of piping, but I probably have to face my fears sometime or another. A bag of pecans were lying around the house which I quickly broke up and sprinkled them on top. Perfect.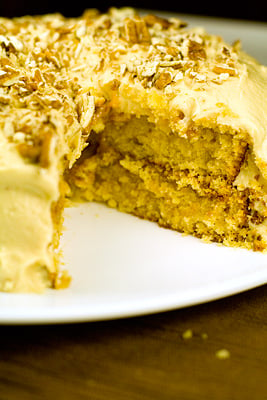 Did the Scrabble ladies enjoy the cake? Of course! They were so appreciative that I secretly decided to bake something else extravagant for them for the upcoming Christmas party!