Eagerly refreshing the Daring Bakers' Challenge page every hour I let out a big sigh of relief when I saw it's not going to be a humungous layer cake. These cakes were definitely not doing my diet any good.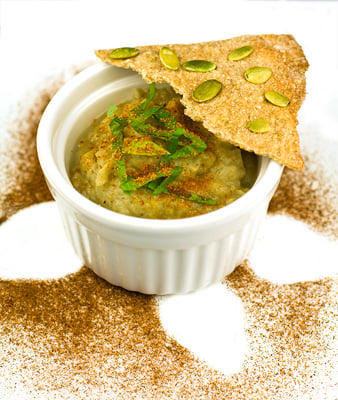 Having eaten authentic Lavash in Istanbul (Turkey), I was somewhat puzzled by the "cracker" part. I like to think of Lavash as the blowfish of the bread kingdom.
Fresh from the oven it looks rather impressive until you make a hole in it and steam escapes while the bread collapses quicker than you can say "granny's saggy titties". But crackers?? I was stumped.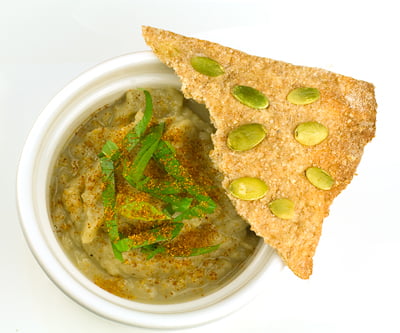 Unsure what exactly unbleached bread flour is, I used the wholemeal flour we usually use for our bread machine. Now whether that was a mistake or not, I still don't know.
Mixing everything was easy, but after proofing the dough for the specified time it still hasn't increased much in size. For some unknown reason it didn't matter to me, I went ahead anyway.
How was I going to roll out the dough until it is paper-thin? It seemed like mission impossible to me and instead I opted to use my pasta machine which worked a charm.
Experimenting with some sheets I got them so thin they were almost see-through! It was a jolly, fun process.
Baba Ghanoush
Baba who? What an exotic name for what is essentially an eggplant/brinjal/aubergine humus. There are tonnes of versions for this classic Middle Eastern recipe and it is really up to you to alter it to your taste. A few months ago I tried out a recipe, but found the end result too garlicky, sour and tahini-ish. Aubergine has a delicate flavour and any other spicy additions can easily overpower it. Here is my very mild version.
Bake 1 aubergine whole in the oven until soft; usually it takes about an hour. Peel the blackened and toughened skin and place in a food processor with a dash of salt, pepper, lemon juice and ½ teaspoon of tahini and give the mixture a whizz. Done!
The seeded crackers worked best with this dip.
The really enjoyable part of this challenge was to play with different toppings. Since I got the crackers so thin, it meant there were a lot more sheets to experiment with.
My parents were visiting at the time and my mother was a star helping me in the kitchen and brainstorming with me. Firstly, we tried different types of seeds: pumpkin, poppy, linseeds and sesame.
A word of caution: you should carefully press the seeds into the dough, because when my first batch came out of the oven the seeds simply fell off the crackers. Doh!
Cinnamon and icing sugar was my favourite type of cracker. Other toppings included curry powder and cumin, and mixed herbs. The thinnest rolled crackers came out really crispy, while the thicker ones were a bit more chewy and pita-like.
For another Mediterranean inspired dip, check out this White Bean Dip.
Print
Lavash Crackers
---
1 1/2 cups

(

6.75 oz

) unbleached bread flour

1/2 tsp

(.

13 oz

) salt

1/2 tsp

(.

055 oz

) instant yeast

1

Tb (.75 oz) agave syrup or sugar

1

Tb (.5 oz) vegetable oil

1/3

to

1/2

cup + 2 Tb (

3

to

4

oz) water, at room temperature
Poppy seeds, sesame seeds, paprika, cumin seeds, caraway seeds, or kosher salt for toppings
---
Instructions
In a mixing bowl, stir together the flour, salt yeast, agave, oil, and just enough water to bring everything together into a ball. You may not need the full 1/2 cup + 2 Tb of water, but be prepared to use it all if needed.
Sprinkle some flour on the counter and transfer the dough to the counter. Knead for about 10 minutes, or until the ingredients are evenly distributed. The dough should pass the windowpane test and register 77 degrees to 81 degrees Fahrenheit. The dough should be firmer than French bread dough, but not quite as firm as bagel dough (what I call medium-firm dough), satiny to the touch, not tacky, and supple enough to stretch when pulled. Lightly oil a bowl and transfer the dough to the bowl, rolling it around to coat it with oil. Cover the bowl with plastic wrap.
Ferment at room temperature for 90 minutes, or until the dough doubles in size. (You can also retard the dough overnight in the refrigerator immediately after kneading or mixing).
Mist the counter lightly with spray oil and transfer the dough to the counter. Press the dough into a square with your hand and dust the top of the dough lightly with flour. Roll it out with a rolling pin into a paper thin sheet about 15 inches by 12 inches. You may have to stop from time to time so that the gluten can relax. At these times, lift the dough from the counter and wave it a little, and then lay it back down. Cover it with a towel or plastic wrap while it relaxes. When it is the desired thinness, let the dough relax for 5 minutes. Line a sheet pan with baking parchment. Carefully lift the sheet of dough and lay it on the parchment. If it overlaps the edge of the pan, snip off the excess with scissors.
Preheat the oven to 350 degrees Fahrenheit with the oven rack on the middle shelf. Mist the top of the dough with water and sprinkle a covering of seeds or spices on the dough (such as alternating rows of poppy seeds, sesame seeds, paprika, cumin seeds, caraway seeds, kosher or pretzel salt, etc.) Be careful with spices and salt – a little goes a long way. If you want to precut the cracker, use a pizza cutter (rolling blade) and cut diamonds or rectangles in the dough. You do not need to separate the pieces, as they will snap apart after baking. If you want to make shards, bake the sheet of dough without cutting it first.
Bake for 15 to 20 minutes, or until the crackers begin to brown evenly across the top (the time will depend on how thinly and evenly you rolled the dough).
When the crackers are baked, remove the pan from the oven and let them cool in the pan for about 10 minutes. You can then snap them apart or snap off shards and serve.
Fill a large pastry bag fitted with a 2/3 (2cm) plain tip nozzle with the warm cream puff dough. Pipe the dough onto the baking sheets in long, 4 to 41/2 inches (about 11 cm) chubby fingers. Leave about 2 inches (5 cm) space in between each dough strip to allow them room to puff. The dough should give you enough to pipe 20-24 éclairs.
Slide both the baking sheets into the oven and bake for 7 minutes. After the 7 minutes, slip the handle of a wooden spoon into the door to keep in ajar. When the éclairs have been in the oven for a total of 12 minutes, rotate the sheets top to bottom and front to back. Continue baking for a further 8 minutes or until the éclairs are puffed, golden and firm. The total baking time should be approximately 20 minutes.
Notes
The key to a crisp lavash is to roll out the dough paper-thin. The sheet can be cut into crackers in advance or snapped into shards after baking. The shards make a nice presentation when arranged in baskets.
Prep Time:

30 minutes

Cook Time:

20 minutes
Nutrition
Serving Size:

1 serving

Calories:

52

Sugar:

1.9 g

Sodium:

395 mg

Fat:

2.8 g

Carbohydrates:

6.3 g

Fiber:

3.1 g

Protein:

1.7 g