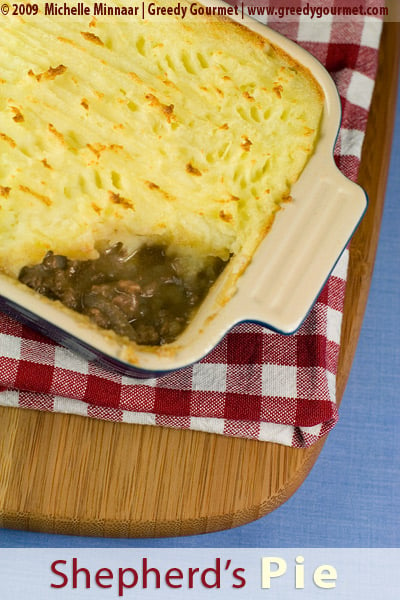 Just like Spaghetti Bolognaise/Bolognese there are more variations to Shepherd's Pie than you can wave a stick at. Everyone's got their own twist on this classic British dish and each time it tastes a little bit different but we all get the general idea of what it's (supposed to be) like. Shepherd's Pie and Cottage Pie are sometimes used interchangeably but to my mind SP is lamb and CP is beef.
I have a confession to make. Only once have I read a cookbook from cover to cover. Let me explain.
About two years ago I browsed through Southend-on-Sea library's impressive cookbook collection when the title "The Ivy" caught my eye. Now why did that name sound so familiar? Oh yeah, that's the restaurant where all the celebrities eat for publicity purposes, i.e. this is paparazzo's favourite hangout too. Well, that is if you believe celebrity gossip blogs. Suddenly I wondered what celebrities eat. Is everything covered in gold or do they live on foie gras, truffles, lobster and other expensive foods that we ordinary folks can only dream of eating once in a very long while? I'm not talking about super models, we all know they eat only two peas morning, noon and night, and exclaim they're full!
Paging through the restaurant's menu it dawned on me that the establishment serves normal food, e.g. this Shepherd's Pie, for normal people. Okay, there are a few exotic twists here and there but nothing otherworldly. I glanced at the text accompanying the recipes and after a few words I got drawn in. It was well written and funny and explained all the inner-workings of the restaurant. Fascinating stuff. The writer? A.A. Gill. He's my favourite food writer by far right now.
Back to the food. The recipe looked so easy to prepare that Neil prepared it for us and it was delicious. Women, now is your chance to get your men in the kitchen, and feel a bit like a (very) local celebrity! 🙂
Print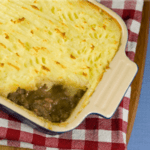 Shepherd's Pie
---
Author:

Michelle Minnaar

Prep Time:

80 minutes

Cook Time:

15 minutes

Total Time:

1 hours 35 minutes

Yield:

4

1

x
900g

(

2

lbs) lamb [ground] mince, not too fatty
vegetable oil for frying

2

onions, peeled and finely chopped

2

cloves garlic, peeled and crushed

2.5

ml (½ tsp) dried thyme

30g

(

1oz

) flour

30

ml (2 tbsp) tomato purée

150

ml (5fl oz) red wine

50

ml (1½fl oz) Worcestershire sauce

1

litre (1¾ pints) beef or lamb stock

4

servings mashed potato, see recipe here
salt and freshly ground pepper
---
Instructions
Season the minced meat. Heat some vegetable oil in a frying pan until it is very hot and cook the meat in small quantities for a few minutes, then drain it in a colander to remove all the fat. In a thick-bottomed pan, heat some more vegetable oil and gently fry the onion, garlic and thyme until they are very soft. Add the meat, dust it with flour and add the tomato purée, Cook for a few minutes, stirring constantly.
Preheat the oven to 200°C/fan 180°C/gas 6. Slowly add the red wine, Worcestershire sauce and stock, bring it to the boil and simmer for 30-40 minutes. Strain off about 200ml (7fl oz) of the sauce to serve with the pie. Continue to simmer until the liquid has almost evaporated. Take it off the heat, check the seasoning and allow to cool. To make the pie, put the meat into a large serving dish or individual dishes and top with potato. Bake for 35-40 minutes. Serve immediately. Don't forget about the gravy you put to one side to drizzle over the pie!
Notes
Serve with buttered green beans and sweet carrots.
Nutrition
Serving Size:

1 serving

Calories:

447

Sugar:

1.3 g

Sodium:

603 mg

Fat:

26.75 g

Saturated Fat:

9.9 g

Carbohydrates:

7.05 g

Fiber:

3.2 g

Protein:

20.25 g