We all love to nibble on delicious things, especially when it's something as delicious as melon. Beautifully prepared and visually stunning, this melon salad is a fantastic sophisticated addition to the dinner table.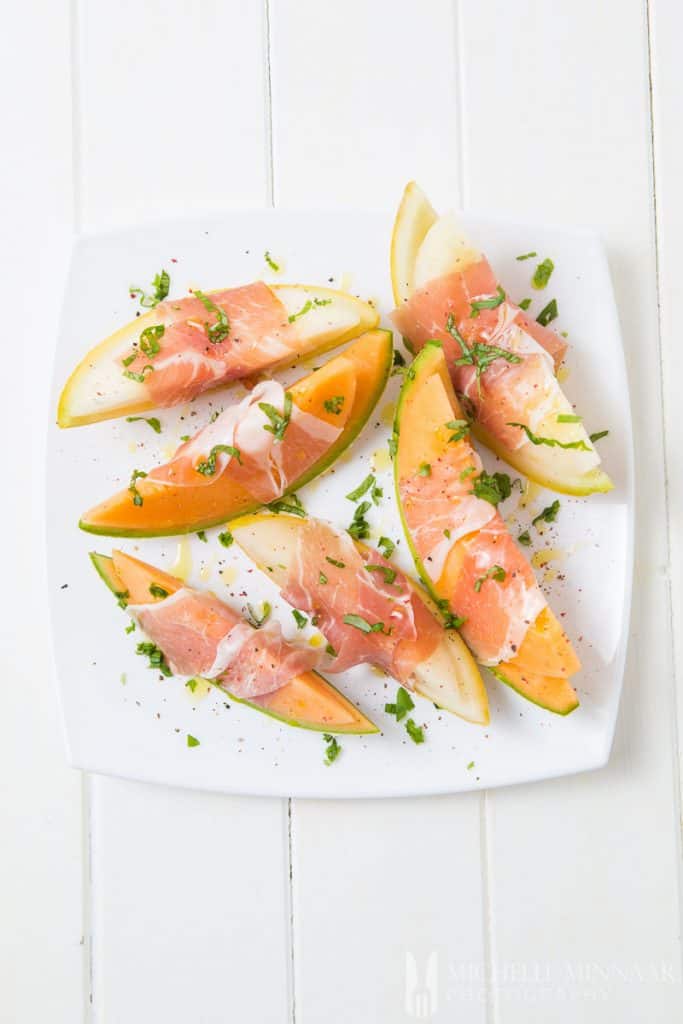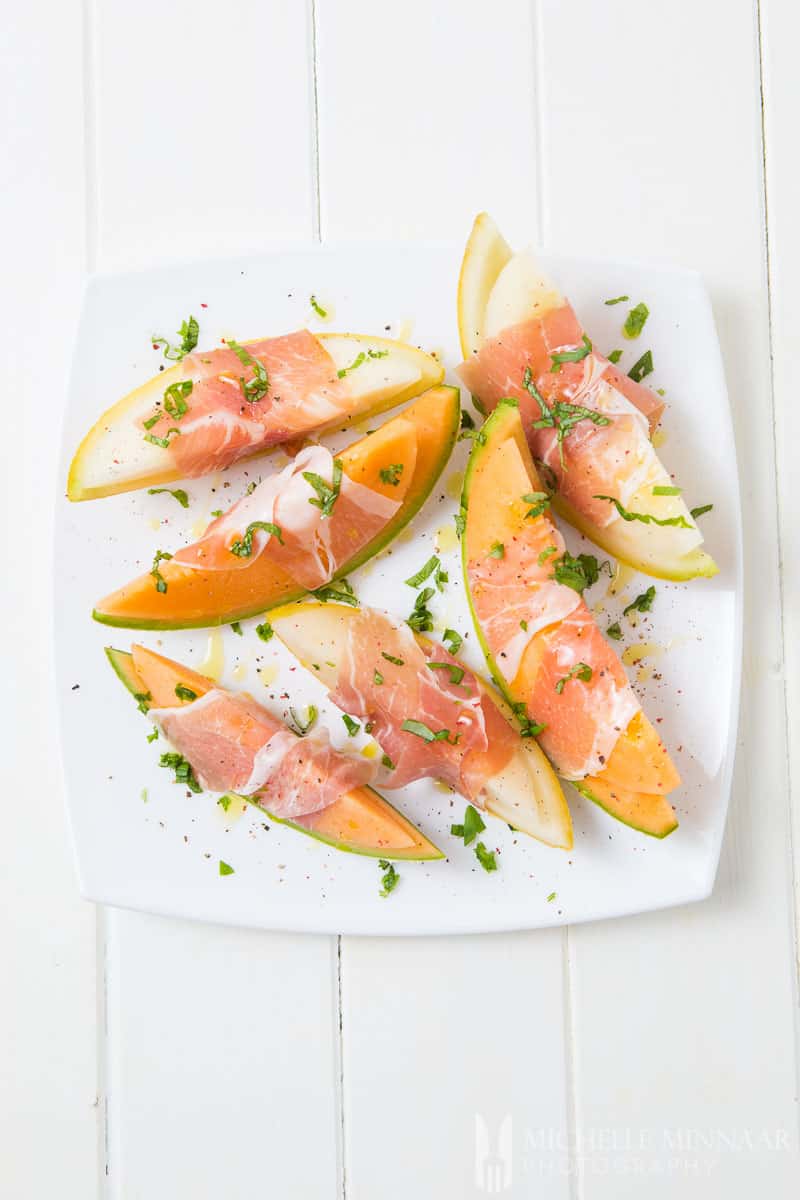 Especially, when you have guests over for dinner, and you don't have too much time to spare. It only takes ten minutes to prepare and makes a great appetiser!
Parma Ham
As a Parma ham lover, I generally keep a large stock of it in my fridge. Why Parma ham might you ask? Parma ham is special in its own way.
I've recently used it for my asparagus wrapped in Parma ham recipe. Parma ham is a smooth ham, not cured for too long, hence the flavour is not too intense. That's why I love it.
Furthermore, you can get it everywhere in stores. It's perfect for this recipe. If you can't find Parma ham, you can also substitute with:
Bacon - cook it first!
Prestunois
Bayonne Ham
Jambon Sec
Looking for a full explanation on the different flavour profiles of these substitutes? Check out the asparagus wrapped in Parma ham recipe. It's all in there! My suggestion is to use hams that are drier and less oily.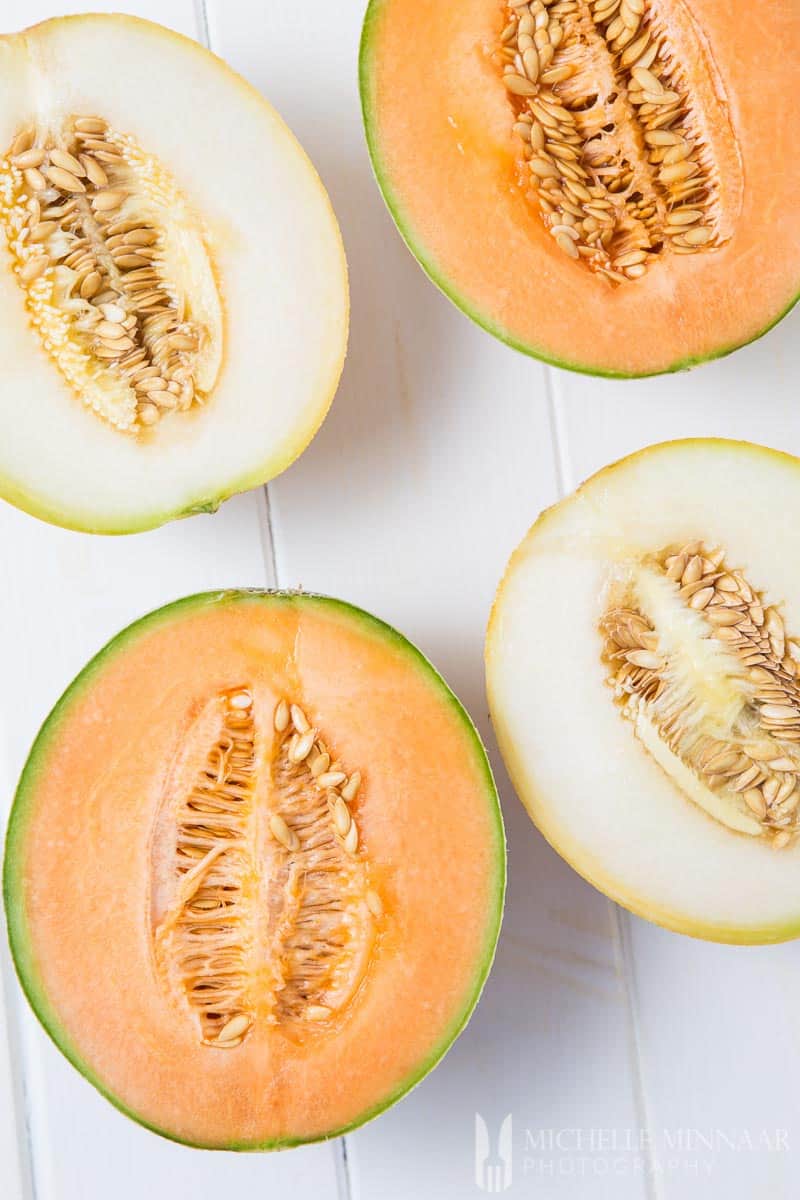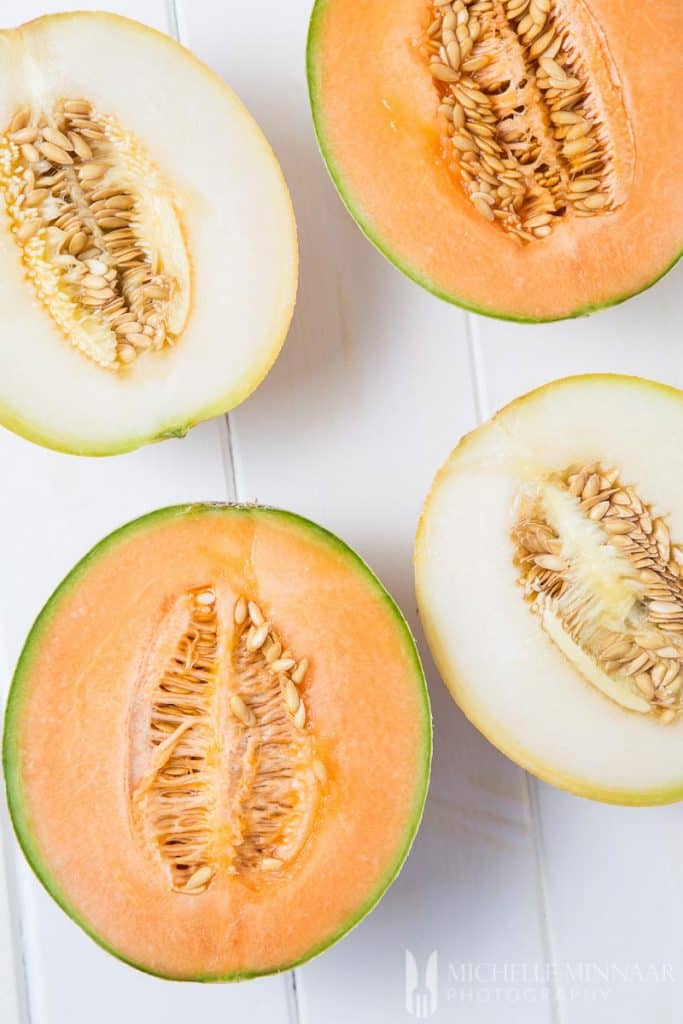 Melon
I love melon! There's just something about melon that gives you so much pleasure. I personally enjoy the intensity of the sweetness given by the cantaloupe melon.
Moreover, there is nothing better than purchasing a ripe and juicy melon. In the UK, it tends to be a game of chance.
So, what type of melon is the best choice for the Parma ham and melon salad? Generally, choosing a melon is very personal as they are all different.
So, it's all up to your taste profile and what your preferences are. Here are your choices:
Cantaloupe – the orange one and also the sweetest one of all. Notes of honey.
Watermelon - the traditional red watermelon. Not great for this recipe as it's too runny.
Honeydew melon - looks white, almost greenish. Sweet, but not as sweet as the cantaloupe.
Galia melon- also great for this recipe. White – green in colour and sweet in taste.
Choosing the right melon
As I said previously, for the Parma ham and melon salad, I prefer using the cantaloupe. The sweeter the melon, the better it'll be.
The sweetness will play against the salty nature of the Parma ham. However, there is the question that many people ask themselves.
How do I know when the melon is ripe? Here is a little trick that people use for choosing the cantaloupe, honeydew or the galia melon.
Find the round spot where the vine was attached. Take your finger and push it into the round section a little. It should release a little bit of that melon fragrance.
It should be softer than the rest of the melon. If these two criteria are fulfilled, then you've got yourself a perfect melon for this melon salad.
Substitutes for melon
Unfortunately, sometimes supermarkets don't stock melon. Or, they don't stock enough because they get sold out really fast. Besides, even if you don't find melon, you can still use other fruit.
Try using peaches, they are very similar in terms of textures. Furthermore, they are also very sweet and complement the recipe very well. You can also try using:
That's about it. As you might have noticed, I've recommended fruit with very high sugar content. Do you have any suggestions? Leave a comment below!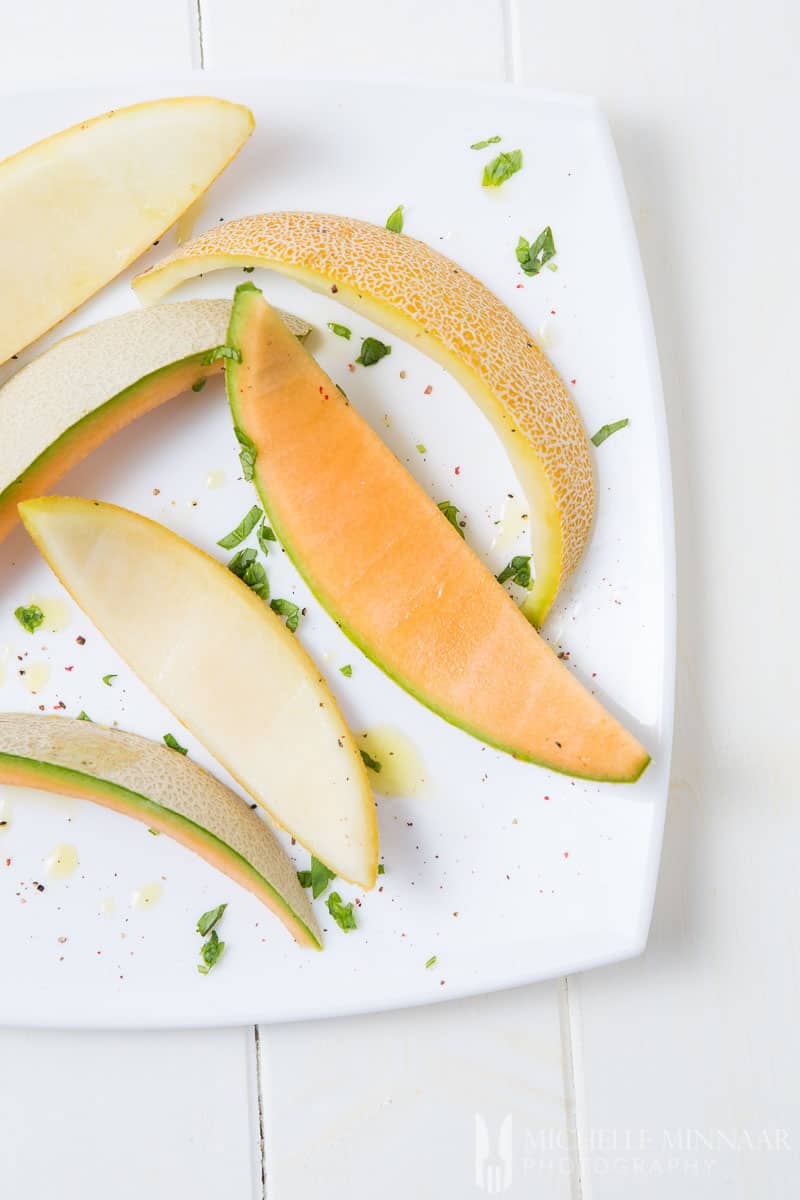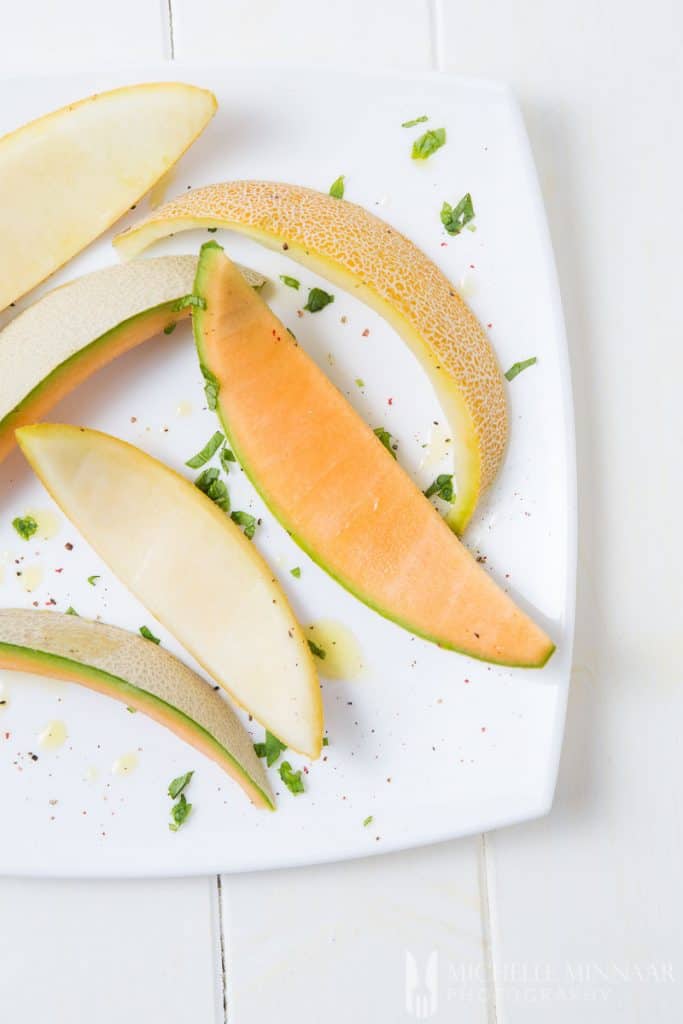 Olive oil
The olive oil may easily be the most expensive ingredient in the entire Parma ham and melon salad recipe. Choose your olive oil wisely.
Since the recipe calls for a drizzle, you want to make sure that you have a high-quality olive oil. I personally like to use special olive oil from the south of France.
Always bought from a small producer of course. You'd be surprise in the difference in the level of flavour to the classic one from the supermarket.
You can really taste the olives. Furthermore, I would also recommend getting extra virgin olive oil, since it's more delicate.
Parsley and pepper
Once you are done constructing the Parma ham and melon salad, you'll need to add tiny little things to make it perfect. First, grind black pepper over the Parma ham and melon salad.
You can also use white peper or juniper berries. Second, chop some fresh parsley and sprinkle over. This is a delicious finish that will make your dish visually inviting and looking fresh. If you don't like parsley, try using fresh coriander leaves.
Storage
Not a great recipe to store. You can prepare this appetizer roughly six hours in advance. Don't store it in a fridge that's too cold. Otherwise the melon will make your teeth hurt.
Thus, eating it won't be pleasant at all! Needless to say, the Parma ham and melon salad dish is not freezable! It's best served fresh!
Ideas
So what else can you serve the Parma ham and melon salad with? Why not also offer something memorable and sweet while you have your party?
I think the drizzled lemon curd cupcakes would be the perfect addition. The lemon curd is acidic and tangy. Thus, the cupcake is not too heavy and is literally the perfect addition to your party menu.
Beware, these will disappear rather quickly. If you are looking for something very easy to prepare and think that the cupcakes are too time consuming, try making the avocado pesto on little pieces of bread.
The pesto takes less than ten minutes to prepare. Great to nibble on, especially if you season the avocado pesto very well. Yum yum!
Chances are if you love Parma Ham, then you'll love smoked salmon starters too. Have a look at this salmon terrine.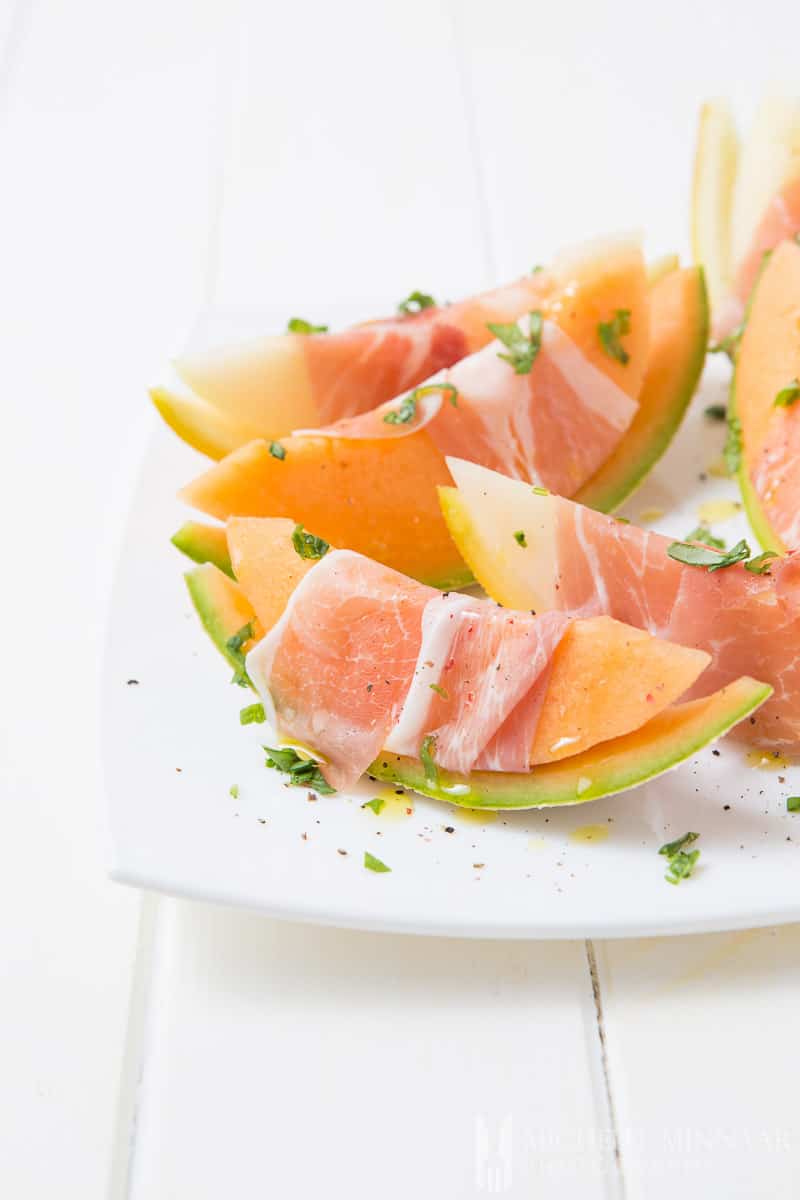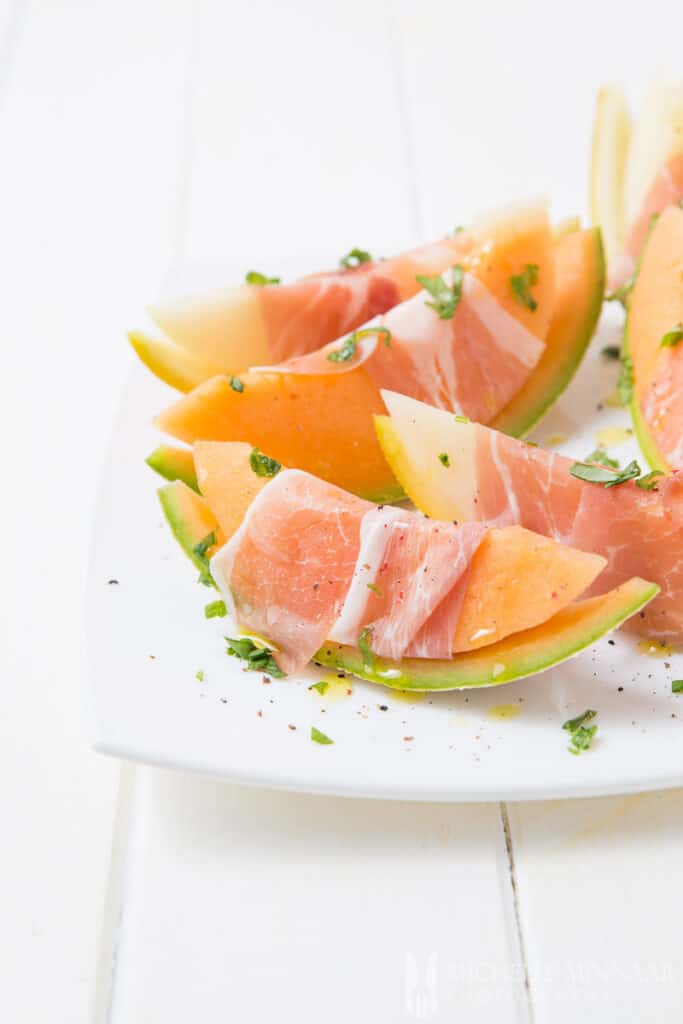 Are you looking for more inspiration? Take a look at the recipes below:
Print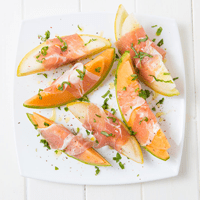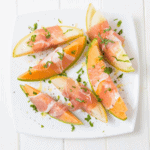 Parma Ham & Melon Salad
---
1

canteloupe or galia melon

8

Parma ham slices
Freshly ground pepper
Olive oil, for drizzling
Parsley, for garnishing
---
Instructions
Peel the melon, remove the seeds and cut into 8 slices.
Wrap each melon wedge with a slice of Parma ham.
Drizzle the dish with olive oil and sprinkle with parsley and pepper. Serve immediately.
Notes
Each person gets two slices of melon.
Prep Time:

10 minutes

Category:

Starter

Cuisine:

Italian
Nutrition
Serving Size:

1 serving

Calories:

191

Sugar:

16 g

Sodium:

763 mg

Fat:

8.7 g

Saturated Fat:

2.2 g

Carbohydrates:

18.8 g

Fiber:

2.6 g

Protein:

11 g

Cholesterol:

32 mg
save the recipe to your pinterest board