Learn how to make Meen Molee, a classic Keralan dish.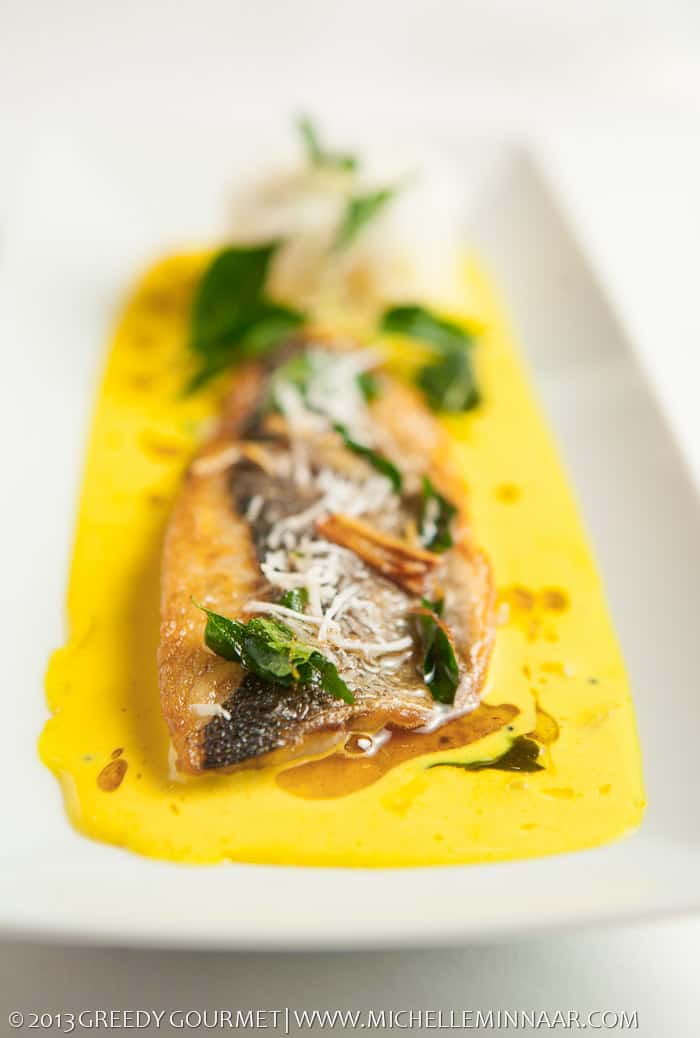 As a lover of ethnic foods, I've become somewhat frustrated. I grew up in the typical Western household where mostly South African, British and French food were prepared. Occasionally, my mother dabbled in Thai cuisine and a bit of Indian. much to our excitement.
With immigration around the world growing from strength to strength over the last 30 years, it's not surprising that all these fantastic Far Eastern flavours have slowly crept onto English-speaking plates. Its enticing dishes made us want more and more that the growing demand led to an explosion on the ready-meal and bottled spice paste market.
The problem is that a person can only eat so much of the convenience food available that he will get sick of it. I did. One of the problems is that it's always the usual suspects, Pad Thai, Satay, Korma, Balti, etc. – basically all the favourites but a very limited range. Over and over I've heard expats tell me that bottled pastes are pretty rotten compared to the real deal. Fresh is best!
My frustration is not having the ability to cook something with great ease like an Indian grandmother would. My knowledge is as barren as the Sahara desert and instead I have to consult books, which I sometimes find intimidating thanks to the long lists of spices needed to cook something basic.
Here are some Indian cookbooks I would love to own:
I guess I have to start somewhere and what better place than at Benares? For starters we made vegetarian samosas and in the previous post head chef Sameer showed us how to prepare Kerala Paratha which is an excellent accompaniment for the following recipe.

What I liked about him was that he wasn't dogmatic about the Indian cuisine. The latter is highly adaptable and keeps evolving as its popularity keeps spreading around the globe. There is no right or wrong. Just use whatever local produce is at hand and create Indian inspired dishes from it as Benares does.
The good news is that this recipe is so easy to prepare that I did it a few days later in my own kitchen with fantastic results. Try it for yourself – you won't be disappointed.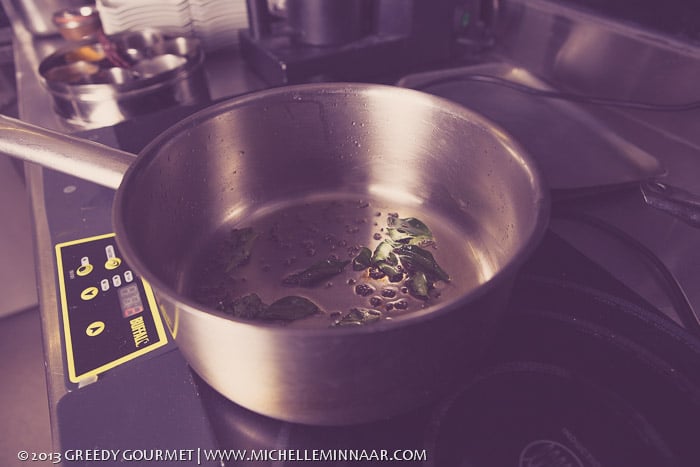 Heat vegetable oil in a stainless steel saucepan
and fry the mustard seed and curry leaves.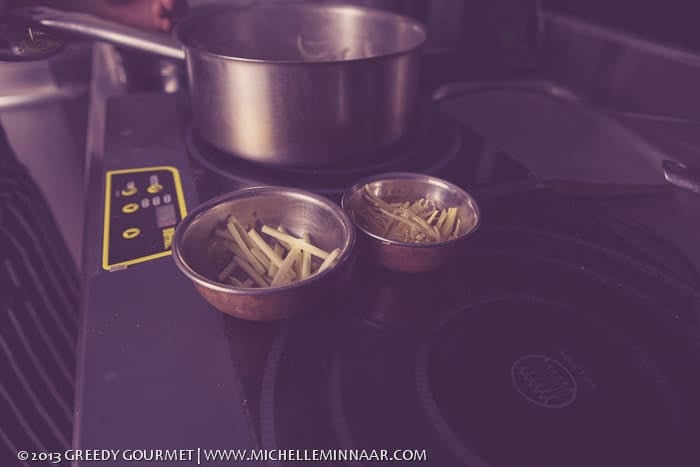 Green mango and ginger are optional in this case, although they do enhance the flavour. Add them along with the onion and chili.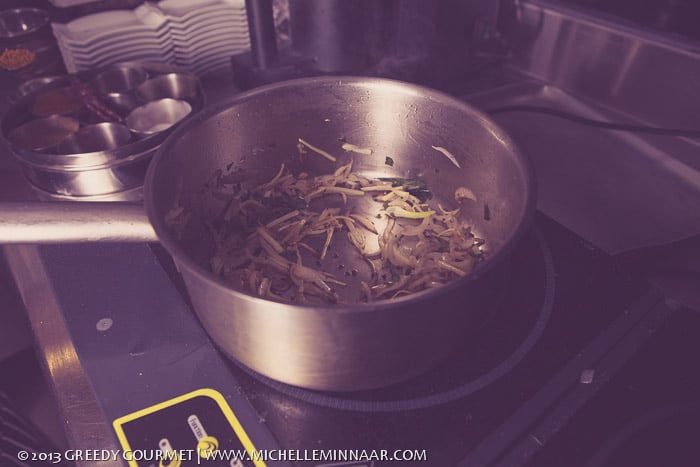 Carry on sweating the onions until they are soft. If you want to give the curry a completely different twist you can add chopped tomatoes at this stage.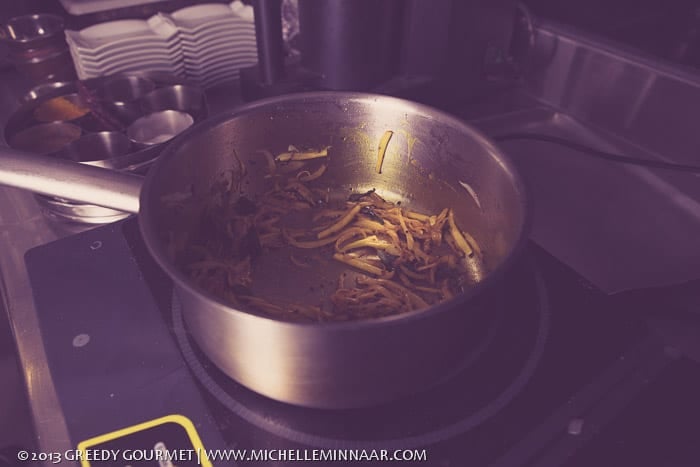 Add the turmeric and mix thoroughly.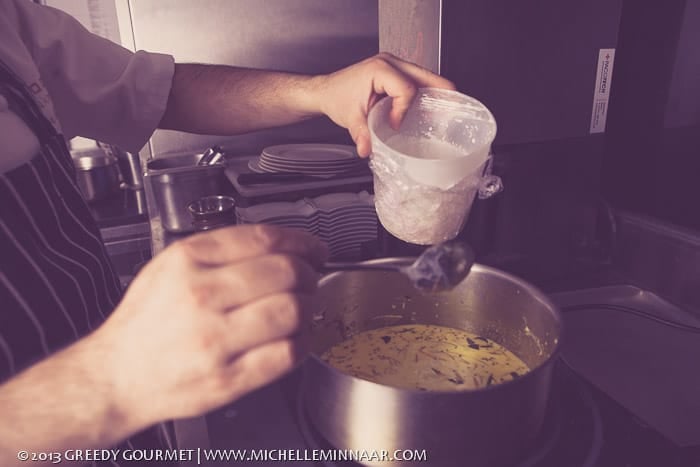 Lastly add the coconut milk.
You can add a bit of fish or chicken stock, depending on what the protein you're going to serve it with, if you like.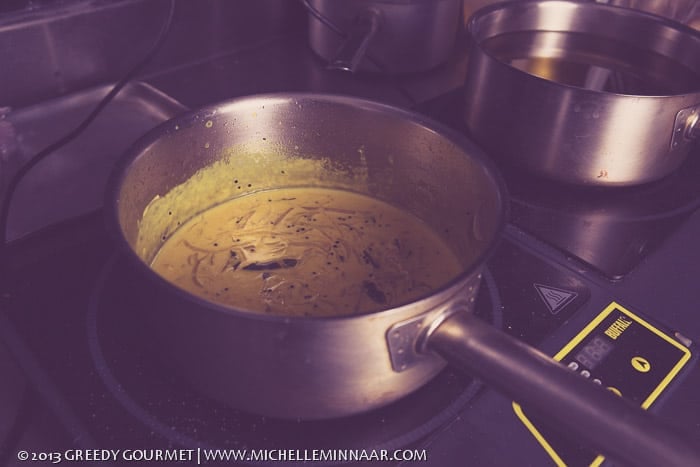 Simmer the curried coconut gravy for about 20 minutes.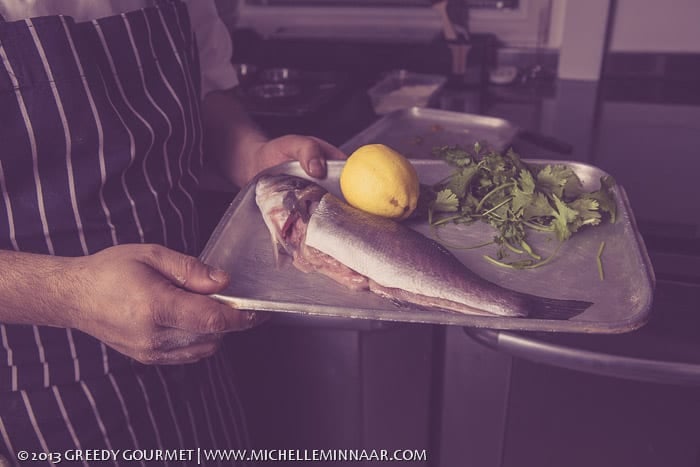 While the sauce is bubbling away you can get to work on the fish. In this case we used sea bass. Other fish that goes well with this sauce are sea bream, cod, salmon, scallops and other shellfish. Chicken too! Avoid serving it with oily fish such as tuna, sardines and mackerel.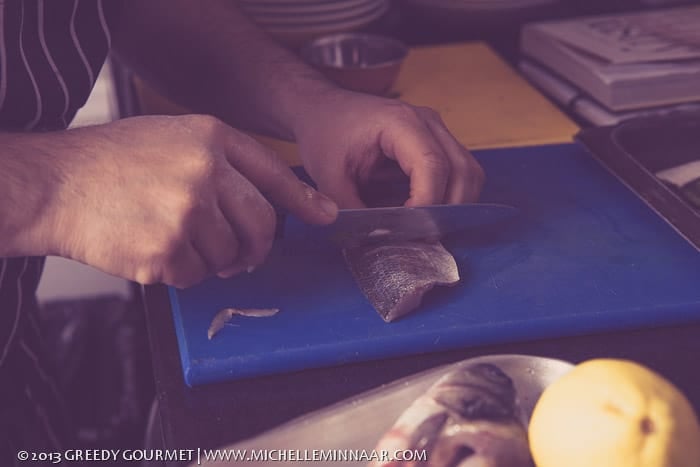 Cut slices in the fish's skin. This deters the fish from curling up while cooking.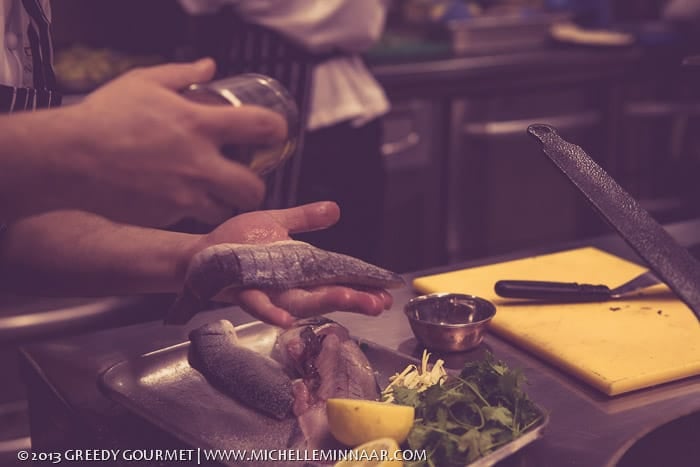 Season the sea bass.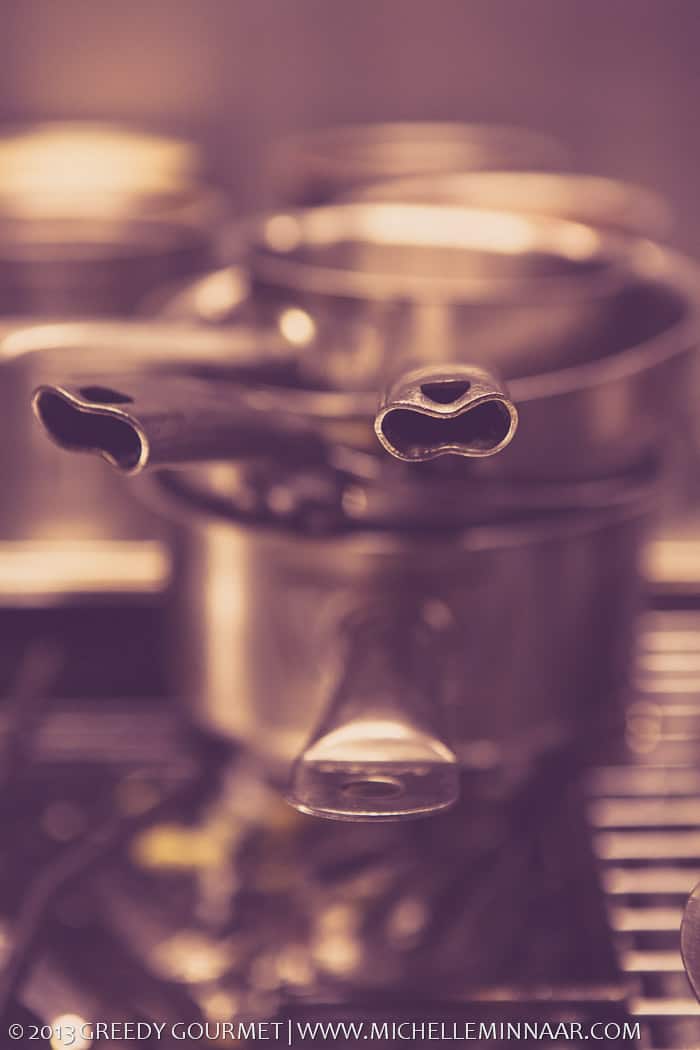 One thing that goes unnoticed by restaurant goers is the sheer heat of the kitchen. It does get very hot in there and I was sweltering just standing there with my camera.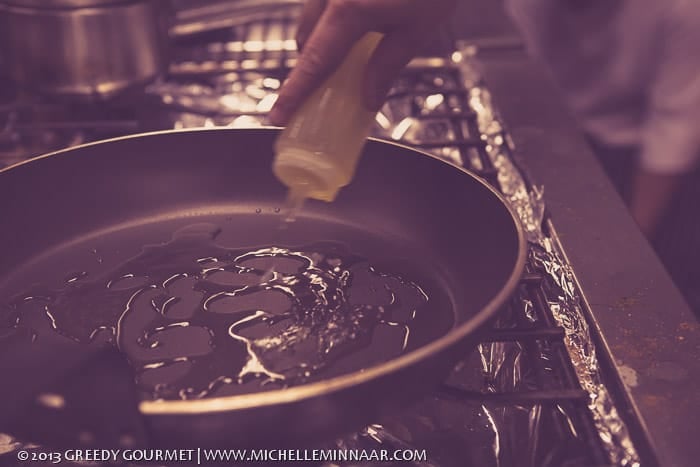 Add vegetable oil to a hot non-stick frying pan
.
Place the sea bass skin-side down in the pan. Unilateral cooking applies in the case, i.e. the sea bass is so thin that it only needs cooking once on each side. So make sure you cook the skin side thoroughly and crispy before cooking.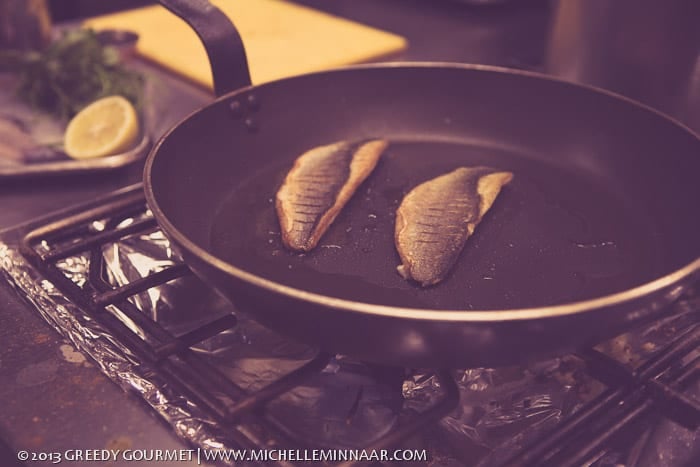 Turn the fish over and cook the other side. You're finished now. The last steps are for when you want to be fancy.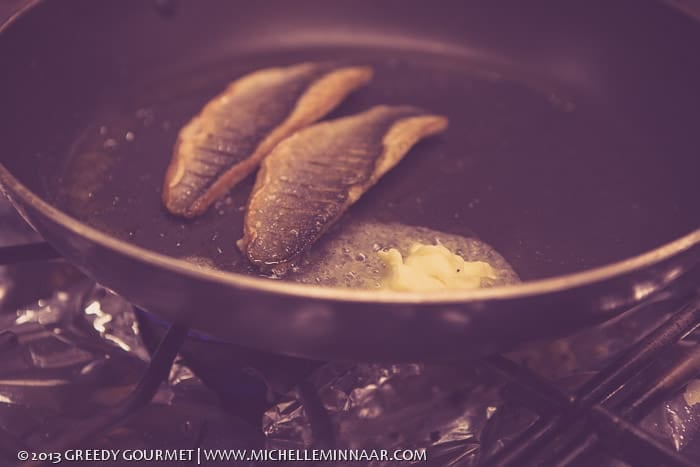 Add butter to the pan and let it melt.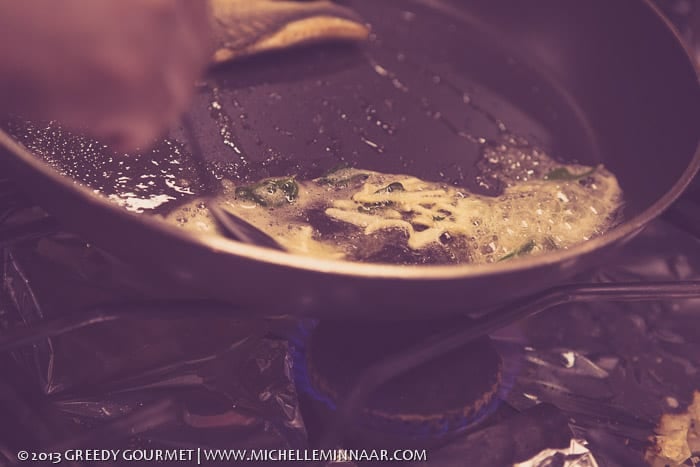 Add extra curry leaves, ginger and onions to the butter and let the mixture bubble. You're infusing the butter with lots of flavours.
Tilt the pan and with a spoon pour the butter over the fillets continuously.
Now you're really finished.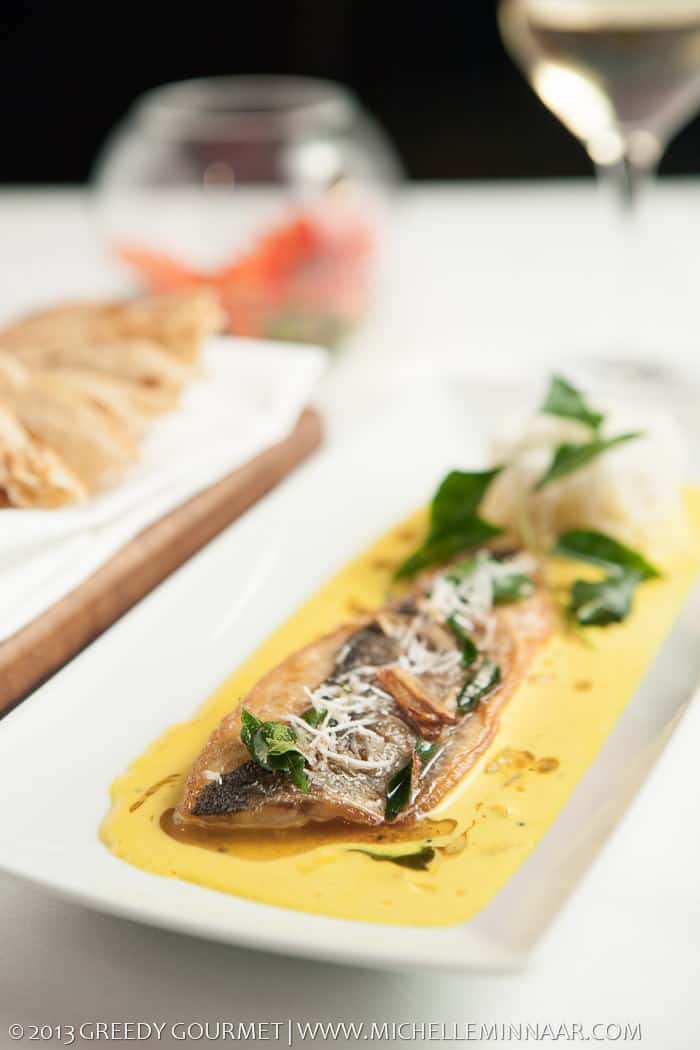 Place the fish in the sauce and drizzle the butter over it. Some halved cherry tomatoes would work as well. Serve with mash or Kerala Paratha.
If you made more sauce than you actually need, you can freeze it. If you've already added a protein to the dish, you can still reheat it later. It will last in the fridge for a couple of days.
Print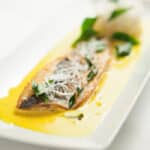 Coconut Fish Curry
---
Author:

Michelle Minnaar

Prep Time:

15 minutes

Cook Time:

30 minutes

Total Time:

45 minutes

Yield:

4

1

x
30

ml (2 tbsp) coconut oil

2

medium onions, finely sliced

2.5

ml (½ tsp) mustard seeds

3

green chillies, slit lengthways

3

garlic cloves, sliced into fine strips

20g

(

3 oz

) green mango [optional]

5

ml (1 tsp) fresh ginger, grated

20

curry leaves

5

ml (1 tsp) salt

5

ml (1 tsp) turmeric

400

ml (¾ pint) coconut milk

4

sea bass fillets, weighing about 150g (

5oz

) each

60

ml (4 tbsp) butter
---
Instructions
Heat the coconut oil in a wide pan, then sauté the onion, mustard seeds, chillies, garlic, green mango and ginger.
Add the curry leaves and keep cooking until the onion is translucent.
Add the turmeric and salt, pour in the coconut milk and simmer very gently for 20 minutes.
Season the fish melt the butter in a non-stick pan. Fry the fish until cooked and serve immediately with the sauce.
Category:

Curries

Method:

Pan Fry

Cuisine:

Indian
Nutrition
Calories:

627

Sugar:

Sugars

Sodium:

802 mg

Fat:

38.2 g

Carbohydrates:

13.5 g

Fiber:

Dietary Fiber

Protein:

58.6 g

Cholesterol:

123 mg