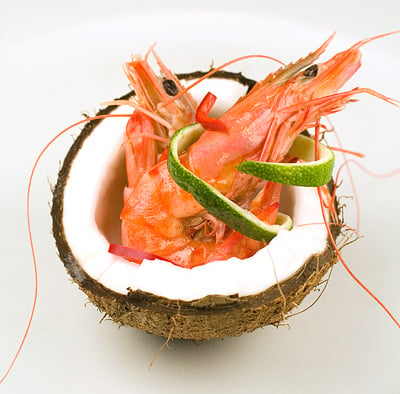 As a long suffering wife I can deeply sympathise with anyone who has to put up with a fussy eater. While I love Western food, especially from the French cuisine, there is a whole other gastronomical experience awaiting you if you head East. Luscious coconut, hot chilis, tangy tamarind, sweet lemon grass and cheeky kaffir lime leaves, just to name a few ingredients; and not one of them Neil likes.
Mashed potato is the order of the day and if you're lucky sometimes they get roasted. About once a week a stir-fry (mind you, no ginger allowed either) is made and served on top of egg noodles. Other weeks, it is pasta and very seldom rice. So by the time I have an opportunity to go out for a day my first pit stop is an Indian or Thai restaurant where I can titillate my tongue out of its semi-coma with exotic flavours.
After a few years of putting up with some rather bland eating, I decided to stick up for my tastebuds (and sanity) and announced I'll prepare something I like for a change, while Neil can have a portion of savoury mince out of the freezer. Ha!
At the first opportunity I cooked this adapted recipe from Good Housekeeping. Each and every time my fingers get covered with the aromatic sauce while peeling the prawns and after that all remaining sauce is poured onto the rice, stirred vigorously and gets demolished bit by bit.
P.S. The glutton in me once finished a serving for 4 in one sitting (Neil didn't believe me when I told him over the phone. Only after he arrived from work he saw the mountain of shells on the plate did it sink in.) Two hungry human beings can also easily finish it too, so it's up to you to decide on quantities, below are just guidelines. Just take note of the ratios of ingredients.
Print
Prawns (Shrimp) in Spicy Coconut Sauce
---
Description
Author: Michelle Minnar
---
Scale
Ingredients
15g

(

½ oz

) shredded coconut

900g

(

2

lbs) whole, shell-on raw (shrimp) prawns

400

ml (10 fl oz/1 can) coconut milk

2

stems lemon grass (white part only), finely chopped

2

kaffir lime leaves

10

ml (2 tsp) red chilli, chopped

30

ml (2 tbsp) tamarind concentrate

10

ml (2 tsp) fish sauce

5

ml (1 tsp) soft brown sugar
rind of

2

fresh limes
---
Instructions
With a sharp knife, score down the back of the shrimp. Remove the thin, digestive tract with the tip of the knife. Repeat with the rest of the prawns. Rinse the prawns under running water and pat dry with paper towels.
Spread the coconut on an oven tray and toast it in a slow to 150°C/fan 130°C/300°F/gas mark 2 oven for 10 minutes, or until it is dark golden, shaking the tray occasionally.
Combine the coconut milk in a frying pan and cook over medium heat until just boiling. Add the lemon grass, lime leaves and chilli; reduce the heat and simmer for 7 minutes. Add the tamarind, fish sauce and sugar and simmer for 8 minutes.
Add the prawns and cook for 5 minutes or until they turn pink. Sprinkle with coconut and lime rind just before serving with steamed rice or egg noodles.
---
Notes
Don't forget to provide a finger bowl and napkin for each diner.
On the other hand, if you don't like messy eating, you can peel the prawns first before cooking, which will make things easier.
Nutrition
Serving Size:

1 serving

Calories:

239.6

Sugar:

2.6 g

Sodium:

186.4 mg

Fat:

10.7 g

Saturated Fat:

6.7 g

Carbohydrates:

9.2 g

Fiber:

1.7 g

Protein:

25.3 g

Cholesterol:

172.3 mg