If there is one thing we can be proud of in Britain, then it is for our famous pies. I am not talking about the sweet type of pie, even though we have a couple of successes there too. Besides, British cuisine has got more to offer than just pies though. For example, our Eton Mess is definitely worth its reputation. However, we all know that our savoury pies are our unique thing, and no one is better in making these than the British!
A part of our rich history is the tradition of combining meat and pastry into something very comforting. Think of Cornish pasties, or Yorkshire puddings for the Sunday roast. I think we can all agree that these are some of the fundamental gems the British cuisine has to offer. Therefore, I think these mini beef pies are definitely a patriotic worthy meal to win a culinary competition. Don't you think so?
Not only to do they look amazing, but they are rich in flavour. You can adapt the recipe to the desired amount. Either make one big pie for the family to share, or use a muffin tray and make mini beef pies. Perfect for the lunch box as well either way! Check out my video on mini beef pies just below and let me know what you think!
https://youtu.be/zEaItV-4N40
foodie madness competition
Have you ever heard of foodie madness cook-off? This year 16 bloggers from different countries will showcase their national flavours and battle it out in the kitchen for foodie madness. Yes, I happen to be one of those 16 bloggers, representing the UK. There are bloggers from literally over the world: Senegal, Mexico, Brazil, and so many others! We have to take the stand and defend our amazing cuisine.
This cook-off will all happen from 5th to 26th of October, hosted by Accor Hotels. There are 8 rounds of this nail-biting cook-off. We, as Britain, must defend out culinary territory with our exceptional pies! I mean, who could resist that perfect flaky pastry and an intensely rich filling? Click right here to check out the competition and don't forget to vote for our lively mini beef pies! Go Britain! Vote vote vote!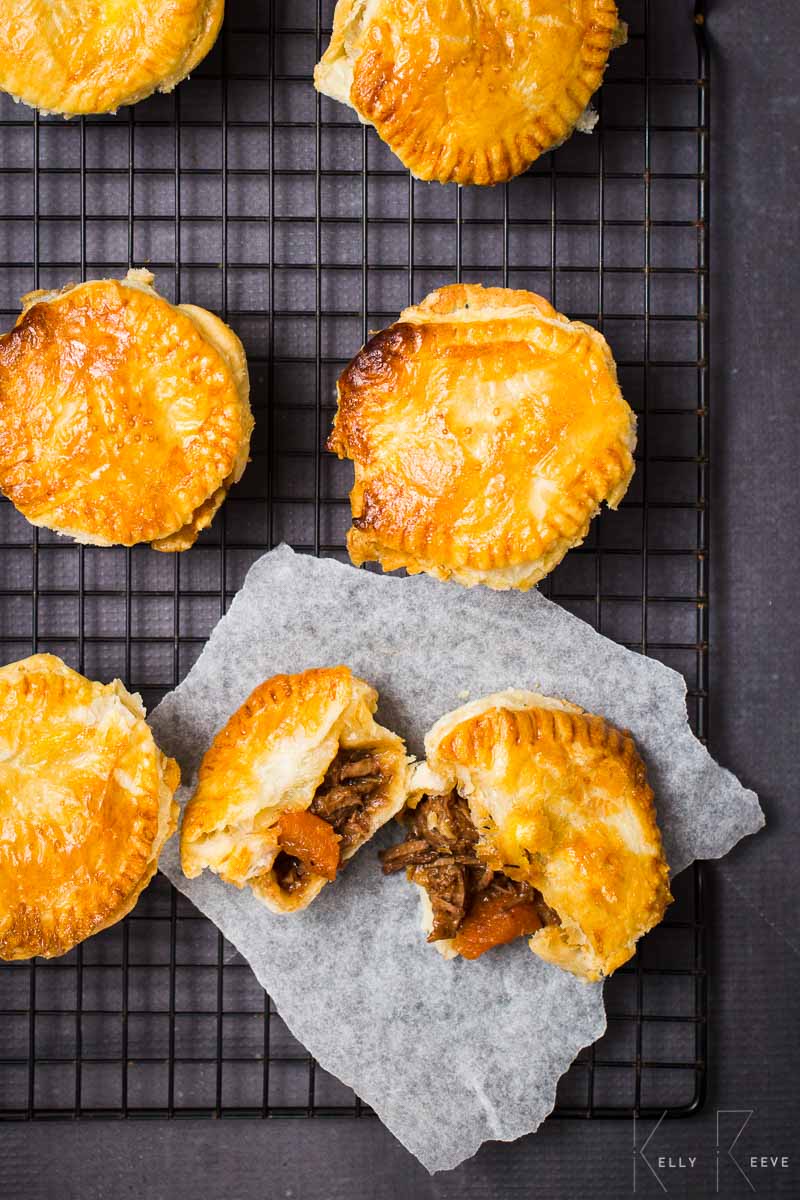 round one!
In the first round, it's the UK against Singapore. I can't even stress how important it is to win this first round. Our competition seems to be some sort of coconut based noodle soup, which looks very appetising but it can't beat a good pie, right?
Who can possibly resist a proper pie, especially on a cold, dark winter's day? There is something very comforting about biting into a soft, rich and flaky crust, which leads to luscious tender beef. A true British classic – mini beef pies! I am sure that with your support and votes, British mini beef pies will be victorious in round one!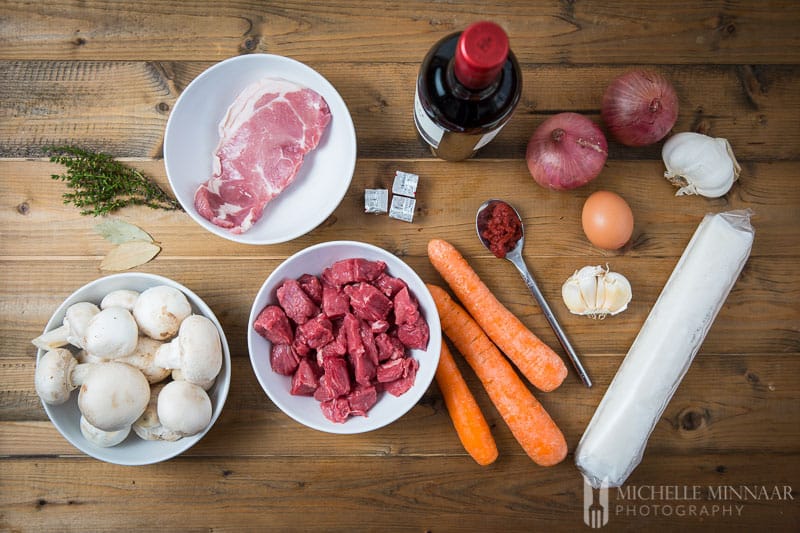 beef mixture
Now, back to mini beef pies. For my perfect mini beef pies, I use my beef stew as filling. You can find the recipe here.
It's important that you let the beef stew simmer for a long time for the meat to get properly tender. This will also help to to reduce the amount of liquid. If the stew is too runny, you might end up with a soggy pie bottom, and that's not what we want. The pastry should be golden and crispy on all sides once it finished baking. If you find the meat from the beef stew a little bit too chunky for your liking, just cut it up into smaller pieces. Alternatively, make the stew with minced meat instead and you will have a minced meat pie.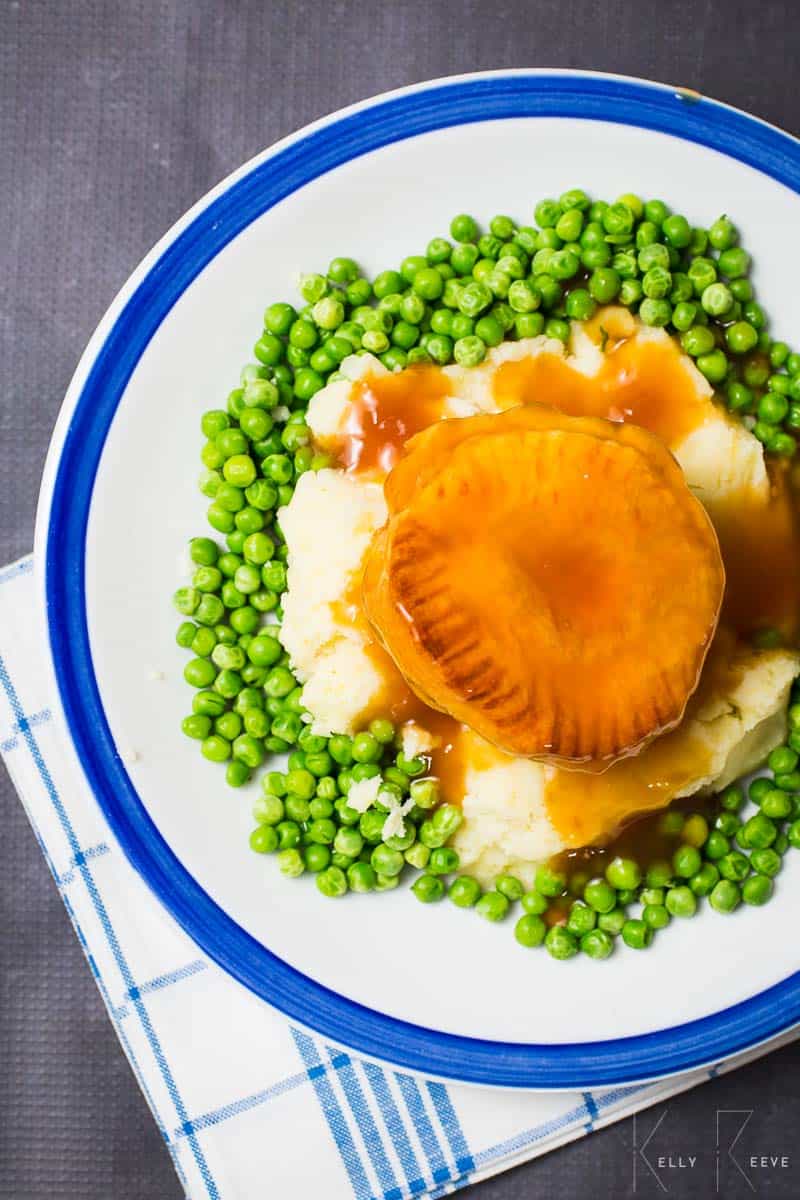 flaky pastry
You can either use pre-made puff pastry or make your own. Obviously, with the pre-made puff pastry, life tends to be a little easier. The effect in terms of the end result shouldn't be too different if you use a high-quality product. However, there is something soothing about making your own pastry. Yes, it's a slower and more intense process, but you'll get a sense of satisfaction.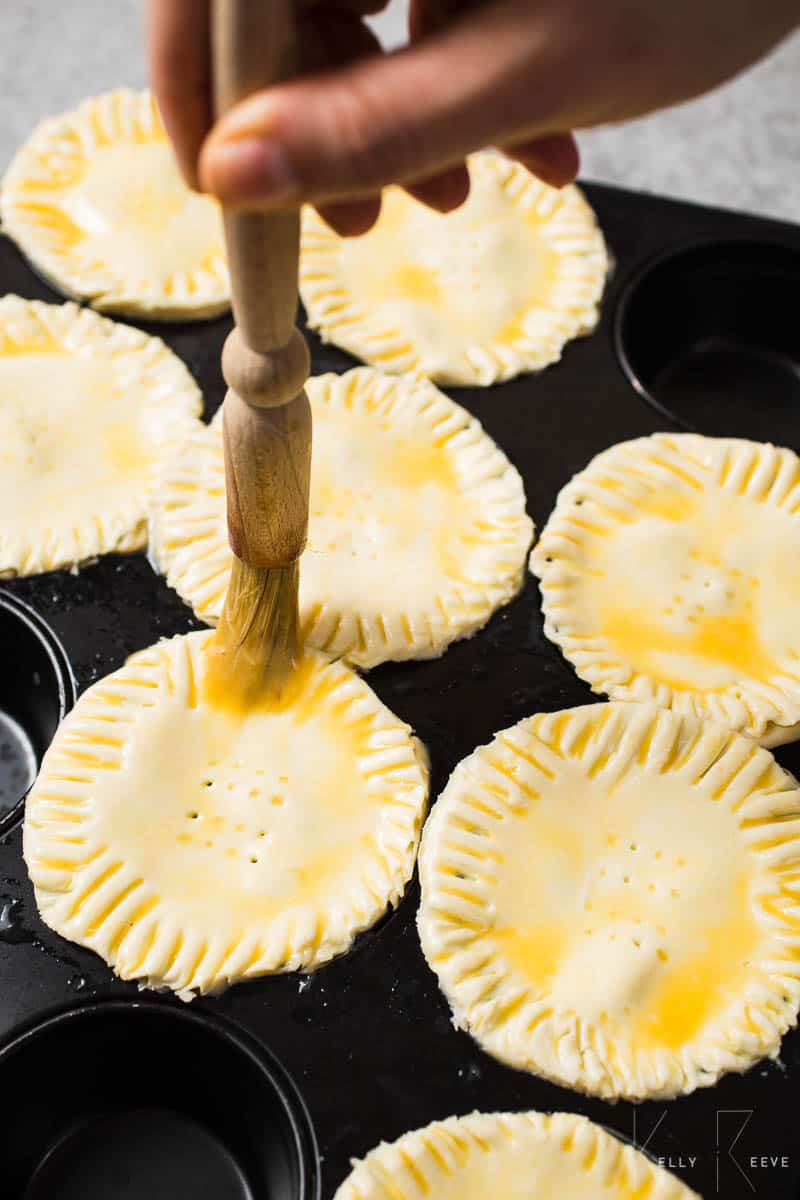 So, how can you make the best possible pastry for the mini beef pies? This involves using only the best ingredients such as unsalted organic butter, instead of using margarine. Same rule applies with eggs and milk. Go for the organic free-range eggs. A handy trick for any type of pastry is using fine sea salt, as it is easier to incorporate into the pastry. Remember not too overwork the pastry, otherwise the pastry will thicken up and become unpleasant to handle. Also, once you are finished, remember to rest the pastry. This is an essential step, because if you roll it out straight after it will shrink.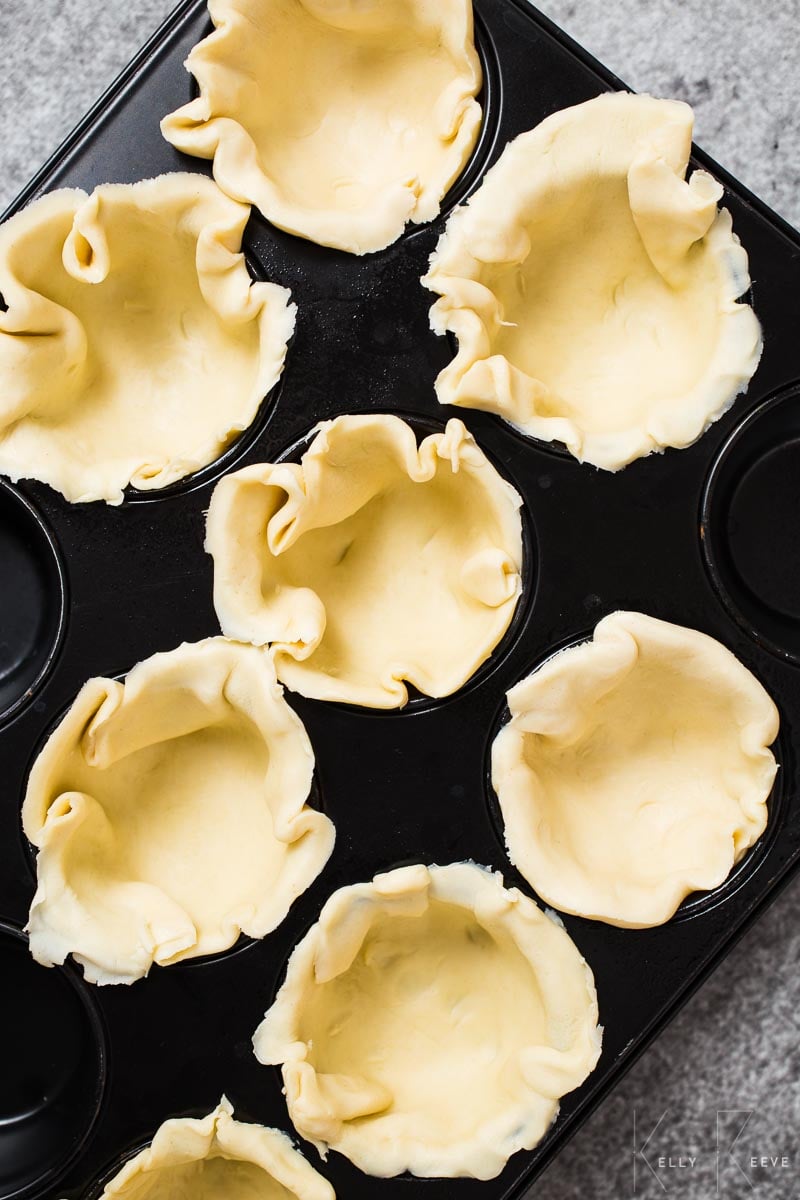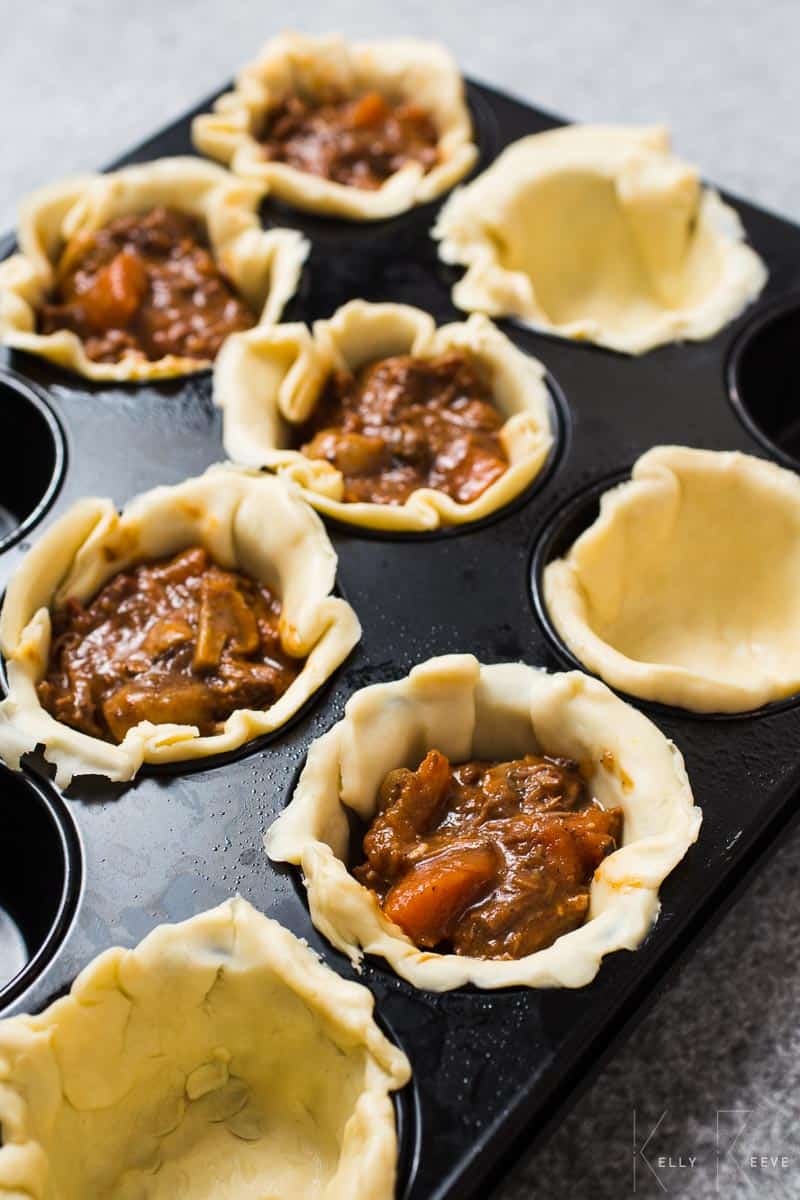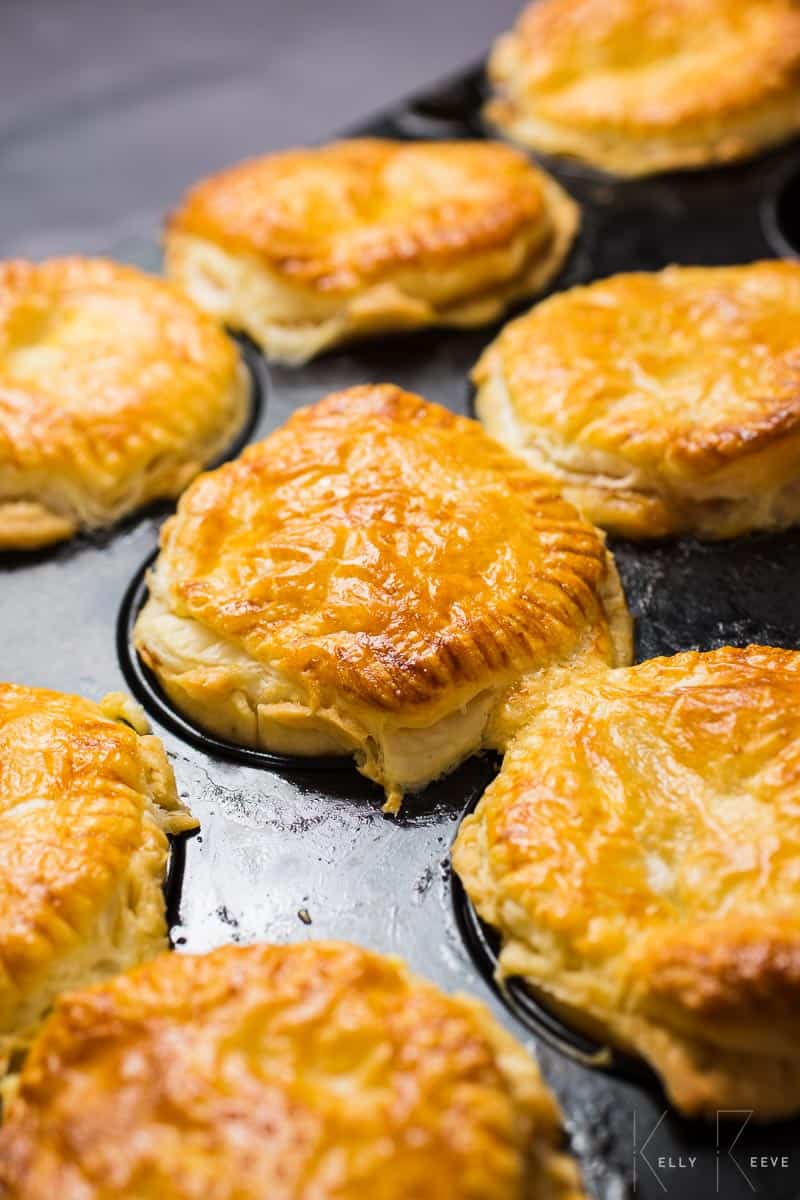 serving
What would you serve our traditional mini beef pies with? Peas, potato mash and gravy, of course! They freeze well too.
Print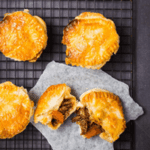 Beef & Mushroom Pies
---
Prep Time:

30 minutes

Cook Time:

20 minutes

Total Time:

50 minutes

Yield:

24

1

x
Description
Mini Beef & Mushroom Pies look tricky to make but are easy to prepare. It does take long to prepare but the end result is worth it. Suitable for freezing.
---
1

quantity of Beef Stew with Mushrooms and Red Wine, cooled

1.2

kg (4 rolls) ready rolled shortcrust pastry, at room temperature

600g

(

2

rolls) ready rolled puff pastry, at room temperature
Flour, for rolling

1

egg, beaten
---
Instructions
Preheat the oven to 220°C/425°F/gas mark 7.
Lightly oil a standard 12-hole muffin pan and set aside.
Sprinkle a clean work surface with flour and roll out the shortcrust pastry. Find a bowl large enough to use as a stencil that will cover an area large enough for the pastry to cover the whole area of each muffin hole with flaps coming over the edge. Cut out 24 circles with all the shortcrust pastry.
Do exactly the same with the puff pastry but this time you need a smaller circle.
Line the muffin tin with the shortcrust pastry then fill each hole with stew.
Lay the circles over the cases and seal all around the edge with your fingers. Crimp the edges and brush the tops all over with egg.
Make a hole in the centre of each for steam to escape.
Bake for 20 minutes or until the pastry is golden and crisp and the filling is piping hot. Remove from the oven and rest for 5 minutes. Carefully remove from the tin. Serve with mash.
Notes
If you want to make 12 pies, simply halve all the ingredients, except the egg.
The quantity of pastry needed depends on the size of the pie holes being used, so this is a rough estimate as to how these worked out for me.
Nutrition
Serving Size:

1 serving

Calories:

269

Sugar:

2.9 g

Sodium:

297 mg

Fat:

12 g

Saturated Fat:

4.9 g

Carbohydrates:

18.2 g

Fiber:

2.1 g

Protein:

19.9 g

Cholesterol:

43 mg
save the recipe to your pinterest board
A special thanks to Kelly Reeve for assisting with the recipe shoot.