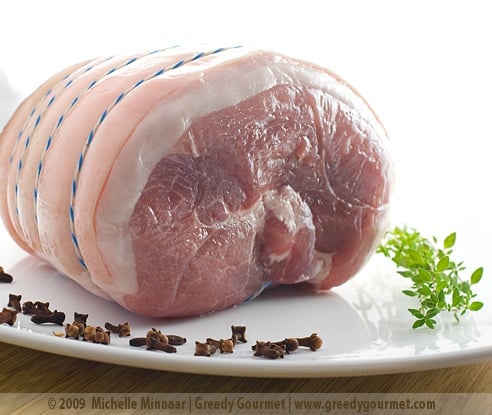 What are you having for Christmas dinner?
We aren't quite the traditional roast turkey family. Heck, we don't even have a Christmas tree up this year, or the year before, not to mention any Christmas decorations. Since Gabriel doesn't quite grasp the concept of Christmas yet, we try get away with what we can for now. It's hard work, you know!? Year after year one of our neighbours down the street only gets around to taking their exterior decorations down around March, which is a running joke among the other neighbours.
With that being said I look forward to Gabriel being a bit older. Children's enthusiasm is infectious and what better way than sharing activities with them like decorating the Christmas tree, making Christmas ornaments, preparing home-made foodie gifts and so on.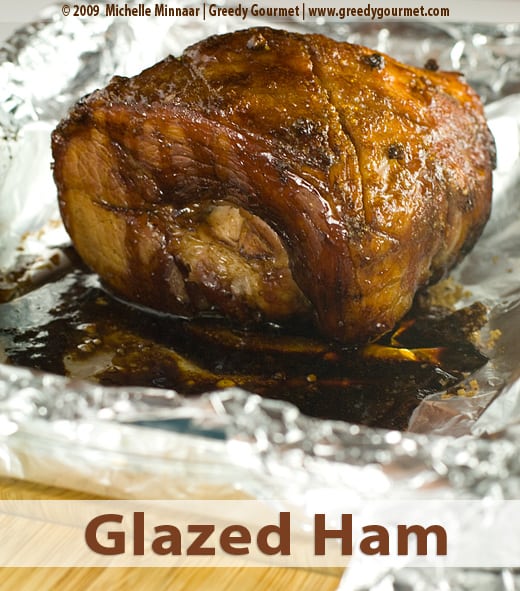 I came across this Nigella recipe a few months ago. When I mentioned to others I will be preparing it, it was met with frowns and revulsion. How can THAT possibly taste good? Like a tooth in Coke overnight, isn't it going to rot and disintegrate completely? I ignored them and went my own merry way. Boy, are they missing out!
The outer surface of the ham is especially stunning with a sweet and spiky flavour and the ham takes on the most gorgeous colour. In the name of science and to satisfy my curious mind I cooked two hams at once; one the traditional (boiled in water) way and the other one in Coke. I prefer the latter. Somehow the Coke makes the meat more flavourful and moist and from now on this is how I'm going to cook all gammon joints that head my way.
There you have it, guys! If you haven't thought of your Christmas meal yet, this is a great idea!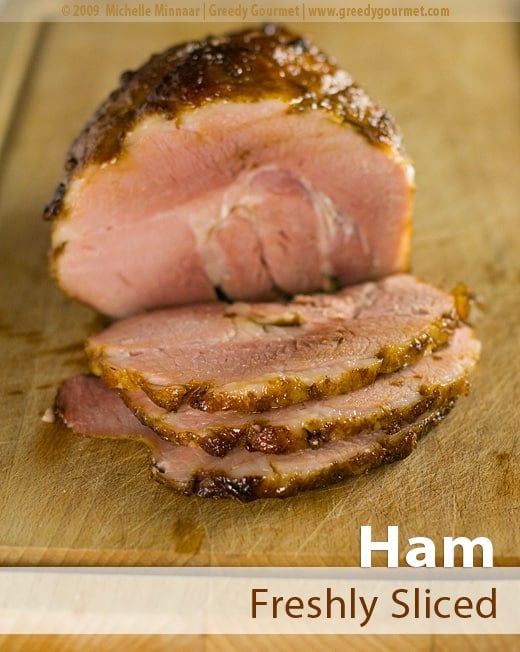 Print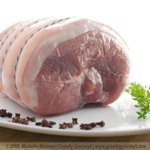 Ham in Coca Cola
---
ham
2

kg (4½ lbs) mild-cure gammon

1

onion peeled and cut in half

2

litres (3½ pints) Coke
glaze
handful cloves

15

ml (1 tbsp) black treacle

10

ml (2 tsp) English mustard powder

30

ml (2 tbsp) demerara sugar
---
Instructions
Mild-cure gammon doesn't need soaking. If you know that you're dealing with a salty piece, then put it in a pan covered with cold water, bring to the boil then tip into a colander in the sink and start from here; otherwise, put the gammon in a pan, skin side down if it fits like that, add the onion then pour over the Coke. Bring to the boil, reduce to a good simmer, put the lid on, though not tightly, and cook for just under 2 1/2 hours. If your joint is larger or smaller work out timing by reckoning on an hour a kilo altogether, remembering that it's going to get a quick blast in the oven later. But do take into account that if the gammon's been in the fridge right up to the moment you cook it, you will have to give a good 15 or so minutes' extra so that the interior is properly cooked. Meanwhile preheat oven to 240°C (fan 220°C/464°F/gas 9).
When the ham's had its time (and ham it is now it's cooked, though it's true Americans call it ham from its uncooked state) take it out of the pan and let cool a little for ease of handling. (Indeed you can let it cool completely then finish off the cooking at some later stage if you want).
Then remove skin, leaving a thin layer of fat. Score the fat with a sharp knife to make fairly large diamond shapes, and stud each diamond with a clove. Then carefully spread the treacle over the bark-budded skin taking care not to dislodge the cloves. Then gently pat the mustard and sugar onto the sticky fat. Cook in a foil lined roasting tin for approximately 10 minutes or till the glaze is burnished and bubbly.
Should you want to do the braising stage in advance and then let the ham cool, clove and glaze it and give it 30-40 minutes, from room temperature, at 180°C (fan 160°C/350°F/gas 4), turning up the heat towards the end if you think it needs it.
Notes
Serve with roast potatoes and parsnips, your favourite greens and a fruity jelly.
Prep Time:

15 minutes

Cook Time:

240 minutes
Nutrition
Serving Size:

1 serving

Calories:

80

Fat:

7 g