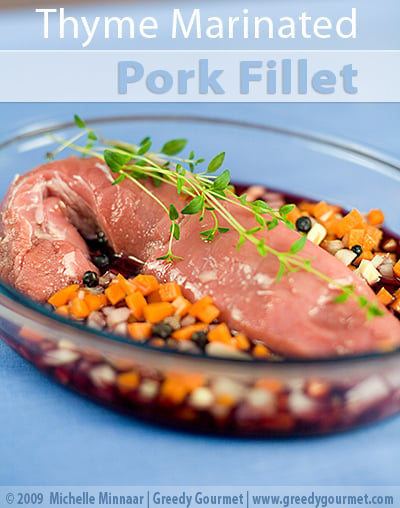 The past weekend I have been studying this Food Hygiene and Safety Course. For some reason this crazy idea came into my head to start selling food and for that I need a licence, awarded by the local council, to operate from my home kitchen. After having almost finished reading through all the coursework, I am amazed I haven't died from food poisoning yet.
In the UK alone there are 5 million reported cases of food poisoning every year but in fact the numbers are estimated to be much higher. There is bad news for lovers of ready-made meals. The more food has been handled and/or processed, the more likely something dodgy will be lurking in it. So really, if you want to play it safe, buy the basic, natural and fresh ingredients, for example lettuce, tomatoes and onions instead of a ready-made salad with dressing. You will substantially lower your risk.
So what exactly goes wrong that food ends up spoiling?
Poor temperature control – Food hasn't been frozen and chilled properly.
Cross contamination – The chef diced some raw chicken and then prepared your fruit smoothie with the same knife and chopping board.
Lack of hand-washing – Unfortunately, personal hygiene isn't high on everybody's list after going to the loo.
Badly maintained equipment – Now you know where that piece of metal in your lunch today came from.
Procedures not followed – Ever food institution has for example a cleaning schedule and if it doesn't follow it, well, the bacteria will be thriving in its cosy environment.
Incorrect storage – Who put the raw chicken above the pies in the fridge?
Contaminated ingredients – Whiz kid over here sprayed insecticide all over the cake trying to kill that annoying fly.
Ignorance about danger – Speaks for itself.
Untrained staff – Did we mention underpaid too?
Scared yet? Here are nine very good reasons why you should be cooking your own food at home instead of putting your health at risk by eating something ready-made. Good job you found this excellent food blog, Greedy Gourmet, to inspire you with new recipes. 🙂
Print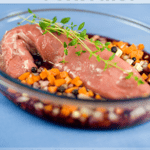 Marinated Pork Fillet with Thyme
---
Author:

Michelle Minnaar

Prep Time:

30 minutes

Cook Time:

15 minutes

Total Time:

45 minutes
Scale
Ingredients
ingredients
2

pork [tenderloin] fillets, weighing about 400g (1lb) each

30

ml (2 tbsp) olive oil

30

ml (2 tbsp) butter, chilled and diced
for the marinade
2

garlic cloves, crushed

1

carrot, diced

1

onion, diced

100

ml (3½ fl oz) red wine vinegar

300

ml (½ pint) red wine

60

ml (4 tbsp) olive oil

5

ml (1 tsp) black peppercorns

15

ml (1 tbsp) salt

5

ml (1 tsp) sugar

2

bay leaves

4

fresh thyme sprigs

12

juniper berries
---
Instructions
Trim the pork fillet, removing any fat or sinew from the outside.
Place all the marinade ingredients in a large saucepan and bring to the boil. Simmer for 2 minutes and then allow to cool. Place the pork in a deep, non-reactive (ceramic or stainless-steel) container and pour the marinade over the pork. Cover with clingfilm and chill for 48 hours, turning every 6 hours.
After 48 hours, preheat the oven to 200°C (fan 180°C/400°F/gas 6). Remove the pork from the marinade and dry with a clean cloth. Reserve the marinade. Heat a large frying pan over a high heat, add the oil and brown the pork well on all sides. Transfer it to a roasting tin and roast in the preheated oven for 40 minutes.
Remove the pork from the oven and place the pork to rest on a plate, lightly covered with foil.
Drain excess fat from the tin and deglaze it using 200ml (7 fl oz) of the marinade. Scrape the bottom of the tin with a wooden spoon to loosen all the delicious caramelised juices. Strain into a clean saucepan and boil until you have reduced the liquid by about half. Now whish in the butter and adjust the seasoning to taste.
Slice and divide the pork evenly among 4 plates and drizzle the sauce over the sliced meat. Serve immediately.
---
Notes
Serve with a generous portion of mash, your favourite greens and sweet carrots.
If you are going to cook the pork to well done, I suggest you take the following route. After the fillets have been browned all over, remove and place on a rack in a baking dish. Add 125ml (4½ oz/½ cup) water to the baking dish and bake for 20 minutes. Leave in a warm place for 10 minutes before slicing in 2.5cm (1 inch) diagonal wedges. Follow the rest of the recipe.
Nutrition
Serving Size:

1 serving

Calories:

369

Sugar:

4.27 g

Sodium:

1072 mg

Fat:

14.63 g

Saturated Fat:

4.48 g

Carbohydrates:

7.07 g

Fiber:

1.19 g

Protein:

29.89 g

Cholesterol:

90 mg