Mushrooms. Chestnuts. Bacon. Cheese. You can't go wrong with these ingredients to make up the perfect winter dish.
It's that time of the year again. You know what I mean. Last minute requests for costumes for the Christmas school productions need honouring pronto. Just when you thought you've done all your present shopping you realise that you forgot about Aunty Marie and frantically jump onto Amazon for a desperate browse and purchase. Right now, my backyard has enough cardboard boxes to build a house. It will come as no surprise if it took up until February to get cleared up since the council only does fortnightly rounds.
Don't get me started on wrapping presents. It's the bane of my existence. No matter how hard I try, the aftermath looks like it's been jumped on, kicked around the block a few times and set alight.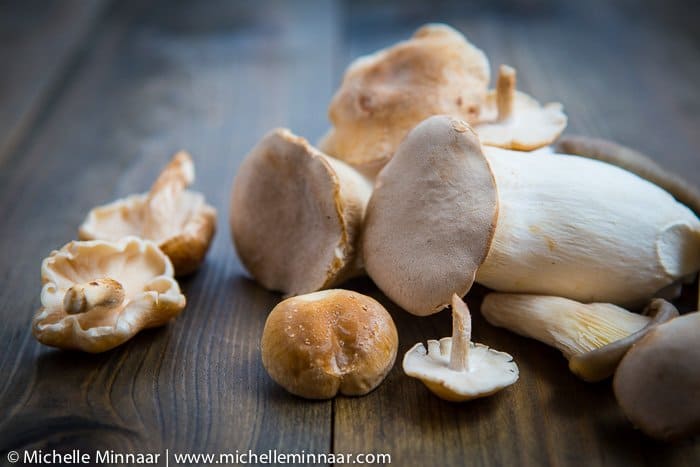 Okay, I exaggerated a little bit. There seems to be a knack to wrapping a present beautifully which I simply haven't cracked yet. For now my recipients will have to make do with slightly wonky looking presents doctored with cellotape at unexpected places thanks to little tears here and there.
Yet it's all worth it. My children's enthusiasm is infectious. The way they count down the sleeps, talk about meeting Santa at the grotto and theorise excitedly what toys they're going to get make me smile. The weather might be dark, cold and wet but once the radio plays a jingle and you notice the pretty street decorations everyone's spirits soar. It's a happy time of year.
Speaking of happiness, I recently received this Christmas hamper from John Lewis, called Seasonal Sophistication (£250). Dive in early and you'll get into the jolly spirit well before the big day. On the actual day there is plenty to share with your loved ones who will be simply wowed by the artisanal products. Or after the 25th you can extend the holiday cheer. There really is no wrong time to open it. Christmas pudding, panettone, coffee, crackers, chocolate, condiments, booze… the list is long. My favourite is the Belinda Clark Handmade Natural Vanilla Marshmallows that just melted with pillowy greatness in my mouth. I don't think I'll ever buy rubbery commercial marshmallows again after tasting these and would have to resort to making my own.
Speaking of presents. If you'd like to make the foodie in your life deliriously happy, buy him or her a set of knives.
Not just any knives. Edge of Belgravia ones. There are myriads of kitchen gadgets on the market that gather dust most of the time in UK's cupboards but one thing that will always be needed is a proper knife. Black, sleek and oh-so-sharp the Precision Knife Set Series (£69.90) look fancy on the kitchen top, especially if they're placed in the ultra-modern Black Diamond knife block (£89.90).
There are 4 knives in the set. The Chef's Knife is good for general cutting and slicing. The Bread Knife is for … well, you know… cutting bread. The Deba Knife is unique and hails from the Japanese Debas knife that is ideal for slicing different types of fish, sushi and even vegetables and fruit. It is only ground on the one side to give a clean cut. Lastly, there is my favourite, the Paring Knife. It was easy and smooth going to slice the mushrooms into paper thin slivers.
Oh, yes. It's time for the recipe. Pasta is much loved in the UK for its simplicity in preparation as well as affordability. But alas, not all of us are lucky in the digestive department and gluten-free eaters tend to steer clear of pasta instead of suffering painful repercussions.
Fortunately, more and more gluten-free products are introduced to the market constantly and recently Gallo launched a pasta range with four different shapes.
The spaghetti took 8 minutes to cook. All went well until I had to mix in the pesto where matters literally broke apart. Still, it was a delicious plate of food.
Start off by preparing the pesto first. Blend the dry ingredients first before gently stirring in the oil. In this case, I went easy on the oil but if you like your pesto more saucy, go ahead and add some more to get your pasta well lubricated.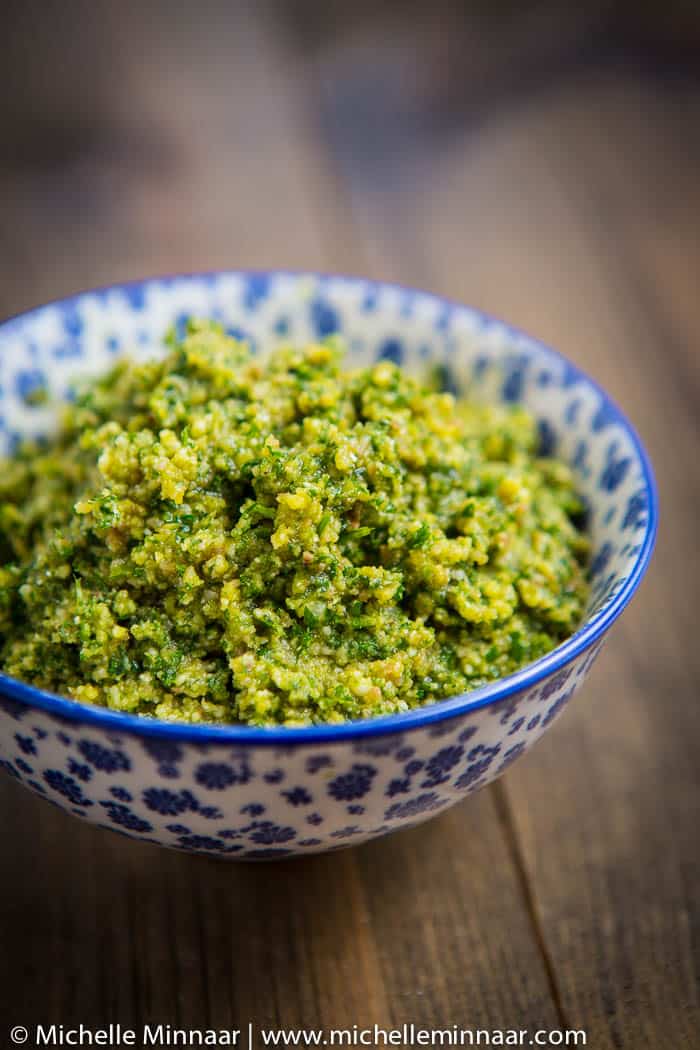 Next, fry the lardons dry in a pan. Once they're browned, set aside and keep warm but reserve the fat so that you can fry the mushrooms in it. If you use a less fatty bacon cut you'll have to resort to using some kind of oil. Just about any kind of mushroom would work with this dish. Once the mushrooms are cooked, stir the pesto into the cooked pasta. Toss in the bacon and mushrooms and top with parmesan cheese.
Merry Christmas and Happy New Year!
What kind of pasta dishes do you eat in winter?
Print
Mushroom & Bacon Spaghetti with Chestnut Pesto
---
Author:

Author

Total Time:

30

Yield:

4

1

x
Ingredients
50g

(

2oz

) cooked chestnuts

25g

(

1oz

) parmesan cheese, grated

1

garlic clove, peeled

1½

handfuls of fresh parsley

60

ml (4tbsp) rapeseed oil

200g

(

7oz

) smoked lardons

250g

(

8oz

) mushrooms

250g

(

8oz

) Riso Gallo gluten-free spaghetti
---
Instructions
Instructions
Place the chestnuts, cheese, garlic and parsley in a food processor and pulse until the mixture has a crumbly consistency.
Pour the mixture into a bowl and stir in the oil. Set aside.
Fry the lardons in a pan and stir them around until cooked and browned.
Put the lardons aside but retain the fats released and fry the mushrooms in it until cooked.
Keep the mushrooms and bacon warm while cooking the spaghetti for 8 minutes.
Once the spaghetti is cooked and drained, stir in the pesto, then mix in the bacon and mushrooms.
Divide into 4 portions and sprinkle with extra parmesan cheese.
Prep Time:

20

Cook Time:

10

Cuisine:

Cuisine
Nutrition
Calories:

562

Sugar:

Sugars

Sodium:

592 mg

Fat:

29 g

Carbohydrates:

57 g

Fiber:

Dietary Fiber

Protein:

16.9 g

Cholesterol:

5 mg